San Juan Puerto Rico  >  Getting Around San Juan  >  Things to Do  >  Biking in San Juan, Puerto Rico >  Biking in Ocean Park
A scenic ride along the Atlantic beachfront…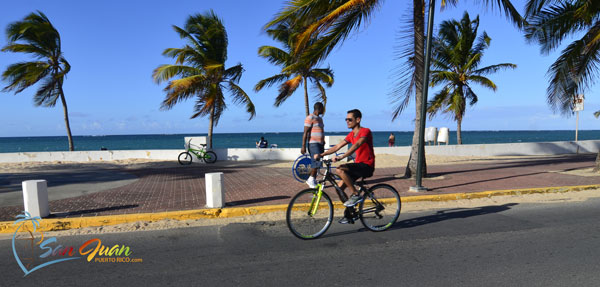 Ocean Park is a laid back beachfront community, where there are streets to access the beach, paths along the beach, and a nice park to ride around if you so desire.  You can rent a bike as well as you enter Ocean Park from the west (more details below).
If you are venturing east from Condado, Avenida Ashford will turn into Calle McLeary as you enter the Ocean Park neighborhood.
There is a designated street bike lane and yellow caution signs on the right side of Calle McLeary providing a cycling pathway into Ocean Park.  If you wish, you can turn left onto Calle Santa Ana to access a beautiful section of the long Ocean Park Beach or just continue riding east to where Calle McLeary ends at Barbosa Park.
Once you reach the west side of the park, you'll turn left (you'll see a green/white bike route sign arrow to go left) onto Calle Soldado Serrano and you'll head towards the main Ocean Park Beach area.  Soon you'll make a right onto Calle General Patton to ride along the main beach area.  You can then bear left onto Calle Park Blvd. for a longer beachfront ride.  This street will eventually turn right.
You can turn around and head back to the beach and Barbosa Park or follow it down to Calle Cacique.  If you turn left onto Calle Cacique it will connect to Calle Loiza which leads east into the beach resort town of Isla Verde, Carolina.  If you turn right onto Calle Cacique, it will take you back to the east side of Barbosa Park.
Bike Rentals
Rent the Bicycle 
100 Calle Del Muelle, Suite 205, Capitolio Plaza (east side across from

 

Bahia Urbana), Old San Juan
Open 7 days a week: 9 am – 4:30 pm
Offering

 

tours of Old San Juan

 

& San Juan City & Beach tours
787-602-9696  |  787-661-2728
San Juan Bike Rentals
Mobile Mountain Bike Rental Unit
Servicing Old San Juan, San Juan to Isla Verde, Carolina
FREE delivery and pick up to/from your hotel
Open 7 days a week: 7 am – 6 pm
Call 787-554-2453  |  787-554-BIKE
Puerto Rico Pedal Pushers – Bike Rentals & Pedicab Taxi Service
1961 Calle McLeary, Ocean Park, San Juan
Bicycle & beach cruiser rentals: Wednesday – Sunday 9 am – 6 pm
Pedicab service: Wednesday – Sunday 6 pm – 1 am
787-567-2453 (BIKE)
Paseo Piñones Centro de Informacion and Bike Rentals
Take the first right after crossing the bridge on PR-187 east from Carolina into Piñones, Loiza.  Paseo Piñones officially begins here at the

 

Centro de Informacion.
Hours: Open 7 days/ week, 6am – 6pm
Rent A Bike – Road & Mountain Bike Rentals & Tours of Puerto Rico
Servicing all of Puerto Rico including the islands of Vieques & Culebra
Mountain bike & road bike rentals & guided tours of Puerto Rico
Call 787-613-3438  |  email: cs@rentabikepr.com