San Juan Puerto Rico  >  San Juan Puerto Rico Beaches  >  Playita del Condado Beach
Small Beach with Pretty Aquamarine Blues & Great City Views…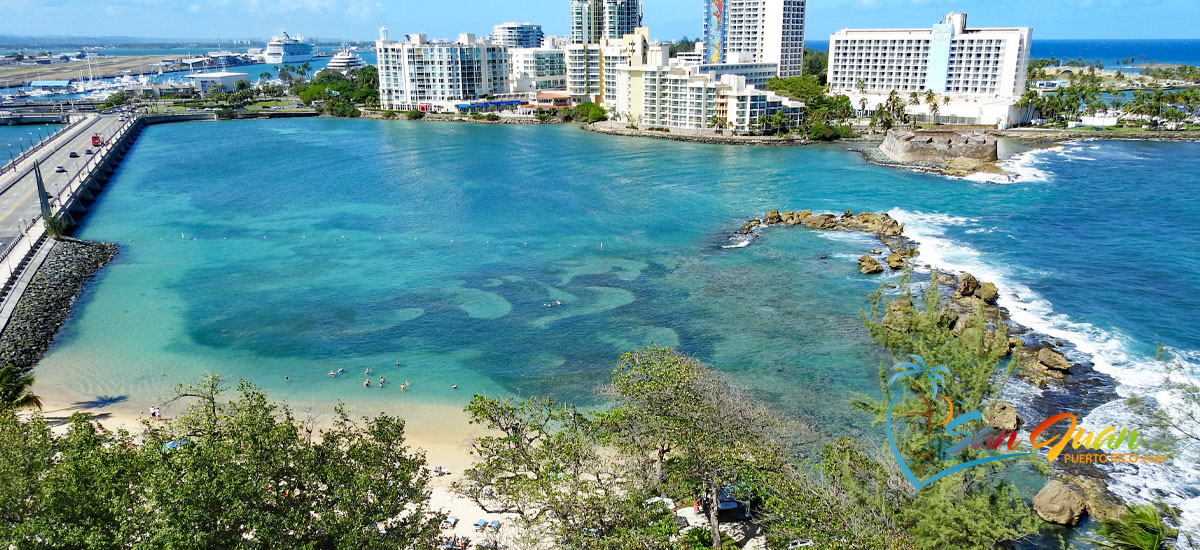 Playita del Condado Beach will feel like a surprise when you visit the district of Condado.  As you cross Puente Dos Hermanos bridge east onto Ashford Avenue, you'll find a small beach tucked away on the northeast corner with soft golden sand shaded by palm trees and almond trees (see map location below).  Although small, this beach certainly makes up for it with its clear, calm, aquamarine waters.  This beach is also a historic site.  Across from it, you can enjoy views of Fortin (Fort) San Geronimo contrasting with the modern architecture of Plaza Caribe Hilton.
Up a few blocks, Condado Beach is the most popular beach, but local families in the know with young children head here to Playita del Condado for the best swimming conditions and even a little snorkeling.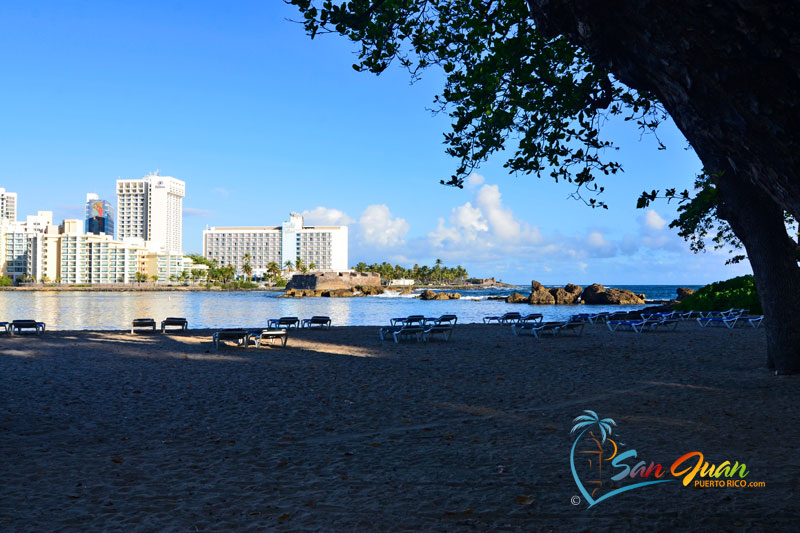 Shade during the morning at Playita del Condado Beach
Beaches such as this one make the capital city of San Juan unique.  You can relax and play on a pretty beach, go paddleboarding next door on the Condado Lagoon, and take in the energy of the surrounding city.
During the winter travel season when most tourists book their getaway in trendy Condado, you will actually find the least crowds.  In the summer months, when the local kids are out of school, and during holidays and weekends, you will find the beach may feel crowded.  Luckily, if you're staying in San Juan and want fewer crowds, there are plenty of beaches you can enjoy within a short drive.
Facilities at Playita del Condado, San Juan, Puerto Rico
Playita del Condado is managed by Parques Nacionales.  The beach is kept clean by the trendy Condado Plaza Hilton hotel – a great choice for families with children wanting to enjoy a beach suited for swimming and playing in the water.
Lifeguard – if a lifeguard is not present, never leave children unattended and swim at your own risk.
Lounge chairs and umbrellas – If you're not a hotel guest, you can rent beach umbrellas and lounge chairs from the hotel staff onsite.
Food – Condado Plaza Hilton has great restaurants, right on the beach there are a few food vendors, and along Ashford Avenue, there are plenty of restaurants to enjoy a good meal.
For a longer and wider beach with plenty of room on the sand even with crowds, be sure to visit the nearby beach of Balneario El Escambron just minutes from Condado.Map of Playita del Condado Beach, Condado, San Juan
Best Hotels & Resorts on Playita del Condado Beach
San Juan, Puerto Rico
Condado Plaza Hilton
From $170

- Beachfront Resort
+ Condado Plaza Hilton
Check Deals & Reviews -  Condado Plaza Hilton, San Juan, Puerto Rico
The Condado Plaza Hilton, a family-friendly hotel right on Playita del Condado, with a swimming area and small reef for snorkeling.  Accommodations include guest rooms, spacious family-friendly suites, and executive rooms with ocean, lagoon, and city views.  Direct access to beach and Condado Lagoon where guests can enjoy kayaking and paddleboarding.
Highlights:  Hotel guests have direct access to Playita del Condado. Waterfront rooms, direct access to Condado Lagoon, 18 meeting rooms, wedding venue, complimentary 24-hour business and fitness center, 4 outdoor pools.
Rates:  from $140
Location:  Condado - 999 Ashford Avenue, Condado, San Juan, Puerto Rico  -  Tel: 787-721-1000
Map - Playita del Condado & Best Hotels / Resorts on the Beach
San, Juan Puerto Rico