San Juan  ⎜  Puerto Rico Ferries ⎜ Cataño / Old San Juan Ferry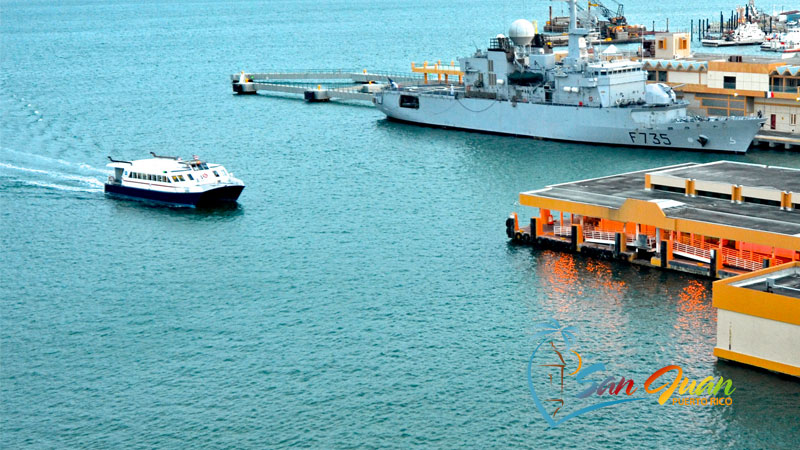 For locals, the Cataño / Old San Juan ferry offers an easy and inexpensive commute.  For visitors in the San Juan area, the ferry offers the most convenient way to visit the Bacardi Rum Distillery.  You can catch the ferry in Old San Juan at Pier #2.  Look for the AcuaExpreso sign.  At the ticket window, request a ticket to Cataño.  The cost is only 50 cents one way.  See below for more information.
The ferry serves as both transportation and an inexpensive sunset cruise.  Just be sure to ride back to San Juan at around 6:15 pm.  On the ferry ride, you can also enjoy beautiful views of the Old City skyline, city walls, and colorful buildings.
Ride length:  About 10 minutes.
Schedule: The ferry operates 7 days a week as follows ("Island Time")

Monday-Friday 6 am to 7 pm
Saturday, Sunday and Holidays 8 am to 8 pm.
The ferry runs every 15 minutes during rush hours (6:15 am – 9:30 am & 3:30 pm – 6:30 pm)
Monday – Friday, and during non-rush hours, weekends, and holidays, every 30 minutes.
The last ferry from Cataño to San Juan sails at 9:30 pm.
The last ferry from San Juan to Cataño sails at 10 pm.

Fees:  Regular rate is $0.50 one way per person; persons with disabilities & 65-75 years old $0.25; persons over 75 years old are FREE.  You can buy your ticket in the ferry terminal at the ticket booth before boarding.
Taxi cost to Bacardi Rum Distillery: $3 per person
Top Rated Sunset Sailing & Boat Tours - San Juan Bay
Map - Cataño / Old San Juan Ferry
San Juan, Puerto Rico