Puerto Rico  >  San Juan Puerto Rico  >  Best Beaches in San Juan, Puerto Rico
San Juan, Puerto Rico… All The Excitement of a Vibrant City with the Allure of Tropical Beaches… Birthplace of the Piña Colada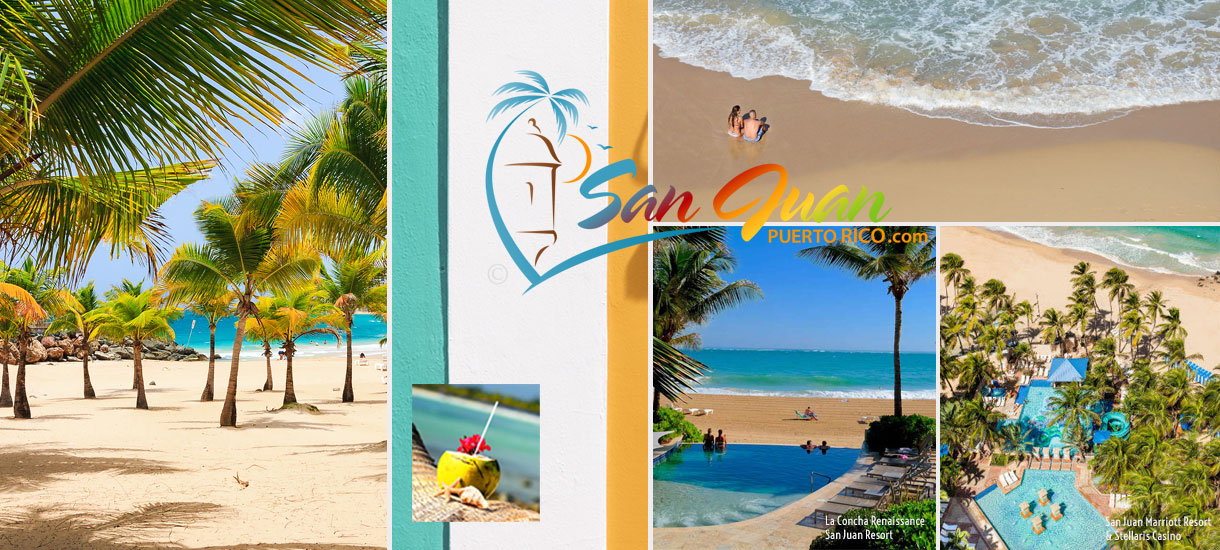 If you're looking for a beach escape with vibrant city life, San Juan has it down to perfection.  San Juan is one of the most accessible and affordable beach city vacations in the Caribbean. Unlike most cities, you will find the beaches of San Juan to be relaxed and uncrowded on weekdays. Enjoy miles of beaches with plenty of room to relax on the sand.  Whether you like a trendy Miami style or a more casual scene, you can find a beach in San Juan to meet your needs.
In just a 3.5 hour flight from many cities in the US, you can find yourself laying under a palm tree enjoying the pleasures of a Caribbean island, with a vibrant culture, friendly hospitality, and delicious food that Puerto Rico is known for.
Condado is a trendy and chic beach destination with luxury beachfront resorts.  Ocean Park beaches are more casual and uncrowded.  Escambron is picture-perfect with hundreds of palm trees and crystalline waters.  Be sure to leave time to visit the many nearby beaches around the island that feel like a world away.
Escambron Beach - The Best Beach in San Juan
Two Beaches offering Sun, Sand, Snorkeling, Scuba Diving & Historic Site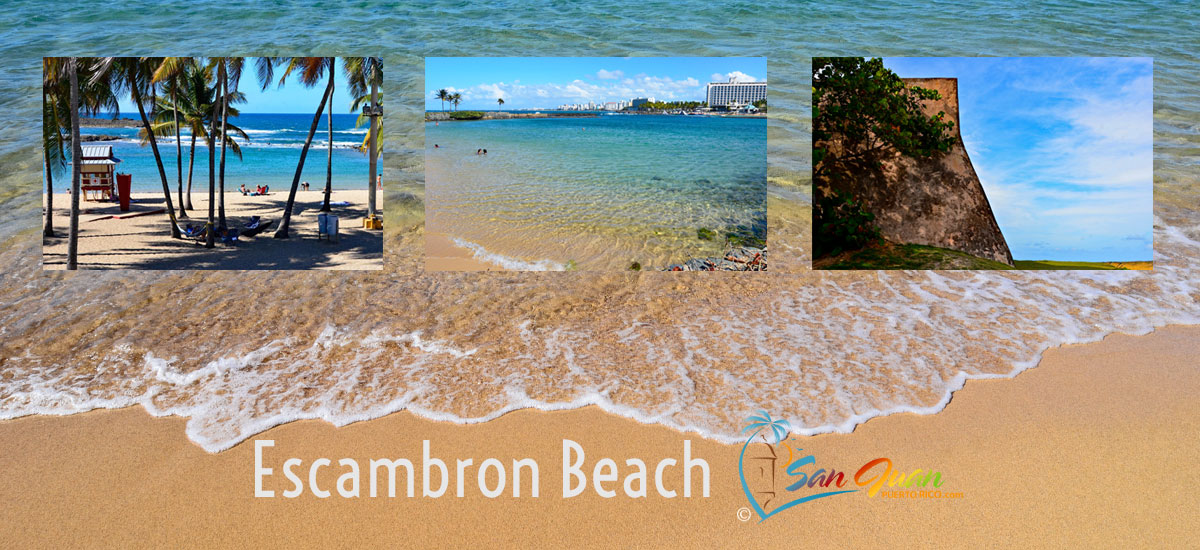 The best public beach in the capital city of San Juan located in Puerta de Tierra, right between Old San Juan & Condado.  Here at Escambron, you can enjoy swimming waters, snorkeling, scuba diving a historic site, sweeping views of Condado and Old San Juan, great food, facilities, and two other additional beaches.
Top Rated Tours - Escambron Beach - San Juan
Condado Beach - Best Beach with Resorts
Best Beaches in San Juan, Puerto Rico
Enter the trendy Condado Beach where sand, sun, water, and trendy beachfront resorts come together Miami Beach style.  From Condado Beach you can walk to shops, casinos, many restaurants, and Condado Lagoon where you can go kayaking, and paddleboarding. 
Laguna del Condado (Condado Lagoon) – Best Beach for Kayaking & Paddleboarding (SUP)
Those that prefer to find quiet and relaxing water activities head to Laguna del Condado, commonly known as the Condado Lagoon.  Right in between Condado and the highway, protected from the traffic noise by a line of almond and mangrove trees you can glide on clear blue waters where manatee, sea turtles, and other friendly beautiful creatures call home.  Laguna del Condado offers the most popular and top rated kayaking tours by day and night in the San Juan / Metro area.  If you enjoy the sport of SUP, be sure to book a session or rent a board to do on your own.  
Isla Verde Beach - Best Beach for Watersports & Nightlife
Carolina, Puerto Rico
Top Rated Isla Verde Beach Tours
Isla Verde a long wide beach in the nearby town of Carolina, popular for water sports, jogging, and swimming in its calmer waters. Isla Verde actually has three beaches, it is a very popular tourist destination for its great beachfront resorts, hotels, dining, and water sports.  When you're hungry, there are plenty of restaurants and cafés to choose from.  
La Playita del Condado - Best Beach for Families with Children
Best Beaches in San Juan, Puerto Rico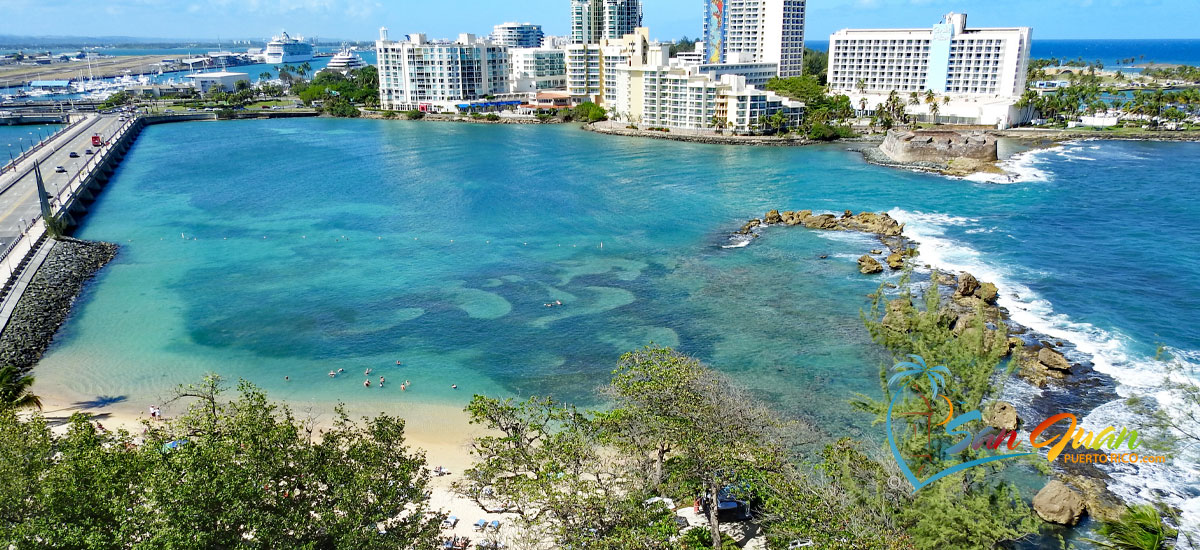 Playita del Condado is a small beach with aquamarine blues and city views.   If you're traveling with small children, you may want to visit La Playita in Condado, a small beach that makes up for it with calm waters safe for swimming and playing.  Stay at the hotel next door to enjoy it in just a few steps away.  
Ocean Park Beach - Quietest Beach with Budget-Friendly Inns
Best Beaches in San Juan, Puerto Rico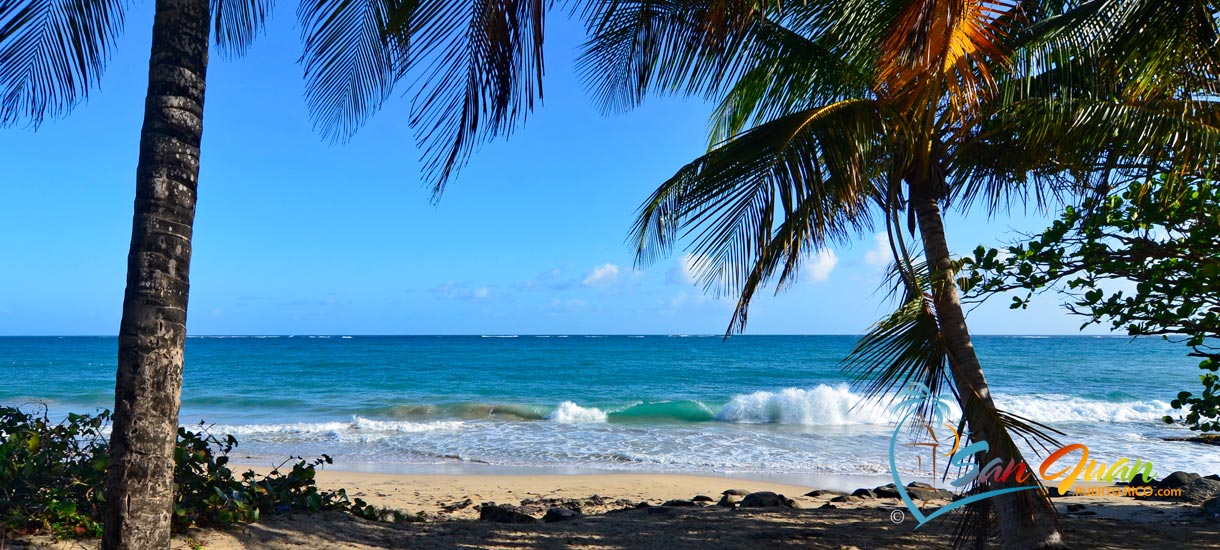 A popular beach for both locals and visitors with a more laid back vibe and fewer crowds than nearby Isla Verde and Condado beach.  You'll find the most budget-friendly inns at Ocean Park Beach. The sand is soft and golden, and if you get here early, you'll find a shaded spot under a palm tree.  When you get hungry you don't have to leave the beach, there are nice beachfront restaurants so you can continue enjoying your beach experience as you dine.  
Playa Peña Beach - Best Beach for a Romantic Walk
Best Beaches in San Juan, Puerto Rico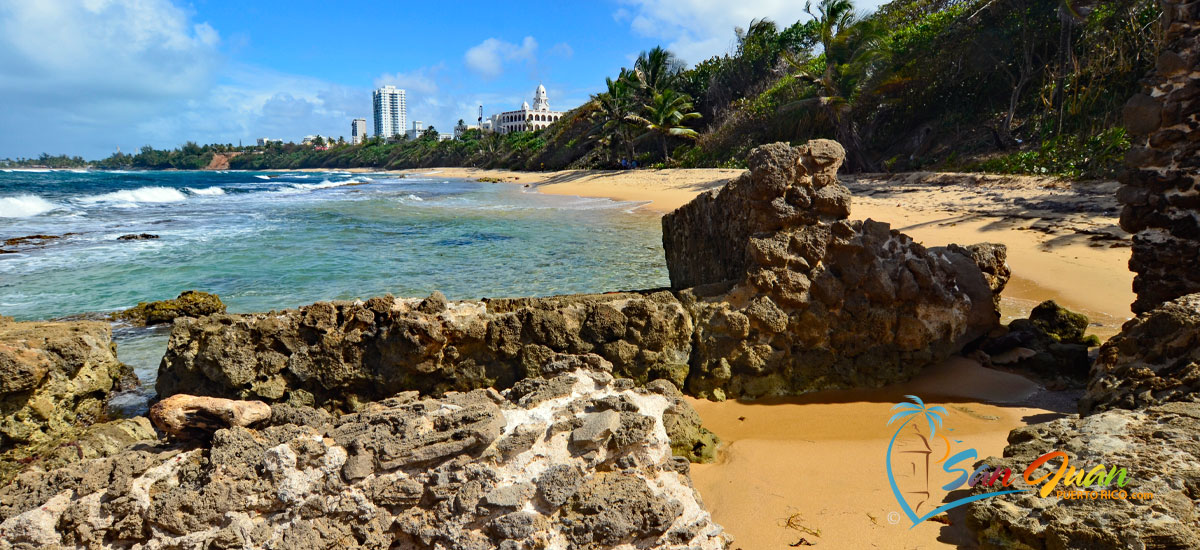 A secret surprise because not many people get to visit or know about this little gem right across from the Capitol Building, just past the San Cristobal Fortress.  Once here, you'll forget you're in a major city, you may be sharing this beach with a few other couples.  During low tide this beach is nice for watching and listening to the waves, taking a dip, and getting a great tan. Don't miss taking a walk down to the fort ruins.  
Popular & Top Rated Beach Tours
San Juan, Puerto Rico
Map - Beaches in San Juan, Carolina & Nearby, Puerto Rico