Puerto Rico  ⎮  San Juan Puerto Rico  ⎮ Best Beaches in San Juan, Puerto Rico
San Juan, Puerto Rico…  All The Excitement of a Vibrant City with the Allure of Tropical Beaches… The Birthplace of the Piña Colada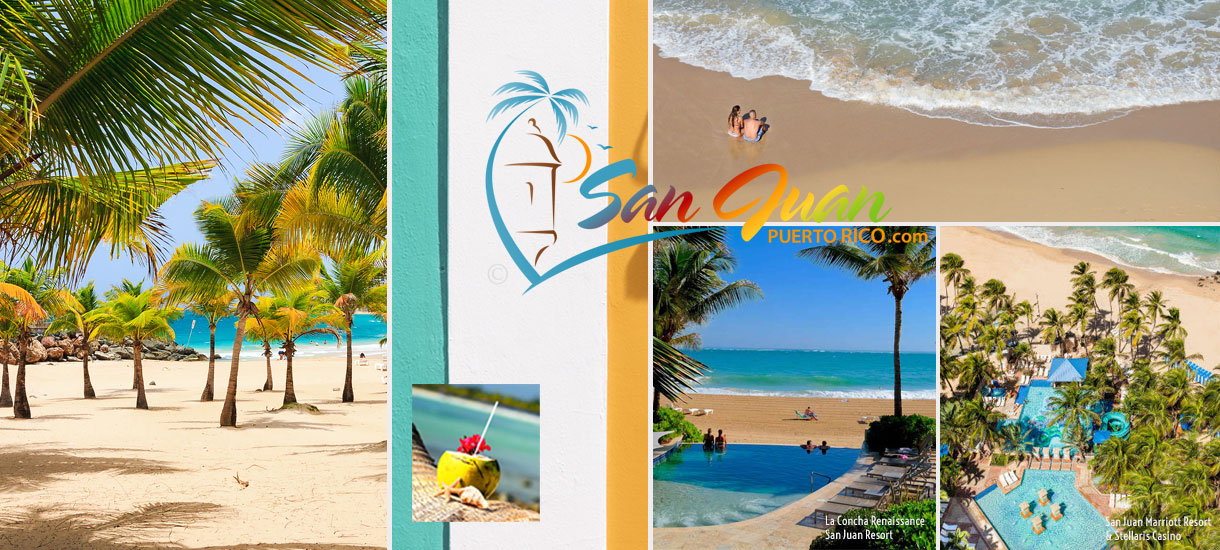 If you're looking for a beach escape with vibrant city life, San Juan has it down to perfection.  San Juan is one of the most accessible and affordable beach city vacations in the Caribbean.
Unlike most cities, you will find the beaches of San Juan to be relaxed and uncrowded on weekdays. Enjoy miles of beaches with plenty of room to relax on the sand.  Whether you like a trendy Miami style or a more casual scene, you can find a beach in San Juan to meet your needs.
In just a 3.5 hour flight from many cities in the US, you can find yourself laying under a palm tree enjoying the pleasures of a Caribbean island, with a vibrant culture, friendly hospitality, and delicious food that Puerto Rico is known for.
Condado is a trendy and chic beach destination with beachfront resorts.  Ocean Park beaches are more casual and uncrowded.  Escambron is a Blue Flag Beach and the best public beach in San Juan offering a variety of activities, boasting the clearest water.  Be sure to leave time to visit the best beaches around Puerto Rico easily explored by renting a car.
A list of frequently asked questions are included at the end of the list. 
1. Escambron Beach – The Best & Most Beautiful Beach in San Juan
Two Beaches, Historic Site, Great Snorkeling & Scuba Diving Site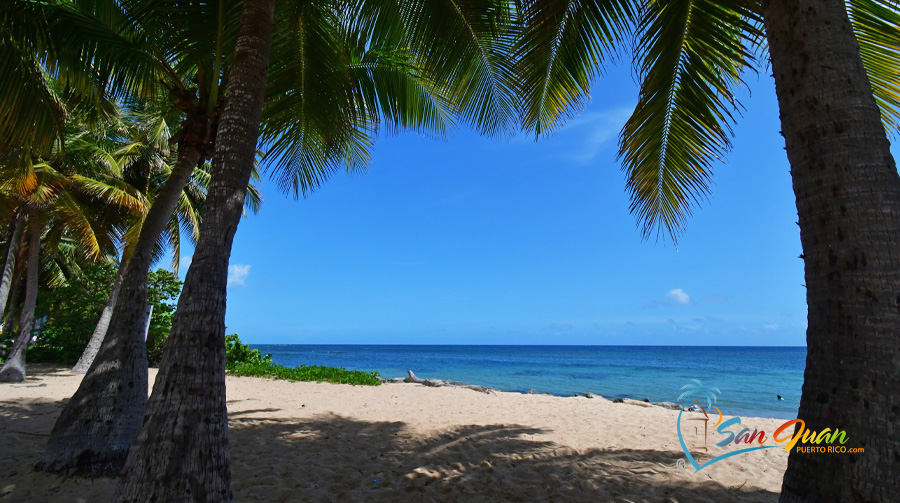 The best public beach in the capital city of San Juan is located in Puerta de Tierra, right between Old San Juan & Condado.  Here at Escambron, you can enjoy swimming waters on two distinct beaches, go snorkeling and scuba diving, a historic site, and sweeping views of Condado and Old San Juan.  Escambron Beach is managed by the municipality, the only beach with facilities.  Balneario Escambron was one of the only two beaches in Puerto Rico to receive the Blue Flag award in 2020.  There are two beaches inside Escambron, the first is the most popular, it is wide with a protected swimming area by a coral wall.   The other beach has calmer water and is popular for snorkeling and scuba divers where sea turtles are often spotted.  This beach is also home to the fortification of Bateria El Escambron, from where you can enjoy sweeping views of the city and the coastline of the Condado Tourist District.
Top Rated Snorkeling Tours - Escambron Beach - San Juan
Although not officially part of the capital city of San Juan, a quick 15 minutes drive east, you can enjoy Isla Verde Beach, a recently acclaimed best city beach in the Caribbean and under the US Flag.  This lively and beautiful beach is popular for water sports, safe for swimming, and a favorite place to learn how to surf for families with children.  What is often referred to as Isla Verde Beach is actually three beaches, each with distinct traits.  You can get to Isla Verde with a quick and inexpensive taxi ride from San Juan.  When you're hungry, there are plenty of restaurants and cafés to choose from within walking distance of the beach.  If you don't find a hotel that suits your needs in San Juan, Isla Verde Beach offers a nice selection of beachfront hotels, resorts, and small inns.  Isla Verde is just 5 minutes drive from the SJU Airport.
Fun Tours in Isla Verde & Nearby
A popular beach for both locals and visitors with a more laid-back vibe and fewer crowds than nearby Isla Verde and Condado beach.  The mile-long beach is wide, the sand is soft and ivory white.  Ocean Park is a perfect mix of relaxation and fun on the sand and waves.  Visitors can relax under intimate romantic spots shaded by palm and seagrape trees.  If you wish to stay active, join locals on a game of beach or tennis volleyball or come early morning for a relaxed walk or jog.  Don't miss our photo tour of Ocean Park complete with the best beach access points and visitor's tips.
4. La Playita del Condado
Best Beach for Families, Swimming & Location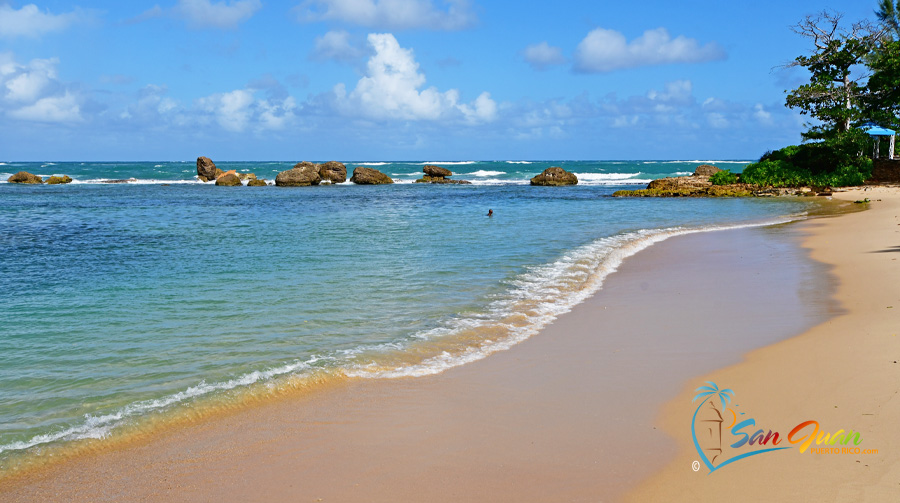 This beach may be small, but it has some pretty awesome qualities.   The water is pretty with aquamarine blues and calm for swimming and doing a little snorkeling.   Access is very convenient, you may park across the street in the parking garage and within walking distance from many hotels along Ashford Avenue.  The views of the fort and modern city add interest while lounging on the beach.  There are many restaurants within walking distance of the beach.  Umbrella and lounge chairs are available for rent.  La Playita del Condado is a great beach option for cruisers who want beach time nearby, the closest beach to the cruise ports.  If you're traveling with small children, you may want to visit this beach, protected by a rock wall keeping the waters calm under normal weather conditions.  Stay at the hotel next door to enjoy it just a few steps away.
Snorkeling Tours at Playita del Condado
Those that prefer to find quiet and relaxing water activities head to Laguna del Condado, commonly known as the Condado Lagoon.  Right in between Condado and the highway, protected from the traffic noise by a line of almond and mangrove trees you can glide on clear blue waters where manatees, sea turtles, and other friendly beautiful creatures call home.  Laguna del Condado offers the most popular and top-rated kayaking tours by day and night in the San Juan / Metro area.  If you enjoy the sport of SUP, be sure to book a session or rent a board to do on your own. On the southwest corner of Laguna del Condado is a small beach that's never crowded.  You can walk from Condado across the bridge to reach it.  
Top Rated Tours in Laguna del Condado
6. Bahia de San Juan "San Juan Bay"
Most Scenic Experience on the Water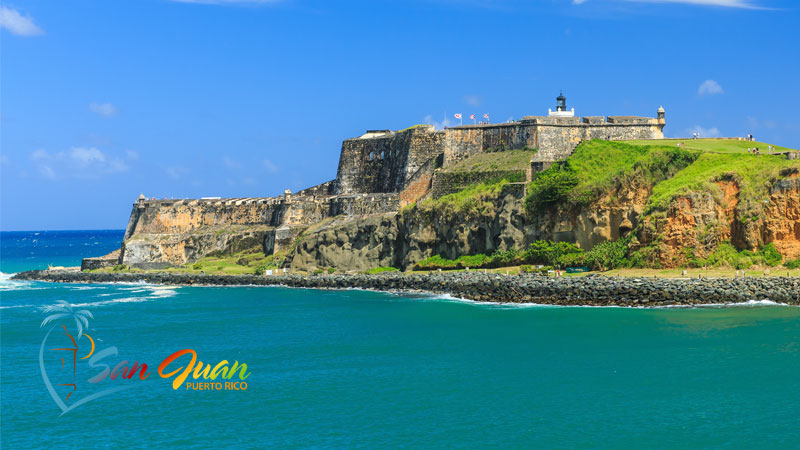 Bahia de San Juan is not a beach but a very special body of water certainly deserving of a spot on your list of things to do.  The San Juan Bay offers visitors one of the most scenic and romantic experiences, not to be missed by sunset lovers.  
Return home with travel bragging rights for experiencing a sunset sailing tour by SailPR, which proudly earned a spot on the coveted Traveler's Choice Best of the Best by TripAdvisor for Best Sailing in the World for the past two years, #20 in 2022 & #7 in 2021
Romantic & Fun Tours at Bahia de San Juan / San Juan Bay
Distance from San Juan: 30 minutes
This beach is a nice getaway offering a more natural setting with few crowds during the week but not too far from the city.  What makes this beach special is what you find on the beaches along the north coast of Puerto Rico, although facing the Atlantic, a natural coral wall runs along the beach, creating a natural pool with shallow and very clear water.  Families with children will enjoy this beach, the depth of the water rarely goes above the waist.  For some added fun, you can watch planes fly above since the airport is just minutes away.
Fun & Cultural Tours to Piñones Beach & Village
8. Condado Beach
Best Beach with Resorts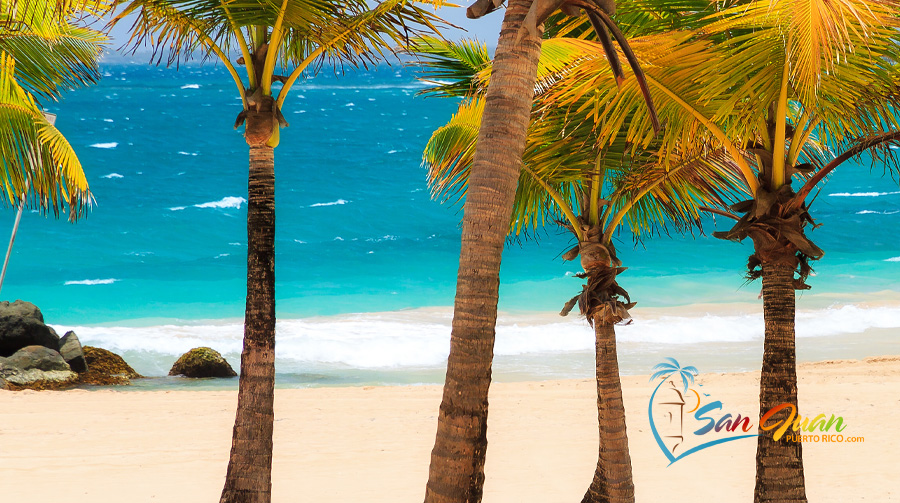 Enter Condado Beach where sand, sun, water, and trendy beachfront resorts come together Miami Beach style.
For those that love lounging, watching, and listening to the sound of the waves, with beachside resort services Condado Beach is a good choice.  If you wish a break from the sun, Condado Beach is centrally located within walking distance of many restaurants, shopping, and casinos.  If you wish to swim walk to Playita del Condado where the water is calm.  Condado Lagoon where you can go paddleboarding, kayaking, and other water activities.   Condado Beach is not safe for swimming or bathing, the water has very dangerous currents.  Neither adults nor children should be swimming at Condado Beach.  
+ Condado Beach - Beach Guide, Best Resorts on Condado Beach, Water Activities, Map
9. Playa Peña Beach
Best Beach for a Romantic Walk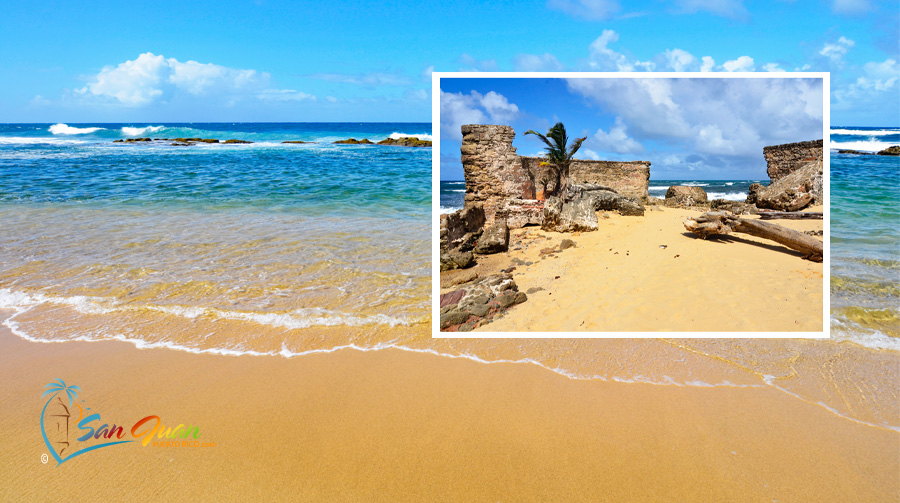 A secret surprise because not many people get to visit or know about this little gem right across from the Capitol Building, just past the San Cristobal Fortress.  Once here, you'll forget you're in a major city, you may be sharing this beach with a few other couples.  During low tide this beach is nice for watching and listening to the waves, taking a dip, and getting a great tan. Don't miss taking a walk down to the fort ruins.
Frequently Asked Questions about Beaches
San Juan, Puerto Rico
What is the most beautiful beach in San Juan Puerto Rico?
That is a question that's very difficult to answer, what may appeal to most people, may not be your favorite type of beach.  Overall, the best and most beautiful beach in San Juan is Balneario El Escambron, offering two beaches with distinct personalities where you can snorkel, swim, scuba dive safely and take a romantic walk along the beach and tidal pools without crowds.  
We invite you to stay on this page a little longer and please take a look at all the beaches, each with a unique ambiance, vibe and scenery.  We believe you'll find YOUR own favorite beach. 
Can you swim in the ocean in San Juan?
What is the closest beach to Old San Juan?
The closest beaches to Old San Juan are the following: 
Beaches where you can walk from Old San Juan
Walking times are departing from Plaza de Colon in Fortaleza Street. 
Playa Peña – 9 minute walk
Escambron Beach – 30 minute walk via the scenic walkway of Paseo Puerta de Tierra
More beaches near Old San Juan
Playita del Condado – 6 minute drive
Condado Beach – 7 minute drive
Does San Juan have good beaches?
Well we certainly believe so, we walked them, we enjoy them all year long and so do thousands of repeat visitors that come year after year.  San Juan is a vibrant and bustling city yet our beaches are nice and relaxed even in high season.  There are many beaches to choose from and just about every type of traveler will find a favorite one.  San Juan offers beaches with calm water safe for swimming, you can snorkel and scuba dive, there are beaches great for water sports, trendy city beach for lounging and being pampered by resort staff, a beach for a romantic walk where you can search for sea glass and visit a ruin, and even paddleboard and kayak in a lagoon that's a manatee reserve.  On top of the nice selection of beaches in San Juan, nearby you can enjoy the beaches of Isla Verde just 15 minutes from San Juan, Luquillo Beach, and of course rent a car to explore the best beaches of Puerto Rico.  Puerto Rico is small, so no place is too far from San Juan,  most of the best beaches can be enjoyed as a day trip. 
Which beach has the clearest water in San Juan Puerto Rico?
Fun Beach Tours in San Juan, Puerto Rico
Map of Best Beaches in San Juan...
Carolina & Nearby - Puerto Rico
Explore The Beaches of Puerto Rico