Ocean Park Beach is a favorite spot for locals in San Juan and gaining popularity among tourists.   The young locals like to refer to it as "Ocean".  The wide mile-long beach is framed by a few shaded spots with palm trees along the way, residential condominiums, private residences, vacation rentals, restaurants, and a few boutique hotels, small inns, and guesthouses.
Ocean Park has a very casual, low-key vibe.  Even during the high tourist season, you will find the beach to be pretty relaxed and uncrowded. Ocean Park Beach is on the Atlantic Ocean side featuring pretty blues from deep navy blues to aquamarine. The sand is golden, soft, and light.
During the weekday mornings, the scene is relaxed and uncrowded perfect for a relaxing long walk. During the summer months and weekends, it gets much busier.  If you dislike crowded spaces, avoid visiting on holiday weekends.
El Ultimo Trolley Beach at Ocean Park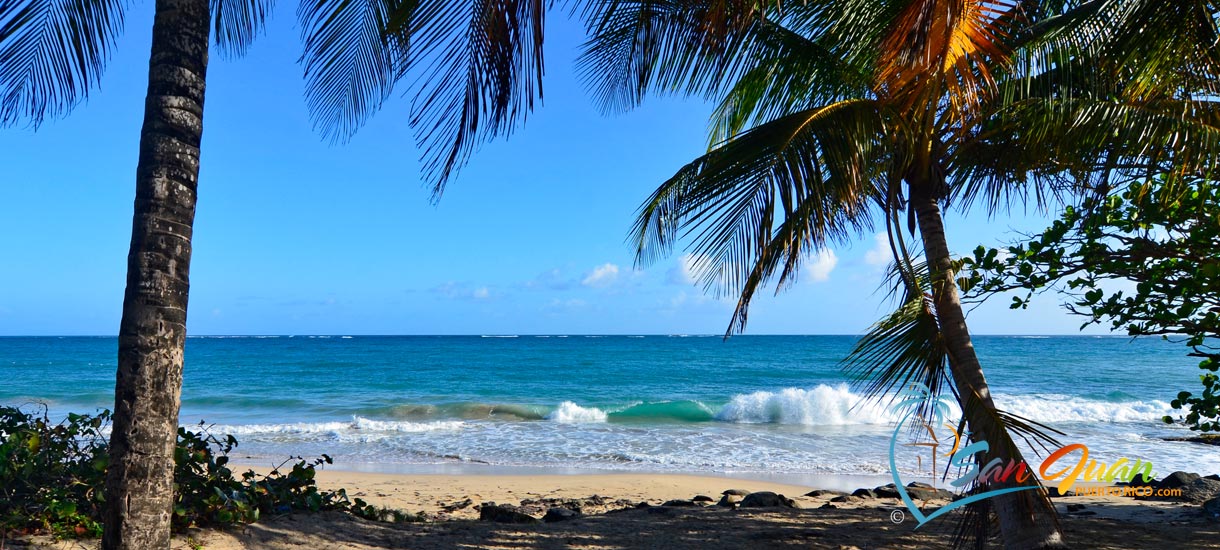 The most popular access point for Ocean Park Beach is on the east end located right across from Parque Barbosa (Barbosa Park).   This beach stretch is popular with young locals and the scene is fun and casual.  Just down the street, there are rentals available for windsurfing, kiteboarding, and paddleboarding, lessons are also available. Call Sotavento Watersports at 717-727-4617.
Unlike the west side of Ocean Park, this beach is more narrow, it will feel more crowded on the weekends.   On the weekends and holidays, you'll find street vendors selling delicious food, piraguas, and fresh tropical ice cream.
This part of the beach is known by locals as "El Ultimo Trolley" (The Last Trolley), named this way because back in the day, this spot was the last tram stop.  El Ultimo Trolley has the most convenient parking and access to the beach.
Right across the street you can get great exercise by going to Parque Barbosa where you can play tennis, jog / walk on the track, play basketball, and more.  Families with children will enjoy the kid's playground.  This area is also very popular for bicycling, you can ride farther up east on a wide sidewalk with views of the Atlantic.
Our favorite spot is at the far end of the beach where you can enjoy watching the beach scene shaded by palm and almond trees.  One of the things we love about San Juan is being able to enjoy these quiet cozy spots while having all the energy and action of a modern city.  Get here early on weekends to grab a spot.
Activities at Ocean Park Beach - San Juan
Walking / Jogging – The softness and lightness of the sand and the width of the beach makes it a great beach for long walks and runs on the shores.
Ocean Park Beach is popular among dog owners, you'll see people walking their dogs early in the mornings.
Water Sports – Ocean Park is popular for windsurfers and a few other water sports. There are a few businesses offering rentals nearby.
Lounging on the Sand – Of course, lounging on the sand is a favorite, if you don't have an umbrella and you'd like a shaded spot, there are palm and almond trees along the beach but not many, be sure to get here early, especially on weekends and holidays to grab a spot.  The small inns on the beach offers lounge chairs for guests.
Swimming at Ocean Park Beach – Please keep in mind that Ocean Park Beach is on the Atlantic Oceanside. The waves are rougher but yet more gentle than the neighboring beach of Condado.   Ocean Park is most popular for water sports, but not the best for swimming, especially for children.
Access to Ocean Park Beach, San Juan
Ocean Park is easy to miss and a little difficult for first-time visitors to find because the shores of Ocean Park Beach are lined by high-rise condominiums, residences, and a few small inns.  The following is information on the access points to Ocean Park Beach.
Parque del Indio – Entrance to Ocean Park Beach, located right at the end of Condado.
Santa Ana & McLeary Ave. – Entrance to Ocean Park Beach through Santa Ana & McLeary Ave, this entrance is mainly for residents and guests staying at the small inns located on this stretch.  Look for the Laundry & Puma Gas Station on McLeary Ave.  There is practically no parking, most off-street parking is occupied by residents.  This stretch of beach is quiet and wide.  Numero Uno Guesthouse is a great place to stay to enjoy this beach at really affordable rates.  Numero Uno Guesthouse rakes the sand in front of the guesthouse and keeps it clean, they have some palm trees offering shade and you can eat with your toes on the sand.
Parque Barbosa (El Ultimo Trolley) – Right across from Parque Barbosa on the east end of Ocean Park Beach.
Facilities at Ocean Park Beach - San Juan, Puerto Rico
There are no public restrooms along the beach.
You can enjoy a nice lunch or breakfast at various restaurants nearby.
Parking at Ocean Park Beach, San Juan, Puerto Rico
The east end of Ocean Park beach offers free and convenient parking just steps across from the beach around Barbosa Park, making it very convenient to carry your beach chairs and cooler.
Map - Ocean Park Beach
San Juan, Puerto Rico