Ocean Park is a favorite spot for locals in San Juan, a very friendly and laid-back beach where locals and visitors alike come to seek the perfect mix of relaxation and fun on the breezy shores.  Please take a few minutes to stay on this page, and allow us to show you how to enjoy Ocean Park for an enhanced experience.  If you choose to come to San Juan, thank you for supporting tourism on the island.
Let's go to "Ocean" as locals call it.
Highlights:  Intimate shady spots for relaxing, great for jogging and walking, popular for kitesurfing, beach volleyball nets, one beachfront restaurant, and bar. 
Top Rated Places to Stay in Ocean Park - San Juan, PR
Ocean Park Beach is a favorite for local joggers and travelers that wish to stay active during their visit.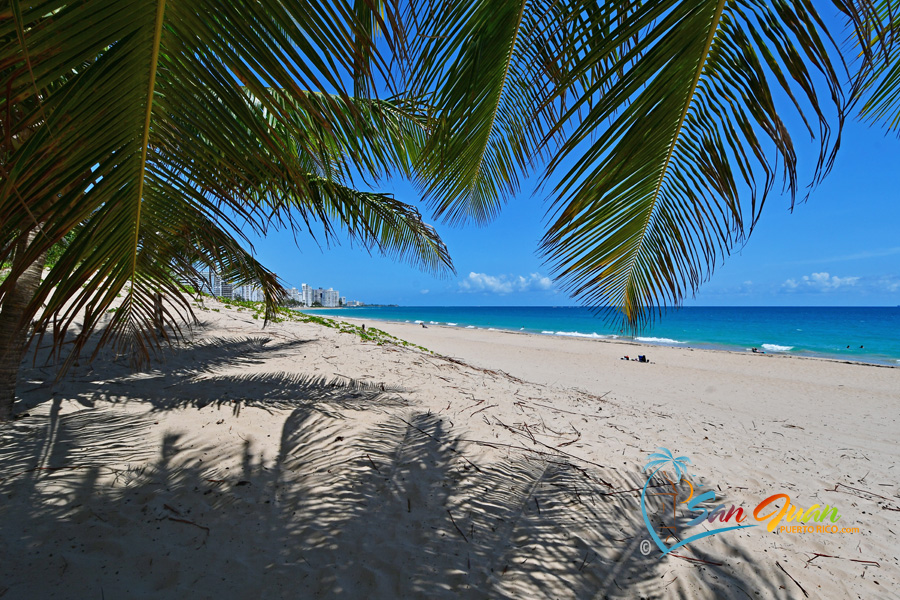 In the mood to relax or play on the surf and sand?  Ocean Park Beach offers a great mix, with a cool casual ambiance all colored in shades of blue and green with an ivory-white soft carpet perfect for walking, jogging, and playing.
Top Rated Beach Tours in San Juan & Nearby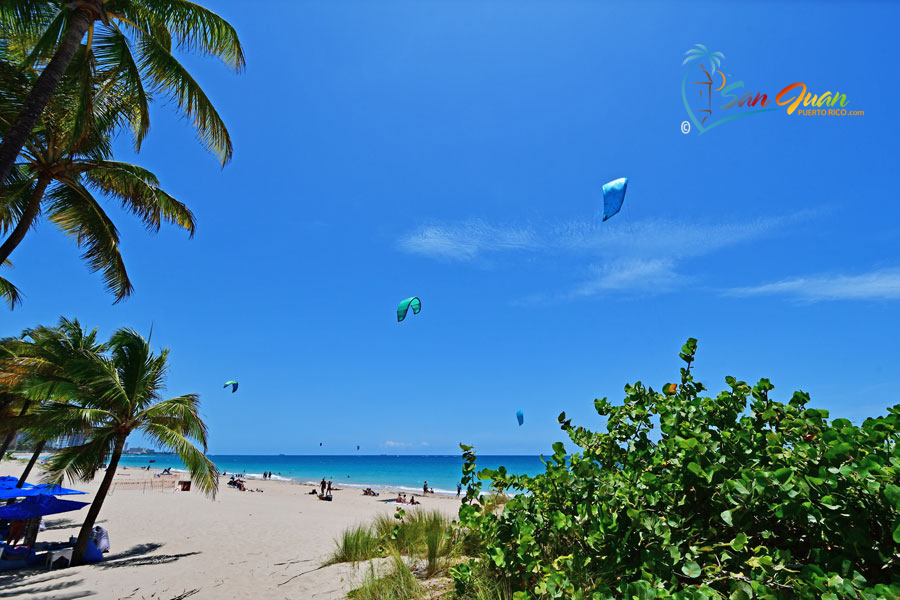 Ocean Park is framed by a lush line of palm trees, sea grape trees, almond trees, and other native trees.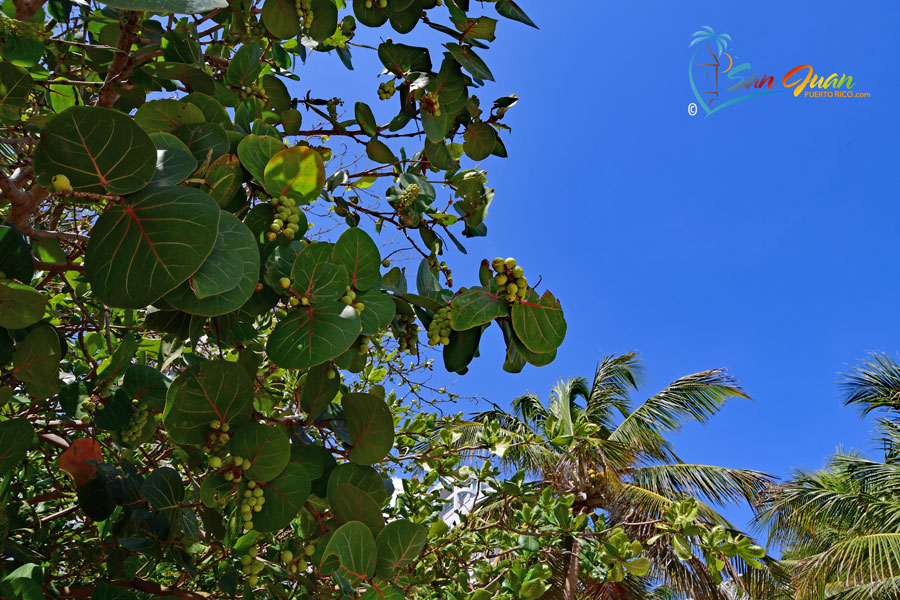 Behind the natural landscape of trees, there are condominiums, private residences, and a few small inns and guest houses.  There are various access points to Ocean Park, we offer information on how to get there below.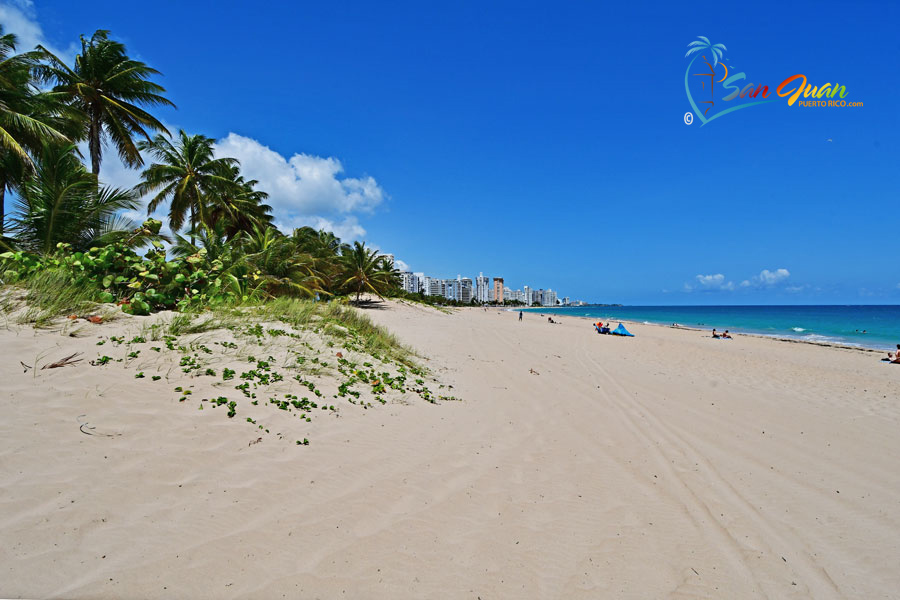 Hurricane Maria was really hard on Puerto Rico, although there was heavy erosion on the eastern part of Ocean Park, the beach got a brand new thick carpet of sand, and sand dunes formed, which was really needed to protect the coast.  We ask visitors to please stay off the dunes.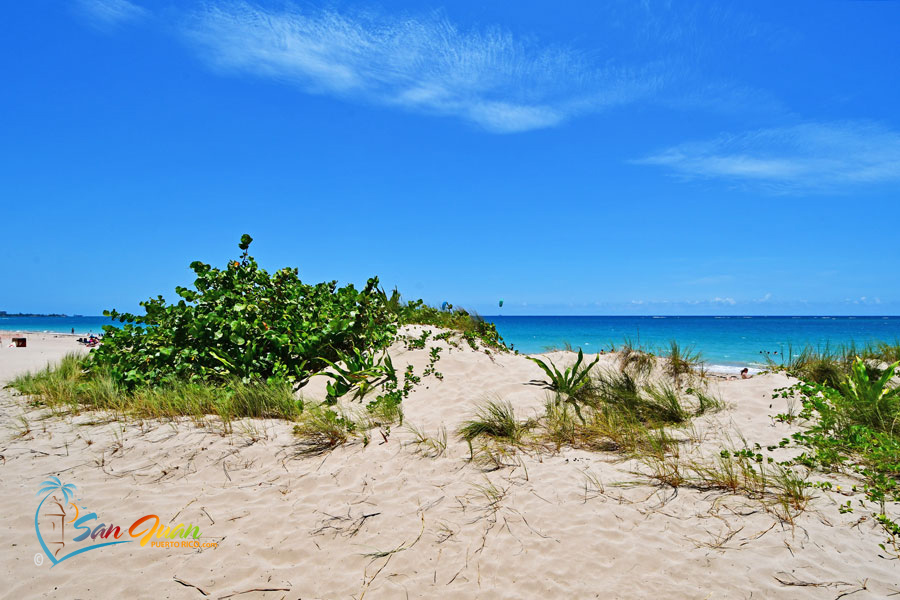 While most people seem to hang out closer to the water, the best and most dreamy spots remain empty and quiet.  We encourage visitors to take a walk and enjoy these beautiful intimate spots.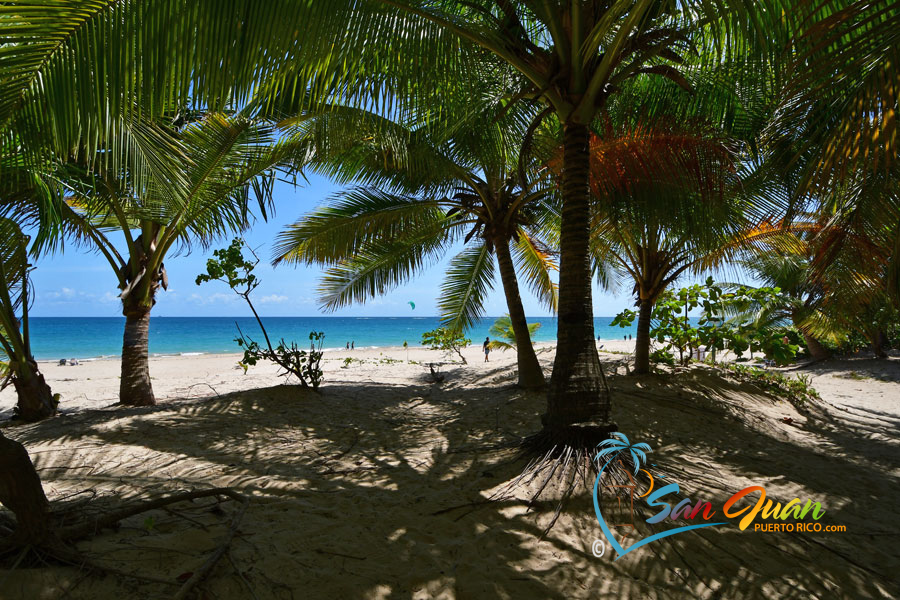 With over a mile to explore, you'll find plenty of cozy, and romantic shaded spaces for that tropical feel you may be craving.  Simply bring a beach towel, or better yet a hammock, and experience the pleasures of island life.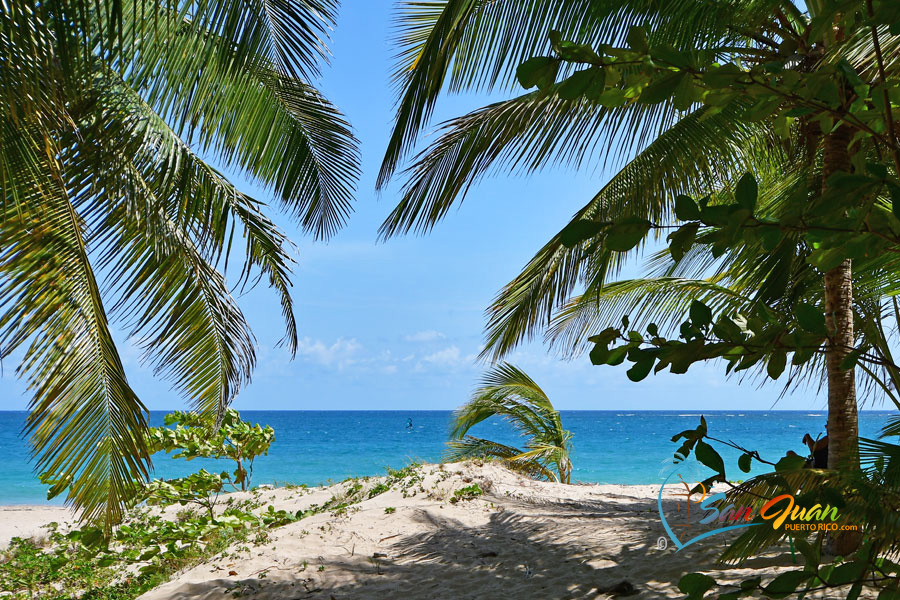 Romantic Picnics in San Juan & Nearby
Ocean Park … A Beach Tennis & Volleyball Playground
A few steps away after cooling from the sun, you can play a game of beach volleyball or tennis, and you'll find quite a few nets placed along the beach.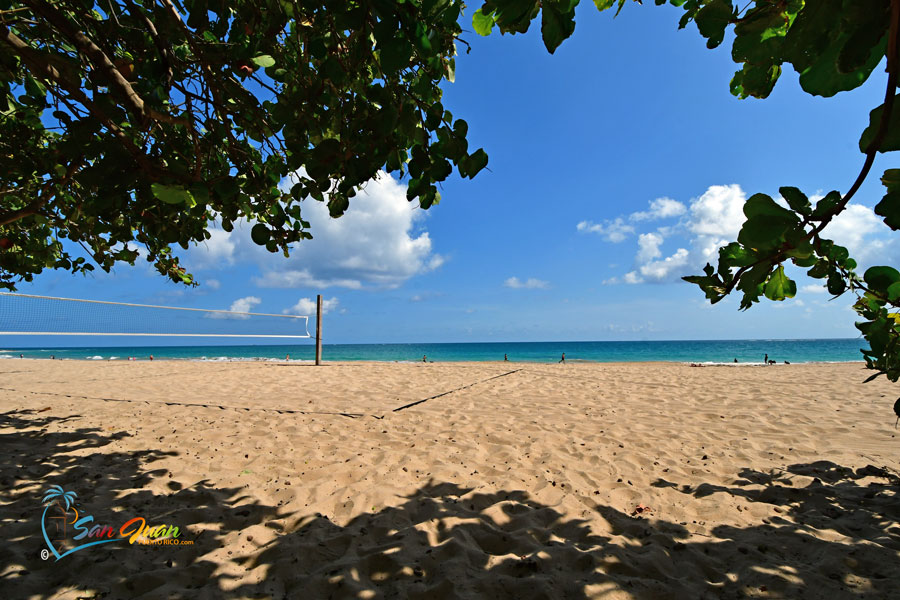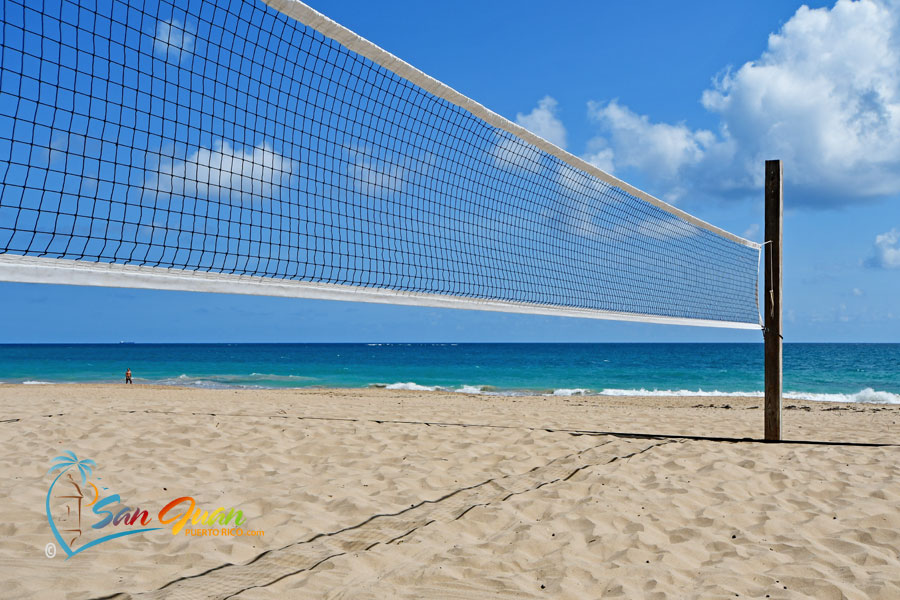 If you're a traveler that wishes to meet and mingle with locals, you'll love Ocean Park; you'll find residents playing beach tennis and volleyball, just ask and join them, Puerto Ricans are super friendly, and you may in fact leave the island with new friends.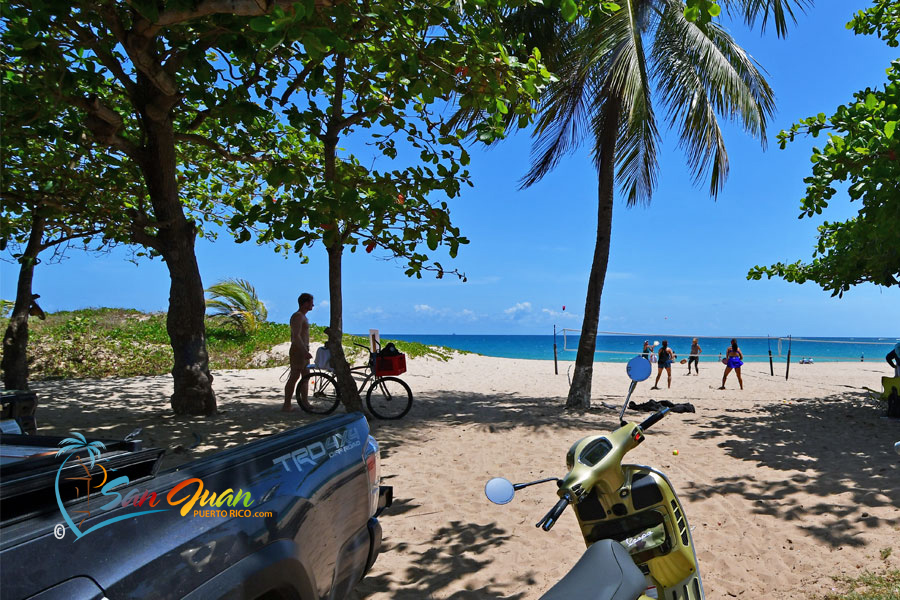 Swimming at Ocean Park Beach
Please keep in mind that Ocean Park Beach is on the Atlantic Oceanside. The waves are fun for body boarding and you can enjoy bathing along the edge where is safest.  Ocean Park is most popular for water sports, but not the best for swimming, especially for children.  If you have children, Escambron Beach & Playita del Condado are best and safest for swimming.
Ocean Park breezes make it a favorite spot for kitesurfing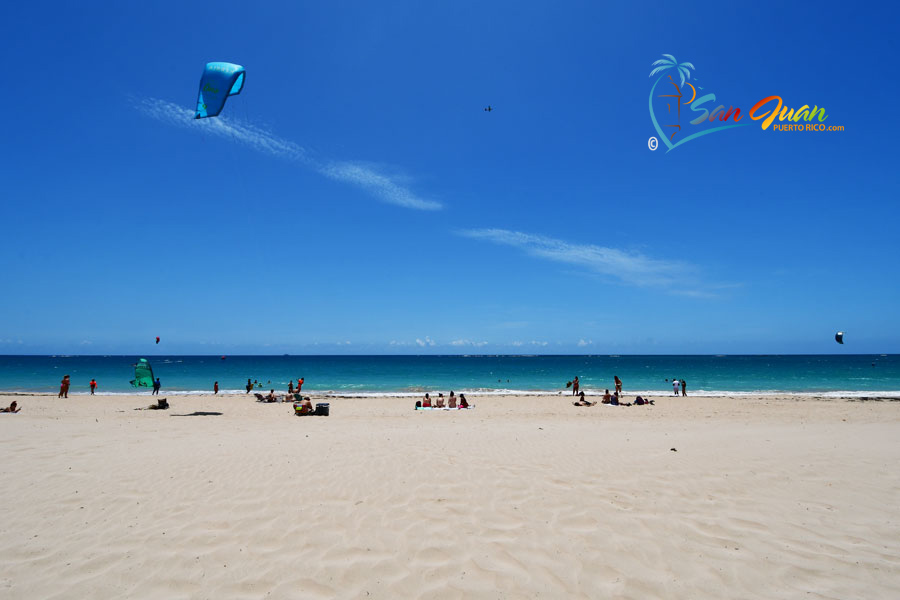 Ocean Park is a very popular beach for kitesurfing.  If you love to sit and lounge on the sand, is fun to watch kite surfers, and if you wish to give it a try, you will find kite surfing lessons at Numero Uno Guesthouse.
Ocean Park is a favorite among locals for jogging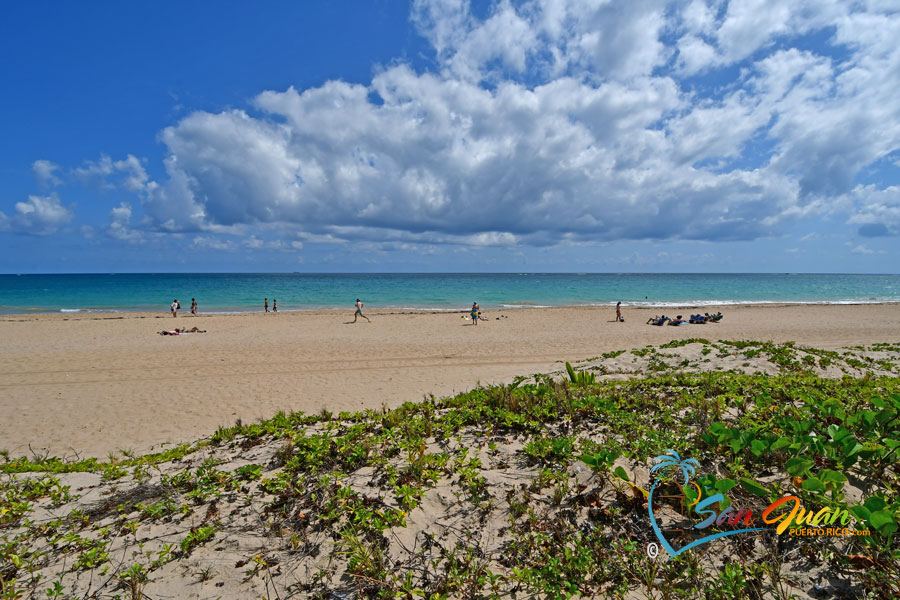 The sand is soft, and light along the back of the beach, perfect for laying under the sun.  Near the water, the sand is perfectly compacted, perfect for walking and jogging.
Ocean Park … A Pet-Friendly Beach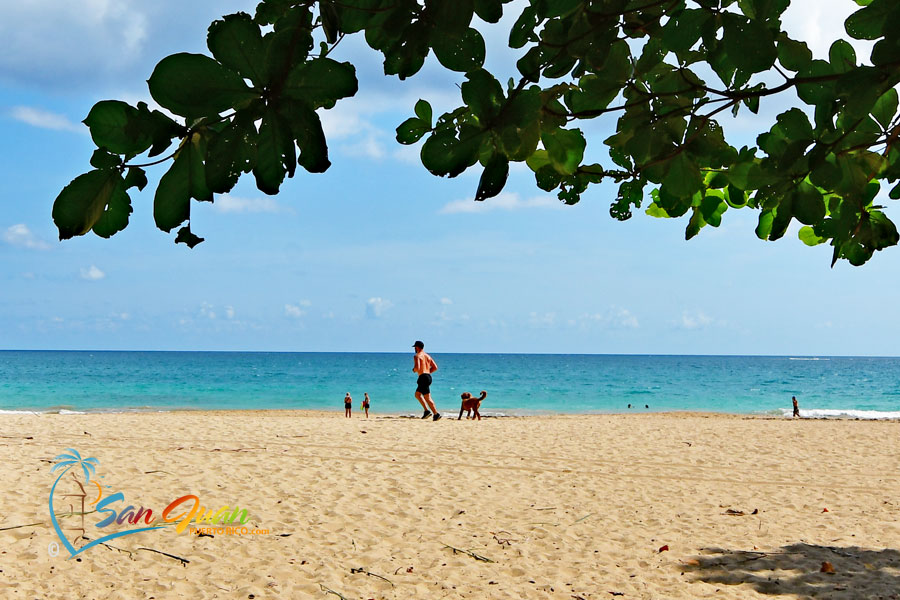 Ocean Park Beach is popular among dog owners, you'll see people walking their dogs early in the mornings.
Ocean Park… a Sea Turtle Nesting Site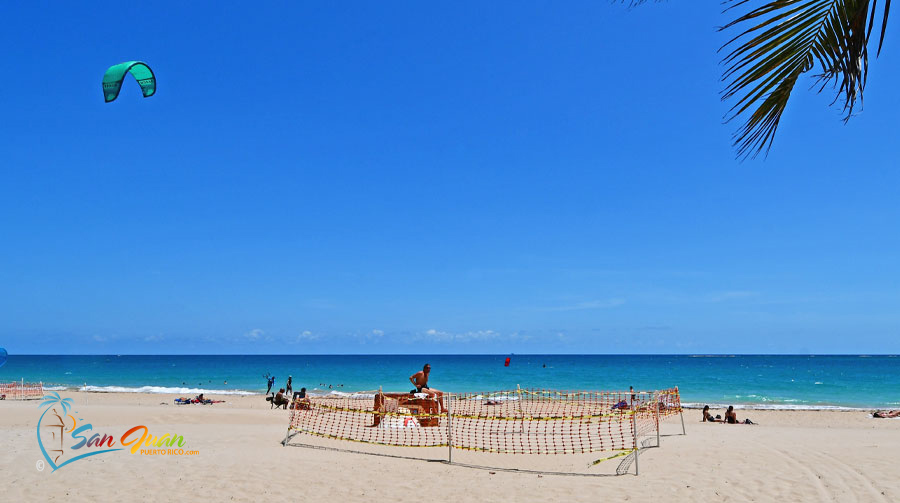 You may see areas closed off to protect turtle nesting areas.  Please help us protect these amazing creatures by not disturbing these areas.
Food at Ocean Park Beach – San Juan, Puerto Rico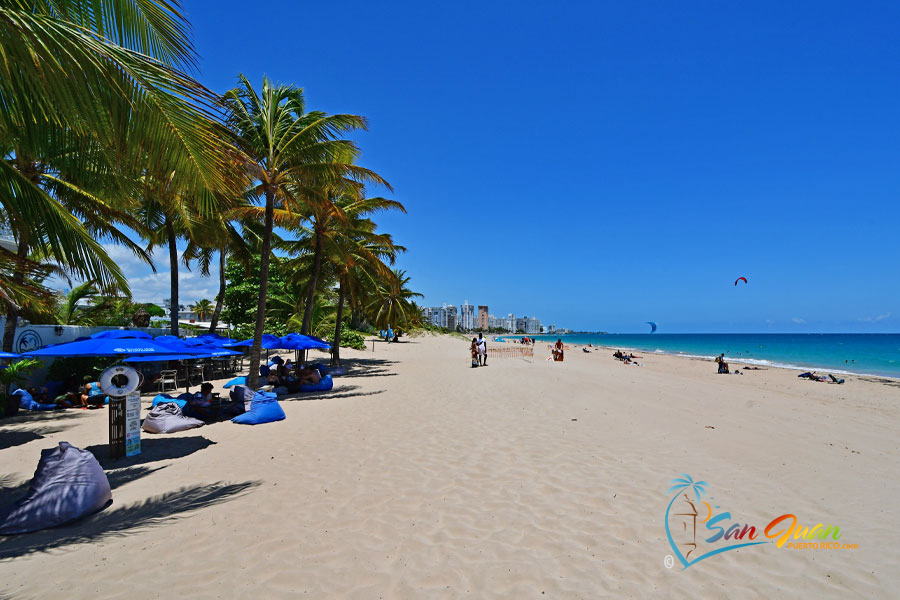 Crowds at Ocean Park Beach – San Juan, Puerto Rico
Even during the high tourist season, you will find the beach to be pretty relaxed and uncrowded.
During the weekday mornings, the scene is relaxed and uncrowded perfect for a relaxing long walk. During the summer months and weekends, it gets busier, but with so many beaches in the metro area and around the island, visitors will still enjoy having plenty of space on the sand.
The only time Ocean Park gets really crowded is holiday weeks and weekends.
Access to Ocean Park Beach – San Juan, Puerto Rico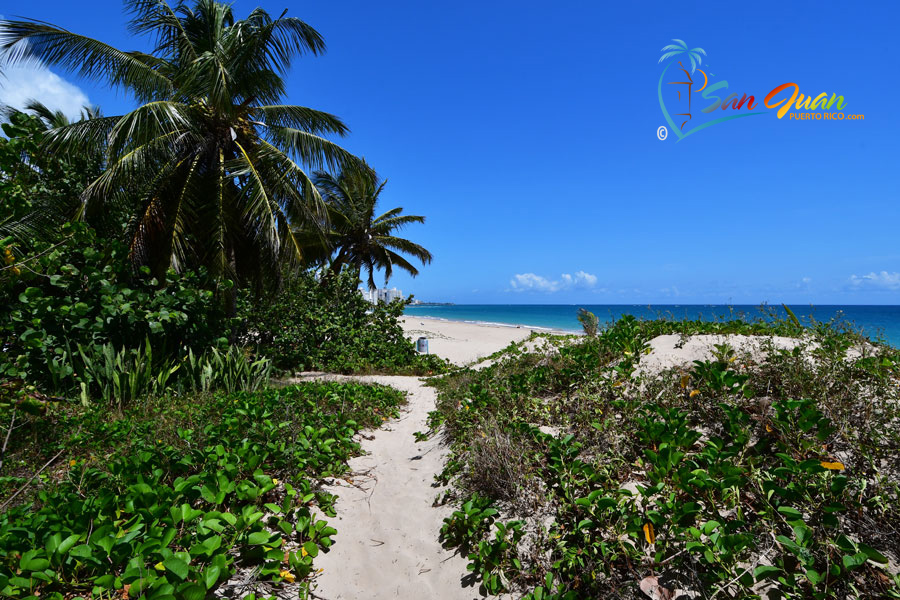 Ocean Park is easy to miss and a little difficult for first-time visitors to find because the shores of Ocean Park Beach are lined by high-rise condominiums, residences, and a few small inns.  The following is information on the access points to Ocean Park Beach, the map is further down on the page.
Before we list the access points, a few recommendations.
Driving from Condado? – Head east to Ocean Park.  We list access points in order heading east.  With a little patience, you'll find a free place to park on the streets.
Taking a taxi? – Ask the driver to drop you off at Parque de Indio or Numero Uno Guesthouse, from these locations you can walk to a restaurant before heading back to your hotel.  We think these are the nicest and most convenient access points.
Entrance to Ocean Park Beach, located right at the end of Condado.
Calle King's Court
There's very little parking on this street.
Calle Taft
There's more off-street parking at Taft.  Right at this Ocean Park entrance, you'll find plenty of shady spots perfect for hanging a hammock and a volleyball net.
Calle Atlantic 
There's off-street parking.  You'll see a narrow alley at the corner of Atlantic & Pacific Streets.
Calle Yardley
Get here early to find off-street parking, it is a popular entry point for locals.
Santa Ana & McLeary Ave.
This entrance is mainly for residents and guests staying at the small inns located on this stretch, but it is open and you're welcome to go through.  There is not much parking, most off-street parking is occupied by residents.  This stretch of beach is quiet and wide.  If you want a place to eat and have drinks while at the beach, choose this spot, Numero Uno Guesthouse has an oceanfront restaurant and bar.
El Ultimo Trolley Beach at Ocean Park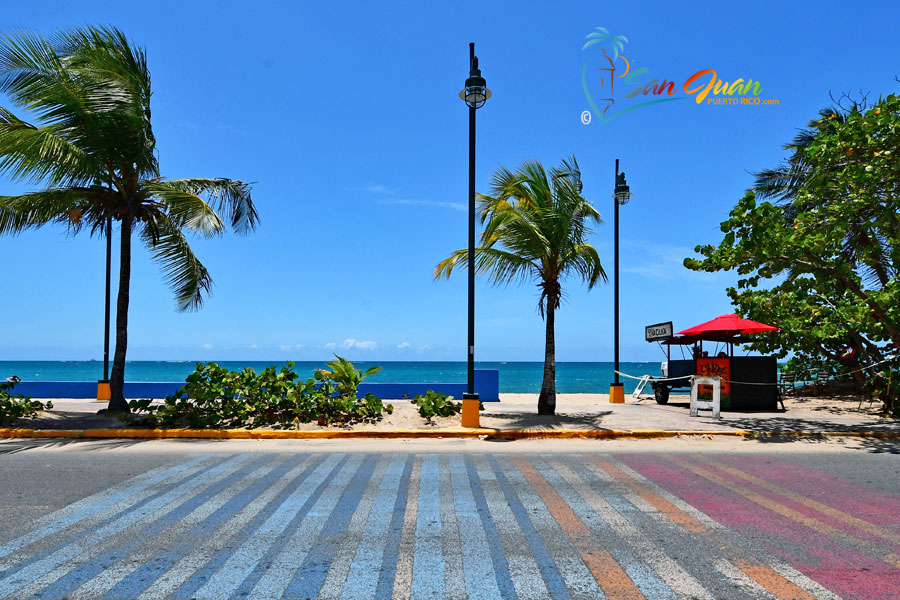 The most popular access point for Ocean Park Beach is on the east end located right across from Parque Barbosa (Barbosa Park).   This beach stretch is popular with young locals.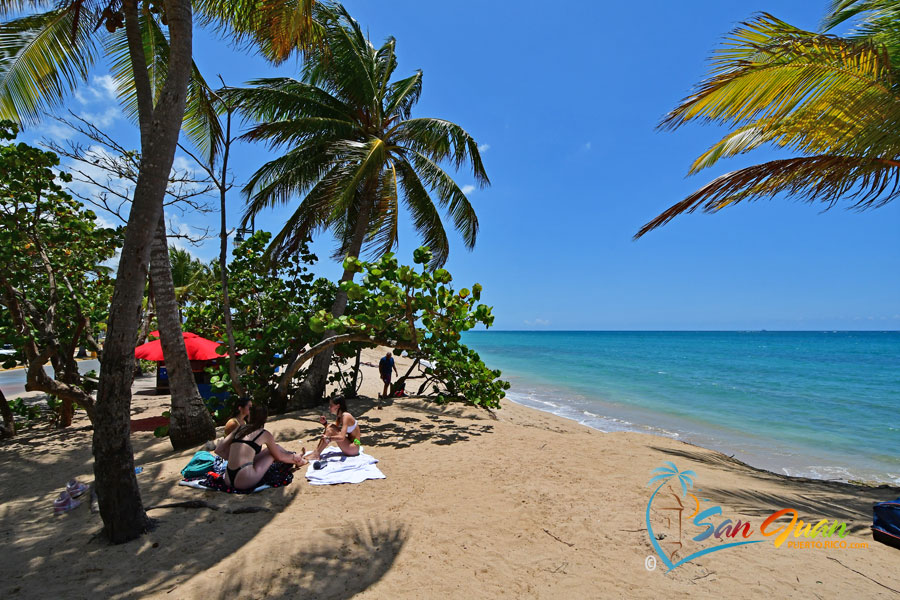 Unlike the west side of Ocean Park, this beach is narrow.   On the weekends and holidays, you'll find street vendors selling food, drinks, piraguas, and fresh tropical ice cream.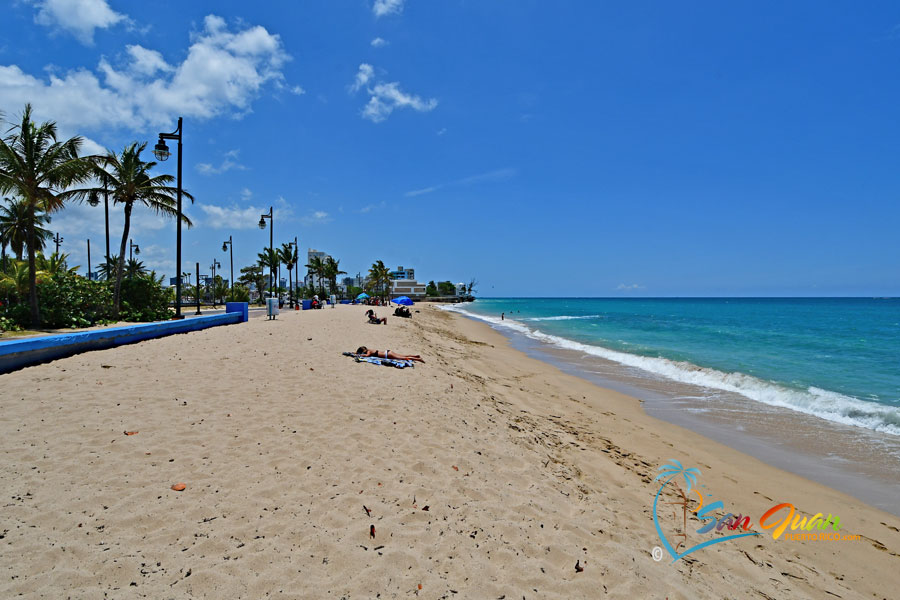 This part of the beach is known by locals as "El Ultimo Trolley" (The Last Trolley), named this way because back in the day, this spot was the last tram stop.  El Ultimo Trolley has the most convenient parking and access to the beach.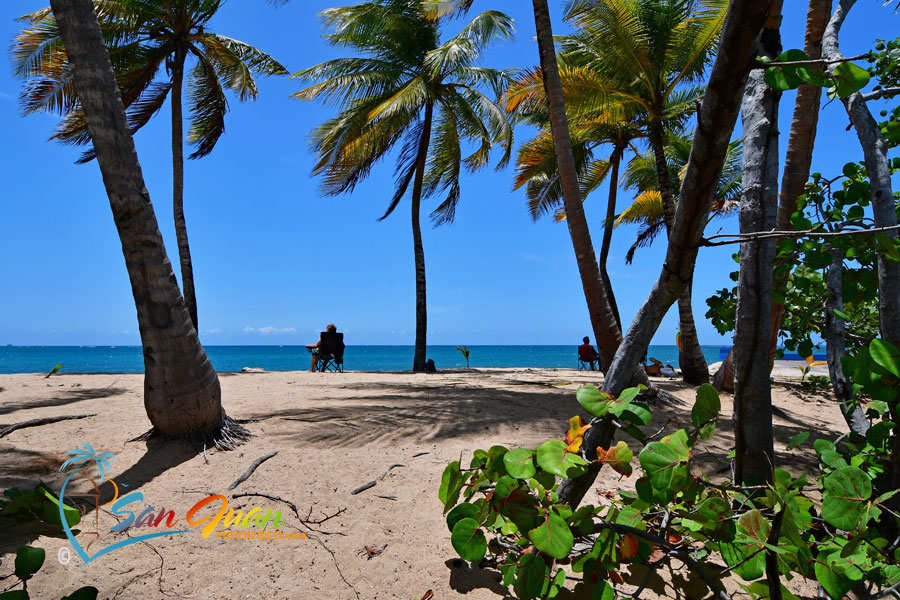 Our favorite spot is at the far end of the beach where you can enjoy watching the beach scene shaded by palm and almond trees.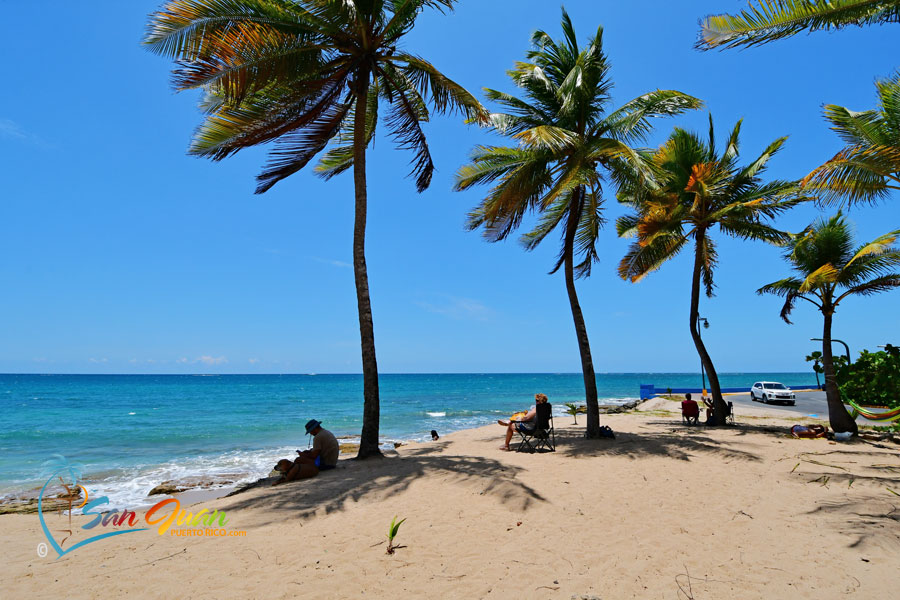 One of the things we love about San Juan is being able to enjoy these quiet cozy spots while having all the energy and action of a modern city.  Get here early on weekends to grab a spot.
Right across the street, you can get great exercise by going to Parque Barbosa where you can play tennis, jog / walk on the track, play basketball, and more.  Families with children will enjoy the kid's playground.  This area is also very popular for bicycling, you can ride farther up east on a wide sidewalk with views of the Atlantic.
Top Rated Places to Stay in Ocean Park - San Juan, PR
Facilities at Ocean Park Beach – San Juan, Puerto Rico
Before heading to Ocean Park, please keep in mind there are no public restrooms or showers at the beach.  There are a few fast food restaurants on the way to Ocean Park if you wish to stop.
If you wish to have more amenities such as food and restroom, we advise you to enter through Calle Santa Ana and hang out by Numero Uno Guesthouse, they have a nice restaurant, and the beach is wide with shaded spots on the left side of the entry point.
Photo Gallery - Ocean Park Beach
San Juan, Puerto Rico
Map - Ocean Park Beach
San Juan, Puerto Rico
Parking at Ocean Park Beach – San Juan, Puerto Rico
The east end of Ocean Park beach offers free and convenient parking just steps across from the beach around Barbosa Park, making it very convenient to carry your beach chairs and cooler.