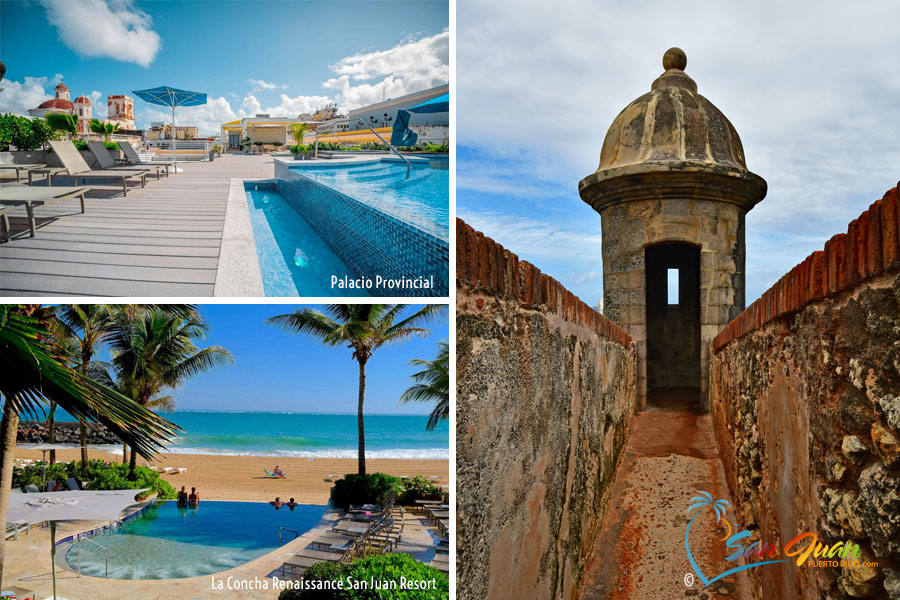 San Juan, Puerto Rico is continuously named as one of the top vacation escapes in the Caribbean, we invite you to come and experience why.  While other Caribbean destinations lure travelers with all-inclusive hotel deals,  the city of San Juan offers accommodations without walls, encouraging travelers to enjoy vibrant cultural experiences, attractive beaches and world-class attractions the whole family can enjoy.
Best Areas to Stay for Tourists in San Juan, Puerto Rico
San Juan is a unique place where Old European meets modern Caribbean offering distinct destinations with different experiences.  Choose from three beachfront tourist districts, a colorful historic district, and a modern convention business district with spectacular entertainment.  
Following we'll introduce you to the most interesting, and beautiful, with easy access to top attractions, beaches, and cultural experiences.   The following places are also the safest for tourists, with a good police presence that understands the needs of tourists. 
Other guides we've read online include places that are popular with locals, but not ideal for tourists.  With so many vacation rentals available throughout the city, it is important to know the neighborhoods, safety, and how tourist-friendly the areas are.  We love to travel just like you, and we do our best to remain objective to tourists' needs. 
After reading this travel guide, you'll be able to make the best-informed decision.
El Viejo San Juan (Old San Juan)
Cultural Epicenter & Historic District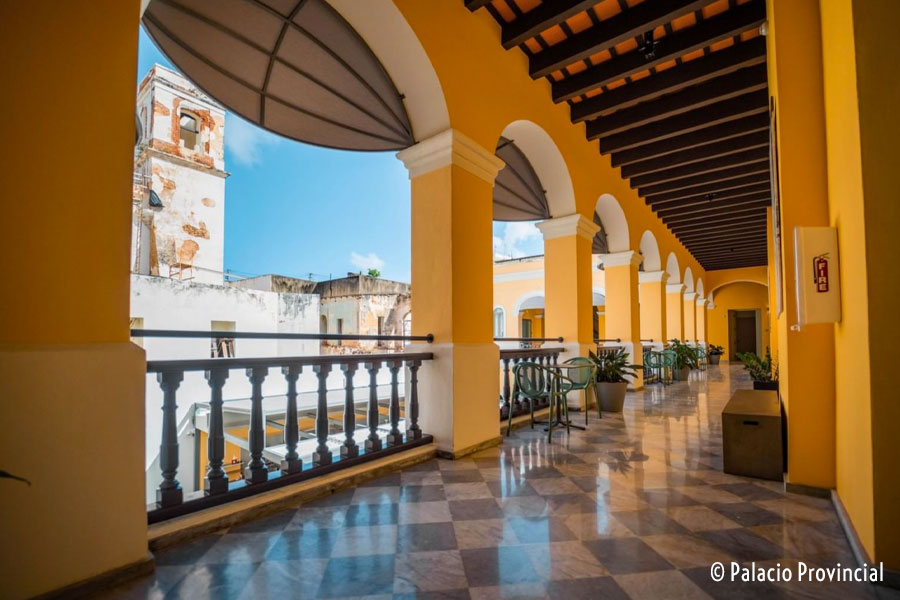 Old San Juan is a 500-year-old vibrant city, a living outdoor museum, condensed into 7 blocks that you can explore by foot.  Choosing to stay in Old San Juan, gives visitors the ability to simply walk out of their hotel and step into a colorful, romantic outdoor space with world-class attractions, and many interesting places to explore with wonderful experiences to share with the people you love.
Old San Juan offers unique accommodations from luxurious boutique hotels in restored historic buildings, a Sheraton Hotel & Casino,  charming budget-friendly inns, and vacation rentals so you can feel right at home.
Top Rated Places to Stay in Old San Juan, Puerto Rico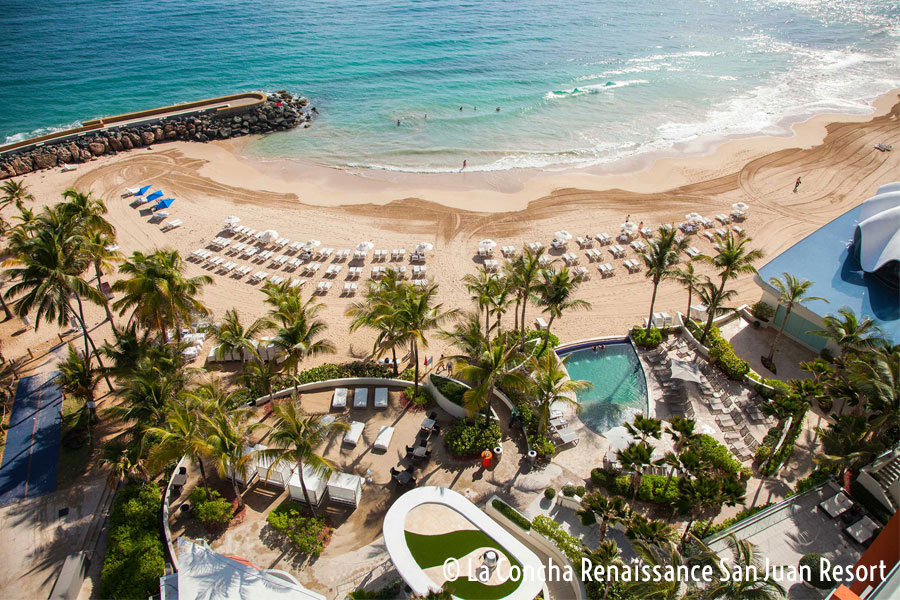 If you wish to stay at a beachfront hotel or resort, Condado is the best tourist destination in the city of San Juan.  Condado is a walkable tourist-friendly place offering easy access to many restaurants, casinos, and shops.  A short taxi ride and you can explore Old San Juan, you can also get there by bike, there's a designated bike lane all the way to Old San Juan.  If you're going to spend a few nights in San Juan and wish to stay near the cruise port, Condado is a good spot.
Most beachfront resorts are in Condado Beach right off Ashford Drive.  A block away from the beach, there are more budget-friendly accommodations such as local boutique hotels and recognized hotel brands.  Be aware that Condado Beach is not safe for swimming, but nearby you can go to Playita del Condado and Escambron Beach.
For relaxation free of crowds, there are some waterfront hotels to choose from within walking distance of beaches.  Condado Ocean Club and Condado Vanderbilt are the best options offering oceanfront restaurants and attractive pools for relaxation with the sights and sounds of the ocean.
Best Beachfront Resorts in Condado - San Juan, PR
+ Top Rated Tours in Condado
Puerto Rico Convention Center, San Juan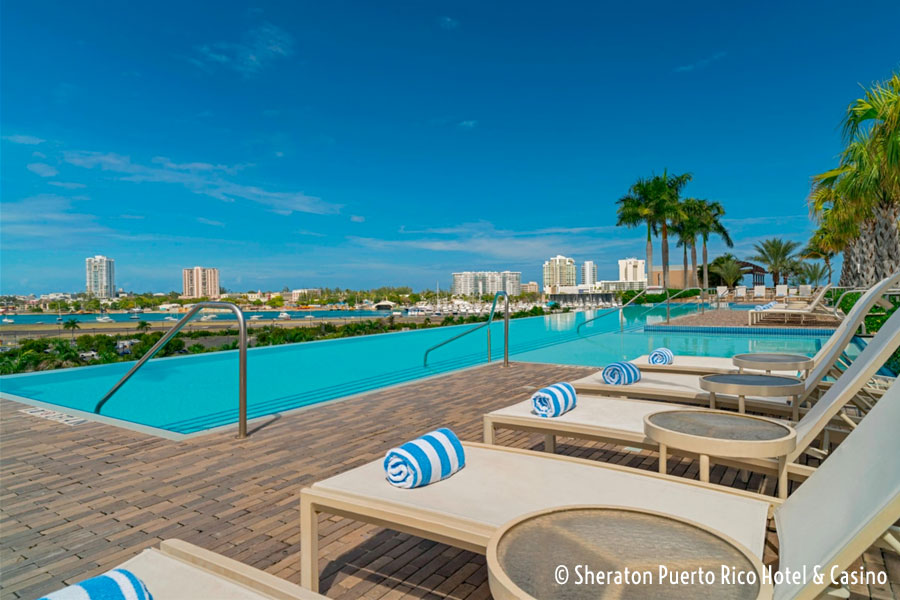 The Convention Center District is a popular tourist district for business travelers and cruisers for its proximity to the Pan American Port.  The Puerto Rico Convention Center District has been evolving for the past years, with the newest addition of Distrito T-Mobile and Aloft Hotel, making it a lively and fun place to be for both locals and visitors.  There are many restaurants within walking distance and entertainment for the whole family.  A quick taxi ride or walk across the bridge gives visitors access to Condado's beaches, lagoon, watersports, shops, and more restaurants.  Old San Juan is a 10-minute taxi ride, and 50 minutes walking. 
Those attending an event at the Convention Center have four hotel options, popular places to stay for business travelers are Sheraton Puerto Rico Hotel & Casino and Hyatt House. 
Families with small children will enjoy the pool at Hyatt Place. 
Top Rated Places to Stay - Convention Center District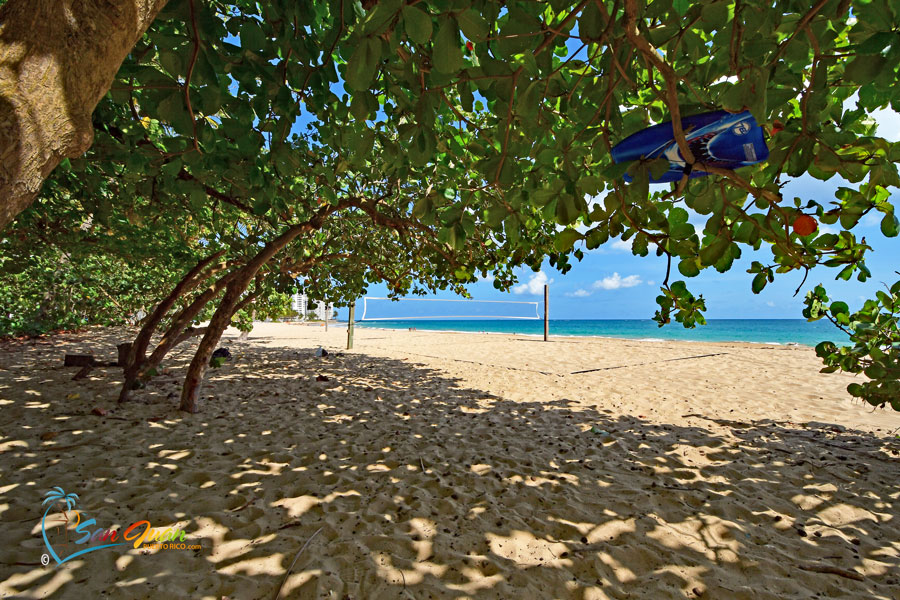 Ocean Park is a residential community with homes and high-rise condominiums.  Along Ocean Park Beach and a few blocks back, there are a few small inns, guest houses, and apartment rentals.
Compared to the lux and trendy feel of Condado, Ocean Park is more casual and laid back.  The beach is less crowded and loved by locals who jog and walk their dogs.  The most popular activities at Ocean Park Beach are beach volleyball and windsurfing.
Top Rated Places to Stay in Ocean Park - San Juan, PR
Frequently Asked Questions
Places to Stay in San Juan, Puerto Rico
Tips for Saving Money on Places to Stay in San Juan, Puerto Rico
The high season for San Juan is from mid-November until mid-April.  Summer months are also busy, especially July.  
To save money, we highly recommend you book your hotel in advance to get the best rates, as hotels fill up the rates get higher.   Rates go lower from August until early November.  The month of September is a gamble since most hurricanes occur during this month, if you do choose to travel in September choose a hotel and flight with a flexible cancellation policy, just in case you need to make any last-minute changes. 
Eat where the Locals Eat – Food can be pricey in San Juan, especially in the tourist places we have mentioned.  Go where locals go to eat.  A popular place in Old San Juan is Manolin, great for breakfast and lunches.  La Picadera Bar & Grill is a popular place serving traditional dishes and fritter platters.
Where are the safest places to stay in San Juan?
We highly recommend that you stay in the tourist districts we have recommended in this guide.  Police presence is greater, lighting is better and the main streets where hotels and restaurants are located are considered safe.  Some travel guides recommend visiting places such as Santurce where you may find vacation rentals; while it may be popular for locals, we don't recommend it, since not all parts are safe for walking at night, and parking may be difficult if you have a car rental.
What is the best area to stay in San Juan?
In summary, the best, most fun, safest, and most tourist-friendly places to stay in San Juan are the following:
Old San Juan where you can enjoy the best attractions on foot.
Condado is the best place to stay for easy access to beaches.
Ocean Park is low-key with budget-friendly accommodations but you'll need a car to get around.
The Convention Center District is great for business travelers.
Related Guide: Best places to go and stay in Puerto Rico.
Which areas should you avoid in San Juan?
If you stay around the beaches and places of main attractions you should not encounter any issues.
Santurce – Many travel guides recommend tourists go to Santurce, such as La Placita de Santurce, and roam around the streets to see art murals.   La Placita is a farmer's market during the day; at night, especially on weekends, it is a local hangout place with street bars, and chinchorros.  In the past years, some nicer restaurants have opened up changing the scene and inviting a more discerning clientele.  During the weekends,  people congregate at the square eating, drinking, and dancing.  If you choose to go, we recommend you leave at a reasonable time and not stay into the late night hours.  Like most places, most issues occur when people become heavily intoxicated with alcohol.  Bars and restaurants in the tourist districts get less out of control, it is more casual, in Santurce it is a party scene, a place we don't consider family-friendly to take children.  If you wish to go bar hopping, we recommend you stay in Old San Juan and Condado.  While Santurce has many art murals of interest to art lovers, we recommend you go during the day and don't walk the streets at night.
The crime statistics in San Juan have mostly been related to drugs in clusters of neighborhoods away from tourist areas such as government housing called caserios.
La Perla in Old San Juan – In between Castillo San Cristobal and El Morro, you'll the one and only place considered a slum in Puerto Rico, La Perla.  For decades this place was considered one of the most dangerous places on the island basically run by drug lords.  A unique aspect of La Perla is that they don't bother anyone outside of the neighborhood, in the same way that locals never went inside unless you lived there or had business to do there.  A music phenomenon happened with the popular song Despacito, La Perla was a filming location, therefore gaining interest from people all around the world.  Over the past years, the neighborhood of La Perla got a facelift, many of the abandoned homes were painted with murals and rich colors making them more pleasing to the eye.  Some tourists that love the song, have gone down the steps to see the neighborhood.  We don't recommend you go there on your own, but if you really wish to do so, go with a local professional tour guide.
Map - Best Places to Stay & Tourist Districts
San Juan, Puerto Rico
Popular Tours from San Juan