Most Popular Tour in San Juan -

Save your Spot
Balneario El Escambron is the best beach in San Juan and the Metro Area offering experiences full of beauty, exploration, and relaxation.  At Escambron you can swim safely, snorkel to observe sea turtles, scuba dive, take a romantic walk along the scenic oceanside trail, visit the historic Bateria El Escambron, and enjoy quiet spots just for two.  The city is vibrant and full of energy but once you get here, you'll experience the relaxing and alluring pleasures of this city with tropical bliss.
Once again, San Juan's beloved beach of Escambron is the location of one of the best experiences in the Caribbean.  The magic of Escambron Beach and a local hard-working friendly tour guide won the #14 spot at the coveted "2022's TripAdvisor's Traveler's Choice "Top Overall Experiences in the Caribbean", so be sure to add it to your list of things to do in San Juan Puerto Rico.  Learn more and secure a spot on Jet Snorkel - Snorkeling with Turtles
Highlights of Balneario El Escambron
Playa Escambron as locals call it, offers two beaches, each with its own qualities.  See below to get acquainted with locations.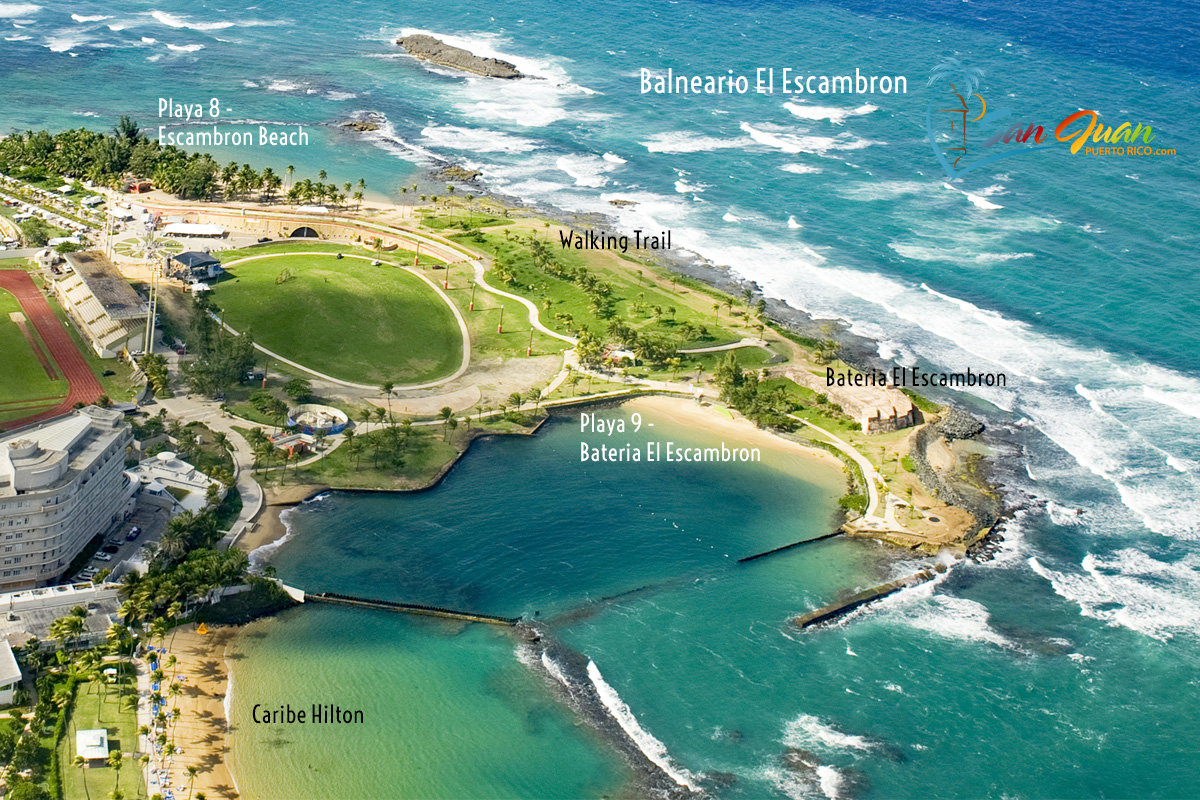 Escambron Beach is the main beach on the north side.  Although the beach faces the Atlantic Ocean, the water was perfectly landscaped by nature with a natural coral wall creating a pool with clear water and rocky spots where beach lovers and tropical fish come together to swim and play.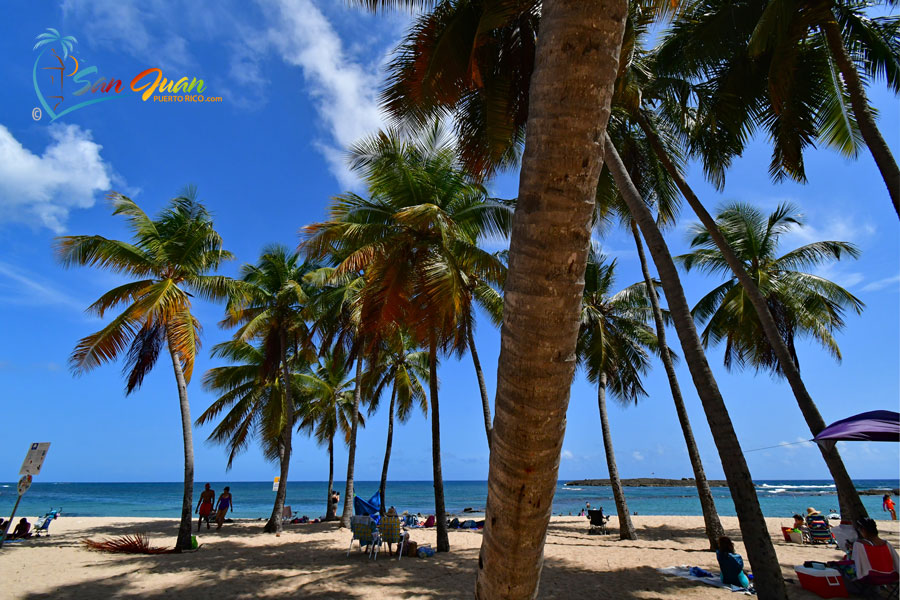 Bateria El Escambron Beach also known as Poza Escambron is located on the south side with views of Condado.  |At first sight the beach does not look like anything too special… but once you get in the water and look underneath the surface, you're in a pretty cool natural aquarium with sea turtles teeming with schools of tropical colorful fish. Boulders were added to the beach to keep the strong surf from coming in, making it a safe place to swim (under normal weather conditions).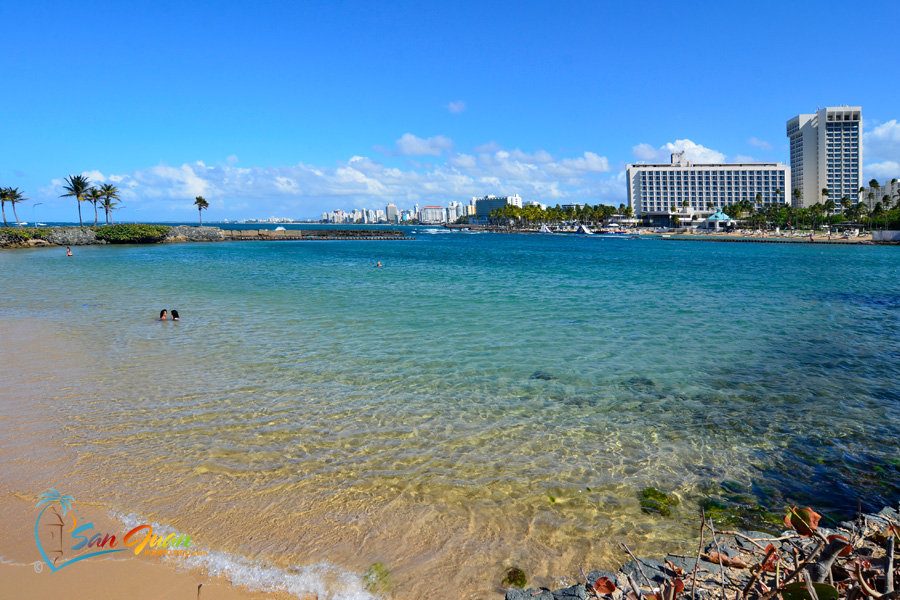 If you never snorkeled or scuba-dived, Escambron Beach is a popular spot for learning, even for children.   There's also a historic site inside the park and a trail for a romantic scenic walk.  
Top Rated Snorkeling Tours - Escambron Beach - San Juan
Location:  Escambron Beach is located in Puerta de Tierra right in between the Old San Juan and Condado tourist districts.  Paseo de Tierra (walking path) connects Old San Juan & Condado making it possible to walk or take a bike ride to the beach.
Families:  Escambron Beach is a very family-friendly beach with calmer water for swimming and a nice spot to snorkel or learn how.  Escambron has restrooms, the only public beach that does in San Juan.  There is a lifeguard at the beach, please see if on duty before using the beach.  Bateria El Escambron Beach (south) is calm and perfect for little ones to play on the shallow side.  The main beach has a shallow and protected area where kids can snorkel.  Please never leave your children unattended as you would at any other beach or destination.
Couples:  Seeking intimate spots to get away from the crowds?  Escambron offers cozy spots where you can lay your towel or hang your hammock for that true getaway feeling.
Crowds:  Being on this beach barely feels like you're in a city, during the high season (mid-November – April), Balneario El Escambron is still nice and quiet on weekdays.
Come with us on an online tour of Balneario Escambron, so you can plan a great experience when you visit.
Escambron Beach - Playa 8
San Juan, Puerto Rico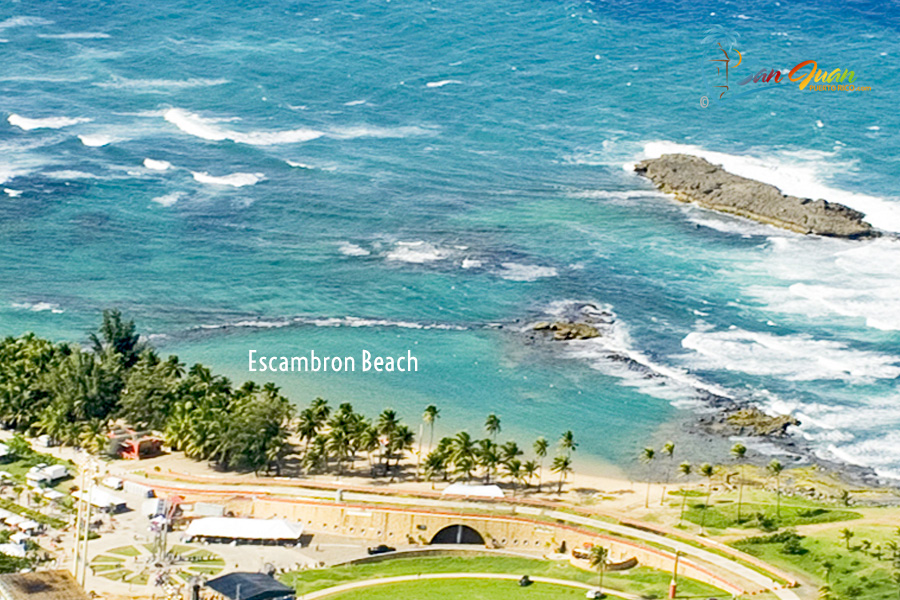 The beach has a lifeguard from Monday – Sunday 9:30 am – 5:30 pm.
As soon as you step foot on this beach you'll be seduced by shades of blue and swaying coconut palm trees …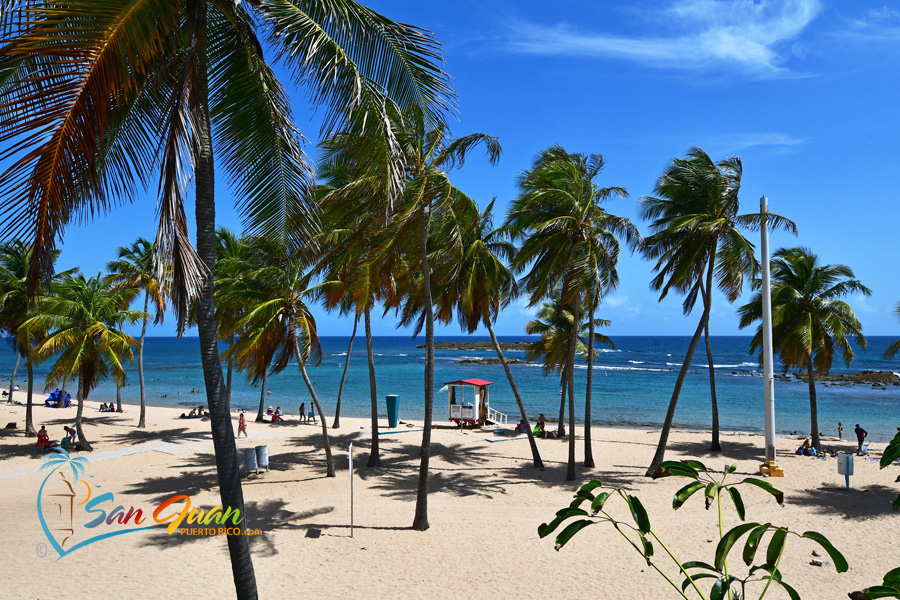 This beach is protected by a coral wall that keeps the strong surf from coming in…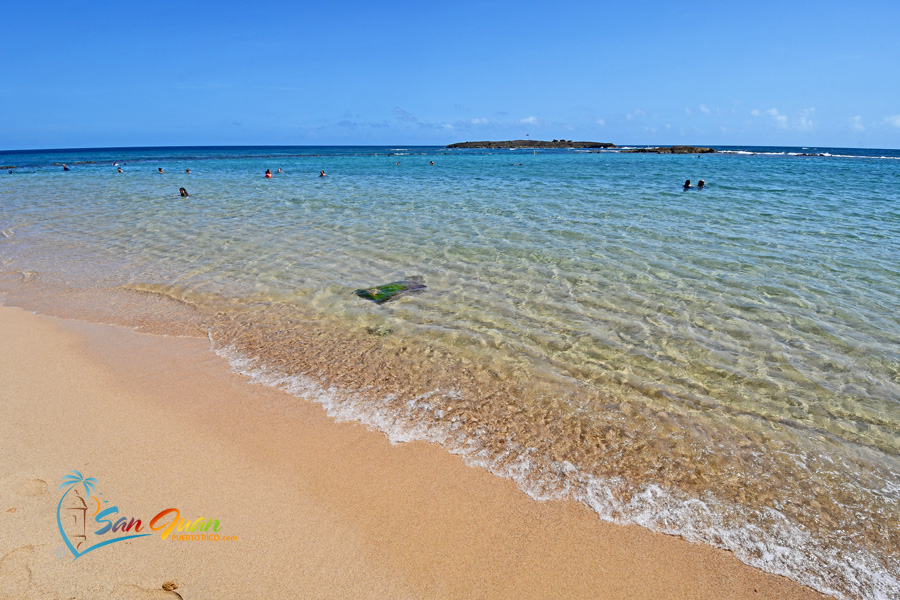 … creating a giant natural pool where you can swim, and do a little snorkeling.  From the turquoise waters, you'll have a view of Castillo San Cristobal and the Capitol Building in the distance.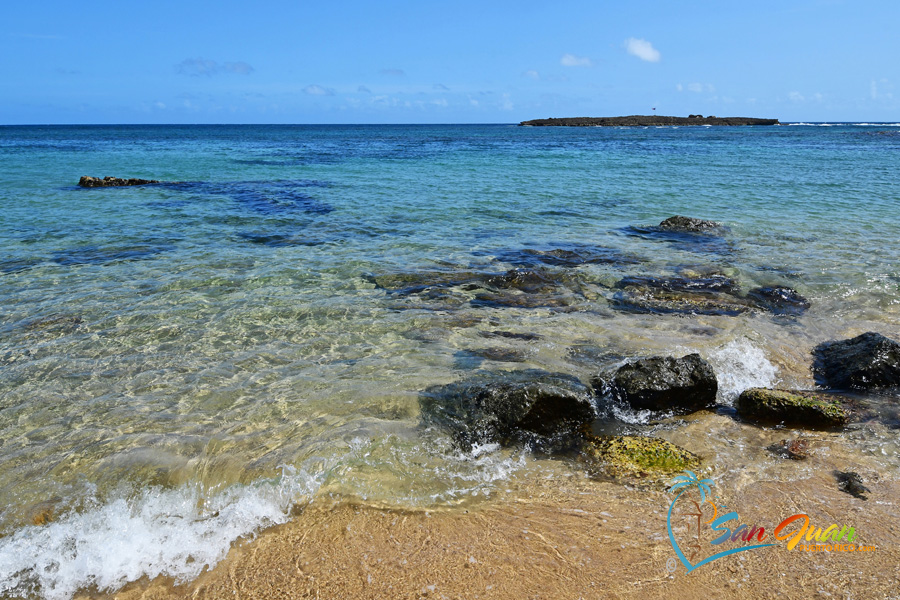 After swimming and snorkeling in clear waters…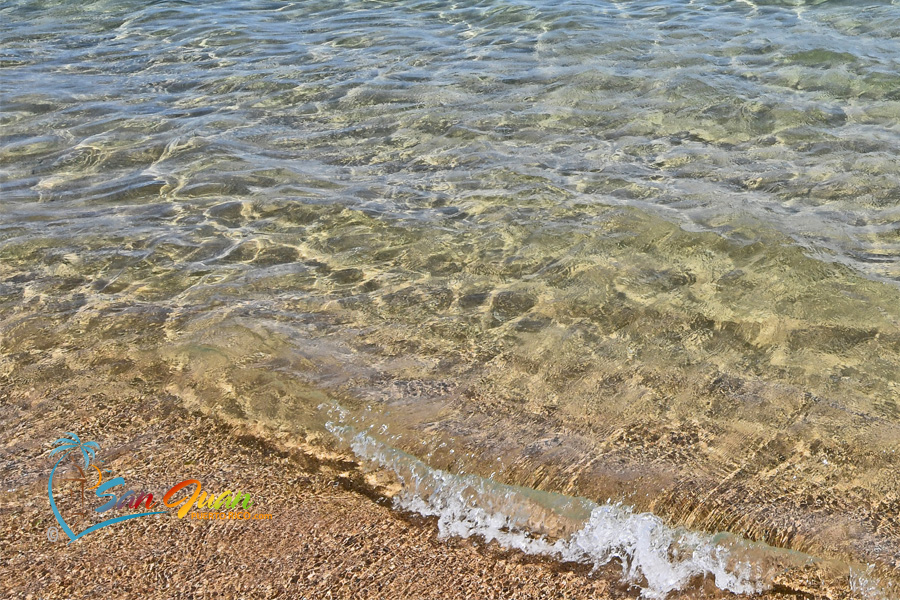 a canopy of palm trees with blue skies awaits to keep you cool from the sun.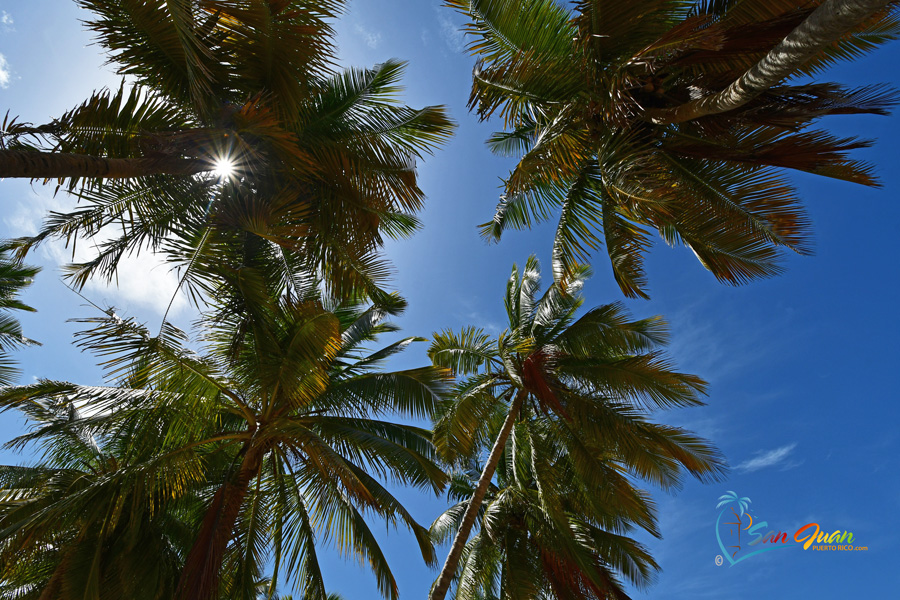 Top Rated Beach Activities in San Juan
Escambron Beach – West Corner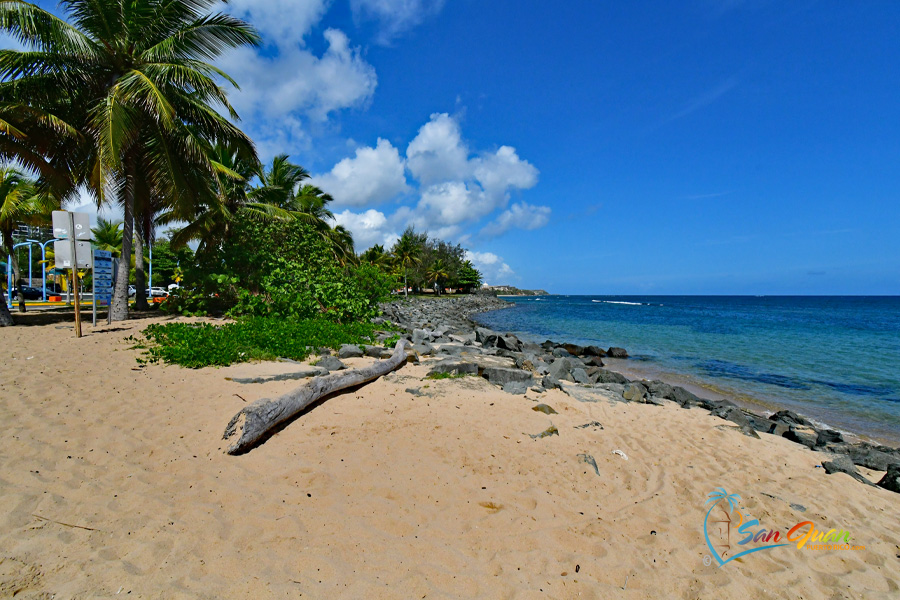 While most visitors stay in the center main beach area, those that wish for more solitude may wish to hang out on the west end of the beach.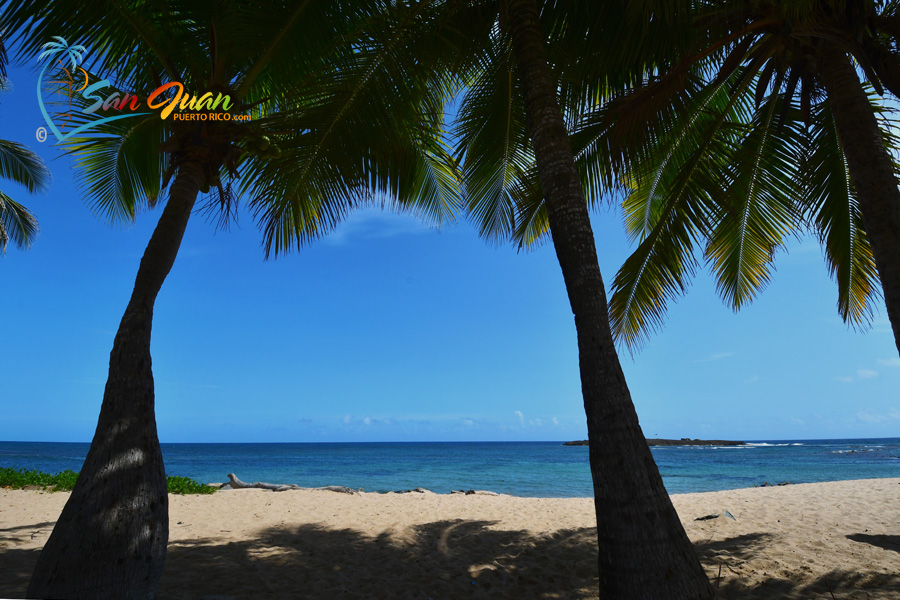 Our favorite spot is right at the corner under these palm trees, perfectly distanced for hanging a hammock.  There's a nice carpet of sand if you prefer to simply lay on a towel.  The space is tucked away, feels intimate, and is perfect for two or a small family.  Better get there early and grab it, you'll be very happy.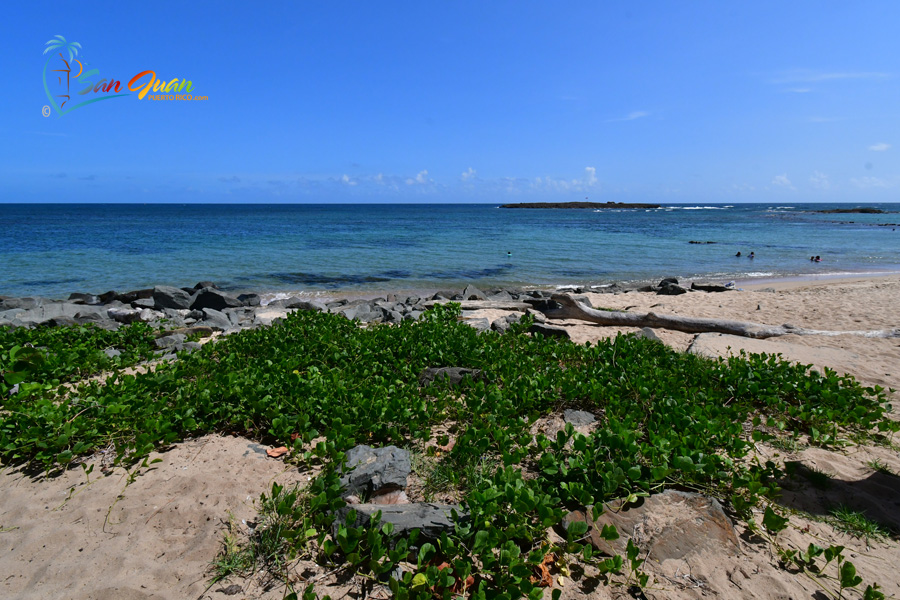 You'll have a clear view of the whole beach from this vantage point… this sandy corner is not heavily used, so the landscape is more natural adding a little special touch to the ambiance.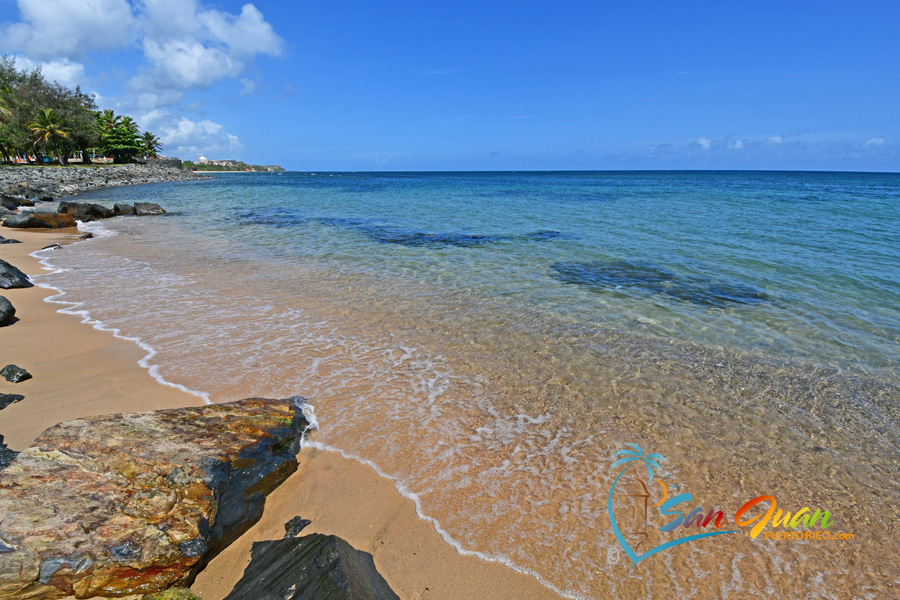 The water is shallow and clear making it a great spot for small children to play on the sand, and swim.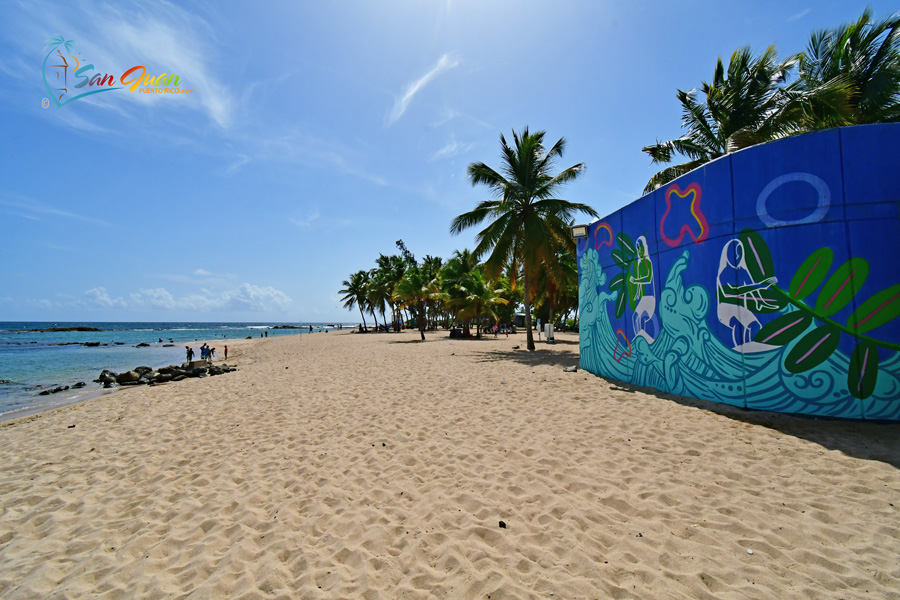 The restroom is located on the west side of Escambron Beach, making it the most convenient for families.
Escambron Beach – East Corner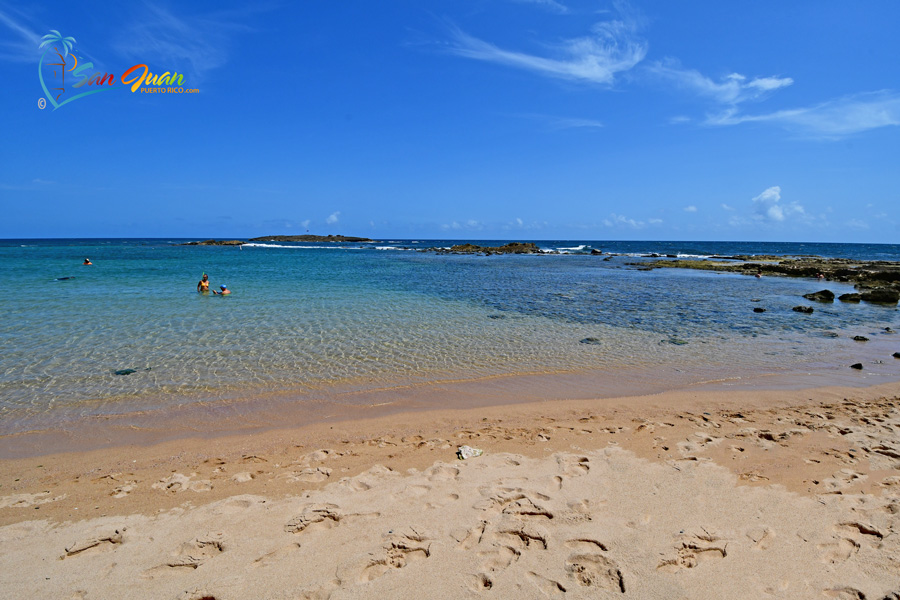 You'll notice more people with snorkel masks on the east corner, you'll see more fish there because of all the rocks along that side.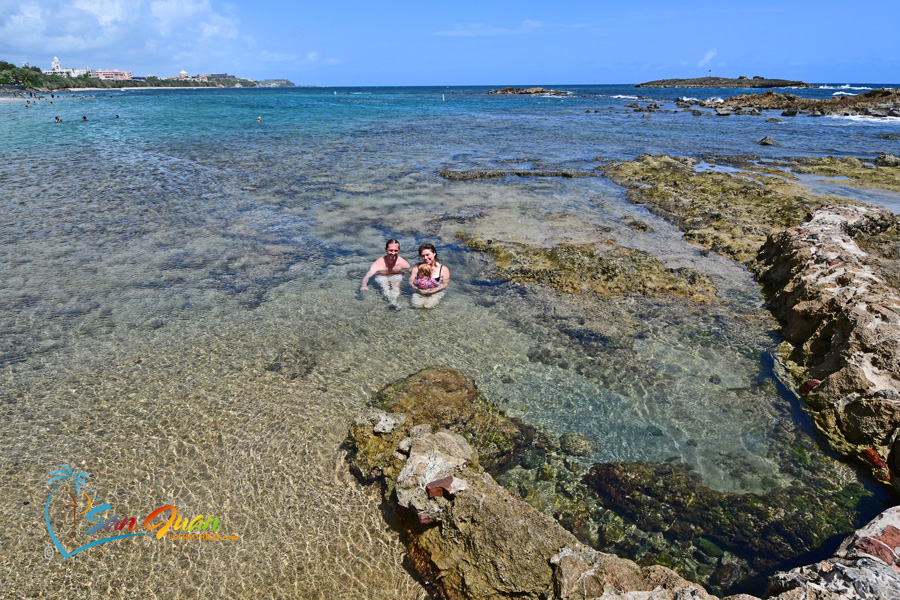 Right along the rocky wall, you'll find shallow tidal pools perfect for the little ones, they'll get to enjoy the experience of playing on the water with schools of tiny tropical fish.  Below is a family that gave us permission to photograph them as they enjoyed the good life in Puerto Rico.
Bateria El Escambron Beach - "Playa 9"
San Juan, Puerto Rico
It may be difficult to leave the main beach, but we encourage you to take a walk along the trail (see below) and head to Bateria El Escambron Beach also named Posita Escambron by locals.  The real magic of this beach is beneath the surface.  You may also access it through the cement pathway from the main beach.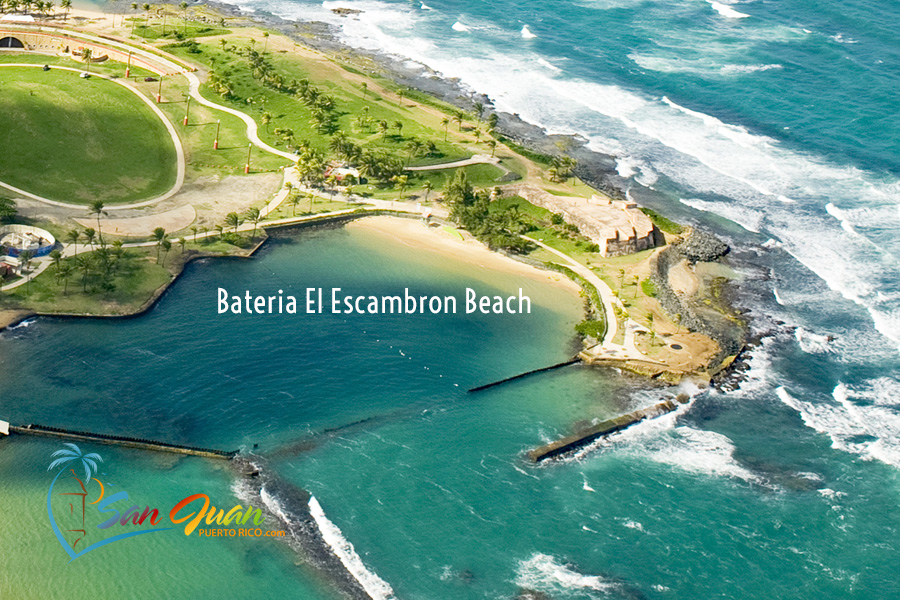 The beach got its long name since it is located right next to Bateria El Escambron, one of the fortifications of San Juan.  This small beach is loved by families with small children for its shallow clear waters.  Since the beach is farther away from the parking lot, most families go to the main beach for the facilities and conveniences.  Those that prefer a quiet beach experience tend to go to La Posita Escambron when the main beach is busy.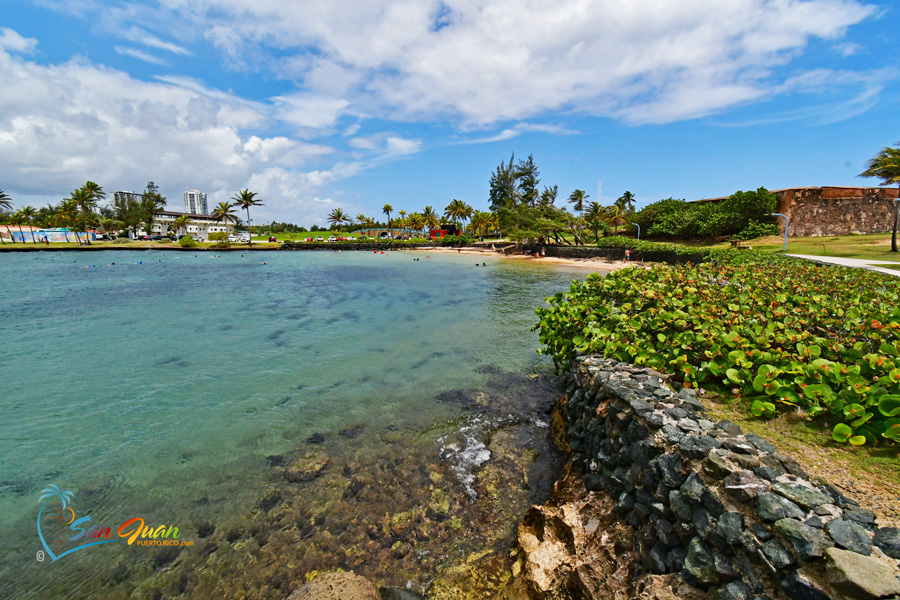 When you first get there, you'll notice that it is a small beach with city views, but as we just mentioned, the real magic is beneath the surface.   Most of the snorkeling tours in San Juan take place right here where you can snorkel in a natural aquarium with a colorful variety of fish and sea turtles often spotted here.
Feel free to bring your own snorkel gear, but for the best experience, we highly recommend you book a tour with a world-class 5-star rated tour for the best experience.  See top-rated tours below.
Snorkeling & Scuba Diving at Escambron Beach
San Juan, Puerto Rico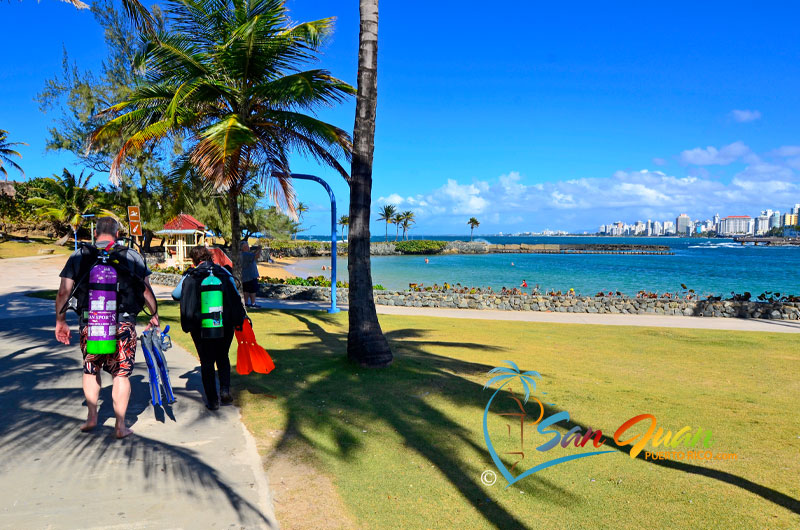 Escambron Beach is the best for snorkeling and scuba diving in San Juan.  Visitors short on vacation time that don't wish to spend any time on the road should consider snorkeling and scuba diving here.
Escambron Beach offers some snorkeling, and although not great for Puerto Rico standards, visitors really enjoy it.  You'll want to snorkel along the roped line, fish love to hide and play around the rocks.
Bateria El Escambron is a very popular snorkeling spot in San Juan and safe for the whole family.  Some of the top-rated snorkeling tours take place at this beach, the coral reef is both natural and artificial.  Local organizations have made efforts to protect and grow the habitat and it has been successful.  There's a deep drop-off right along the man-made concrete boulders where scuba divers go.  Balneario Escambron is a great place to learn how to scuba dive.
See the most popular snorkeling and scuba diving tours below. 
Walking Trail to Bateria El Escambron
San Juan, Puerto Rico
Most beachgoers stay at the main beach leaving the trail nice and quiet.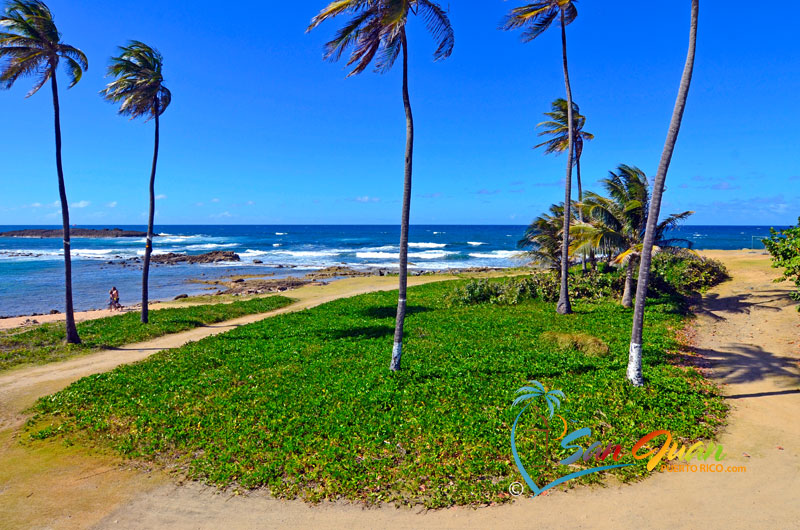 We invite families and couples longing for a special quality time to take a short walk on the trail, where you'll find lovely hidden spots to sit, relax, enjoy the views and sounds, and have a romantic conversation.  Boulders scattered along the shore help the ocean waves create a wonderful melody as they crash.  The views of the walls and San Cristobal Fort in the distance are really beautiful.
There are a few shaded spots and rocks along the trail that serve as seats, asking you to pause, put down the phone and simply enjoy the moment.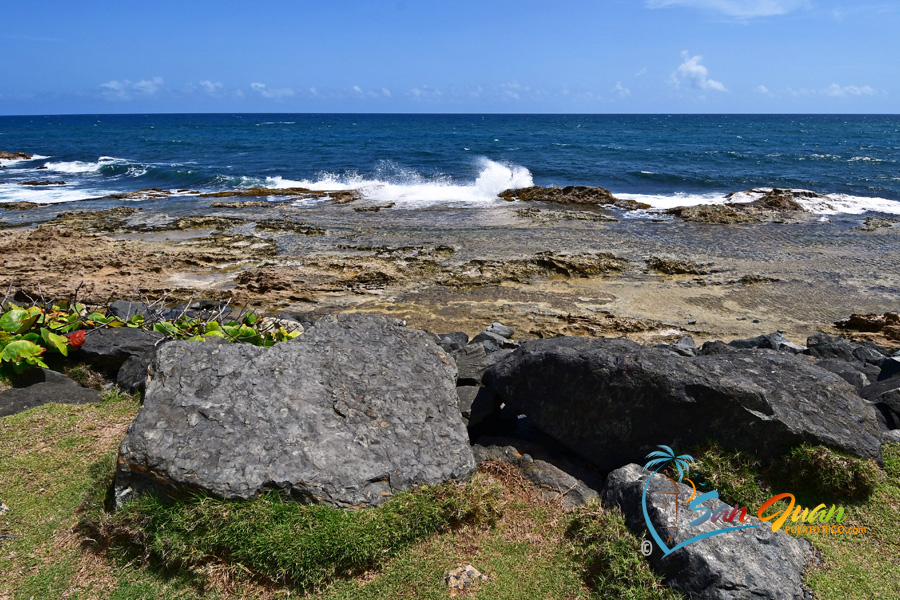 During low tide, you'll be able to admire tidal pools that form along the rocky shore.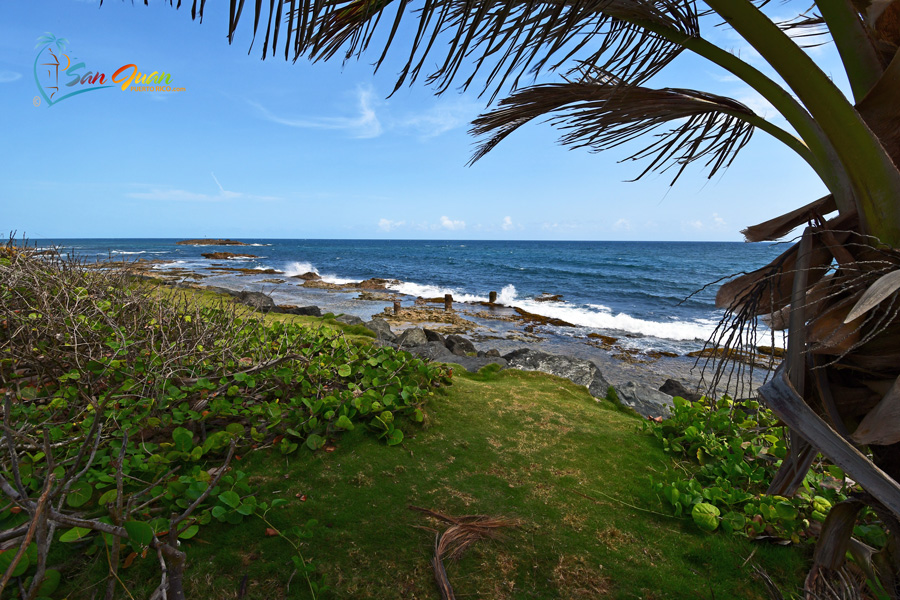 Please refrain from walking outside of the trail, the rocks may be slippery, and you may risk falling.
Once you get to the end of the trail, you'll have sweeping views of the shore along Condado and Ocean Park in the distance.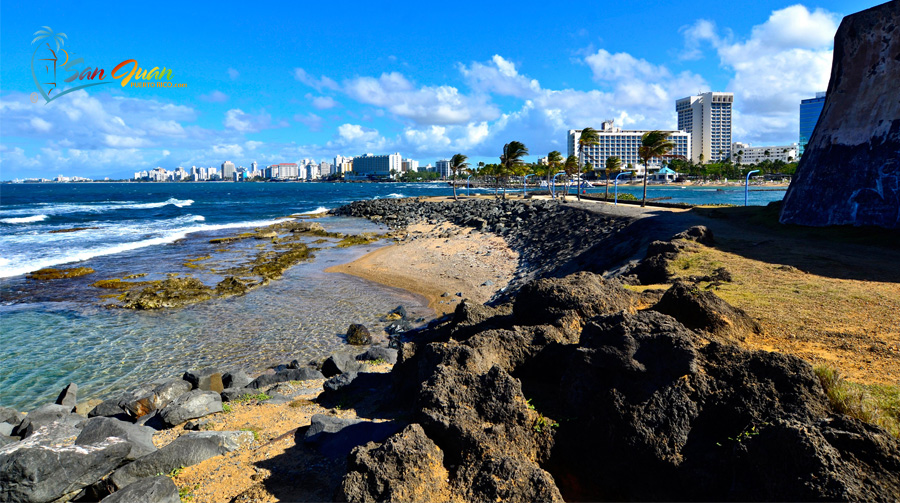 At the end of the walking path, you may find a few locals fishing or people simply admiring the view.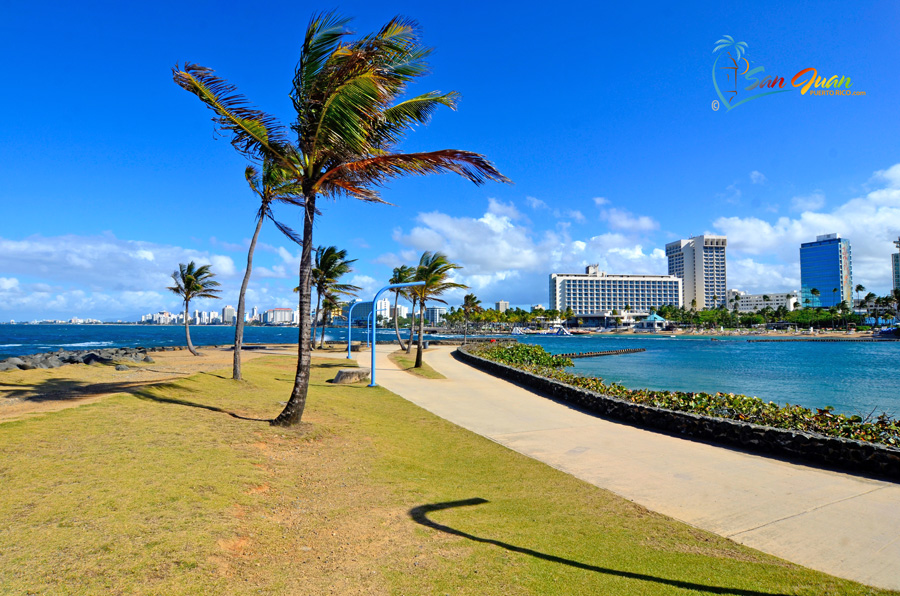 From here you can visit the fortification of Bateria El Escambron, then finally enjoy swimming and snorkeling at La Posita Escambron.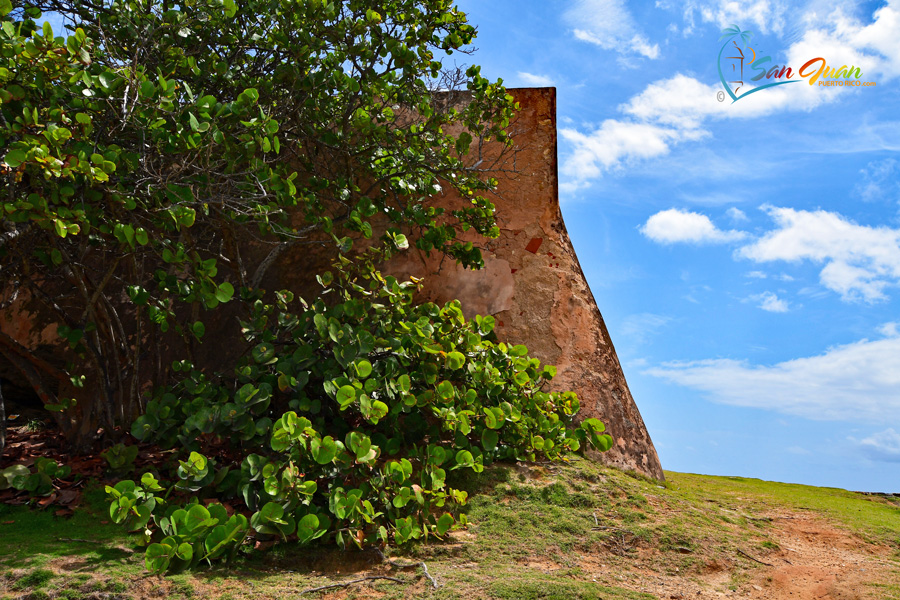 Facilities & Services at Balneario El Escambron
San Juan, Puerto Rico
Lifeguard Services: Monday – Sunday 8:30am – 5:30pm
Food: Depending on the season, you may find a few food trucks with ice cream, candy, and a few beach items for sale.
Handicap Access to the Beach:  Ramp for individuals with a disability offering access to the beach.  If you require assistance ask the person at the entry ticket booth for more information or if you require assistance.  If you see a work, feel free to ask for help, Puerto Ricans are very friendly and always eager to help, so just ask. 
Restrooms:  You may want to bring a roll of toilet paper / wet wipes, and antibacterial lotion just in case they're out of paper and soap – especially on a holiday or weekend when the beach gets the most visitors.
Showers:  Outdoor rinsing showers
Entrance Fee:  Entry to the beach is free if you drive in is $6 per car.  Rates are subject to change.
Photo Gallery - Balneario El Escambron
San Juan, Puerto Rico
Map - Balneario El Escambron
San Juan, Puerto Rico
Popular Tours from San Juan