Puerto Rico  >  San Juan Puerto Rico  >   San Juan Beaches  >  Balneario El Escambron
The Best Beach in San Juan, Puerto Rico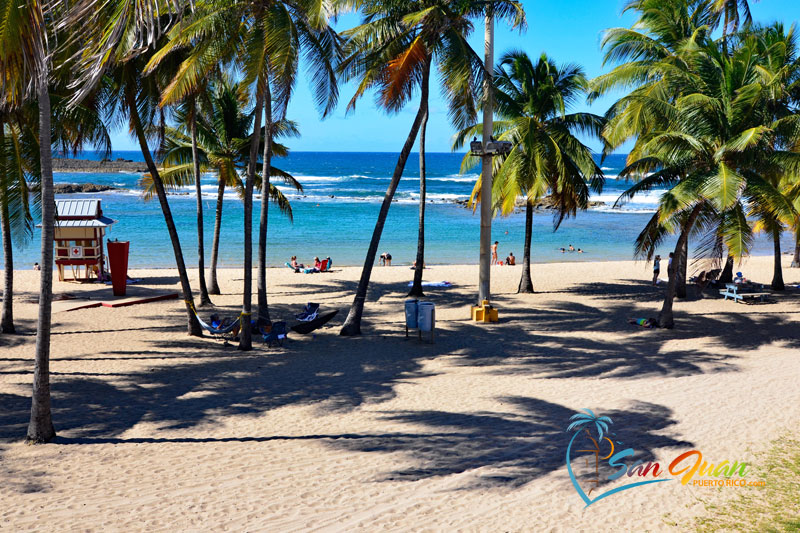 Balneario El Escambron is the most picturesque beach in San Juan protected by a coral reef with soft golden sand and perfectly landscaped with tall palm trees providing cozy shaded spots.  Be sure to block off much more than beach time, you'll be walking into a recreational park with enough activities for a fun-filled day the whole family will enjoy.
Escambron Beach is located in Puerta de Tierra within walking distance from Old San Juan and Condado.  Escambron is the best public beach in the metro area offering much more than a great beach experience. Here you can snorkel, scuba dive, take a romantic walk along the scenic oceanside trail, visit the historic Bateria El Escambron, find quiet spots just for two, enjoy the green area at Parque Tercer Milenio (Third Millennium Park), eat great food and more.  The city is vibrant, full of energy but once you get here, you'll experience the relaxing and invigorating allure of this tropical city.
Being on this beach barely feels like you're in a city, during tourist season (mid-November – April), Balneario El Escambron is nice and quiet during weekdays.
Playa 8 (Main Beach) – Escambron Beach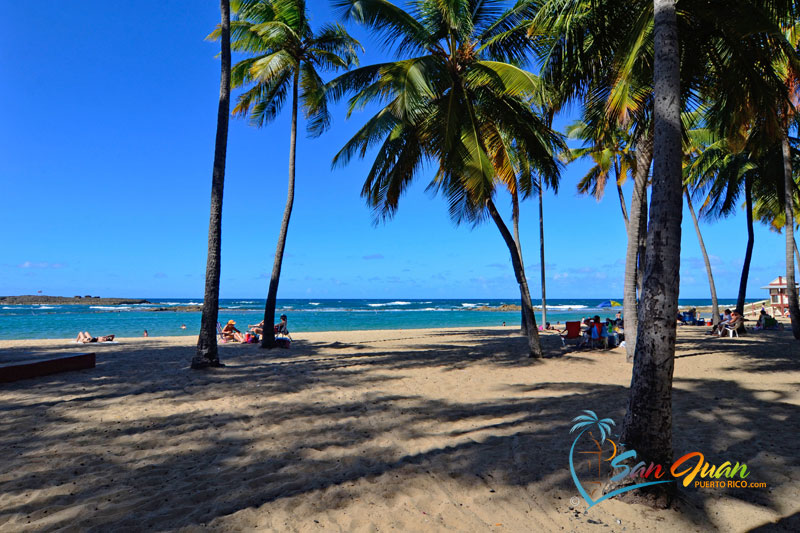 As soon as you step foot on this beach you'll either be pulled by the waters or seduced by the swaying coconut palm trees inviting you to sit down and relax under its cooling shade.  From the turquoise waters, you'll have a great vantage point to see the National Historic Site from a different point of view.  You will also have views of the Capitol Building   This beach is protected by a coral wall that keeps the strong surf from coming in, creating a giant natural pool where you can swim, do a little snorkeling, and play.  The beach has a lifeguard from Monday – Sunday 9:30 am – 5:30 pm.
Playa 9 (Bateria El Escambron)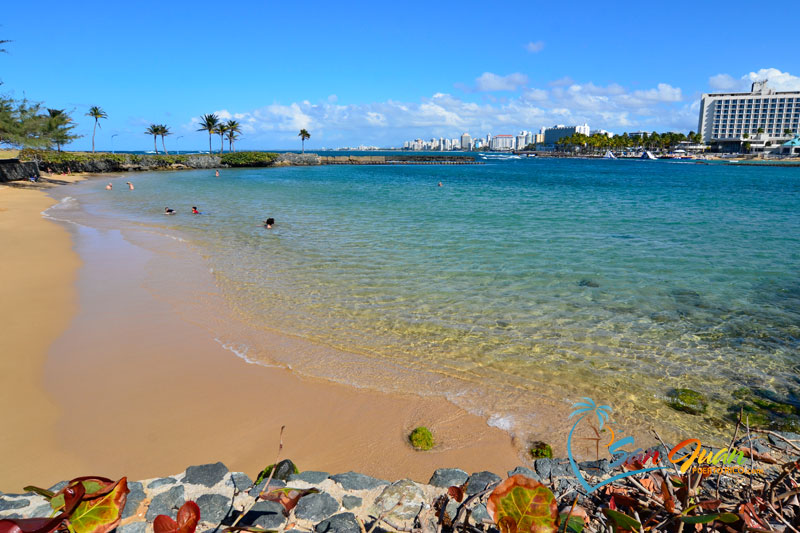 Walk east of the park and you'll get to "Playa 9", a small beach but loved by families with small children for its shallow and very clear waters.  Typically this beach is the quietest with fewer crowds. From this beach, you can enjoy sweeping views of the Condado and Ocean Park shores.
Bring your gear to do a little snorkeling.  There's a deep drop-off right along the man-made concrete boulders where you'll see more fish, this is a popular spot for scuba diving,
Facilities & Services at Balneario El Escambron
Escambron Beach is part of the Tercer Milenio Park offering fun recreational activities and services.
Food at Playa Escambron
When you get hungry, you can eat at Kiosko El Escambron serving traditional Puerto Rican fried foods, drinks, and a few other snacks.  It is located on the main beach (Playa 8)
Restaurante Escambrón Beach Club Tel: (787) 724-3344

Escambron.com

You will also find food trucks with ice cream, candy, and a few beach items for sale.
Services at Playa Escambron
Playa 8 has a lifeguard

Ramp for individuals with a disability offering access to the beach.  If you require assistance ask the person at the entry ticket booth for more information. 

The amphitheater can be rented with a capacity of 15,000 people.
Restrooms – You may want to bring a roll of toilet paper / wet wipes, and antibacterial lotion just in case they're out of paper and soap – especially on a holiday or weekend when the beach gets the most visitors.
Outdoor rinsing showers
Fees & Parking - Playa Escambron
Entry to the beach is free if you drive in is $6 per car.  There's plenty of parking.
Map of Balneario El Escambron
San Juan, Puerto Rico