…Where Old World Elegance & Modern Caribbean Meet…to Create the Most Exciting Destination in the Caribbean.
Award Winning Tour in San Juan
Five centuries ago, San Juan was an impenetrable fortified city.  Today, it is the capital of Puerto Rico and one of the top destinations in the Caribbean… welcoming travelers from all over the world.   In a short 3 hour flight from major U.S. cities, with no passport required, you can experience one of the most culturally rich places in the world with the added allures of a tropical Caribbean island.
Prepare to be captivated by the natural enchantment of Puerto Rico, its vibrant culture, and old-world elegance.   San Juan is one of the most unique and accessible places to travel under the U.S. Flag yet far from an ordinary Caribbean destination.
Experience Two Distinct Destinations...
Five Centuries Apart
The charming Old San Juan will transport you back to colonial times.  Bring comfortable shoes, because you'll want to walk every cobblestone street, with bright candy-colored homes. Explore scenic waterfronts, centuries-old forts, museums, charming plazas, excellent restaurants, shopping, and be sure to experience our vibrant culture by attending our festive events just about every week of the year.  Honeymooners get lost in the romance of the Old City and will find plenty of romantic activities.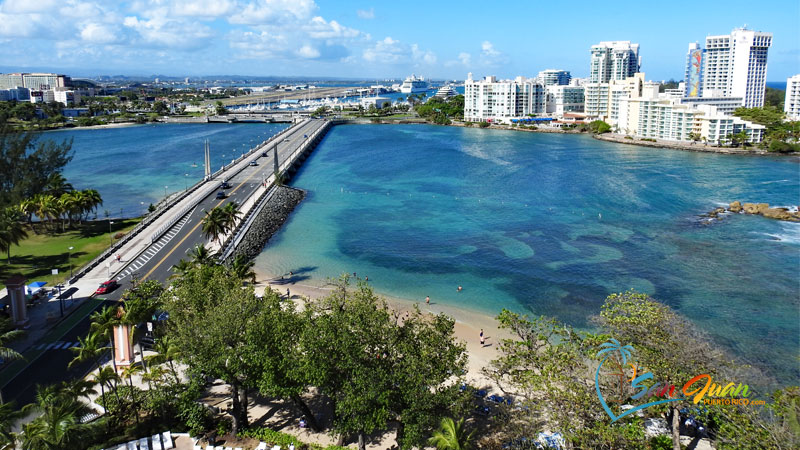 The New San Juan, the metropolis of the Caribbean, is constantly growing and moving forward.  Our capital city offers the amenities and entertainment of a modern and lively city with the added allures of tropical beaches, luxurious beachfront hotels, world-class dining, shopping, and sizzling nightlife.  Condado, Ocean Park, and nearby Isla Verde, are the most popular tourist destinations.  Here you can have it all, a bustling city life yet relaxing like a tropical escape ought to be.
San Juan is the most popular tourist destination in Puerto Rico, has a great central location, and is the best starting point when visiting the island.  San Juan is the busiest cruise port in the Caribbean, giving visitors world-class attractions and rich cultural experiences that can easily be done by simply walking across the piers.   Only those that choose to spend at least a few days in San Juan get to experience the full enchantment of this place.
Best Places to Stay / Tourist Districts
San Juan, Puerto Rico
San Juan, the Capital City of Puerto Rico offers various tourist destinations for visitors.  While they all share the same sensuous tropical vibe, each has its own flavor and personality.  All the tourist destinations are close by, so no matter where you choose to book your hotel, you'll be able to enjoy the best of each in just a short drive or bicycle ride.
While Old San Juan connects you to the past and seduces with European charm and world-class attractions.  New San Juan (aka San Juan Metro) lures visitors with great beaches, fun things to do in the water, the beautiful Condado Lagoon, parks, and squares, modern museums, and much more.
Old San Juan, Puerto Rico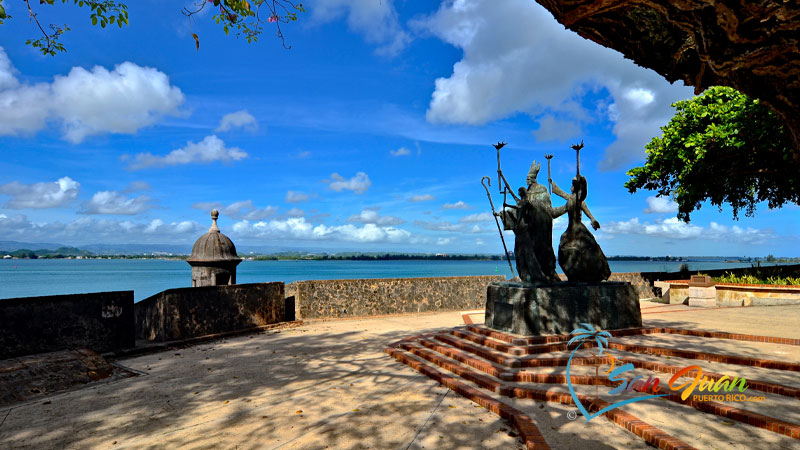 + Old San Juan, Puerto Rico
Whether you choose to stay in Old San Juan or another destination around the island, this is one place you simply cannot miss visiting while in Puerto Rico.  Old San Juan equals happiness, with many fun events held throughout the year, giving visitors an opportunity to immerse themselves in the culture of Puerto Rico.  Everything you could possibly need during your vacation is within walking distance along the charming narrow streets with candy-colored buildings and blue cobblestones.   Visitors will be captivated by the European charm, majestic castles that protected the city five centuries ago, the sounds of salsa, the romantic restaurants, unique shops, and friendliness of welcoming locals.  Nightlife is vibrant, and days can be full of interesting places to visit, yet you'll find many spots to simply relax.  During Christmas, Old San Juan is the best place to be with live music, lights, and activities young and old will enjoy.  Foodies seeking extraordinary culinary experiences will have plenty of great choices without necessarily breaking the budget. 
Condado – San Juan, Puerto Rico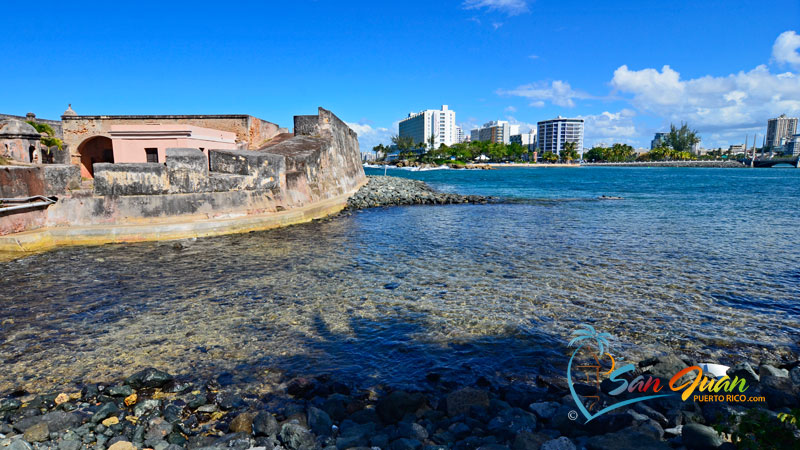 + Condado - San Juan, Puerto Rico
Condado is the most popular tourist vacation destination in New San Juan.  Condado is a cosmopolitan destination boasting some of the trendiest and most luxurious waterfront resorts and hotels.  Condado offers visitors: excellent dining options, lounges, casinos, nightclubs, and beautiful event venues.  Pack light and bring empty luggage, just steps from Condado Beach, you'll be shopping at high-end boutiques and shops including Louis Vuitton, Gucci, Cartier, and Salvatore Ferragamo.  Condado is a great location for couples and families wanting beachfront accommodations.
Convention Center District – San Juan, PR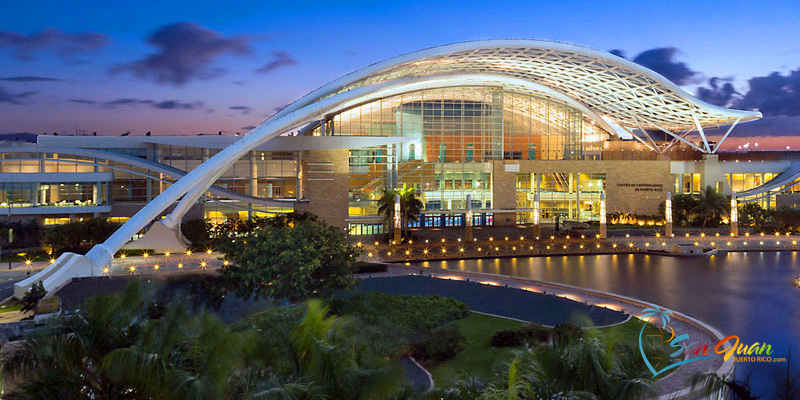 + Convention Center District
Convention Center / Miramar is a hot spot for events and business travelers and home to the Pan American Cruise Pier, Isla Grande Airport, and Puerto Rico Convention Center – a state of the art convention center offering year-round events for both locals and businesses across the globe.  The harbor is currently being re-developed, and a beautiful new luxury hotel by Starwood was just built.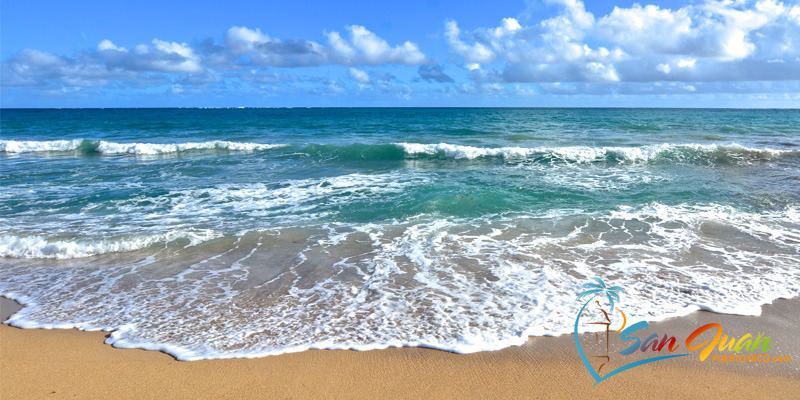 + Ocean Park - San Juan, Puerto Rico
Ocean Park is a popular destination for its beach, water sports, recreational park, small boutique hotels, and guest houses offering beachfront access at very affordable rates. Compared to Condado, Ocean Park has a more laid back and casual feel.
Experience the Vibrant Culture of Puerto Rico...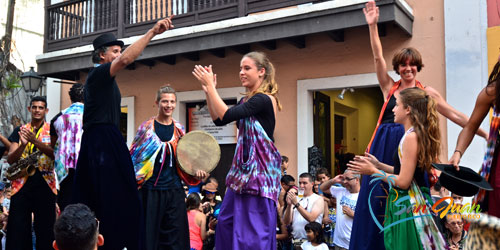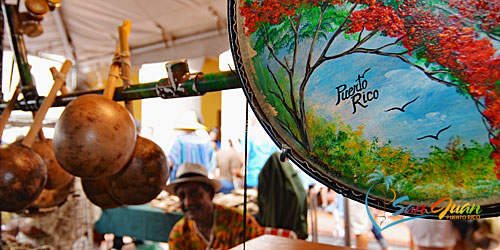 San Juan is the cultural center of Puerto Rico, celebrating countless festivals and events throughout the year.  There's always something entertaining and exciting happening in San Juan.  Island residents head to the city to join the festivities.  Visitors are encouraged and welcome to join the fun and experience San Juan's vibrant culture.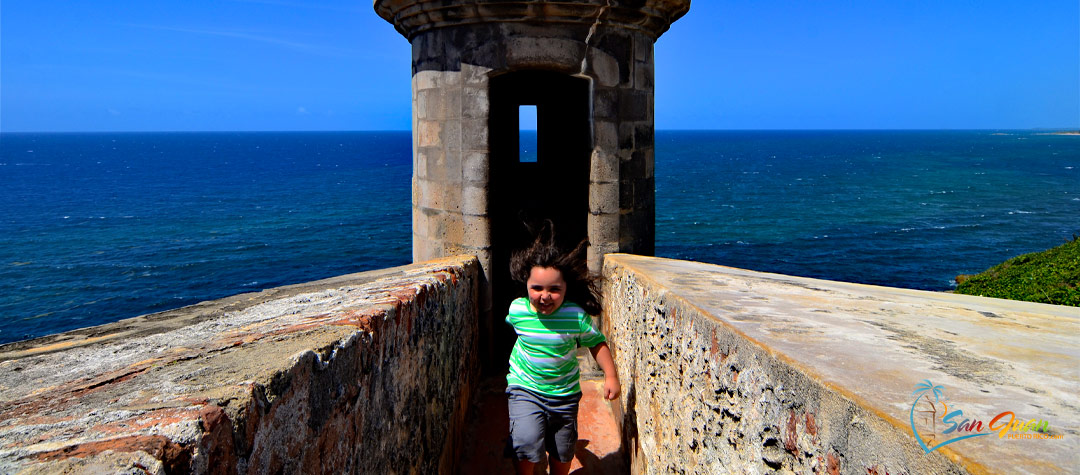 Once here, you'll see San Juan is truly the happiest place on earth.  Whether you're running around the grounds of El Morro flying a kite, basking under a sunny blue sky, playing on the beaches, or dancing to the rhythms of salsa, you may find yourself always ready with a smile for the perfect selfie with magnificent ocean blue backgrounds and colorful scenes.
San Juan has the perfect recipe for happy visitors…a vibrant city life mixed with the perfect dose of relaxation opportunities.  Tropical happiness is never complete without palm trees and beautiful beaches, blue skies, warm tropical weather…with the perfect Piña Colada.  Add sounds of salsa, delicious food, friendly locals, warm hospitality, and plenty of fun activities and world-class attractions and you have the most complete Caribbean Getaway.
San Juan has something for the young and the less young…be ready to smile…
Experience World Class Attractions & Exciting Activities
Visitors of all ages and interests will enjoy seeing unique attractions and landmarks in San Juan, Puerto Rico.  The list of places you can visit is long, including world-renowned UNESCO sites such as the San Juan National Historic Site.  There are also museums for all ages, marine reserves, beaches, plazas, parks, gardens, a state-of-the-art convention center hosting many events, and more.  Getting around to see everything is easy and affordable too.  Points of Interest in San Juan, Puerto Rico. 
San Juan alone offers a great variety of fun and exciting things to do for adults and families.  Outside of the city is a different world that's green and lush…filled with natural treasures for the adventurer and a beautiful coastline with plenty of water activities.  San Juan attracts couples seeking unique experiences, and the city offers full days of romantic activities  – sure to create unforgettable memories.  More about Things to Do in San Juan, Puerto Rico.
Experience Excellent Dining
& Warm Hospitality...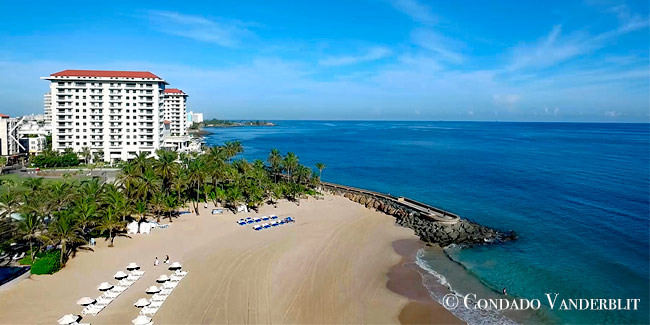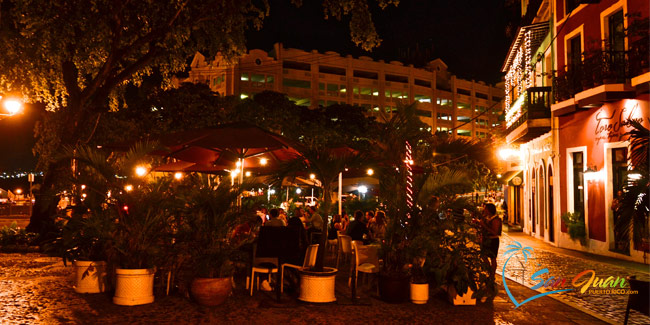 San Juan is ranked among the best Caribbean destinations for foodies and it won't take long for you to agree.  From food trucks, fried alcapurrias, and empanadillas, to exquisite fine dining for the more refined palate, San Juan delivers an epic culinary experience.  Many restaurants also offer great live entertainment.  No matter what your budget is, you can enjoy great food during your visit.
Extraordinary Experiences...
Just a Short Flight Away...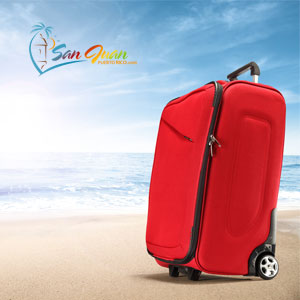 Puerto Rico
is a Free Commonwealth of the United States, so no passport is required for citizens of the U.S.A.  With daily
flights
offered from major cities in the United States,
travel to San Juan
is convenient and affordable.   As you sleep, dine, and shop, you'll receive warm and friendly hospitality for an enjoyable stay.  Plus, the
weather
is perfect with an average temperature in the 80's all year.  It's always a great time to vacation in San Juan, Puerto Rico.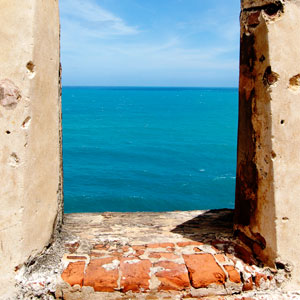 Map - Capital City of San Juan, Puerto Rico
Beaches, Top Attractions, Hotels, Resorts, Services & More
About San Juan, Capital City of Puerto Rico
Basic Facts
San Juan is the capital city of Puerto Rico.  Puerto Rico is an unincorporated territory of the United States.  San Juan is the financial and industrial center of the island and the most visited tourist destination.  The tourist areas span over 8 miles of the beautiful Atlantic coastline, from historic Old San Juan to the beaches of Isla Verde in the neighboring town of Carolina.
The San Juan Airport and Cruise Port are both Caribbean hubs welcoming millions of tourists every year.  This modern city is the second oldest settlement in the Americas, it is rich in history, treasuring its past, but setting new standards in technology across the Caribbean by always moving forward.
Formal Name of San Juan
 Municipio de la Ciudad Capital San Juan Bautista (Municipality of the Capital City, Saint John the Baptist).
Pronunciation of San Juan
 "Sahn Hwahn, Pwer-toh ree-koh"
Where is the Capital City of San Juan?
 San Juan is located on the north-east coast of Puerto Rico bordered by the Atlantic Ocean on the north side.

City Hall (Alcaldia) Office
Address: 153 Calle San Francisco, San Juan, Puerto Rico 00901
Tel: +1 787-524-2500
Culture of San Juan Puerto Rico
The capital city is the cultural center of Puerto Rico.  San Juan is a happy place all year round and around the clock!  Residents from across the island flock to the capital city to attend cultural events and visit the many points of interest. Visitors are encouraged to join in and experience the heart and soul of San Juan.  + Culture in San Juan, Puerto Rico
Electricity in San Juan / Puerto Rico
Current is 110 volts AC, same as the United States
Puerto Rico Flag
The current flag of Puerto Rico was officially adopted in 1922.  The red stripes are symbolic of the "blood" that nourishes the three branches of its government; Legislative, Executive, and Judiciary.  More about the Puerto Rico Flag. 
Hospitals & Pharmacies in San Juan
During your visit to San Juan, easily find pharmacies in tourist areas within walking distance of hotel/resort areas.  Should you need any medical assistance during your travels, there are various hospitals ready to give you care.  + Hospitals and pharmacies in San Juan, Puerto Rico
Land Area
76.93 sq. miles (199.2 km²)
Language in San Juan / Puerto Rico
Spanish & English are the official languages in Puerto Rico.  Spanish is preferred, but most locals, especially in tourist areas, speak English.
Mayor of San Juan, Puerto Rico
Miguel A. Romero Lugo
Address: P.O. Box 4355, San Juan, P.R.  00901-4355
Telephone:  (787) 524-2500
Money Matters
Currency:  U.S.A. Dollar

 

(dolar, peso)
Banks

 

– You'll find local banks throughout the city with ATH's (in U.S. called ATM's) that function on U.S networks.  Banco Popular, Scotiabank, Doral, Santander, & FirstBank ATH machines are most frequently available.
Methods of Payment –

 

Cash, VISA, MasterCard, and ATH (debit cards) are the most commonly accepted methods of payment.  American Express, Discover, and Diners Club are not as commonly accepted in Puerto Rico.
Sales Tax Rate: 

 

11.5%
Population
Population is 395,326 according to the 2010 US Census.
Sources:  US Census
Police & Emergency Services
Visitors can feel comfortable exploring the tourist areas of San Juan.  There is a strong police presence and the officers are trained to help visitors feel safe.
Post Offices
There are various Post Offices located in tourist districts of San Juan, visitors are welcome to stop by and send postcards and packages back home.  Post Service is by the United States Postal Service.
Subdivisions of San Juan
The municipality of San Juan (like a county in the U.S.) is divided into 18 districts (barrios), which are further divided into communities/ neighborhoods (sub-barrios).
Television & Internet
Television and Internet access are available via satellite or cable companies as in the United States.
Temperature / Weather in San Juan
Average of 81 degrees F.  See our Weather page for more information.
Time Zone in San Juan, Puerto Rico
Puerto Rico is on Atlantic Standard Time (AST) = Eastern U.S. Daylight Savings Time (EDT)
Puerto Rico does NOT recognize daylight savings as in the U.S.
If you're traveling from the U.S., here are the time zone conversions:
During U.S. Daylight Savings time months (early March thru October):
Eastern Daylight Time (EDT) is the same as Puerto Rico time
Central Daylight Time (CDT) + 1 hr. = Puerto Rico time
Mountain Daylight Time (MDT) + 2 hrs. = Puerto Rico time
Pacific Daylight Time (PDT) + 3 hrs. = Puerto Rico time
(i.e. Noon PDT = 3 pm in San Juan)
During U.S. Standard Time months (November into early March):
Eastern Standard Time (EST) + 1 hr. = Puerto Rico time
(i.e. Noon EST = 1 p.m. in San Juan)
Central Standard Time (CST) + 2 hrs. = Puerto Rico time
Mountain Standard Time (MST) + 3 hrs. = Puerto Rico time
Pacific Standard Time (PST) + 4 hrs. = Puerto Rico time
Tourism Offices
The tourism office is a great place to stop after arriving at the airport or beginning your walking tour of Old San Juan.  The staff is ready to help you and answer any questions you may have.  See locations and maps of tourist offices.
Typography of San Juan, PR
San Juan is mostly flat, with coastal areas facing the Atlantic Ocean and the San Juan Bay.
Water in San Juan / Puerto Rico - Can you drink it?
San Juan Puerto Rico Tap Water, and around most of the island, is "city water" and safe to drink, tastes good, and meets the same requirements set by the EPA for the United States.  The Puerto Rico Water Company, Autoridad de Acueductos y Alcantarillados (AAA), uses the latest technology to filter and purify drinking water for San Juan and other towns throughout Puerto Rico.  For water quality information, visit their website at acueductospr.com.  As in the U.S., if a business or home uses well water (rural areas only), they are responsible for monitoring its quality and safety.
When was San Juan founded?
San Juan was founded by Spanish colonists in 1521, who called it Ciudad de Puerto Rico ("Rich Port City").
Zip Codes & Area Codes of San Juan