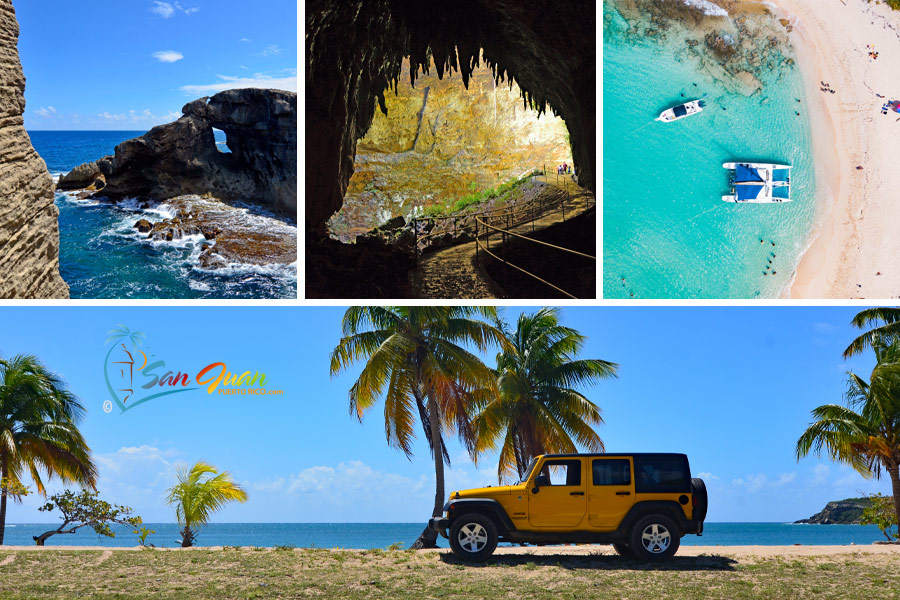 Fun Day Trip from San Juan to El Yunque & Bioluminescent Lagoon
You may be tempted to stay within the city if you're staying in San Juan longer than a weekend getaway, we encourage you to wander around the island so you can begin to experience the real magic of Puerto Rico.  A day or two outside of San Juan will elevate your vacation.  Following are six fantastic day trips to some of the most exciting places and best beaches nearby.  Some of the day trips are best enjoyed on your own by renting a car.  In some of the places listed, you may find it is best to book a tour with a professional company that takes care of all the details, so you can maximize your time in Puerto Rico.
Experience the Sights, Sounds & Sensations of the Enchanted Rainforest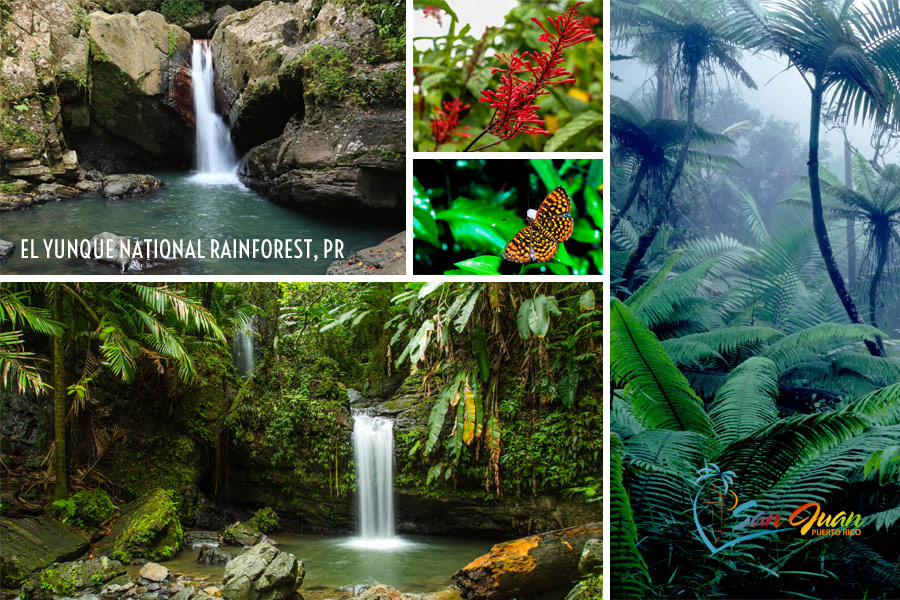 El Yunque Rainforest is one of the most memorable places you will experience, just 40 minutes from San Juan, but feels like a world away.  El Yunque is one of the most magical places in the Caribbean, an experience the entire family will treasure.  The hike through the rainforest is a real pleasure with mystical waterfalls, misty air, lush flora, and the sounds of the rainforest.   You could spend a few days exploring El Yunque Rainforest, but one day will be sufficient to hike the most popular trails.
Top Rated Tours to El Yunque National Rainforest w/ Transport from San Juan
Don't Miss One of the Most Beautiful Beaches on the Planet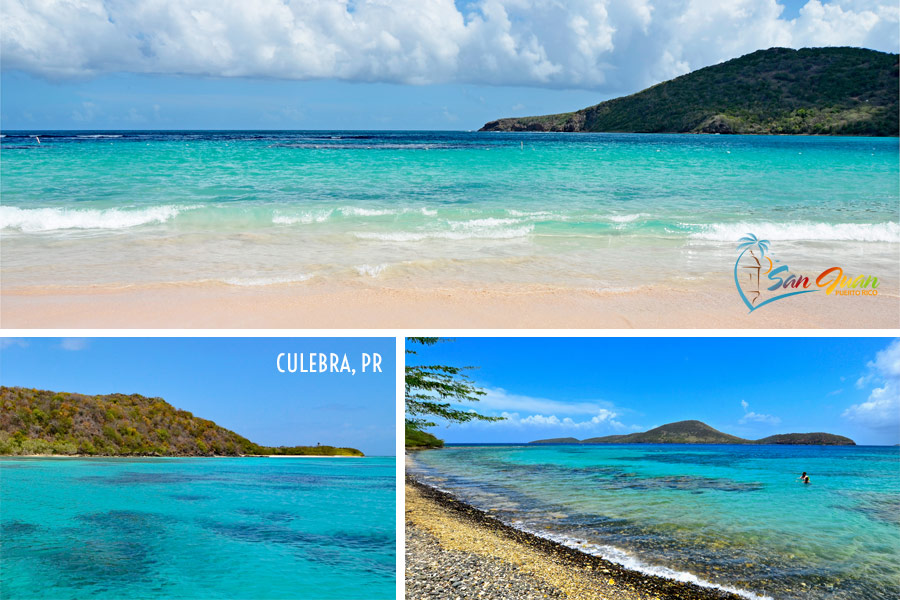 San Juan and Culebra are a wonderful combination.  Old San Juan offers Old World European Charm while Culebra offers visitors a glimpse into the Caribbean past.  Surely you heard of Flamenco Beach, ranked among the best beaches in the world and the Caribbean of the past.  Culebra offers the most pristine beaches untainted by development with the most beautiful colors of turquoise and emerald green waters you'll ever see. Water has excellent clarity, and some of the most preserved coral reefs in the Caribbean, the best snorkeling destination in Puerto Rico.  We are confident that after a day trip, you may be booking a few days in Culebra the next time you travel to Puerto Rico.
Top Rated Tours to Culebra from San Juan
+ Culebra Tours from Rio Grande
Experience Skies & Water Full of Stars
Two Bioluminescent Bays to Enjoy from San Juan… Two Distinct Experiences… Find the Perfect One for You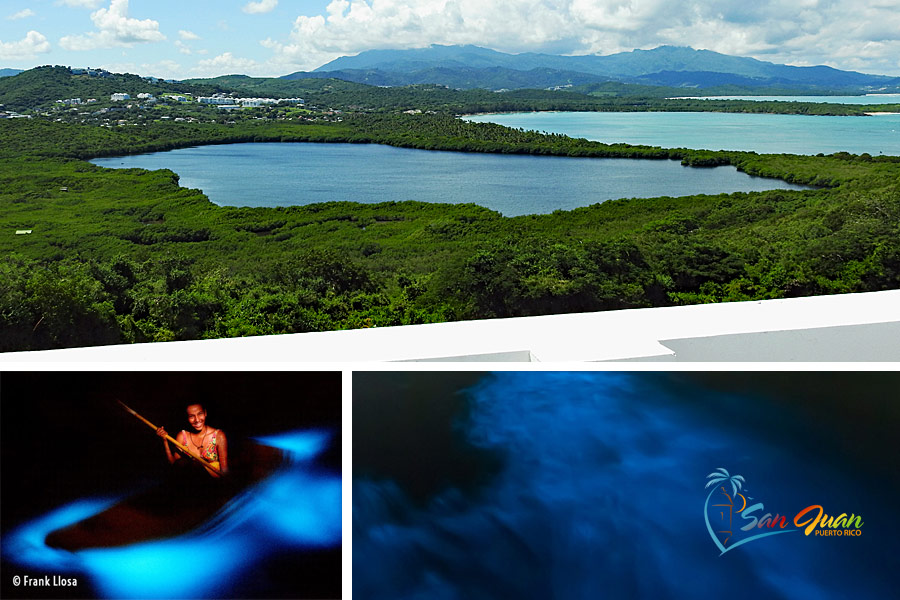 Go kayaking at one of the bioluminescent bays in Puerto Rico, a natural wonder you don't want to miss.  When the sky is dark and the moon is young, the water lights up like magic with everything that touches it.  If you have children, it will be extra magical as you see their eyes light up with wonder and excitement, an experience guaranteed they will never forget.  There are three bioluminescent experiences, see below for more information as well as top-rated tours with transportation from San Juan. 
Top Rated Tours from San Juan to Bioluminescent Bays
+ Laguna Grande Bioluminescent Lagoon from San Juan
Laguna Grande is the closest bioluminescent bay from San Juan, located in Fajardo, about a 45-minute drive from the city.  Know that Laguna Grande gets the most crowds since most tourists in the San Juan and east coast go there.
See Top Rated Tours with Transportation from San Juan
+ La Parguera Bioluminescent Bay from San Juan
La Parguera - If you wish to take a day trip to the west coast, which can be a lot of fun when combined with the keys of La Parguera.  You may actually enjoy the bioluminescent bay experience even more since it is the only one you are allowed to swim in.  La Parguera is in the town of Lajas.  Depending on traffic, it could take 2.5 hours to get to the town, however, you will not have crowds, and it is a more natural and relaxed experience.  Sunsets are spectacular at La Parguera and you get the additional experience of visiting a true fishing village with various restaurants serving fresh fish and traditional Puerto Rican food.  Most weekends there is live music, dancing at the square, and artisan crafts... a true cultural experience.
See Top Rated Tours with Transportation from San Juan
+ Mosquito Bay from San Juan
Mosquito Bay in Vieques
is the brightest bioluminescent bay in the world, and the water glow is truly spectacular.  You will have to
stay overnight on the island
.
Planning your trip to Vieques
Book a transfer from San Juan to the Ceiba ferry.   If taking the ferry, try and buy the ticket ahead of time.  You may also book a short flight from San Juan to Vieques or from Ceiba Airport to Vieques which will save you money depending on the size of your group.
Book a short stay in Vieques.
Reserve your bioluminescent bay tour in Vieques (see tours below).
During the day go on an awesome beach-hopping adventure by renting a jeep or scooter.
Book a transfer back to San Juan from Ceiba Ferry or your flight from Vieques to Ceiba Airport or San Juan.
Bioluminescent Bay Tours in Vieques 
Escape to a Secluded Island – Cayo Icacos (Icacos Cay)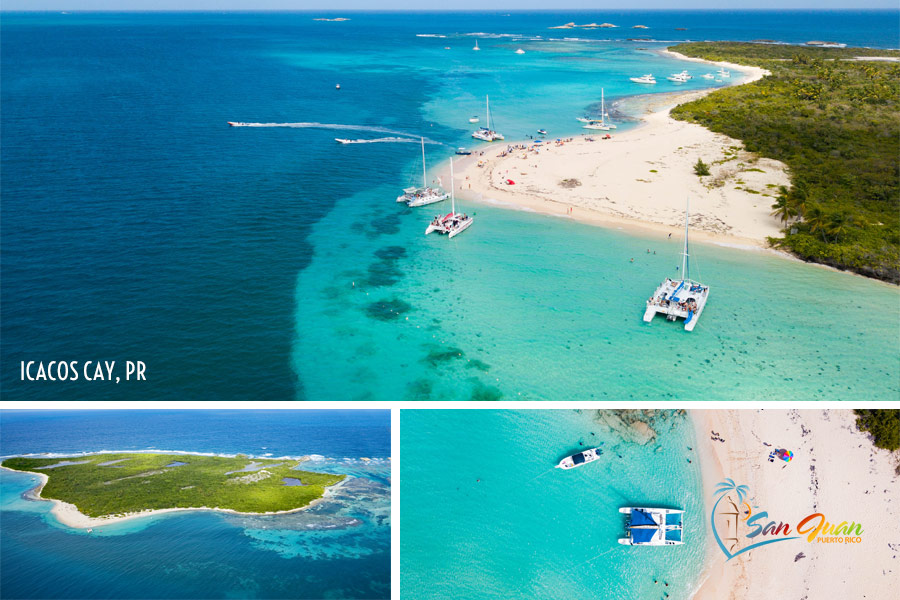 Just an hour from all the excitement of the city of San Juan, you can be sailing on a catamaran to a secluded island with gorgeous turquoise water and white sand… one of the most popular secluded islands of Puerto Rico is Cayo Icacos (Icacos Cay).  Icacos is part of the La Cordillera Nature Reserve, a group of keys off the east coast of Puerto Rico.  You can swim on a deserted beach, do a little snorkeling, and even swim with dolphins if you're lucky to be there when they show up.  The following tours offer pick-up in San Juan for an additional fee.  You may also take a taxi to Fajardo from San Juan.  The driving distance from San Juan is 45 minutes.
Excursions to Icacos Cay Offering Pick-Up in San Juan
Explore Hidden Wonders like a Modern Pirate in the Caribbean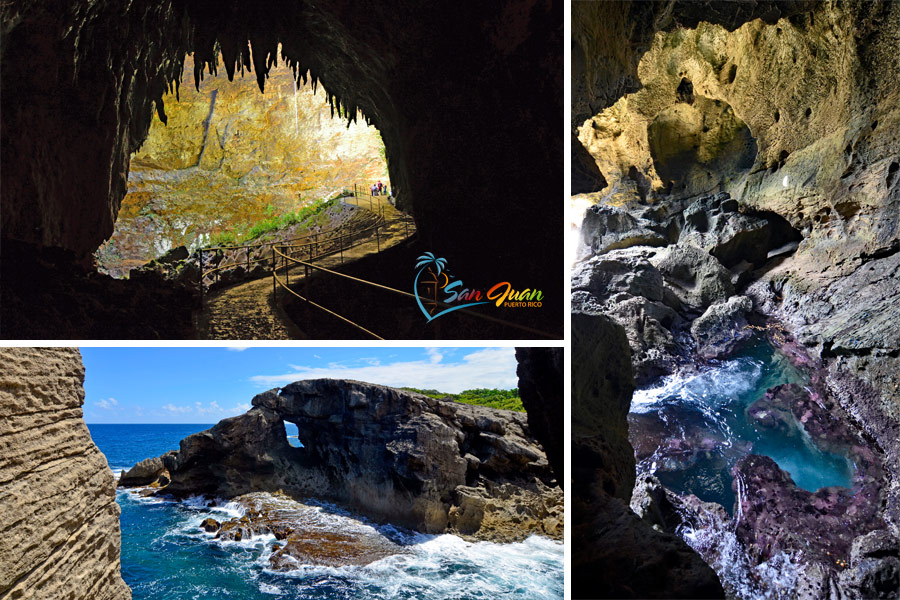 A scenic drive into the Karst region of the northern mountains, you can enjoy a fun day exploring the amazing caves of Puerto Rico.  From accessible and family-friendly caves to experiences for those with a more adventurous spirit.  Some tours include rappelling, body rafting, and river trekking.
Following are the most popular and best-rated cave tours in Puerto Rico near San Juan
+ Cueva del Indio
Cueva del Indio – Worthy of a filming location for Pirates of the Caribbean… and it was, as well as other Hollywood films.  One of the top rated tours to Cueva del Indio made it to the coveted list of Trip Advisor's Traveler's Choice list… earning the 12th spot on Top Adventure Activities in the World in 2021.  Right along the coastline, you can visit a beautiful cave that was home to Taino Natives where you can observe original petroglyphs.  The cave is located in one of the top five most scenic places on the island also known as Seven Arches, where rocks, water, and wind have come together to form seven natural arches.  You'll get tons of Instagram-worthy vacation photos.
+ Arenales Caves
Arenales Caves – Incredible experience, ranked #25 in 2022, #5 in 2021 – Top Overall Experiences in the World. Also ranked #2 in 2022 and #1 in 2021 – Top Overall Experiences in the Caribbean – Spend a full morning on an intimate tour with a combination of river trekking, hiking, river floating through a breathtaking underground cave, and more. This is for the visitor with an adventurous spirit and physically challenging but worth every step.
Go Beach Hopping Like a Puerto Rican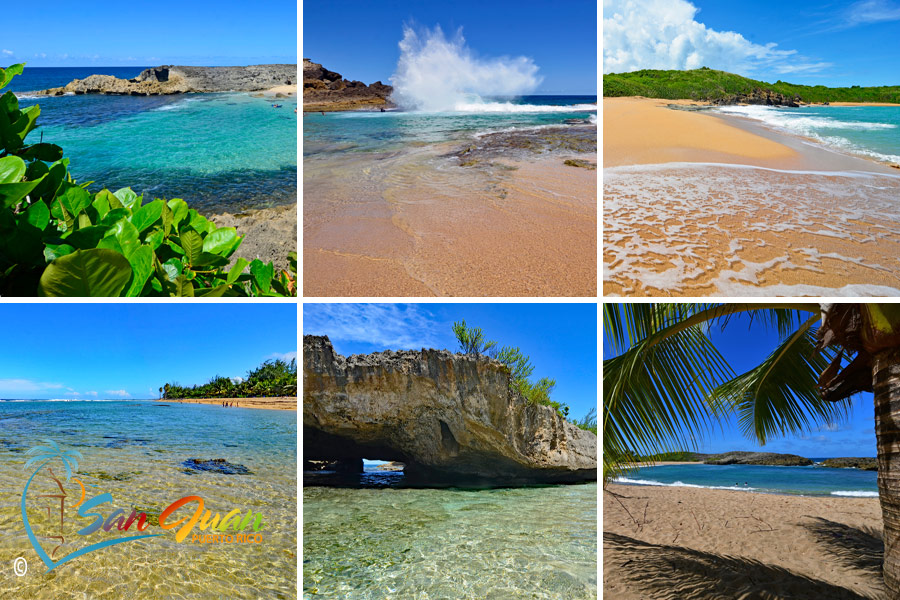 You'll be tempted to enjoy the beaches of San Juan and remain close to the hotel.  The beaches in San Juan are nice, but they're on the Atlantic Ocean side, get more crowds, and do lack some of the enchanting traits of a Caribbean beach.  The best beaches of Puerto Rico are truly on the islands of Culebra and Vieques, but the main island has dozens of gorgeous beaches loved by locals and visitors.  To maximize your time while staying in San Juan, we have come up with a list of the best beaches to explore near San Juan.
We recommend you rent a car to enjoy a beach hopping day at your own pace.  Just take a beach towel, stop by a bakery and load up on water, Puerto Rican treats, and sandwiches, and simply enjoy the island life.  Let your hair down, play your favorite tunes and listen to them a bit louder than you're used to… is ok… that's the Puerto Rican way…  This small island is packed with great beaches, and we can tell you that once you start beach hopping, we are almost 100% confident, that you'll become addicted and come back for more.  Weekdays are more mellow, and weekends are so much fun to go beach hopping, Puerto Ricans take out their detailed jeeps and head to the coastline to find some new beach corners to explore, eat, drink and enjoy the island life with family and friends.  When you get hungry, you'll find plenty of beachside spots, roadside food trucks, and chinchorros (tiny simple food places) serving inexpensive but delicious traditional fritters.
Driving in Puerto Rico is easy, traffic is congested coming out of San Juan, but once you're out of the city, you'll be on your way to a nice adventure on the road.
There are various tour guides that offer trips to popular beaches, which are great if you don't want to worry about logistics.
+ Best Beaches to Explore from San Juan
Beaches are listed from nearest to farthest from San Juan. Driving times with regular traffic
East of San Juan
West of San Juan
All the following beaches have one thing in common, they are natural pools on the north coast.  Coral walls create a shield from the open rough waters of the Atlantic, creating a natural pool.
During inclement weather, we've seen these calm water pools become like whirlpools, making it hard for children to swim and even adults.  Do NOT climb on the coral walls, they can be slippery, the stone has sharp edges and a big wave could surprise you, causing a fall that could lead to falling in open water and loss of life.  Please enjoy these beautiful beaches safely.
For a great day trip on the west coast of Puerto Rico, leave early and visit the following beaches on the northwest coast, in the towns of Isabela and Aguadilla.
Fun Beach Tours near San Juan
Wander to the Wildly Beautiful West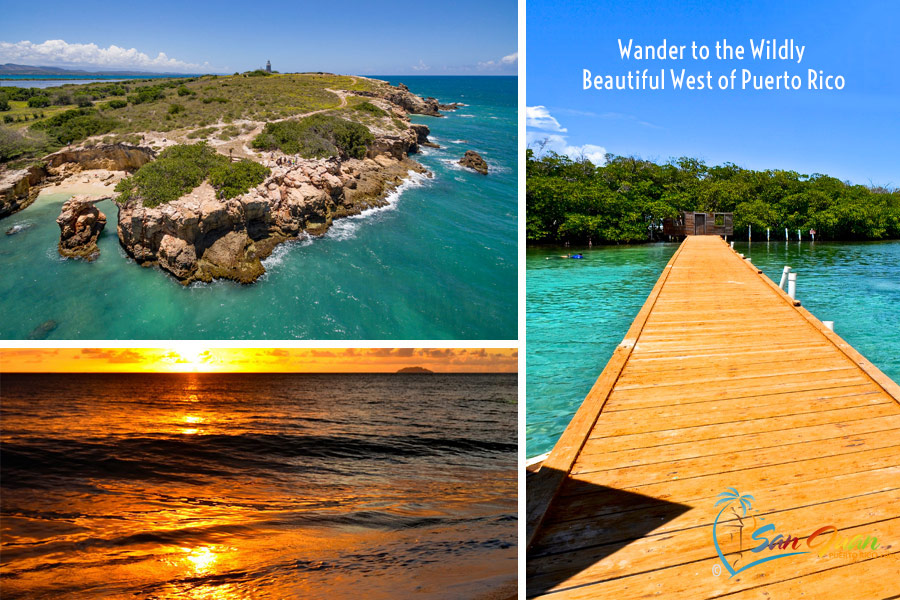 Ask any local where they love to go for summer vacation within the island and the majority will say, the west coast of Puerto Rico.  When speaking about the main island of Puerto Rico not including Culebra and Vieques, the west coast has the best beaches, the most variety of local eateries, the best sunsets, the best surfing beaches, and the most friendly and lively municipalities.  You can spend weeks exploring the west coast … following we have created a few itineraries packed with fun things to do and beautiful places to see in one day.  It is going to be a long but great day, so leave as early as possible from San Juan to beat the heavy traffic.
You can end your day with a visit to the bioluminescent bay in La Parguera before you head back to San Juan on Route 52, our preferred road to get to San Juan with the least traffic lights and congestion.
Itinerary 1
From San Juan, take Rt. 18 to Highway 52 from San Juan towards Caguas, pass Ponce and continue to the town of Guanica, your first stop.
Gilligan's Island, try and get there early to take the earliest water taxi (ferry).  Stay until noon.  We recommend you stop at Burger King in Guanica to use the restroom before heading to your next stop, it is on the way to your next stop.
Lunch & Lajas Pineapple – Head to Lajas for a traditional inexpensive lunch & Pineapple Stand Stop.  (directions shortly below).
Taty's Pinchos – Our favorite stop when we want traditional fritters, and perfect for a quick lunch as we enjoy the west coast. Taty's Pinchos is owned and managed by a friendly lady who also cooks the food with her mother.  The place is clean with good food, bring cash.  The cost per person is an average of $5.00, a little more for chicken pinchos (chicken on a skewer).  She also opened a unique stand next door with drinks served right on the pineapple.  Yum!!
Directions: Take Rt 116 from Guanica towards Lajas, make a left at the gas station (Rt 202) and keep straight.  At the end of the road, make a right (Rt 303).   At the following end of the road, turn left (Rt 101).  Look for Taty's Pinchos on the right side of the road. (location on the map below).
If you have room in your belly, stop for frappes at La Frutera on the way to Cabo Rojo, not far from Taty's Pinchos.
Head to Las Salinas in Cabo Rojo
Hike to Faro Los Morrillos
Dinner and Sunset:

Option 1: Head back to Lajas for dinner a the fishing village.  At dark, take a tour of the bioluminescent bay in Lajas which is right near the restaurants, it is the only bay where you can swim in Puerto Rico.
Option 2: Head to the colorful village of Boqueron (see location on map) with a number of restaurants and casual island-style pubs.

Head back to San Juan
Itinerary 2
From San Juan, take Rt. 18 to Highway 52 from San Juan towards Caguas, pass Ponce.  Then set your GPS to La Parguera, Lajas.
Island Hopping at La Parguera Nature Reserve
Lunch at La Parguera Fishing Village
Drive by the San German Historical District
Stop by Plaza Colon in Mayaguez and get a pastry, sandwich, and coffee at Ricomini Bakery.
Head to Rincon Lighthouse to watch the sunset.  From January until March (peak season in February),  you may get lucky and see humpback whales from the lighthouse.  They're best observed early in the morning and early evening.
Dinner in Rincon
Head back to San Juan along the north route.
West Coast Tours You May Enjoy from San Juan
Map - Best Things to Do Near San Juan
Capital City of Puerto Rico
Photo Gallery - Best Places in Puerto Rico to Visit Near San Juan