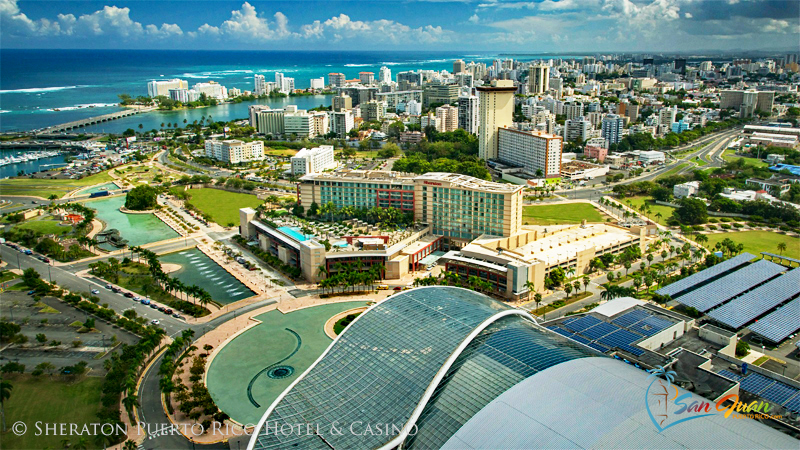 The Puerto Rico Convention District is a new leisure and business development for both leisure and business travelers alike.  The Puerto Rico Convention Center is a $415 million dollar state-of-the-art facility with 600,000 square feet of meeting space.  Three new hotels (see map below) were built offering excellent accommodations, dining, and entertainment for families, business travelers.  Hotels offer excellent meeting spaces and elegant wedding/event venues.
Travel Information
The Puerto Rico Convention District is the largest and most technologically advanced Convention Center in the Caribbean, covering 113 acres, it was the former home of the Miramar Naval and Coast Guard Base.  The Convention Center features a 152,700 sq. ft exhibit hall, a 39,500 Sq. Ft ballroom (largest in the Caribbean), 36,400 Sq.Ft of meeting space, and a 12,800 Sq.Ft Outdoor Terrace.
Nearby Attractions
From this location, a quick cab ride will transport guests to the historic city of Old San Juan and the Condado Tourist District.  Travelers who enjoy walking can walk to Condado and Old San Juan through the new Paseo Puerta de Tierra, just be sure to wear comfortable shoes and bring plenty of sunblock and water.
Top Rated Airport Transfers to Convention District Hotels
Map of Hotels in the Puerto Rico Convention Center District
Don't Miss Sailing or a Fun Boat Ride at San Juan Bay