Surprise your Loved One with a Romantic Sunset Sail
Always wished to see and experience the romance of a European town?  Come to Old San Juan, a place with the perfect mix of European architecture with the warmth and magic of a tropical paradise without the need to travel far.  Old San Juan is the kind of place you can walk for hours, as you explore colorful streets with interesting attractions to explore, and romantic promenades along the scenic and historic Bahia de San Juan.  
Choose to stay at one of the hotels in Old San Juan, as you step outside the door you'll have easy access to a variety of romantic activities and world-class attractions.  Some suggestions we make may seem simple, but once you get here, you'll realize that something as ordinary as walking becomes an extraordinary romantic experience.
Top Rated Romantic Hotels & Resorts in San Juan, Puerto Rico
A Romantic Morning Walk in Old San Juan
San Juan, Puerto Rico
You both have a lot to see, so start off your day with a great breakfast in Old San Juan.
Casa Cortes ChocoBar (210 Calle San Francisco, opens at 8 am) –Who said you can't have chocolate for breakfast?  Chocolate is often synonymous with romance, for a real decadent treat, head over to Casa Cortes where chocolate is deliciously integrated on every drink and plate.  No calorie counting, you deserve some indulgence, the morning walk should burn most of the calories effortlessly.
For a hearty low-cost breakfast, head to Café Manolin on Calle San Justo, a diner-style restaurant loved by locals for its traditional food at great prices.
Take a Romantic walk along Paseo de La Princesa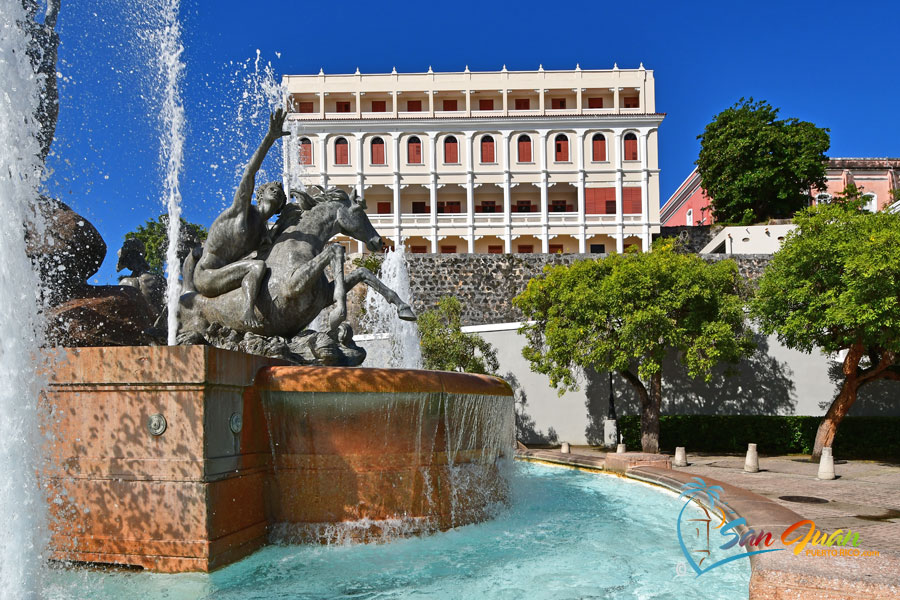 Start your walking tour along Paseo de la Princesa.  Local artists display their art along the walk and buy your loved one a unique piece of art or jewelry to remember the moment.
Midway through the walk, you'll pass a beautiful fountain perfect for a selfie-worthy moment.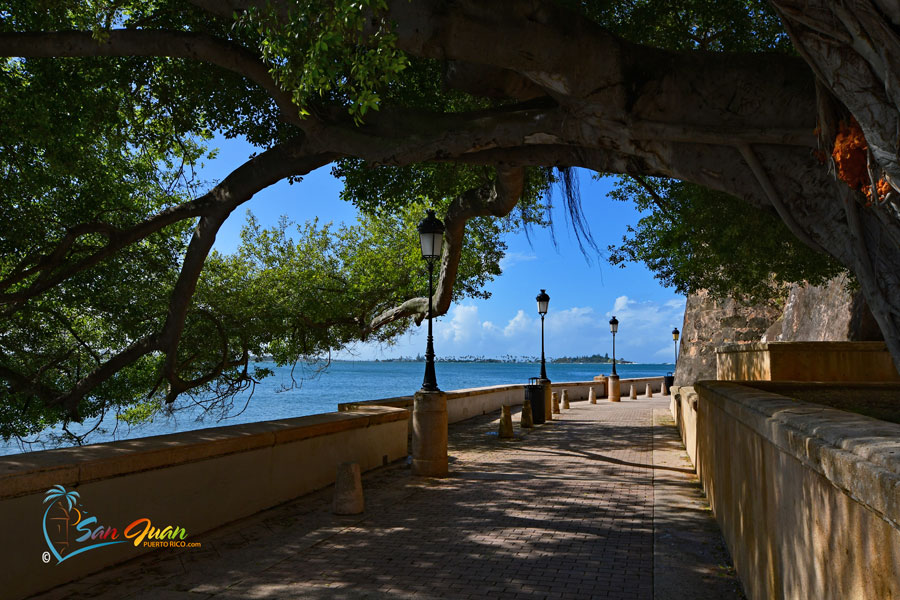 Your walk will become beautifully scenic as you walk along the historic city walls and the inspiring views of San Juan Bay.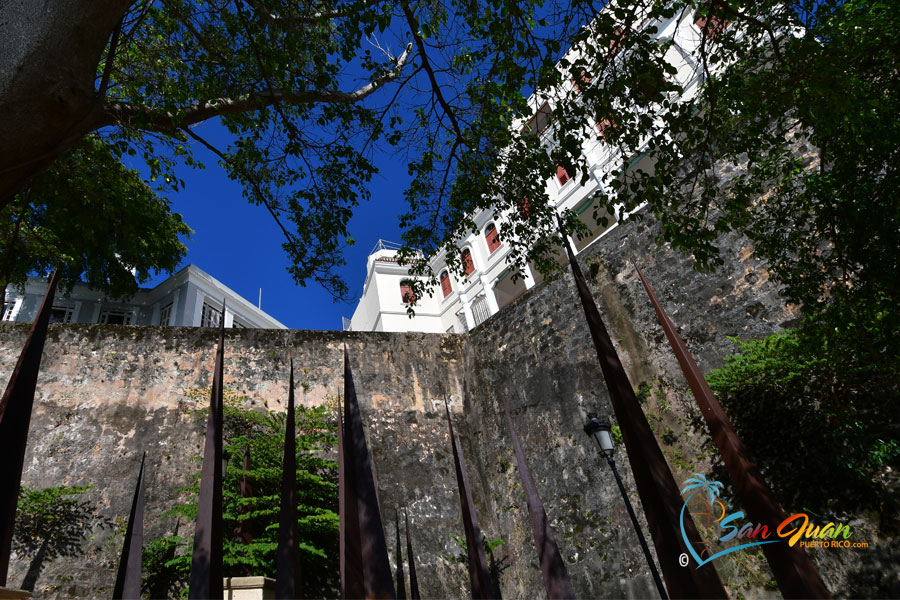 Pause, sit down on a bench, and enjoy the views sure to inspire a stare and a kiss.
Enter the Gate & Renew Your Love
At the end of Paseo de La Princesa promenade, we invite you to enter through the historic San Juan Gate.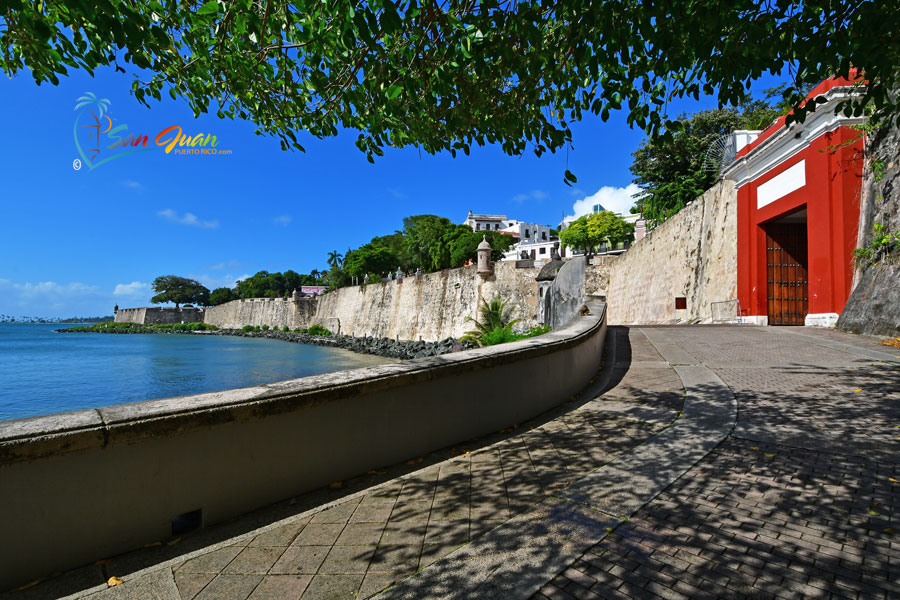 As soon as you pass the gate you'll walk up one of the prettiest streets in Old San Juan.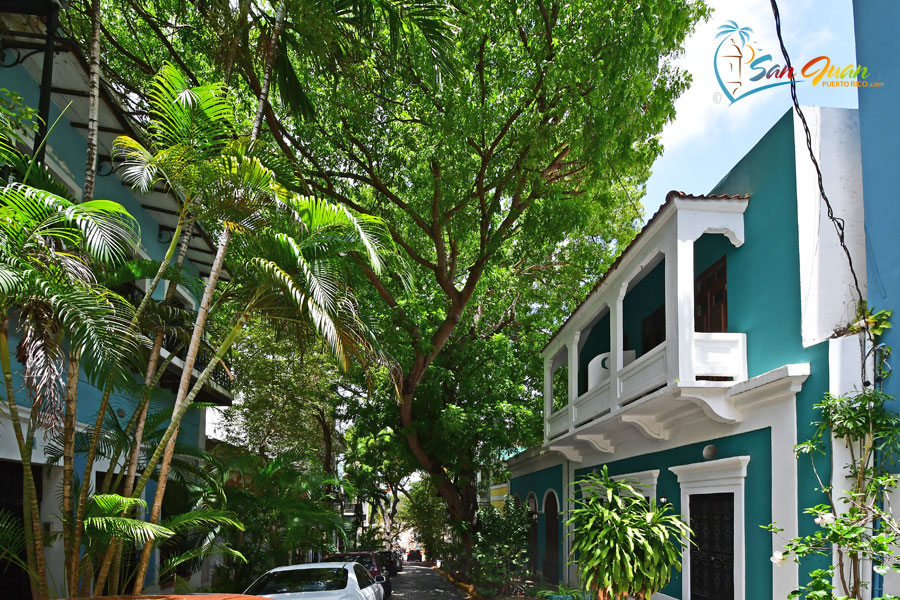 At the end of the street, you'll be facing the San Juan Cathedral where thousands of weddings, including celebrities, have promised each other eternal love.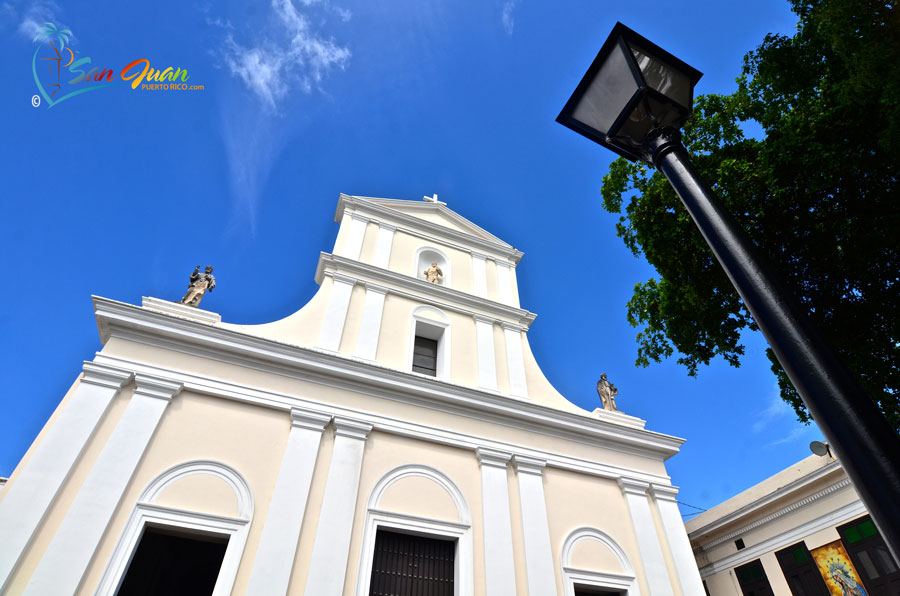 The elegant church is always open and you're welcome to walk in.  If you're already married, what about surprising your loved one by going up to the altar and renewing your vows?  Continue your walk up Calle Cristo, your next stop is one of the most beloved landmarks in Puerto Rico.
Tour Fort of El Morro for Romantic Views, Hideaways & Play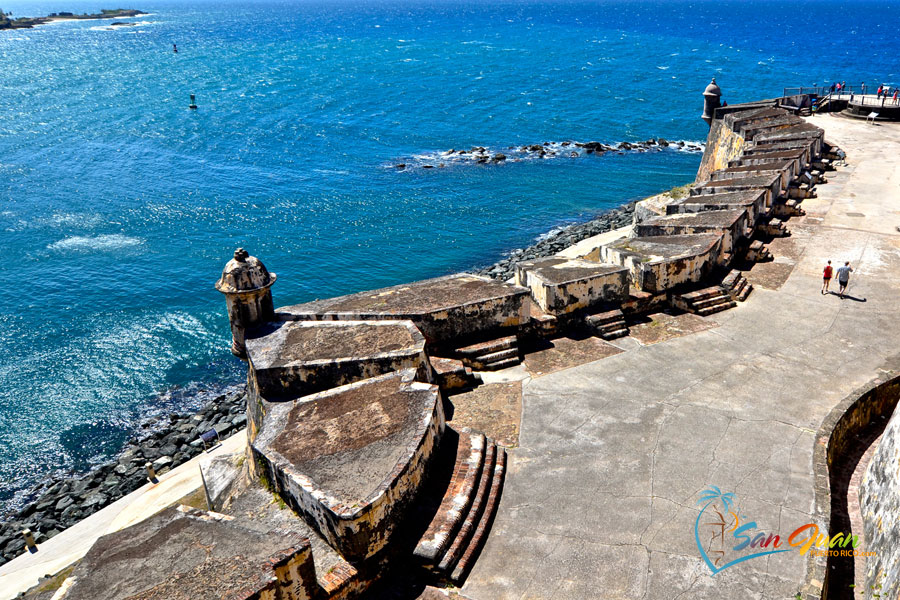 This must-see attraction is much more than a historic place.  El Morro is a fascinating place to explore with your loved one; the views are magnificent.  Even on the hottest day, you'll be cooled and kissed by the trade winds.  It's become a tradition for couples in love to walk into a Garita to hide away and kiss where soldiers once stood in order to protect the bay.
Play Together on the Grounds of El Morro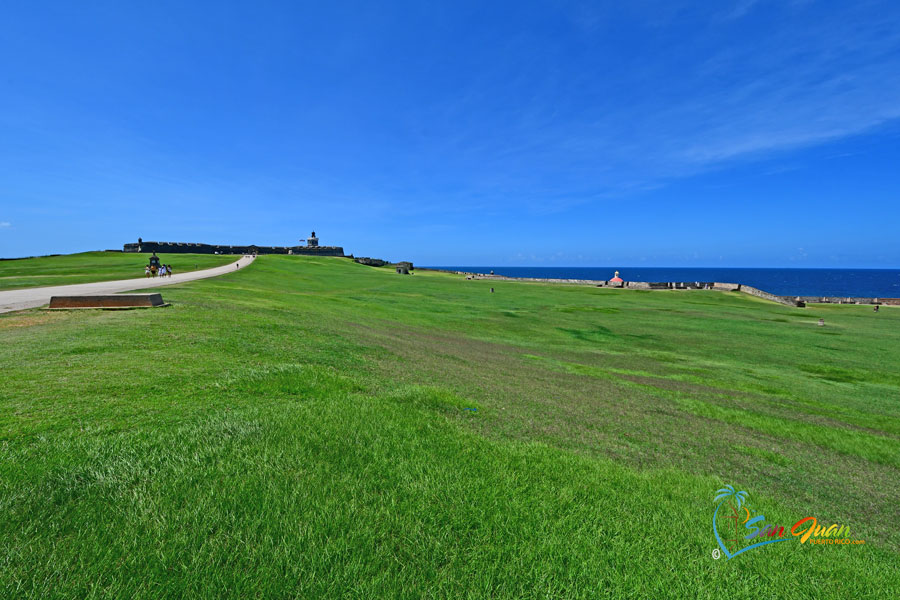 The grounds of El Morro are not only fun for children, it's a place where young and old are free to run, play and be kids again.  Vendors around the grounds sell kites for a few dollars.  Grab a kite and surprise your loved one by being playful… running together…laugh.  At the end of El Morro's walkway buy a piragua or some delicious coconut ice cream for a quick and delightful refreshment.
Re-Energize with a Relaxing Lunch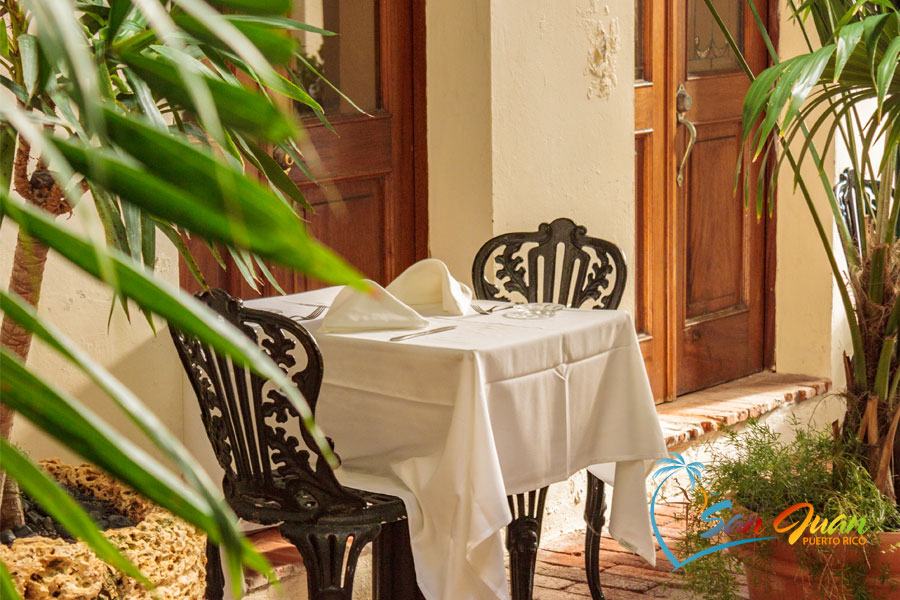 Across the street from El Morro, you can walk into Cuartel de Ballaja, which houses the Museum of the Americas, and Café Don Ruiz, a relaxing coffee shop serving great coffee, sandwiches, muffins, cakes, and crepes.  Skip the air-conditioned seating and sit outside in the courtyard to enjoy the sights of the stunning architecture.
If you need a heavier meal, keep walking towards Calle San Sebastian, where around the Plaza San José on the corner you'll find many great restaurants serving food from your All-American Burger to our delicious traditional Puerto Rican foods.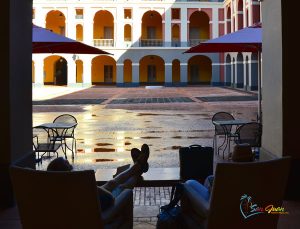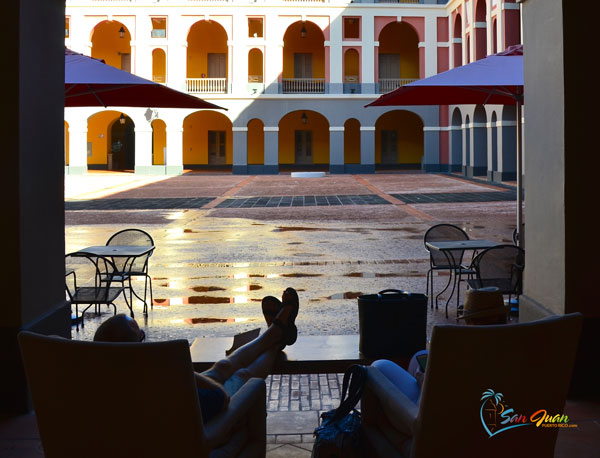 Romantic & Relaxed Afternoon in Old San Juan
San Juan, Puerto Rico
Go for a Romantic Beach Walk & Sea Glass Treasure Hunt
Your next stop is Playa Peña, the closest beach to Old San Juan typically free of crowds.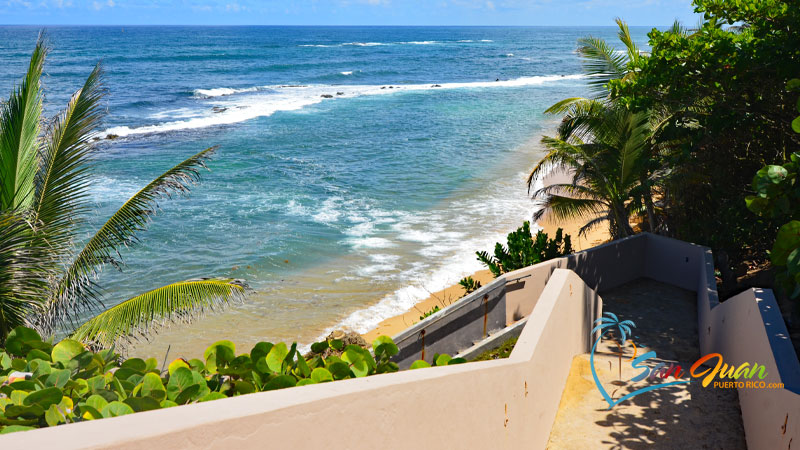 Walk down the steps through Plaza San Juan Bautista to Peña Beach – a rugged beach along the Atlantic, next to the city walls with waves crashing into rocks creating a romantic melody as you walk holding hands.  Search for sea glass, a souvenir created by nature, sure to remind you of the trip long after your return home.  This beach is rarely crowded, so you may get that perfect shot of 2 pairs of footsteps on the sand.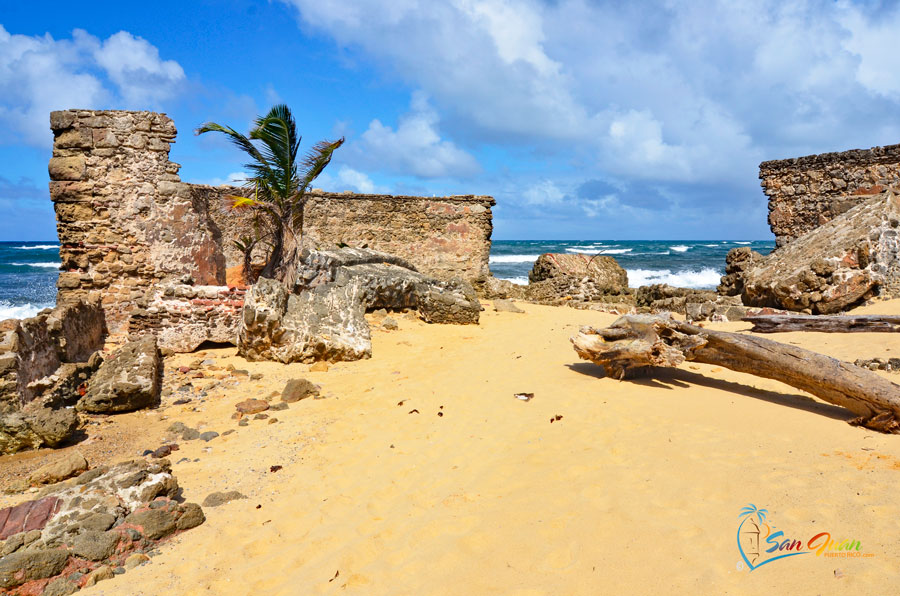 A Romantic Evening in Old San Juan
San Juan, Puerto Rico
If you wish to spark even more romance before dinner, there are some wonderful activities you can fit in before dinner and night out in Old San Juan.
Begin a Romantic Evening at Sunset
Watch the Sunset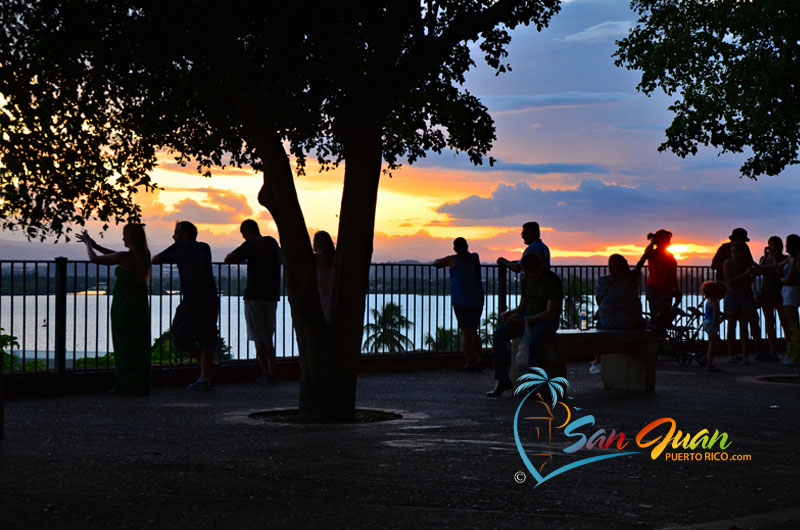 For a free activity, the simplicity of watching the sunset with a warm embrace will be the perfect prelude to a romantic dinner in the old city.  Great spots to watch the sunset are the small square overlooking the San Juan Bay at the end of Calle San Jose & Calle Tetuan, Paseo de la Princesa, and the grounds of El Morro by the water.
Sunset Sail along the Historic San Juan Bay – A World Class Experience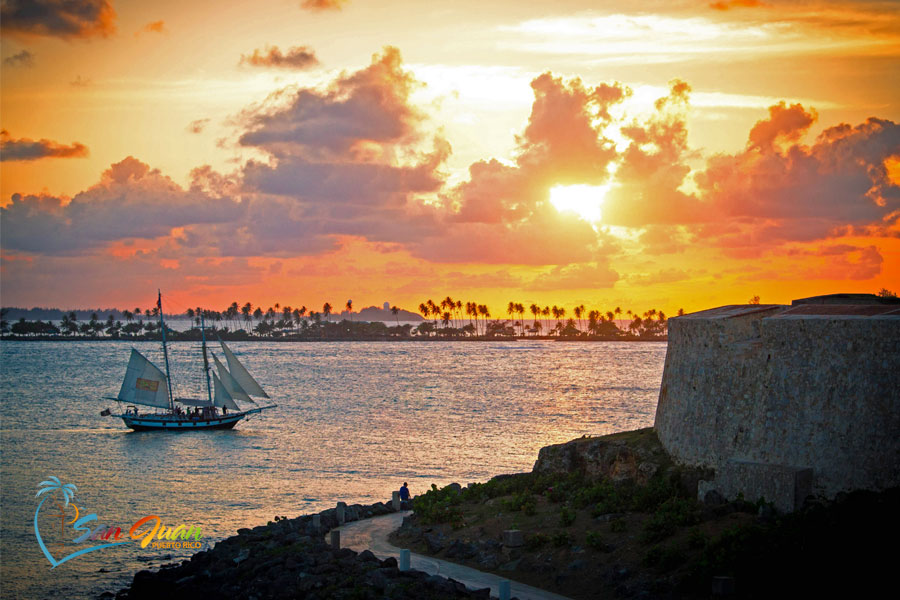 Surprise your loved one by sailing around San Juan Bay at sunset, you'll get to admire the walled city the way sailors saw it five centuries ago when they arrived at the city illuminated by the golden sun tones.  The views of El Morro Fort and the UNESCO site of La Fortaleza are amazing additions to your vacation photo memories.  Sailing tours are among the best-rated tours in San Juan (see below).
Top Rated Sunset Sailing & Boat Tours - San Juan Bay
Have a Romantic Dinner or Food Tour in Old San Juan
The dining selection in Old San Juan is excellent.  You can opt to split up your dinner courses between restaurants or have a longer and more relaxed dinner.  The most popular restaurants are on the streets of Fortaleza and Recinto Sur.  A great way to find a restaurant is by walking the streets and checking out the menus and atmosphere before you get seated.
For a very special dinner, treat yourselves to the amazing Marmalade (317 Calle Fortaleza), consistently featured on "best lists", rightfully earned one of the 10 spots on the coveted list of Traveler's Choice Best of the Best 2020 & 2021 – Best Fine Dining Restaurants in the Caribbean, serving a "creative blend of eclectic and nutritionally inspired ingredients".  Be sure to make a reservation as soon as you have your travel plans finalized. Tel: +1 787-724-3969
For a more relaxed vibe, you'll find restaurants serving food under the stars with tables right on the cobblestone narrow streets lit by the golden glow of lanterns.  Hotel El Convento, one of the most romantic buildings in Old San Juan offers 3 restaurants.
If you make wish to make the most of your time in San Juan and wish to have a more cultural experience, we recommend you book a dining evening tour.
Top Rated Cocktail Tours in San Juan, Puerto Rico
We hope you enjoy your stay in San Juan and we wish you many years of love and happiness.  Share your romantic experience and inspire other couples to fall in love all over again in San Juan.
Map of Places to Visit for a Romantic Day in Old San Juan
San Juan, Puerto Rico
Award Winning Tours Near San Juan, Puerto Rico