The Most Popular Night Tour in San Juan
The city of San Juan is the most vibrant city in the Caribbean offering visitors authentic cultural experiences all day and night.  Although San Juan is a tourist destination, you won't find many of the typical tourist trap restaurants and activities.  San Juan is a real place, loved and enjoyed by residents who love celebrating their culture, mingling with friends, and simply celebrating life.  
Nightlife is vibrant all throughout the island, but San Juan is especially lively and festive every week of the year. Visitors often speak of the warmth and spice for life they feel when visiting our capital city.
Check out the video below, a short introduction to the nightlife in San Juan.
San Juan offers something for everyone at night, from fine dining experiences, musical events, trendy clubs to dance the night away, relaxed squares, and even water activities.  With warm weather all year round, outdoor spaces become places to dine, gather, relax or dance.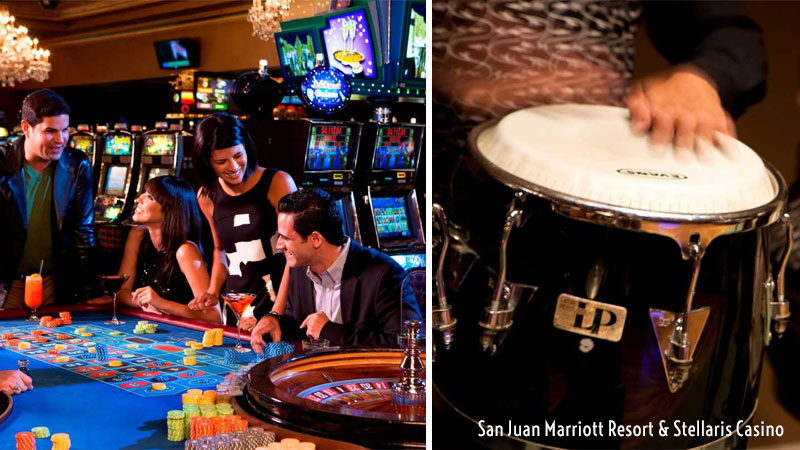 Your hardest task will be choosing from over 200 entertainment options including casinos, nightclubs, lounges, music venues, plays, and cultural events held throughout the year.
Nightlife in the New City
San Juan offers the most festive and vibrant nightlife in Puerto Rico from elegant lounges to laid-back bars.
Ashford Avenue in Condado offers plenty of restaurant options from fine dining, to cool casual places.  Many restaurants offer live music so you can dance in between courses.  If you love casinos you can try your luck at various resorts in Condado, Old San Juan, the Convention Center District, and Isla Verde.
If you wish to dance the night away and mingle with locals, head to Fifty Eight at La Concha Resort in Condado.  A short taxi ride to Isla Verde Avenue and you can dance at Brava or Chico Cabaret at Fairmont El San Juan.
Things to Do at Night & Top Rated Tours
San Juan, Capital City of Puerto Rico
In San Juan fun in the water doesn't stop at sunset, for those that prefer nature over city nightlife, will be able to enjoy fun and romantic water activities at Laguna del Condado and the bioluminescent bays of Puerto Rico.
Go Kayaking at Night at Laguna del Condado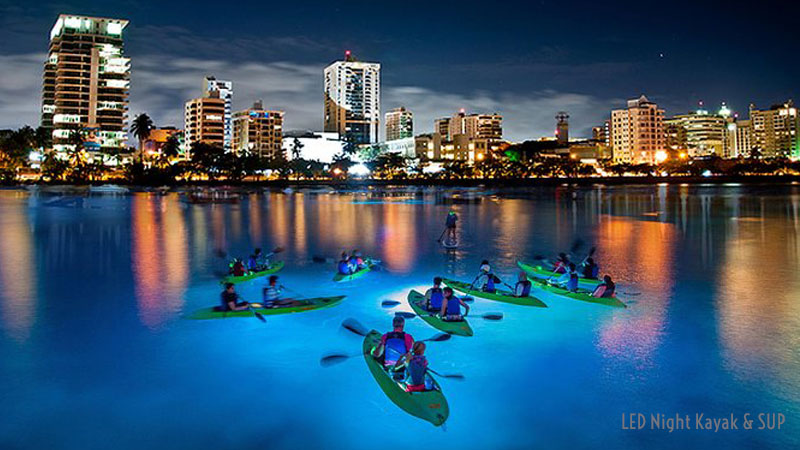 Instead of the sun's rays, the city lights reflect on the calm waters of Laguna del Condado, inviting visitors to kayak or paddleboard.  See Night Tours below.
Top Rated Night Kayaking Tours at Laguna del Condado
Enjoy a Cocktail Tour in Old San Juan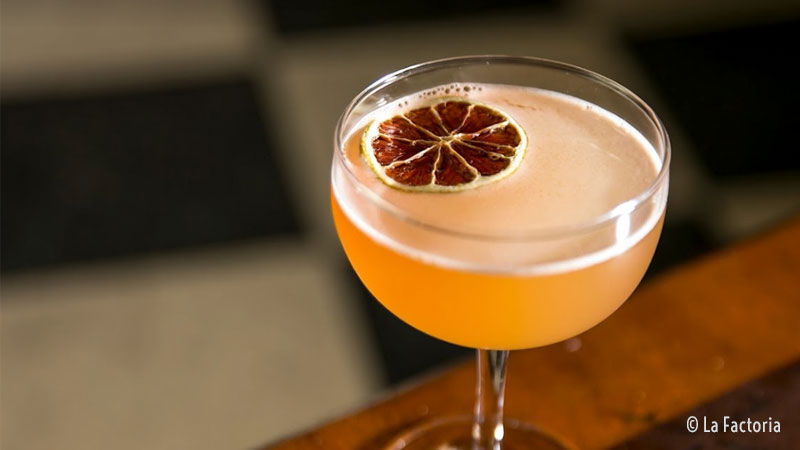 If you enjoy the art of cocktails, you'll love staying in San Juan, the "Rum Capital of the Caribbean".  With that title, you should expect no less than the best, the colorful vibrant city of Old San Juan is a great place to begin.  Within the city walls, you'll find some of the most popular bars, we recommend you book a tour and allow friendly knowledgeable guides to take you to the best bars to savor the best cocktails.  For those who don't wish to cut time away from the beach, the tours also include some sightseeing around the city.  By the time you're done with the tour, we are confident you will have a new favorite drink and city.
Top Rated Cocktail Tours in Old San Juan
Top Natural Night Attraction in Puerto Rico
Bioluminescent Bays of Puerto Rico
Be sure to book a bioluminescent bay tour after a fun day on the beaches of San Juan.  The blue skies become dark and starry and the only blue you'll see on the water are dinoflagellates creating a natural fluorescent show, sure to be one of the highlights of your vacation in San Juan.
Top Rated Bioluminescent Bay Tours
Kick off a Great Night in Old San Juan with a Sunset Tour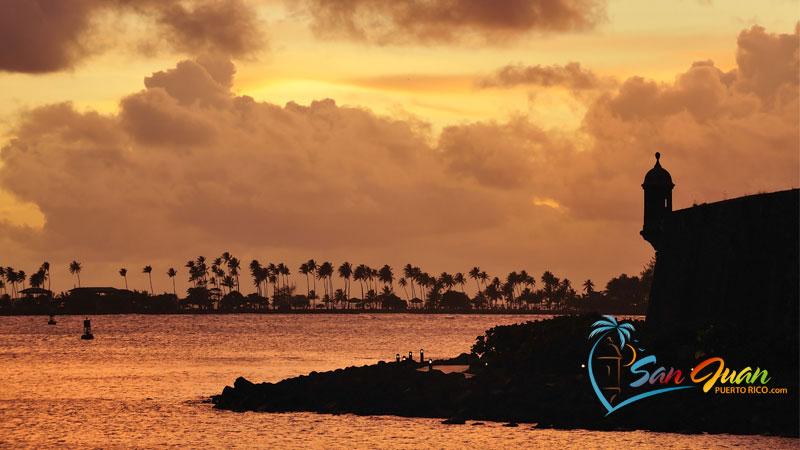 Enjoying a sunset in the romantic walled city of Old San Juan is a must while visiting San Juan.  A great way to kick-start an evening is by taking a walk to see the city in the golden hues of the sunset.  You may watch the sunset from one of the squares and parks overlooking the bay and Paseo de la Princesa.  The ultimate treat at sunset is sailing around the walled city along San Juan Bay, the experience is so amazing, one of the tours  was ranked among the "Top Sailing & Day Cruises in the World by Traveler's Choice in 2021 and 2022. (see tour below).
Great Sunset Tours in Old San Juan
Safety at Night in San Juan, Puerto Rico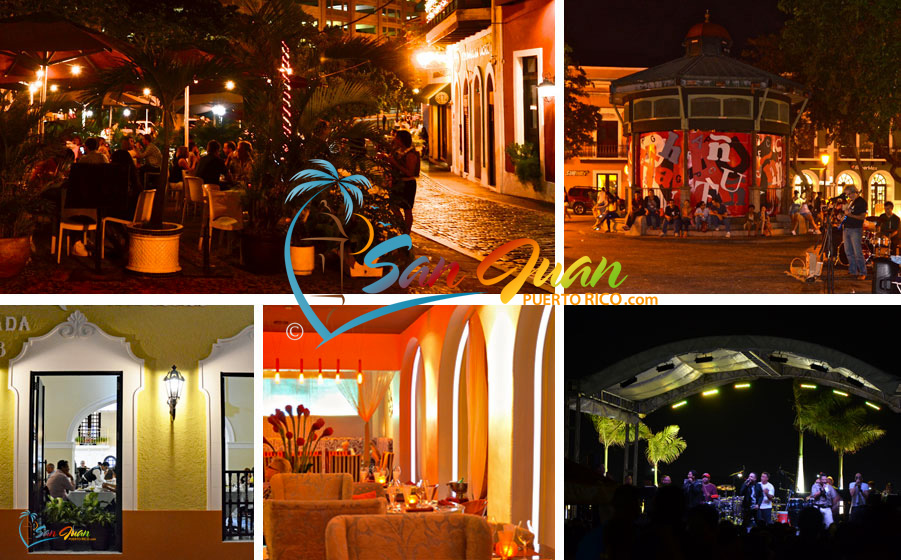 San Juan tourist destinations are safe with a strong and noticeable police presence giving visitors peace of mind.  Like any other city in the world, there are neighborhoods that have a history of crime.  Feel free to stop and speak to a policeman if you have any questions about safety.   Of course, common sense is always advised when traveling to any destination.