Award Winning Tour in San Juan
This walking tour is great for first-time visitors, Calle Norzagaray is the location for both forts and many interesting stops in between.  What appeal to some may not to others, so we included a little bit of everything to satisfy the interest of tourists (visitors that typically prefer to simply visit the main attractions) and travelers (visitors that wish to see tourist attractions, experience the local culture and visit places locals love).
If you're in Old San Juan for a full day, you'll have time to do all the stops and tour more streets.  Visitors and cruisers visiting for half a day, please see the entire page and choose the attractions and stops that most appeal to you and fit your travel itinerary.
Cruisers...
Cruisers
We understand you have time constraints, you may want to walk and take the trolley in between in order to save time, however, if you see long lines during cruise days, you may get to places faster by walking than waiting for a trolley stop.  There are many trolley stops along the way, so you can hop on any time you see a chance.
What you'll see on this Old San Juan walking tour
This self-guided walking tour will cover the San Juan National Historic Site (both forts), quick stops along colorful alleyways, cafes, two museums, nearby restaurants, and many photo-ops along the way.   Playful children and adults alike will have a chance to stop at Plaza del Quinto Centenario for a fun refreshing stop at the water feature, go kite flying on the grounds of El Morro Fort, explore tunnels throughout the forts…and of course tropical ice cream and piragua stops along the way.
Tips - Walking Distances
from the cruise terminal to San Cristobal is about a 10 – 15-minute walk from the Old San Juan Pier. Easy walk, mostly flat and some slight uphill.
from San Cristobal Fort to El Morro Fort (end of Norzagaray) is about a 20-minute walk without stopping.  Mostly flat walk.
Feel free to mix it up by walking and using the free trolley to do this tour.   Depending on the number of tourists on the islet of Old San Juan, you may be waiting to get a spot on the trolley.
Friendly Advise for Visitors
You're on vacation… relax, take your time, and don't focus on the number of attractions, make stops along the way… enjoy the sights… the ocean breeze, it will help create more memorable experiences.   If you wish to see more, just come back to Puerto Rico.
The following tour is designed for walking.  We have included a complete map of the places mentioned for your convenience at the end of the page.  Share on your social media page to inspire friends to travel well and so you keep it handy to plan your visit. 
Top Attractions & Sights in Calle Norzagaray
Old San Juan, Puerto Rico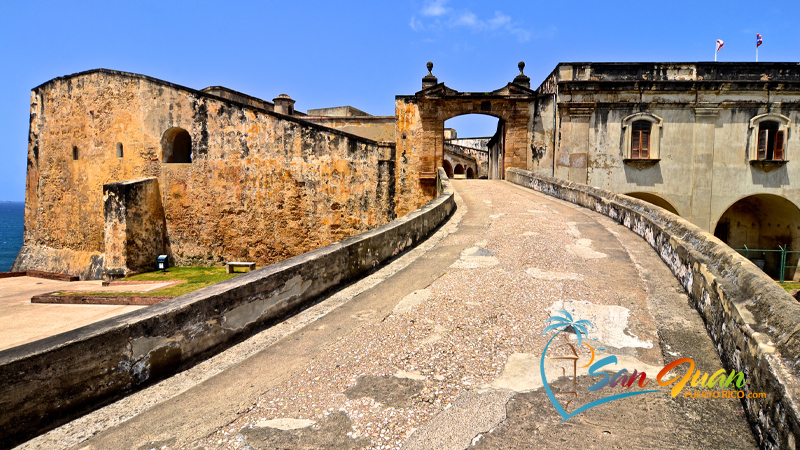 As you begin walking towards Calle Norzagaray, you'll see Castillo San Cristobal at the top of the hill overlooking the city.  On the other end of Calle Norzagaray, you'll get to Castillo San Felipe del Morro (El Morro Fort), many visitors wish to see both forts, if you're short on time and only have one day in Old San Juan, you may want to consider visiting one of them.  You may also opt to visit San Cristobal for a shorter amount of time touring the main areas, leaving through the north exit ramp and continuing down Norzagaray Street.  If you choose to skip visiting San Cristobal, at the upper east corner of Norzagaray, you'll there's a nice stop where you can appreciate the walls of the fort, and take a beautiful photo at one of the most popular Garitas of San Juan overlooking the Atlantic.  Keep in mind that the entrance fee gives visitors access to both forts.  If you're visiting with children or individuals with a physical disability, El Morro is easier to navigate and more family-friendly.
Budget Friendly Old San Juan Tours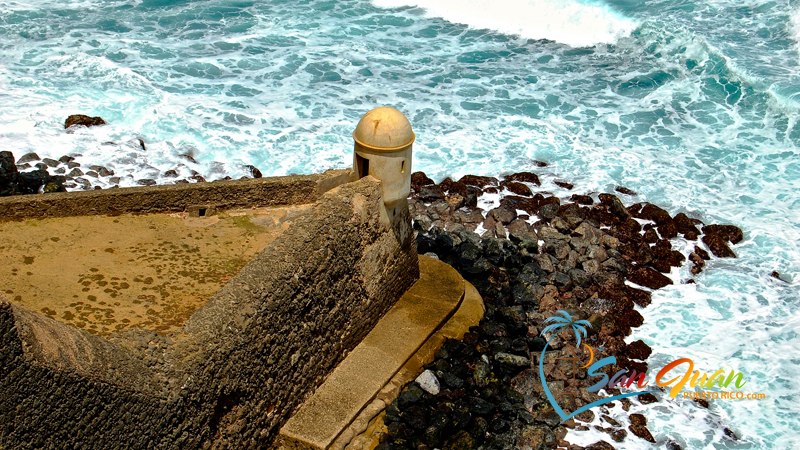 As you begin walking away from San Cristobal, be sure to look back to get another point of view of La Garita del Diablo (The Devil's Sentry Box), sitting right on the water.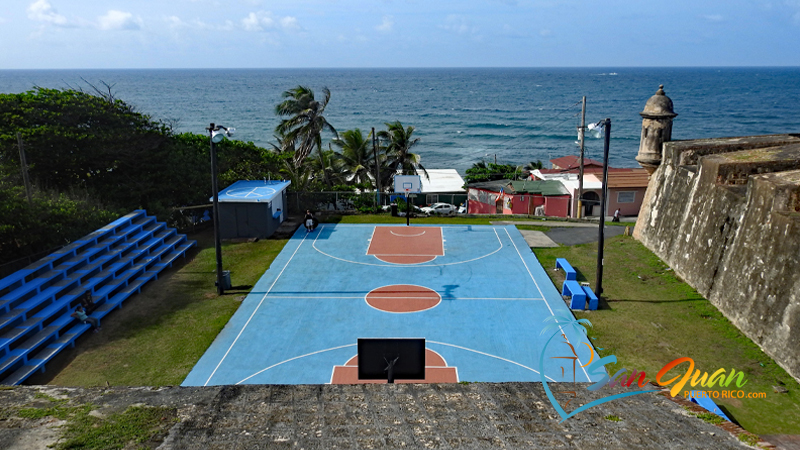 Walking west, you'll pass La Perla, a neighborhood that became infamous for its share of drug-related crimes in the past.  You may have heard of La Perla because of the top hit song of Despacito.   Although you may find on many guides recommendating tourists to visit La Perla, we do not advise that.  The police do not patrol the neighborhood of La Perla like the main tourist areas. You can easily see La Perla from Norzagaray, we recommend you keep going, there's so much more to see on this street and beyond.
The majority of the homes are not occupied, but in the past few years, the community is seeing a positive revival.  Homes are getting a fresh coat of paint, and some getting repaired thanks to private donors and their residents.  La Perla has a new bakery and gardens, the community is gaining energy to change the neighborhood's reputation.
Calle Tanca Refreshment Stop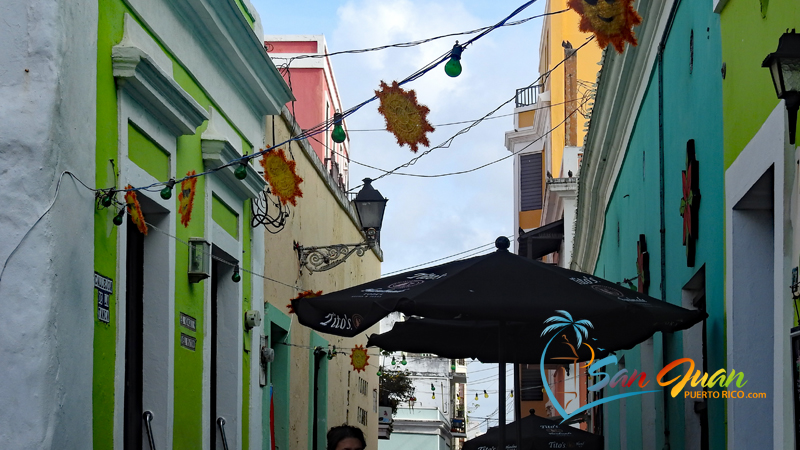 Your next stop is at Calle Tanca & Norzagaray, a picturesque alley with various casual cafes locals love and attracts travelers that wish to experience the casual and laid-back San Juan culture.  It is a good stop to get some refreshments, try traditional Puerto Rican food favorites to enjoy on the outdoor tables overlooking the sea.  The restaurant on the corner – Antojitos de la Calle Tanca sells traditional fried treats and drinks at reasonable prices.  The restaurant on the other corner also sells traditional Puerto Rican food and bar drinks.  At night, the vibe is very festive with music playing and people dancing.  On weekends you may find live entertainment and a happy local crowd, a great place to immerse yourself in the warm Puerto Rican culture.   Don't miss taking a photograph of the colorful mural.
Quick Photo-op at Calle Imperial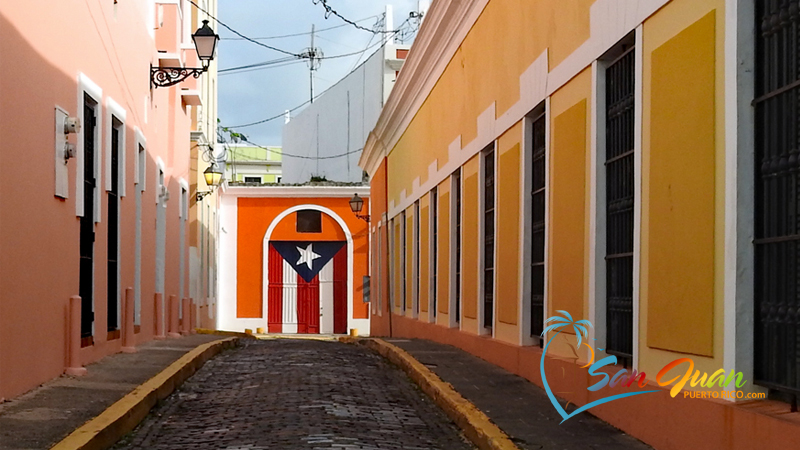 Flag photo-op at Calle Imperial – Old San has a brand new gorgeous flag at the end of Calle Imperial. an Instagram worth spot.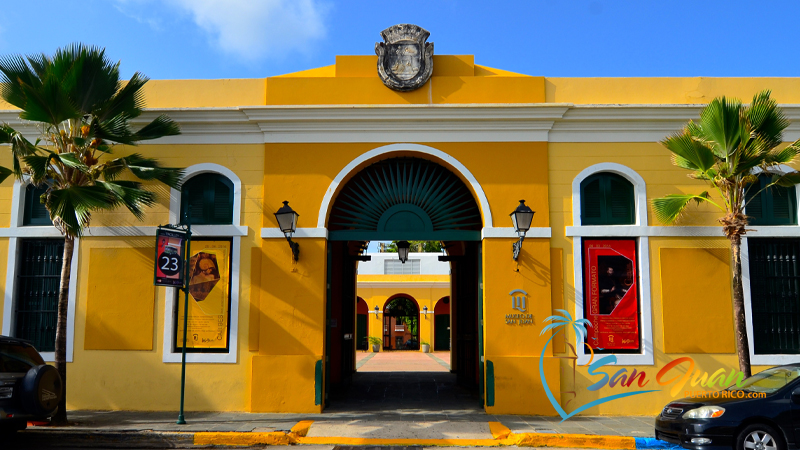 If you wish to learn about the history and cultural heritage of the Capital City of San Juan, you may want to stop at Museo de San Juan.  The special art galleries throughout the year make it worth a stop.  During weekends you may find live entertainment at the center as well as a farmer's market on Sundays.
Plaza del Quinto Centenario
The next stop is great for the kids, give them a few minutes to run around the circular water feature at Plaza del Quinto Centenario…parents, let loose and join them…you're in Puerto Rico!
Castillo San Felipe del Morro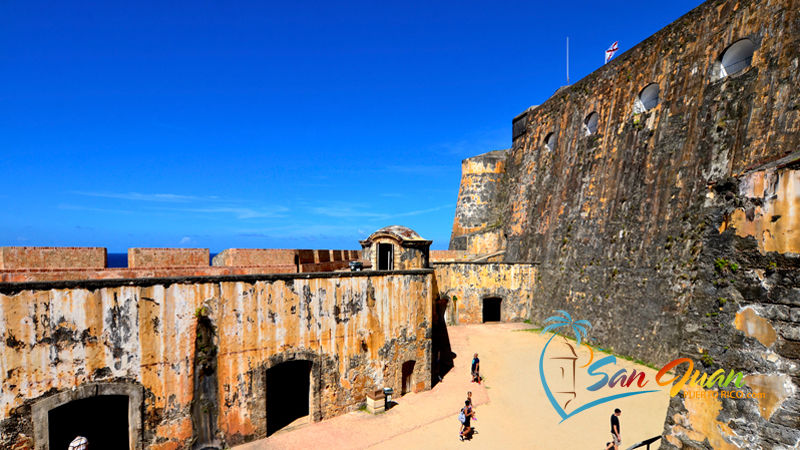 Castillo San Felipe del Morro is one of the top tourist attractions in Puerto Rico and the most visited fort.  Although much smaller than San Cristobal, many visitors tend to elongate their time visiting, all six levels offer interesting historical facts, scenic vantage points, romantic corners, and architectural wonders.
Fly at Kite on the Grounds of El Morro
One of the top things to do for families and lovers is fly a kite on the grounds of El Morro.  The grounds of El Morro is a place for visitors to observe and immerse themselves in the culture of Puerto Ricans; remaining playful at any age, and laughing their way through life with family and friends while enjoying the simple things…are some of the qualities that describe what it means to be a Puerto Rican.   We invite you to participate in this joyful tradition.
Where to buy kites: Cheap kites and refreshments are sold across the street from Plaza del Quinto Centenario, if you want to wait to fly the kite after touring El Morro, you can find better quality kites at El Morro's Gift Shop (when available) so you can keep it as a souvenir and remember the experience in other places you go.
Old San Juan Cemetery – Santa María Magdalena de Pazzis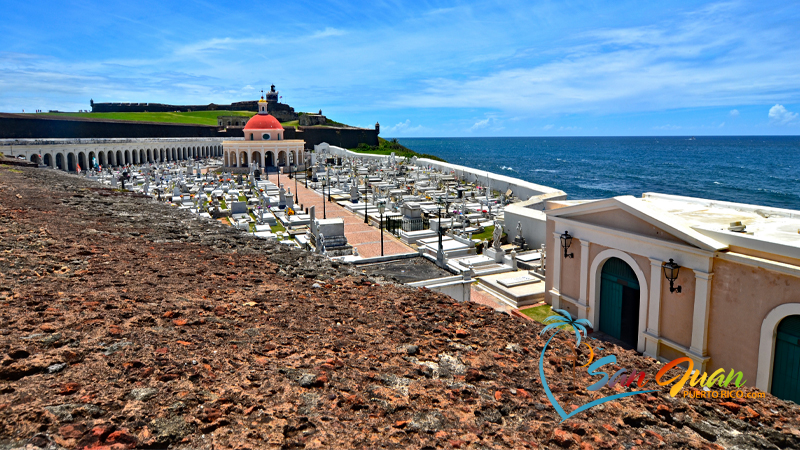 On your way to or from El Morro, you can stop by the city walls to see Santa María Magdalena de Pazzis Cemetery, commonly known as The Old San Juan Cemetery.  Here you'll find the resting place of many prominent Puerto Ricans.  The cemetery dates back to early 1863.  The oceanfront location of the cemetery is symbolic of the journey over to the afterlife, a belief originating from Spanish superstition and fear of death.
If you love to watch the sunset, we encourage you to stay on the grounds of El Morro to watch it from there, the sun comes down right behind Isla de Cabras.
From here you can head back to Plaza del Quinto Centenario, up the steps towards Calle San Sebastian, or down to Calle del Cristo or Calle Fortaleza, where you'll find a great variety of restaurants for a great dinner.  The walk to these streets is downhill, making it much easier after.  If you're tired of walking, be sure to have your hotel concierge / front desk available phone number ready, they will be happy to call a taxi so it can pick you up and take you back to your hotel or restaurant of your choice.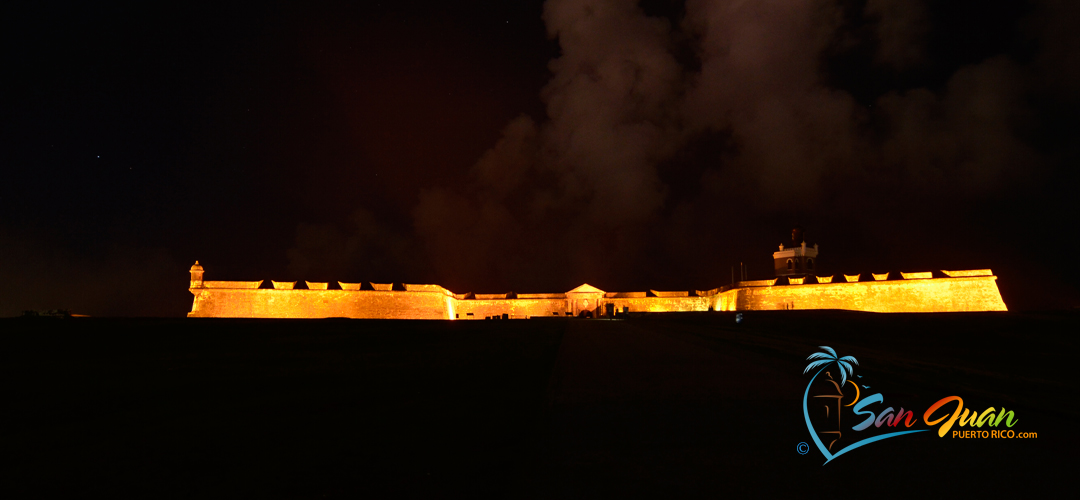 Sadly, very few people get to enjoy one of the most breathtaking sights in San Juan at night.   When the sun goes down and the sky becomes dark, the walls of El Morro come alive with a golden glow.  Crowds are gone, and the grounds are quiet, becoming one of the most romantic settings in Old San Juan.  If you are eager to have dinner or get back to your hotel, then be sure to get a taxi ride to El Morro at night so you can take a look.
Photos - Calle Norzagaray
San Juan, Puerto Rico