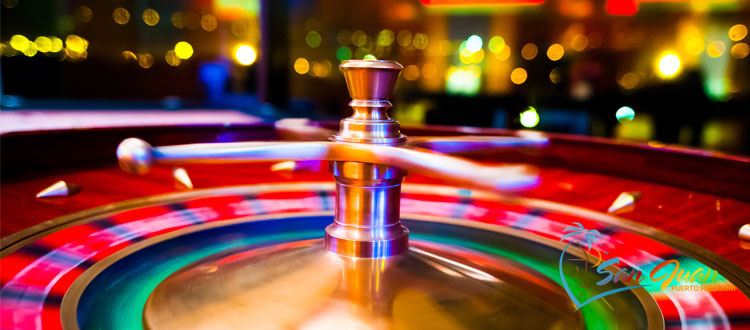 Right along the magnificent Atlantic Ocean stretch, you'll find luxurious casinos with a winning ambiance and friendly staff ready to give you personalized service.  The hotels and resorts with casinos typically offer free or discounted parking and/or discounted accommodations for casino members.  A membership is typically free to get with a valid ID (i.e. driver's license) and social security number.  Make sure to ask about casino membership and affiliated discounts before choosing which casino to go to.  The official minimum age for casino entry in Puerto Rico is 18.  However, some casinos enforce a minimum age of 21 to maintain a more mature crowd.
Many of the casinos are open 24 / 7 for slot machines and video poker, with gaming tables open in the afternoon/evenings until the wee hours of the morning.  All of the casinos have progressive jackpots and hundreds of slot machines ranging from penny to $25 plays.  Common table games are Craps, American roulette, Blackjack, Caribbean stud poker (5-card stud poker played against the house), Baccarat, 3-card poker, and Texas hold'em.  In addition, there is usually great live music in the casinos or nearby lounges from Thursday through Sunday.
The majority of the casinos are in the New San Juan districts of Condado (San Juan) and Isla Verde (Carolina).  There is one casino in the Puerto Rico Convention Center District where you can experience excellent gaming and entertainment.  We've included a map below for your convenience.  ¡Buena Suerte! 
There is no smoking permitted in any casinos in Puerto Rico.  In addition, typical casino dress codes require shirts and shoes at all times and prohibit tank tops, bare feet, and beachwear.  Required attire during the evening is a dress shirt and pants for men.  
Hotels & Resorts with Casinos in Tourist Areas
San Juan, Puerto Rico
La Concha - A Renaissance Resort
From $147

- Beachfront Resort
San Juan Marriott Resort & Stellaris Casino
From $165

- Beachfront Resort
Casino Resorts & Hotels in Isla Verde
Carolina, Puerto Rico
Courtyard by Marriott Isla Verde Beach Resort
From $140

- Beachfront Resort / Family Friendly / Casino
Embassy Suites by Hilton San Juan Hotel
From $120

- Family Friendly / Casino
Map of Casinos in San Juan & Isla Verde
Puerto Rico
Map loading, please wait ...