Puerto Rico ⏐ San Juan Puerto Rico ⏐ Best Things to Do in San Juan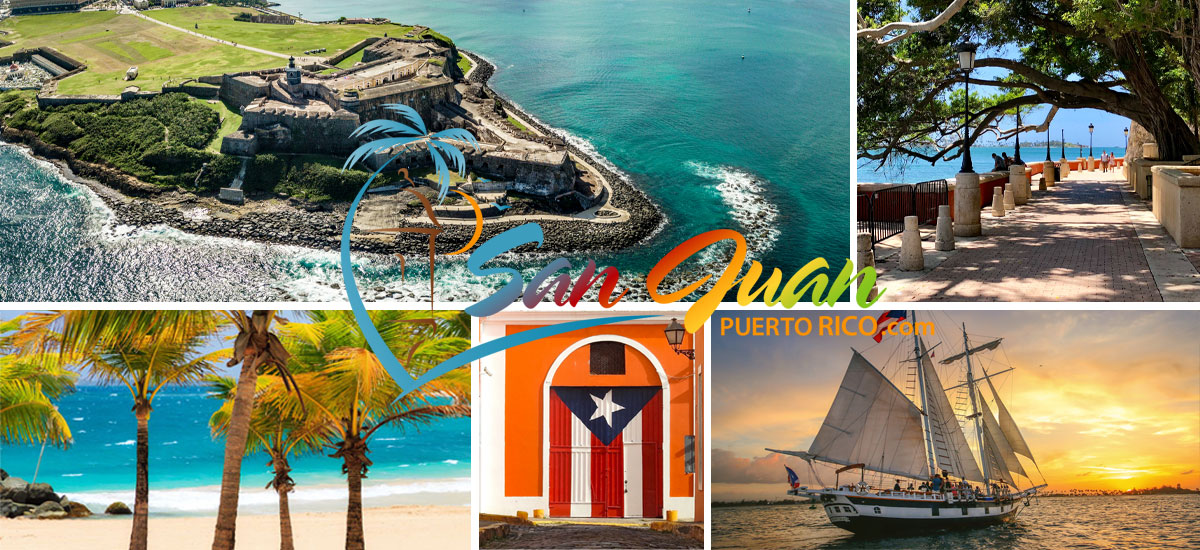 San Juan, the capital city of Puerto Rico is one of the top
places to visit and vacation in Puerto Rico
, offering world-class attractions, attractive beaches, rich cultural experiences, and great tours to nearby attractions around the island.  Whether you're having a 
romantic wedding
, honeymoon, holding a business meeting or convention, or planning a great vacation with family and friends, Puerto Rico will surely satisfy your travel wishes.  This guide presents all the best things to do and attractions in San Juan with something for everyone in the family including: the top 5 Things to Do in San Juan, top sights and landmarks, popular tours near San Juan, top museums, shopping, and more.
Top 5 - Best Things to Do & Places to Visit in San Juan
Puerto Rico
Walk the Streets of Old San Juan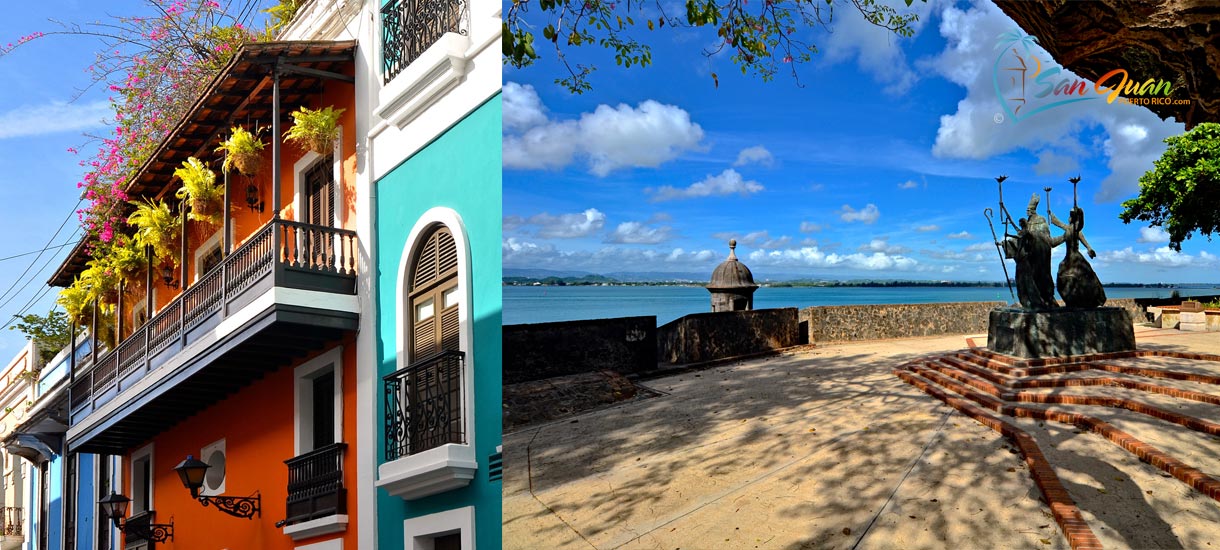 If you only have a day in Old San Juan, tour one of the forts and then simply walk the colorful streets of Old San Juan.  The simplicity of walking becomes an extraordinary experience in Old San Juan.  You want to look up constantly at the adorned wrought-iron balconies of colonial homes painted in bright or pastel colors.  The energy is vibrant, yet relaxed, like a tropical destination ought to be.  Old San Juan is like a giant museum with many attractions easily accessible by foot.  Drop the map and get lost around the 7 colorful blocks full of historical gems, museums, relaxed cafes, great shops, restaurants, and more…  The free trolley is a nice way to give your feet a break and get acquainted with the Old City.  You can explore Old San Juan on your own, if you're short on time and wish to make the most of your time in Old San Juan, we recommend you book a walking tour.  We created a DIY walking tour which includes the next "must thing to do" on the list (link below).
 + Calle Norzagaray Walking Tour  ⎮  + Old San Juan, Puerto Rico  
San Juan National Historic Site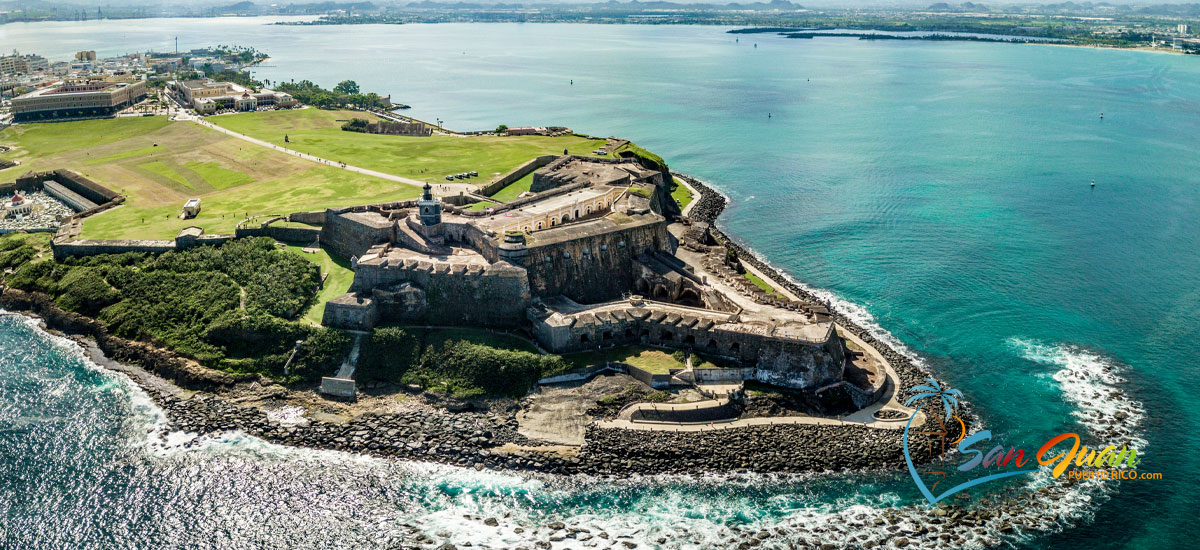 The forts of Old San Juan are must-see attractions, where you'll step back 500 years in time.  Navigate these massive and magnificent fortifications and explore their tunnels, dungeons, ramps, and barracks.  Bring your camera for the hundreds of gorgeous photo ops, with the San Juan Bay as the perfect background.  The most popular and beloved fort on the island is Castillo San Felipe del Morro (El Morro), it is easier to navigate and the grounds are filled with joy with children and adults alike flying a kite, be sure to buy one and join in.  San Cristóbal is bigger and one of the top 5 must-see attractions on the island.
San Juan National Historic Site also includes the forts of San Juan de la Cruz (El Cañuelo) and the city walls.   More about San Juan National Historic Site attractions.
+ Castillo San Felipe El Morro
This 6-level fort is magical both inside and out and is the most popular fort in San Juan.  Again, make sure to bring your camera while exploring all levels of the fort.  The "El Morro" exterior grounds are some of the most beautiful and beloved attractions in Puerto Rico and home to many cultural events, excellent kite-flying in the trade winds.
+ Castillo San Cristobal
Covering 27 acres, this is the largest Spanish fort in the New World and an architectural masterpiece, allowing you to travel back 500 years, it is a must-see during your visit to Old San Juan.  Whether you're a history buff or not, you'll want to spend a few hours inside.  Make sure to bring your camera for breathtaking photo opportunities.  Group tours with friendly park rangers are available, or you may walk on your own.
Relax & Play at San Juan Beaches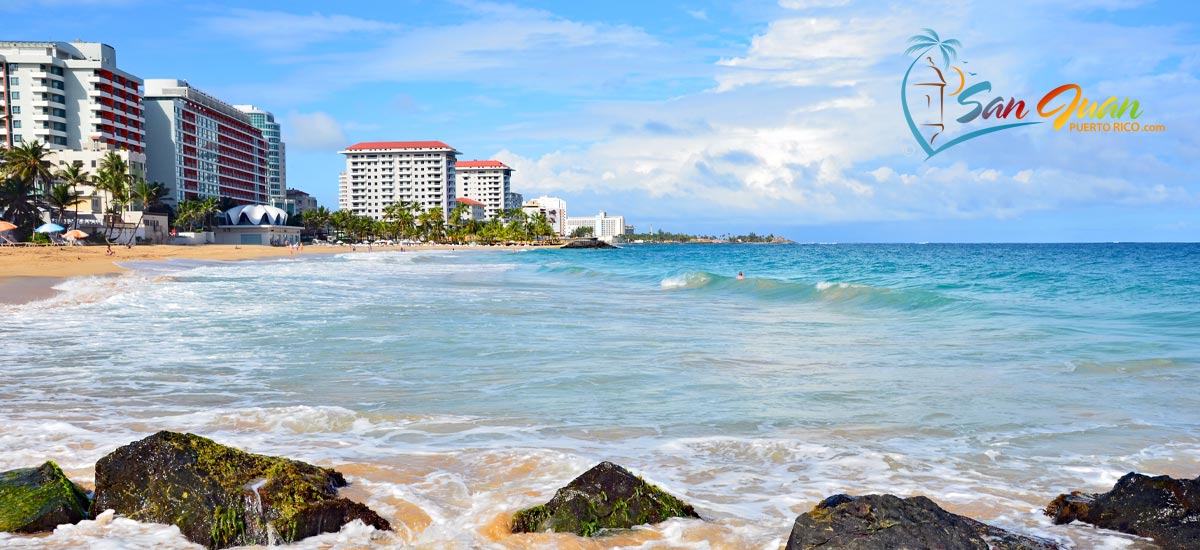 You're planning a Caribbean vacation, so of course, you want beaches. Grab a lounge chair, put on sunblock, and lay under the sun so you can return home with the perfect tan.  San Juan has a variety of beaches, from Miami-style to more laid-back natural settings.  We won't tell you which beach to visit, visit our beach guide to choose which best suits your preference.  Whether you want to just sit on a lounge chair and relax or be actively doing water sports, San Juan has a beach for you.  Stay at a beachfront hotel so you can simply walk to the beach and have easy access to great restaurants and beachside entertainment.  + Best Beaches in San Juan, Puerto Rico
Cruise Along the San Juan Bay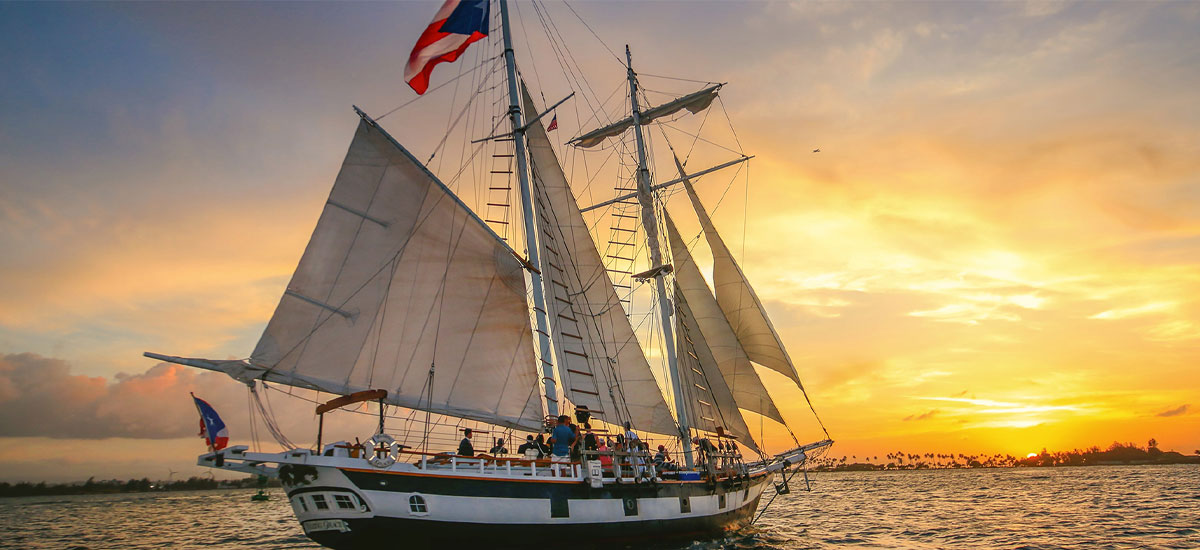 See, Move to & Taste San Juan
Old San Juan is the most beloved place on the island for residents of Puerto Rico, the epicenter of culture, music, food, and traditions.  In San Juan, there's always a reason to celebrate, dance, and gather with family and friends.  Locals from towns across the island come to San Juan to enjoy the year-round cultural events, great entertainment, excellent food, and dance to the sounds of salsa played at the elegant squares and restaurants around the city.
Voted as one of the "Best Caribbean Islands for Foodies", San Juan has turned cooking into a delicious art.  In San Juan, you can dig into the sultry flavors of Puerto Rican food or try the many restaurants that take fusion cuisine to a whole new level.  Old San Juan & Condado Tourist Districts are among the best foodies destinations in San Juan.  A great way to get to know the food culture of Puerto Rico is by booking a tour which often includes sightseeing in the historic district.
Cultural Tours & Experiences in San Juan, Puerto Rico
Popular Tours Near San Juan
Best Things to Do & Attractions in San Juan, Puerto Rico
Top Museums in San Juan
Best Things to Do & Attractions in San Juan, Puerto Rico
Take a break from the sun and visit museums of art, history, and those often holding entertaining/ interesting events.  Among the museums, you can visit the residence built for Juan Ponce de Leon, where his family members resided.
Your Title Goes Here
Casa Blanca
, the oldest home on the island of Puerto Rico, is tucked away in the corner of a street, the mansion built for Juan Ponce de Leon and his family.  You'll tour through gardens, mansion living spaces and a display of artifacts and historic facts. This is an easy stop after touring El Morro.  More about 
Casa Blanca Museum, San Juan, Puerto Rico. 
Museo de las Américas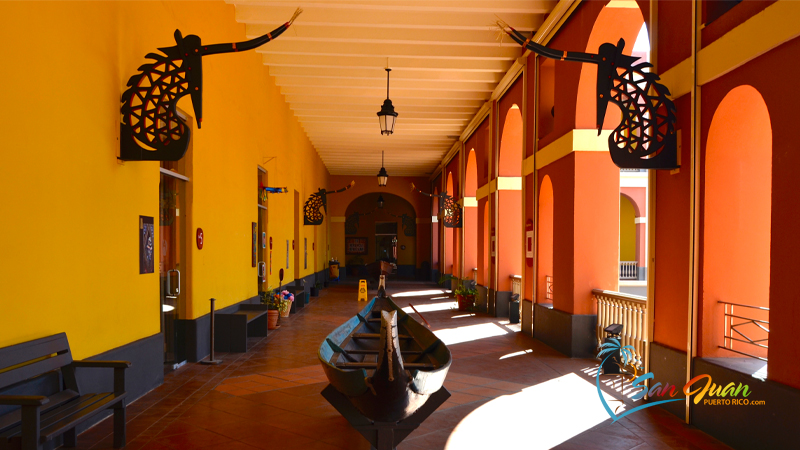 Your Title Goes Here
Located on the second floor of  Cuartel de Ballaja, in Old San Juan.  This is one of the best museums in San Juan, featuring permanent exhibitions about the history and culture of Puerto Rico and the Americas the entire family will enjoy.  Other exhibitions include popular art in America, history of the natives in America (22 ethnicities), the African heritage, the conquest and colonization of Puerto Rico and the newborn evolution that makes up what Puertoricans are today.  Excellent museum for families with children and history buffs.
Hours:
Tuesday – Friday: 9am – 12pm & 1pm – 4pm
Saturday: 10am – 5:00pm
Sunday: 12pm – 5pm
Mondays: Closed
Entry Fees:
$6 – Adults
$4 – Children up to 12 years old, students & seniors 65 + years
Museo de San Juan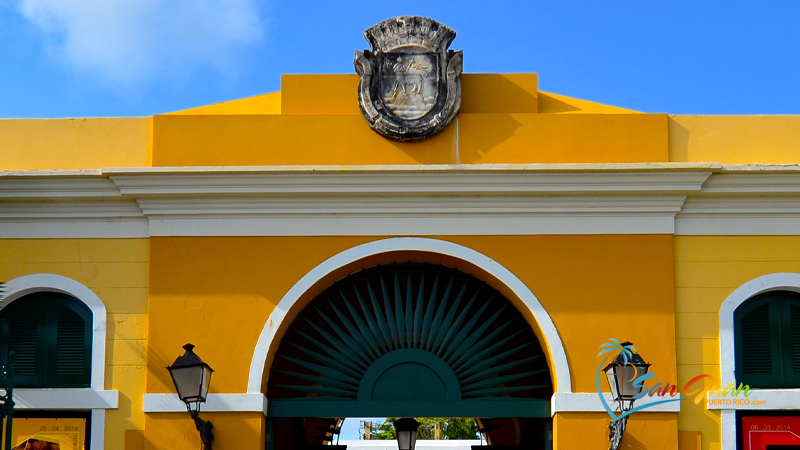 The Museum of San Juan
The Museum of San Juan is a beautiful mid-19th century landmark.   This used to be a popular meeting place where goods were sold and cafes where people met.  The mission of Museo de San Juan is to "enrich, preserve and disseminate the history, artistic riches and cultural heritage of the Capital City of San Juan".
Many events are held at the center courtyard.  If you happen to be here on a Saturday, be sure to stop, a farmer's market is held every week.  Inside the museum, you can enjoy art exhibits rotated regularly.  You'll always find something new and interesting happening at the San Juan Museum.
The Museum Includes: Permanent exhibits about the history of San Juan, temporary exhibits & an amphitheater.
Hours: Tuesday – Friday: 9:00 a.m. – 5:00 p.m. & Saturday: 9:00 a.m. – 6:00 p.m.
Tel: 787-480-3555
Address: 150 Norzagaray St., San Juan PR 00901
San Juan Wildlife Museum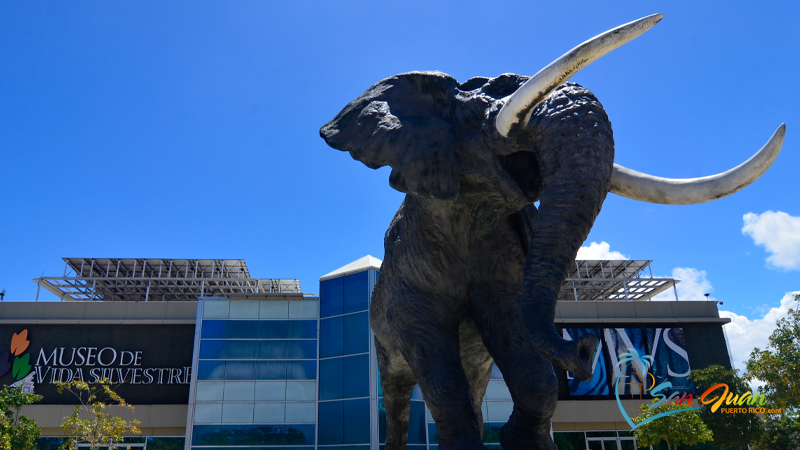 San Juan Wildlife Museum
San Juan Wildlife Museum is an excellent educational museum for both adults and children, with exhibits of about 200 mammals with insight on their habitat.   Biomes include Tropical Rainforest, Mountains, Temperate Forest, Taiga, Polar, Life of Antarctica, Tundra, Grasslands & Tropical Savannah.
Hours:  

Tuesday –  Friday:  9:00 a.m. – 5:00 p.m.
Saturdays & Sundays:  10:00 a.m. to 6:00 p.m

Address: 1075 Kennedy Avenue (a side road), San Juan, PR 00920
E-Mail: museovidasilvestre@%20sanjuanciudadpatria.com
More Museums in San Juan, Puerto Rico
Centro de Bellas Artes Luis A. Ferre
El Arsenal (The Arsenal)
Felisa Rincon de Gautier Museum
Fine Arts Cinema
Museo de Las Americas
Museo de Arte de Puerto Rico
Museo de Arte Contemporáneo
Pablo Cassals Museum – Pablo Casals' legacy still lives on today among classical music lovers in Puerto Rico.  Visit the museum dedicated to the famous cellist Pablo Casals.  It is located at the San Jose Plaza in Old San Juan.  The museum contains original manuscripts, his cello, and piano, as well as visual and audio displays of his recordings.  You can also learn about his life at this small museum that's big on music.
Puerto Rico Conservatory of Music
Puerto Rico Convention Center
Teatro Tapia
Wildlife Museum / Museo de Vida Silvestre
Go Shopping - Best Places to Shop in San Juan
Best Things to Do in San Juan, Capital City of Puerto Rico
San Juan offers a great variety of shops ranging from local art galleries, unique souvenir shops, boutiques, and luxury stores.  Head to Ashford Avenue in Condado, for boutiques and a few high-end stores.  Head to
Plaza Las Américas
, the biggest mall in the Caribbean with a great variety of stores. 
The Mall of San Juan
, the city's newest mall is a smaller mall with high-end stores and a really nice food court.   In Old San Juan, you'll find many typical souvenirs shops, but if you look more closely as you walk the city, you'll find some of the most unique and interesting shops with exquisite jewelry, clothing, artisans, art galleries, and the popular
authentic Panama hats.
Top Sights & Landmarks
Best Things to Do & Places to Visit in San Juan, Rico
+ Paseo de la Princesa
Included on the list of "Most Scenic Walks in the World", this walkway makes it to the top of our list for setting the mood for the start of a wonderful walking tour of Old San Juan. 
Paseo La Princesa 
is a must for romantics, a perfect place to hold hands, take in the views of the San Juan bay, watch the sunset, and admire the walls of 
Old San Juan
.
La Fortaleza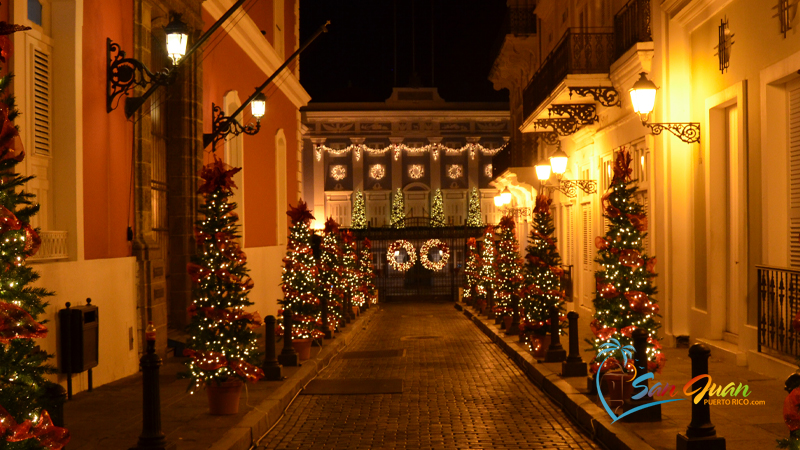 + La Fortaleza / Palacio Santa Catalina
La Fortaleza / Palacio Santa Catalina 
and 
Casa Blanca
 were the first fortifications built in 
San Juan, Puerto Rico
.  Today, Palacio Santa Catalina is the official residence of Puerto Rico's governor. Guided tours are available.
El Capitolio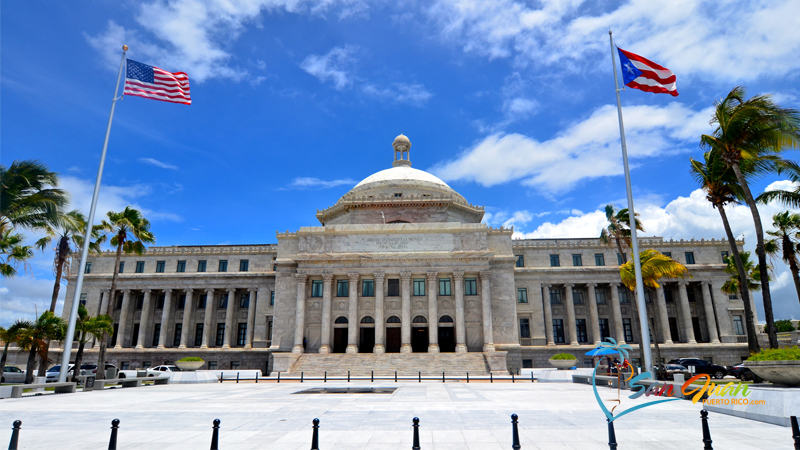 + El Capitolio
Listed on the National Register of Historic Places, the building is the meeting place for the Legislative Assembly.  El Capitolio (the capitol building) is located just outside the Old City Walls. The constitution of 
Puerto Rico
 is exhibited on the first floor.  It is open to visitors Monday through Friday, 8 am to 5 pm.
Cathedral of San Juan…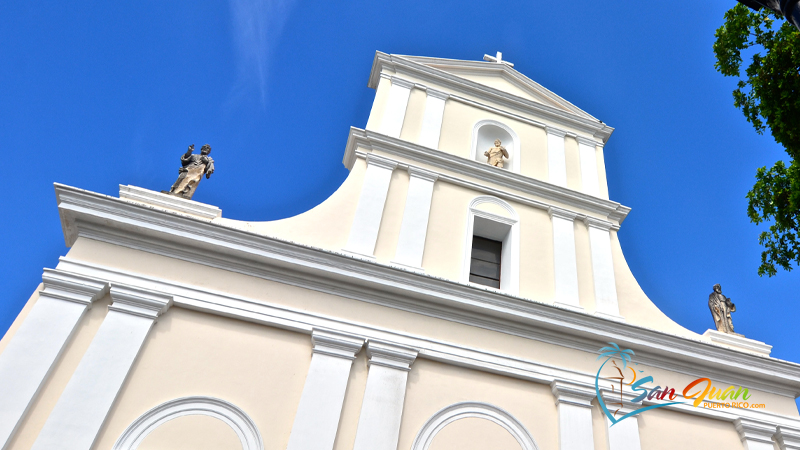 + Cathedral San Juan Bautista
Cathedral San Juan Bautista – Visit the second oldest cathedral built in the Americas. The San Juan Cathedral was the first school in Puerto Rico and the first under the U.S. Flag.  The remains of Juan Ponce de Leon rest inside the church.
The Ballajá Barracks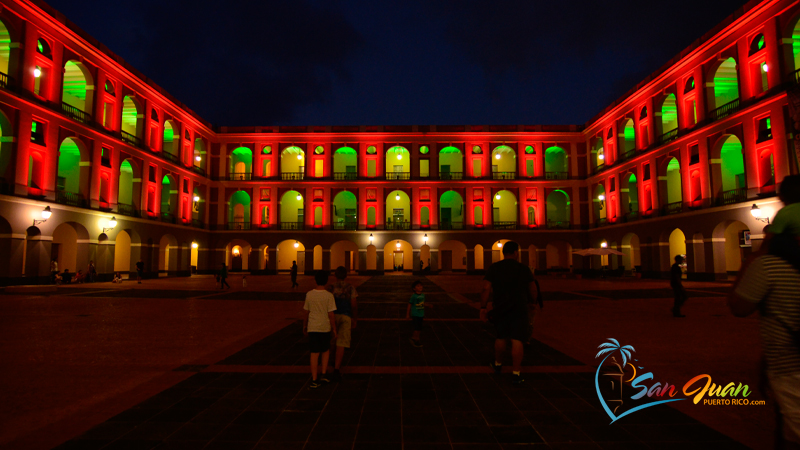 + Museo de Las Americas
Built between 1854 y 1864 to house Spanish soldiers and their families.  Today Cuartel Ballaja is a cultural center housing Museo de Las Americas, a coffee shop, restaurant, dance school and some offices.
Tel:   787-721-3737
+ Santa María Magdalena de Pazzis Cemetery
Most people don't connect visiting a cemetery with a Caribbean vacation, but it is definitely worth visiting this Puerto Rican landmark. The cemetery sits outside the 20-foot walls of fort 
El Morro
 – overlooking the Atlantic Ocean. Many notable Puerto Ricans are buried here. Once you come in, you may find yourself wishing for your remains to be buried in this place.
+ The Raices Fountain
The 
Raices
 Fountain is a popular spot among visitors.  
Raices
 translate to roots, and the fountain represents just that – the roots of Puerto Rican culture, made up of Tainos (natives), Spaniards and Africans.  
See it at Paseo de la Princesa in Old San Juan.
+ La Rogativa
One of the most beautiful and meaningful statues in 
Old San Juan
 is centered at one of the top 5 most scenic spots of San Juan. Learn more about 
La Rogativa
.
Fortín de San Gerónimo de Boqueron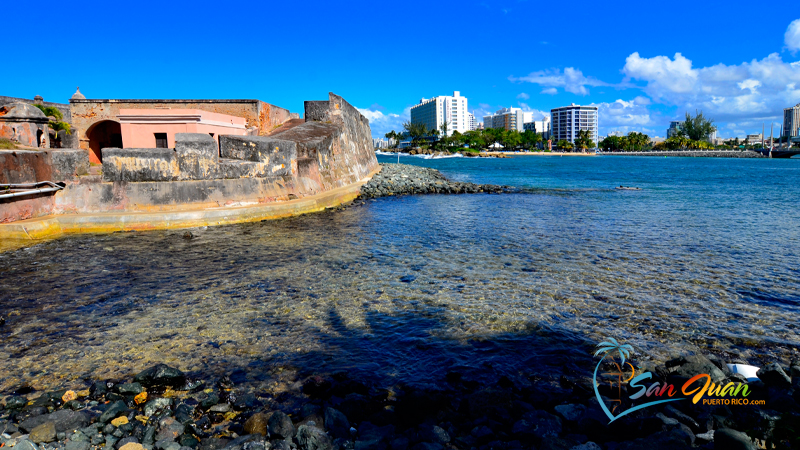 + Fortin Geronimo
You won't find Fortin on any top lists but we think it is worth a stop.  Fortin Geronimo is sadly at risk of collapsing into the water and it may not be standing for long.  This small fort is an easy walk for those staying in Condado.  Paseo Caribe makes visiting even more interesting, you can stop at various restaurants and shops after seeing the fort.  Entry to the fort is not allowed, you'll be observing it from the paseo.  Fortin is located inside the Caribe Hilton and can be accessed through the entrance at the corner of Dos Hermanos / Paseo Caribe.
+ More Landmarks in San Juan, Puerto Rico
Cuartel de Ballajá
Fort San Gerónimo
Galería Nacional
Coliseo Jose Miguel Agrelot  – biggest indoor arena in Puerto Rico.
Plaza Colón
Plaza Las Américas
San José Church
Map - Best Things to Do & Atttractions in San Juan, Puerto Rico