San Juan, the capital city of Puerto Rico is one of the top places to visit and vacation in Puerto Rico, offering world-class attractions, attractive beaches, rich cultural experiences, and great tours to nearby attractions around the island.  Whether you're having a romantic wedding, honeymoon, holding a business meeting or convention, or planning a great vacation with family and friends, Puerto Rico will surely satisfy your travel wishes.  This guide presents all the best things to do and attractions in San Juan with something for everyone in the family.
Please Note: To make your planning easier, we have listed the best things to do and attractions in San Juan and the neighboring towns of Carolina and Cataño.  This is especially important for cruisers and travelers spending just a few days in the city who don't wish to spend much time traveling to places.  Please see our "Fantastic Day Trips from San Juan" article for great places and attractions to visit near San Juan and around the island. 
Walk the Streets of Old San Juan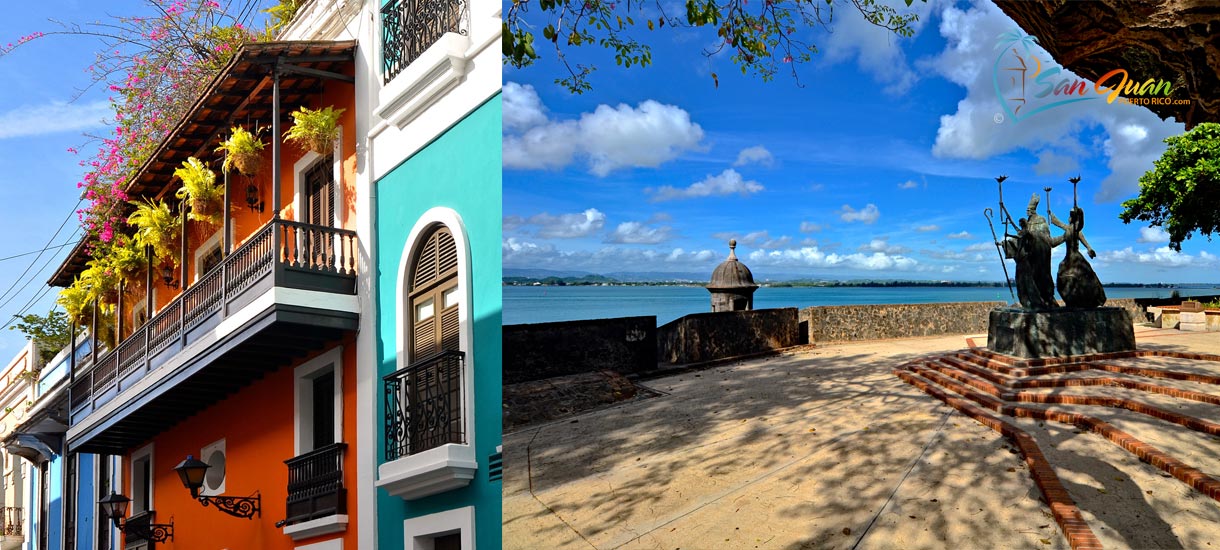 If you only have a day in Old San Juan, tour one of the forts and then simply walk the colorful streets of Old San Juan.  The simplicity of walking becomes an extraordinary experience in Old San Juan.  You want to look up constantly at the adorned wrought-iron balconies of colonial homes painted in bright or pastel colors.  The energy is vibrant, yet relaxed, like a tropical destination ought to be.  Old San Juan is like a giant museum with many attractions easily accessible by foot.  Drop the map and get lost around the 7 colorful blocks full of historical landmarks, museums, relaxed cafes, great shops, restaurants, and more…  The free trolley is a nice way to give your feet a break and get acquainted with the Old City.  You can explore Old San Juan on your own, if you're short on time and wish to make the most of your time in Old San Juan, we recommend you book a walking tour.
Top Rated Walking Tours in Old San Juan
Relax & Play at San Juan Beaches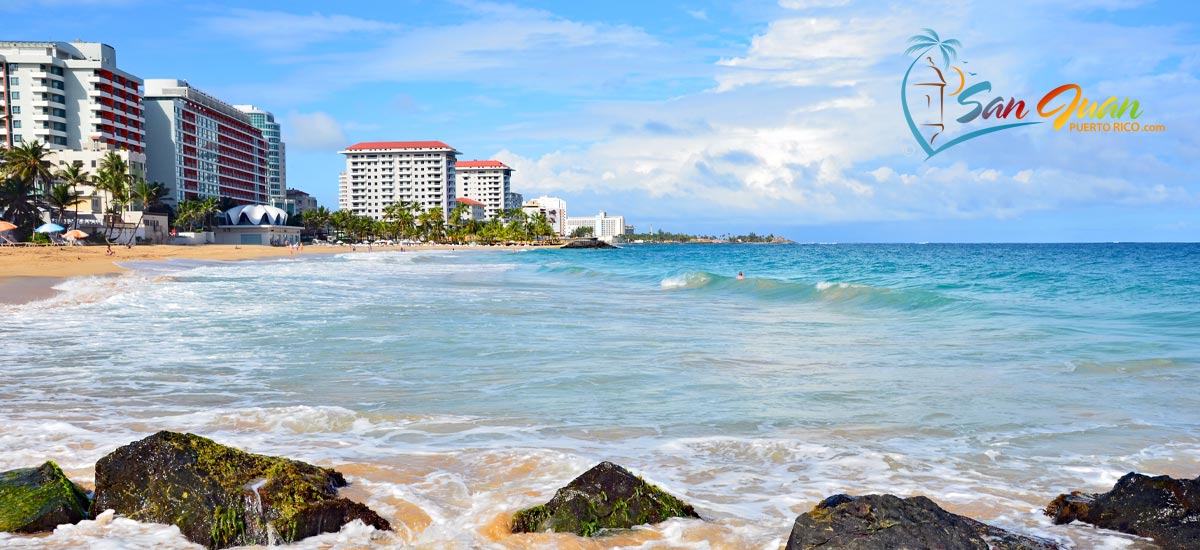 You're planning a Caribbean vacation, so of course, you want beaches. Grab a lounge chair, put on sunblock, and lay under the sun so you can return home with the perfect tan.  San Juan has a variety of beaches, from Miami-style to more laid-back natural settings.  We won't tell you which beach to visit, visit our beach guide to choose which best suits your preference.  Whether you want to just sit on a lounge chair and relax or be actively doing water sports, San Juan has a beach for you.  Stay at a beachfront hotel so you can simply walk to the beach and have easy access to great restaurants and beachside entertainment.  
Top Rated Beach Activities in San Juan
San Juan National Historic Site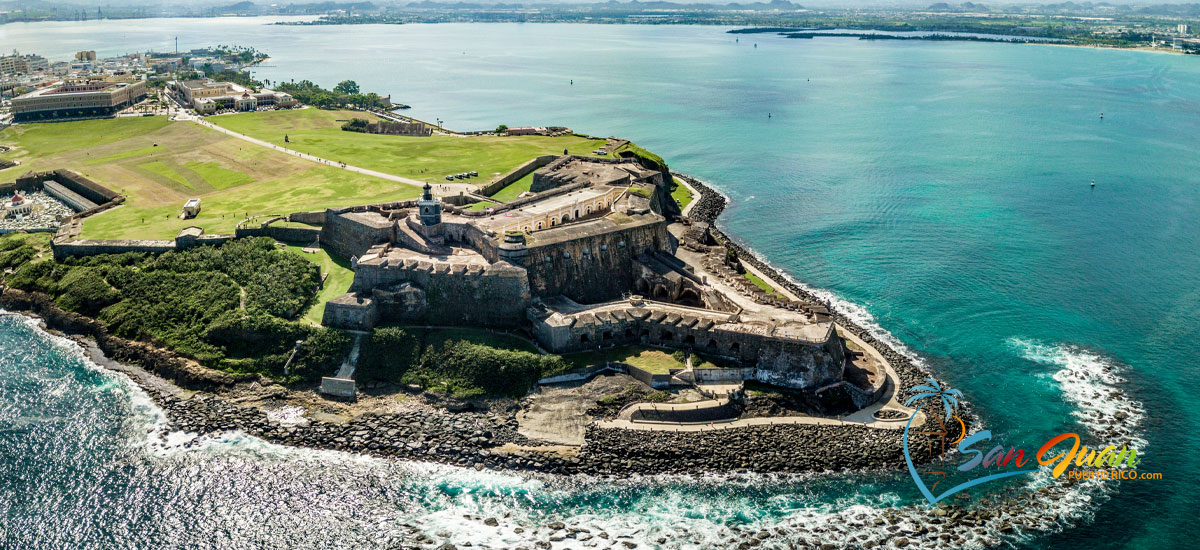 The forts of Old San Juan are must-see attractions, where you'll step back 500 years in time.  Navigate these massive and magnificent fortifications and explore their tunnels, dungeons, ramps, and barracks.  Bring your camera for the hundreds of gorgeous photo ops, with the San Juan Bay as the perfect background.  The most popular and beloved fort on the island is Castillo San Felipe del Morro (El Morro), it is easier to navigate and the grounds are filled with joy with children and adults alike flying a kite, be sure to buy one and join in.  San Cristóbal is bigger and one of the top 5 must-see attractions on the island.  San Juan National Historic Site also includes the forts of San Juan de la Cruz (El Cañuelo) and the city walls.   
Cruise Along the San Juan Bay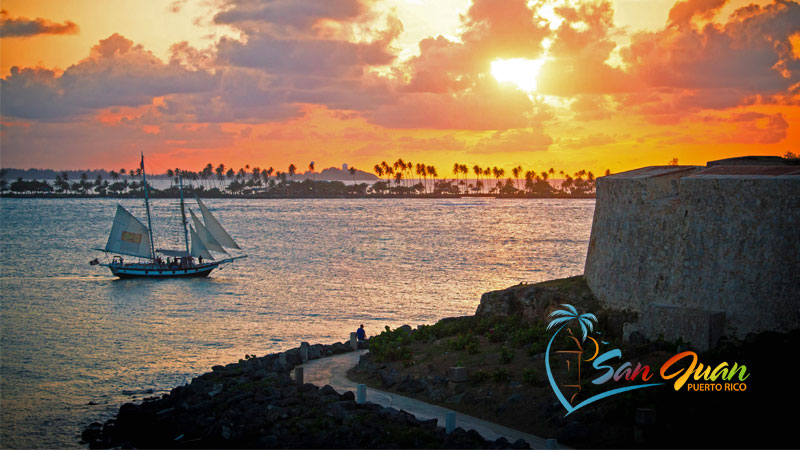 A romantic way of seeing Old San Juan is aboard a sailboat, especially during sunset.  As the sailboat turns around the San Juan Bay, you'll get to see the most spectacular views of the walled city, and sights of the most impressive UNESCO landmarks that protected the city; La Fortaleza, and Castillo San Felipe del Morro.
Featured Tours - San Juan Bay
Hacienda Campo Rico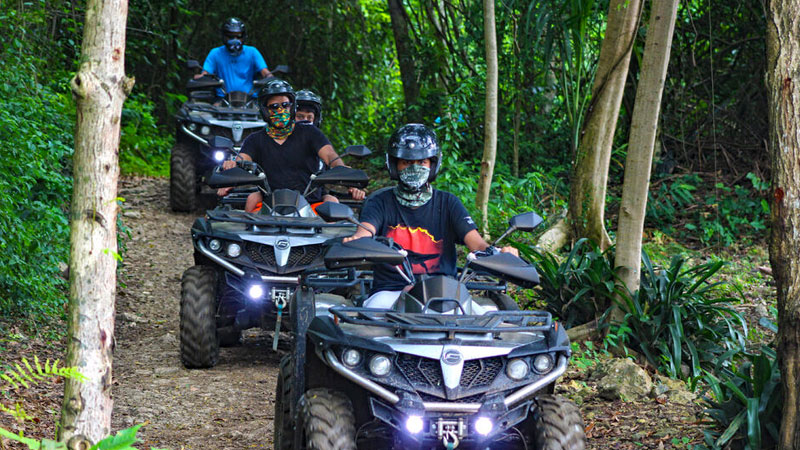 We know is hard to get away from the blue coastline, but the green side of the island is also enchanting offering a fun, educational, and cultural experience the whole family will enjoy.  If you're in San Juan for just a few days and don't wish to spend much time traveling away from the city, Hacienda Campo Rico is a great place to enjoy a variety of fun activities; Ziplining, ATV Trail Rides, Horseback Riding on elegant Paso Fino horses.  See top rated tours below. 
Top Rated Tours to Hacienda Campo Rico
Tour a Rum Distillery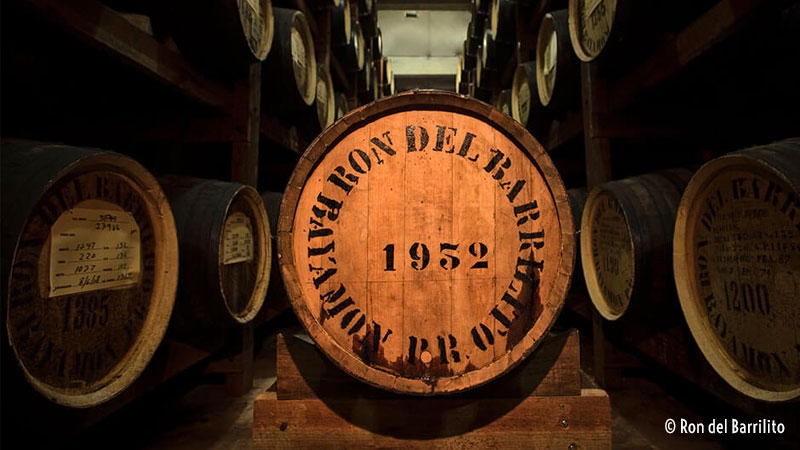 If you enjoy quality spirits, don't miss going on a distillery tour, giving you a deeper appreciation for quality rum and knowledge of the manufacturing process.  A short drive from San Juan you can tour a historic Hacienda and of course enjoy rum tasting.  This is a great experience for couples and groups.  
Top Rated Rum Distillery Tours near San Juan
Get to Know the Vibrant Culture & Taste of Puerto Rico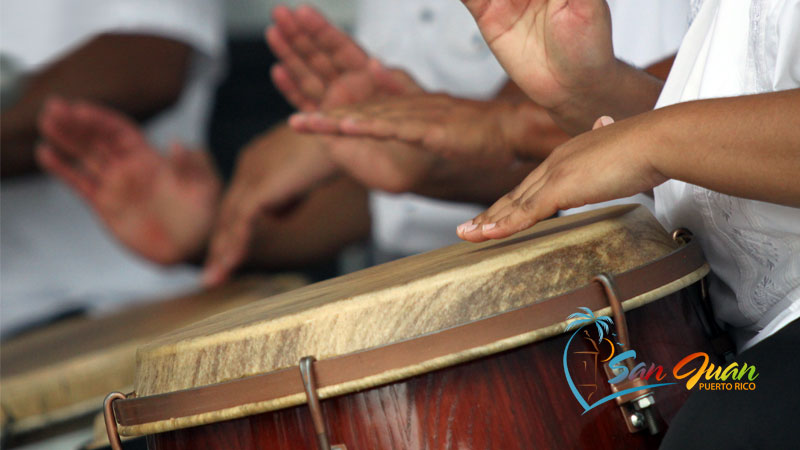 Old San Juan is the most beloved place on the island for residents of Puerto Rico, the epicenter of culture, music, food, and traditions.  In San Juan, there's always a reason to celebrate, dance, and gather with family and friends.  Locals from towns across the island come to San Juan to enjoy the year-round cultural events, great entertainment, excellent food, and dance to the sounds of salsa played at the elegant squares and restaurants around the city.
Top Rated Cultural Tours in San Juan Puerto Rico
Go Kayaking, Paddleboarding alongside Manatees in Laguna del Condado, A Nature Reserve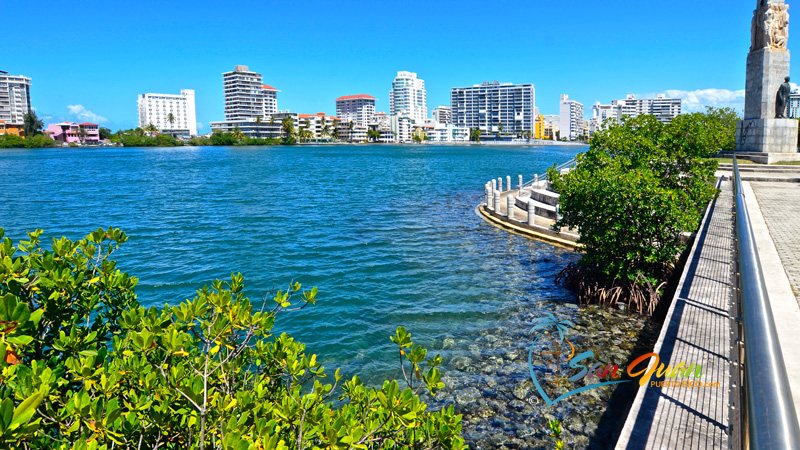 Take a walk along the Condado Lagoon, an oasis at the center of Condado with a scenic walking and bicycle path.  The Condado Lagoon is one of the most beloved places to residents and visitors with scenic views of the city yet surrounded by mangroves.  Condado Lagoon is the best place in San Juan to kayak and paddleboard (SUP) over clear, calm water where one may encounter a friendly manatee swim by.   Kayaking, paddleboarding, and water bicycle tours are available with friendly guides.  One of the most booked and top-reviewed tours in San Juan is night kayaking, resembling the magical bioluminescent bays of Puerto Rico.  
Top Rated Fun Tours in Laguna del Condado
Learn How to Scuba Dive in San Juan
Take the challenge and take scuba diving lessons to fully enjoy the pleasures of the Caribbean.  The Escambron Marine Park is a popular scuba diving site for beginners and tourists offering a colorful marine life with easy access from Escambron Beach in San Juan.  This is a great activity for couples and families wishing to have an out of the ordinary vacation experience sure to ignite a passion for exploring the wonders underneath the water of Puerto Rico and other destinations you may visit in the future.
Top Rated Scuba Diving Lessons in San Juan
Walk, Shop, Eat & Dance at Paseo de la Princesa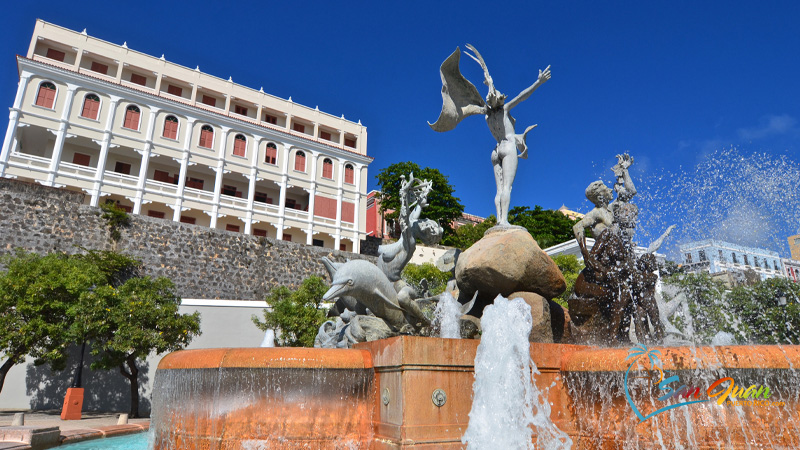 A walking tour of Old San Juan ought to begin at Paseo de la Princesa, 19th-century walkways outside the city walls along the San Juan Bay.  Walk through gardens, let your children play on the playground along the historic city walls, shop for unique authentic souvenirs sold by local artists, have a refreshing piragua or cup of Mavi, walk into the historic La Princesa building, take a picture on the elegant Raices fountain.  Typically during weekends and holidays, there is live music, so be sure to stop and dance.  Paseo de la Princesa has been referred to as "One of the most scenic walkways in the world", so hold hands with your loved one, pause for a kiss, and head towards the La Puerta de San Juan (San Juan Gate) to begin your walking tour of the Old City.
Hang out at Plaza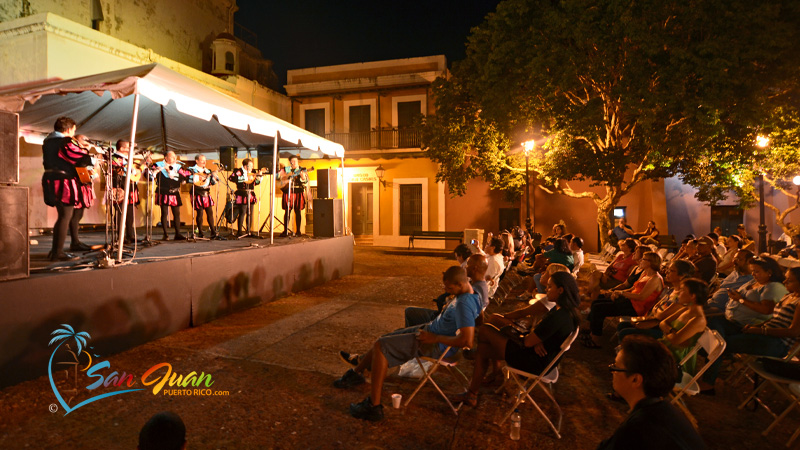 A visit to Old San Juan is not complete until you visit one of the plazas.  Plazas are very important to Puerto Ricans.  They are places where friends meet, where life seems to slow down, where a cup of Cafe con Leche (coffee with boiled milk) and a delicious Quesito (crispy pastry stuffed with cream cheese), goes great with conversation.  Plazas are a cultural center where traditional events take place, locals dance to salsa on an open-air dance floor, or relax to the sounds of jazz. Plazas are a great place to take a break from your walking tour and observe the everyday lives of Sanjuaneros (San Juan residents) enjoying their city.  At night, the plaza takes on a golden glow and turns into a romantic place to sit down and relax with your loved one.  Plaza de Armas is one of the most visited plazas, an elegant plaza surrounded by elegant historic buildings.  Children will love feeding the playful pigeons during the day.
Go Shopping – Best Places to Shop in San Juan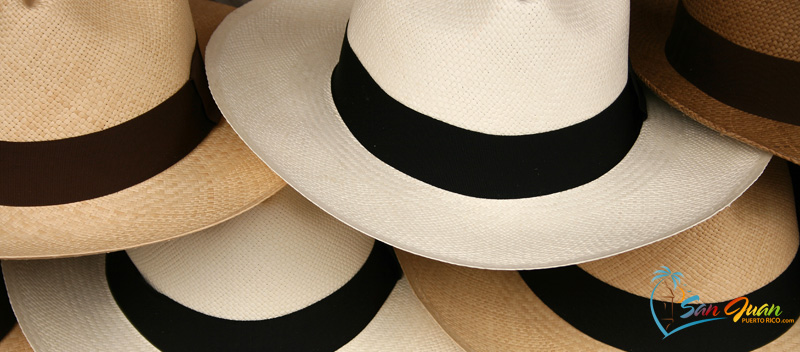 San Juan offers a great variety of shops ranging from local art galleries, unique souvenir shops, boutiques, and luxury stores.  Head to Ashford Avenue in Condado, for boutiques and a few high-end stores.  Head to Plaza Las Américas, the biggest mall in the Caribbean with a great variety of stores.  The Mall of San Juan, the city's newest mall is a smaller mall with high-end stores and a really nice food court.   In Old San Juan, you'll find many typical souvenir shops, but if you look more closely as you walk the city, you'll find some of the most unique and interesting shops with exquisite jewelry, clothing, artisans, art galleries, and the popular authentic Panama hats.
See Guides to more Fun & Interesting Things to Do in San Juan & Around the Island of Puerto Rico
Popular Beach Towns in PR
Map - Best Things to Do & Attractions in San Juan
Capital City of Puerto Rico