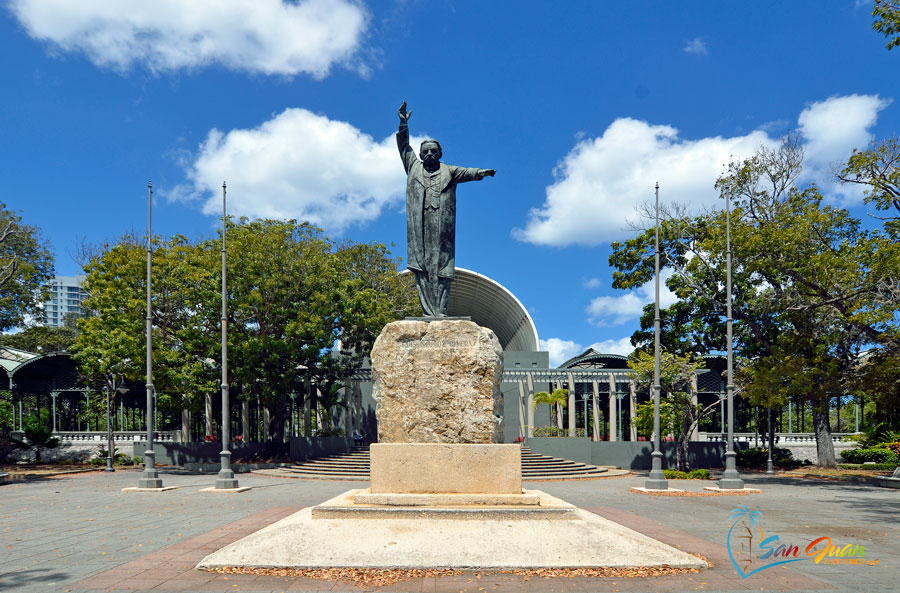 Luis Muñoz Rivera Park (Parque Luis Muñoz Rivera) is a 27-acre gem located at the eastern end of the San Juan, Puerto Rico district of Old San Juan in the Puerta de Tierra neighborhood (see map below).  It is just west of the Commonwealth Supreme Court and south of the beautiful Balneario El Escambron (Escambron Beach).  It is maintained by the U.S. National Park Service with origins dating back to the early 1900s.
The park was named in honor of Luis Muñoz Rivera, (July 17, 1859 – November 15, 1916) a famous Puerto Rican statesman, journalist, and poet who was most famous for leading the fight for liberty and political self-government of Puerto Rico during the late 19th century.  There is a statue to honor him near the west end of the park.
Luis Munoz Rivera is more like the combination of a park, arboretum, botanical garden, art gallery, architectural display, and historical museum.  As you take a walk around the park, families can enjoy playing, sightseeing, and relaxing.  There is a playground for children, bust sculptures of influential Latin American public figures, sidewalk murals, a gazebo, water fountains, and hundreds of species of beautiful unique trees, plants, shrubs, bushes, and flowers.  The park features a large outdoor pavilion event center and stage Pabellón de La Paz (Pavilion of Peace), and a historic Spanish military structure that houses a U.S. Liberty Bell replica.  There are plenty of rustic benches and picnic areas in the park where you can rest and enjoy the tranquility and scenery.
All these things and the wide concrete pathways running around it on three sides and throughout make it perfect for walking, jogging, or bicycling.  It is a must-visit for nature and garden lovers, artists, romantic couples, families with children, history buffs, and photographers.
Things to See at Parque Luis Muñoz Rivera
At the park, there's a map with the location of interesting spots to see.  
Polvorin de San Geronimo – San Geronimo Powderhouse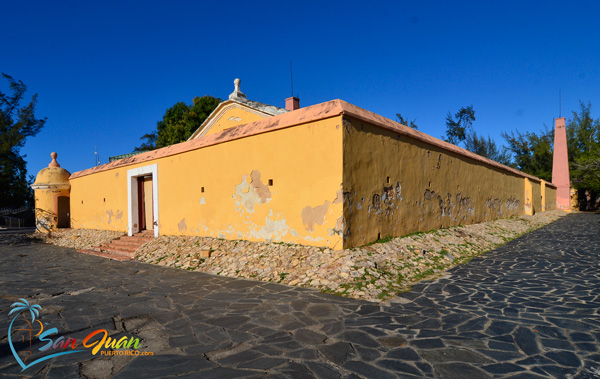 Built in the 18th century as part of the Spanish defense of the city, it was used to store ammunition and currently serves as an area for art exhibitions, including a replica U.S. Liberty Bell.
Paseo de los Próceres (Walkway of Heroes)
See many bust sculptures of famous Latin American historical figures along a gravel path that parallels Paseo Sur.
Statue 0f Luis Munoz Marin Rivera
The statue of Luis Munoz Marin Rivera, an artistic masterpiece is the centerpiece monument located near the west end of the park.
The Sundial
This is a fun and educational sight for both adults and children.
The Pergola
Be sure to look at the map signs inside the park that will help guide you around to see the main attractions.  On the sign, you'll see a map of the park, information with a brief history, in Spanish, as well as a 16 mini-attraction / landmark legend.
Pabellón de La Paz – Pavilion of Peace
Cultural, music, arts & crafts, civic, and educational events are held here throughout the year.
Paseo Norte – North pathway
Along this wide, paved pathway you can walk, ride a bike, jog, and access the playground, the bridge to El Escambron, the administrative building, and the San Geronimo Powderhouse.
Escalinata – Main Staircase
This is a large, beautiful concrete staircase that leads down to the Ave. Munoz Rivera sidewalk.
Playground – Area de Juegos de Ninos 
Administración / Café / Restrooms
The park administration building, café, and bathrooms are located just north of the Powderhouse.
Paseo Central y Fuente Lineal – Central walkway and linear fountain

This is another great place to sit on a park bench and relax, walk, jog, or bike.
Paseo Sur – South Pathway
Walking path lined with many statues of people of historical importance.
Jardines – Gardens
Hundreds of species of tropical plants and trees are here and all around the park.
Gazebo y Laberinto Espiral or "El Caracol" – Gazebo and Spiral Labyrinth or "The Snail"

This gazebo is a nice spot for taking photos. 
El Mirador
An open grass terrace with a very large staircase – an architectural beauty
El Bosquesito (The Little Forest)
A small forest is located at the east end of the park between the park and the Supreme Court Building.
Puente al Parque del Tercer Milenio / El Escambron
A Pedestrian bridge that crosses Ave. Munoz Rivera to Third Millennium Park & Escambron Beach
Map - Luis Munoz Rivera Park
San Juan, Puerto Rico