Old San Juan is the most beloved place on the island for residents of Puerto Rico, the epicenter of culture, music, food, and traditions.  In San Juan, there's always a reason to celebrate, dance, and gather with family and friends.
Locals from towns across the island come to San Juan to enjoy the year-round cultural events, great entertainment, excellent food, and dance to the sounds of Salsa, Bomba and Plena played at the elegant squares and restaurants around the city.
We invite our visitors to immerse themselves in the warmth of the vibrant Puerto Rican culture by attending local events, visiting restaurants, relaxing at squares, and taking day trips around the island to less touristy towns.
Just about every week there's an event celebrating some aspect of Puerto Rican culture, we invite you to join in and experience the pleasures of living in one of the happiest places in the world.
Move to the Sounds of Salsa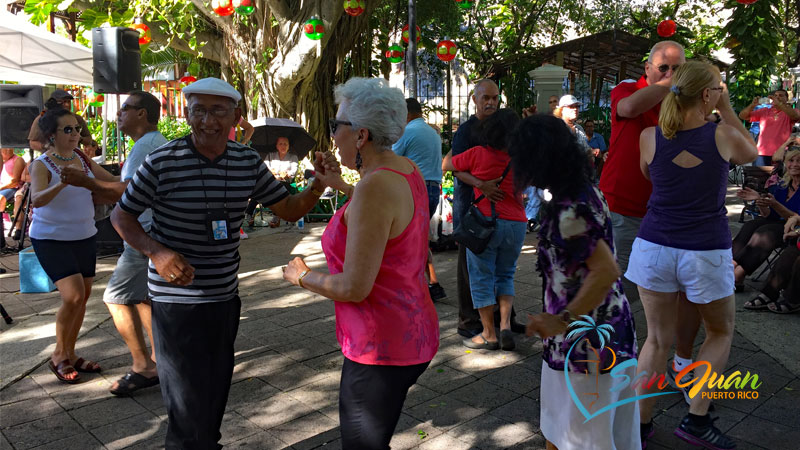 Music is an integral part of Puerto Rican culture, and Old San Juan is a wonderful place to experience it.  The inspiration for Salsa rhythms came from Africans, Natives in the Caribbean, and Cuba.  There are various musical genres original to the island of Puerto Rico, Salsa is an all-time favorite and the preferred rhythm for dancing.  In Puerto Rican culture, you'll see people dancing Salsa at town squares, weddings, birthdays, backyard parties to sophisticated events.  Salsa sounds are composed of …
...read more
percussion, timbales, güiros, conga drums, maracas, bongos, bass, and horns.  A lead singer is accompanied by a chorus.  The most popular musical events take place during the Christmas celebration starting early December and culminating in Sanse Festival when the best bands typically participate.  We invite you to mingle with locals and just follow along or better yet, book a salsa lesson with your loved one or friends, a fun experience that will keep on giving long after you leave Puerto Rico if you play music at home and continue to practice.  When you come back to San Juan you'll be ready to Salsa! 
Want to hear the sounds of salsa?  Turn up the sound and loosen up those hips… Following are videos of some of the most beloved Puerto Rican Salsa bands and singers.
Taste the Flavors of San Juan
Fusion of Taino, Spanish & African Flavors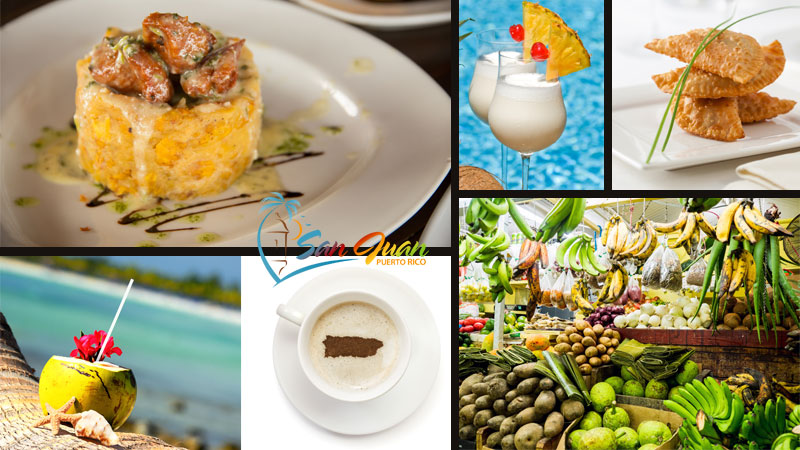 San Juan is a foodies destination, often described as the gastronomic capital of the Caribbean, Puerto Rico has made it to the top of the list of "Best Caribbean Islands for Foodies".  San Juan has turned cooking into a delicious art, and many of the island's most talented world-renowned chefs have restaurants in tourist areas of the city.  There are plenty of options from fine dining to relaxed outdoor cafes, great food trucks with 5-star food, and elegant lounges.  In San Juan, you can dig into the sultry flavors of Puerto Rican food or try the many restaurants that take fusion cuisine to a whole new level.
Read more... & Foods you should try...
Puerto Rico is the rum capital of the world, where the Piña Colada was born, the bar options are endless (see cocktail tours below).   If you love coffee, you'll fall in love with the bold flavor and aroma of Puerto Rico's coffee, grown deep in the verdant mountains.  As you tour Old San Juan, enjoy a great cup of Cafe con Leche in romantic cozy shops and outdoor relaxed cafes in narrow streets or along the San Juan Bay.
A great way to get to know the food culture of Puerto Rico is by booking a tour which often includes sightseeing in the historic district.  Flavors of San Juan is the most popular tour, but please check out more great food tours below.
Be sure to try the following traditional foods:
Mofongo – made with plantains and seasoned with sofrito (Traditional Puerto Rican marinade), typically served with chicken, churrasco (steak), or seafood.
Piña Colada, there's no other place on earth that makes them better, after all, it was invented right in the heart of San Juan.
Mallorca – a sweet and soft bread delicious all by itself or used on a sandwich.
Quesito – yummy crispy pastry filled with cheese.
Flan – a custard dessert, you'll find variations of flavors, the most traditional are cream cheese, vanilla, and coconut.
Piragua – a refreshing cup of shaved ice with your choice of fruit syrup.  You'll find piragua stands around the city, especially Old San Juan.
Cafe con Leche – Puerto Rican's favorite coffee drink, which is espresso with hot milk.
Empanillas – favorite street food for Puerto Ricans. Pastry turnover fried and stuffed with ground beef, chicken, seafood, or pizza (tomato sauce and mozzarella cheese).
Go on a Rum Distillery Tour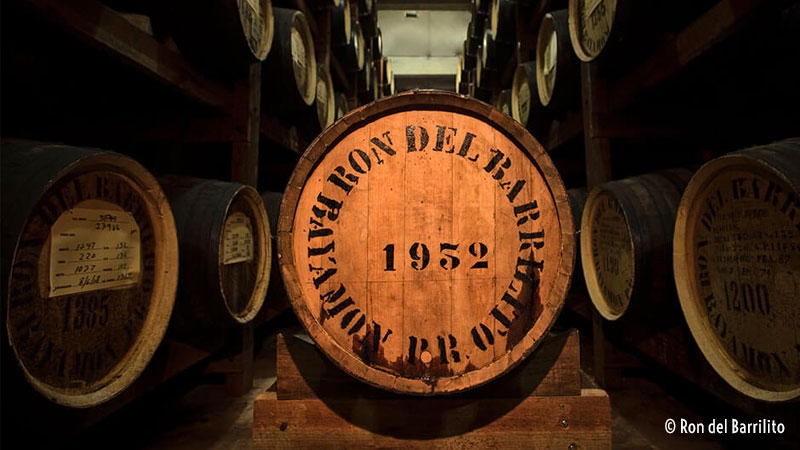 If you enjoy quality spirits, don't miss going on a distillery tour, giving you a deeper appreciation for quality rum and knowledge of the manufacturing process.  A short drive from San Juan you can tour a historic Hacienda and of course enjoy rum tasting.  This is a great experience for couples and groups.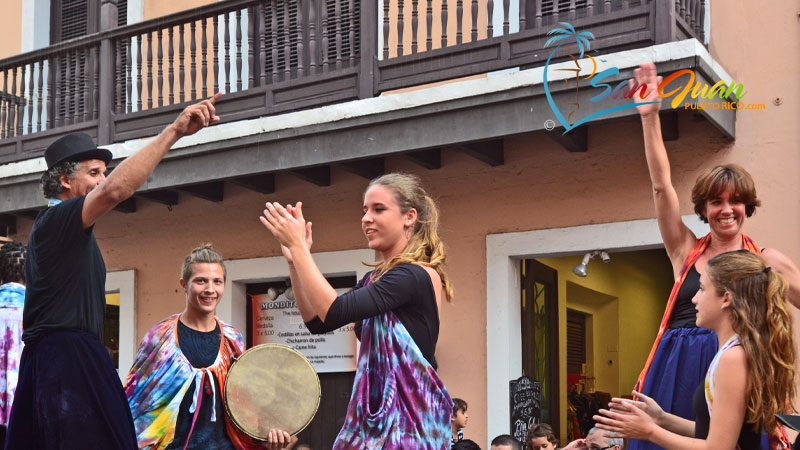 Year-round in San Juan and throughout the island, residents, and visitors can enjoy an endless list of cultural family-friendly events.
Puerto Rico is often called the happiest place in the world, there's always a reason to celebrate, and on a regular day, Puerto Ricans seem to invent a reason to gather. With tropical warm weather year-round, squares in every town, and a gorgeous coastline, Puerto Ricans are never out of places to gather and celebrate. San Juan is the epicenter of Puerto Rican culture with the top and most beloved festivals celebrated in the colorful historic city of Old San Juan.
Read more...
Christmas in Puerto Rico is celebrated from early December to mid-January, yes… the longest Christmas celebration in the world.  The most popular event in San Juan… we expect to be able to celebrate Sanse in 2022.  Due to Covid-19, the celebration was canceled.
Fiestas de la Calle San Sebastián aka Sanse (San Sebastian Street Festival) –  Residents from all over the island head to Old San Juan to celebrate the ending of the Christmas season.  Events take place all over the Historic District with live music, one of the best artisan markets where Puerto Rican artists bring their best works for locals and visitors to take home. During the day the event is more family-friendly with performances sure to entertain the entire family. At night, the scene takes on more of a party scene with the streets becoming a place for friends to gather, dance, and drink.
For an updated list of events while you're visiting, please stop by one of the tourism offices in San Juan.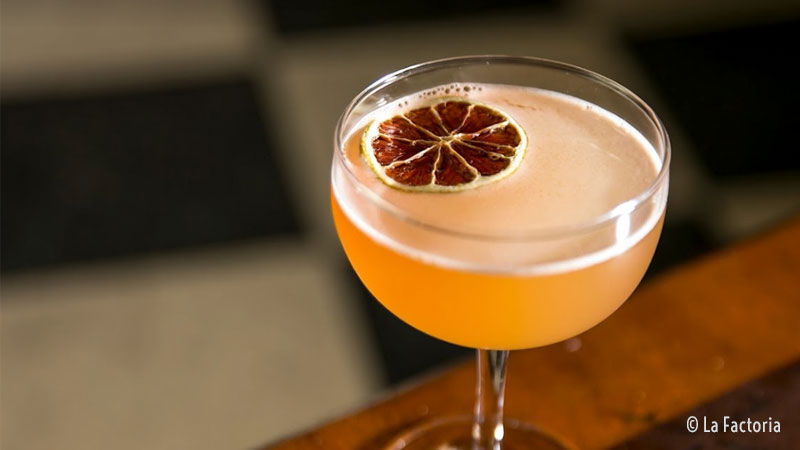 Most of the world's rum is manufactured in Puerto Rico, so Puerto Ricans take their rum seriously just like the Italians and French take pride in their wine.  If you didn't book a distillery tour we highly recommend it.  If you wish to experience the art of cocktails, Old San Juan is a great place to start, with great tours to get you acquainted with the best drinks and best bars.  From the refreshing Piña Colada invented right in San Juan to Don Q available in delicious tropical flavors, the perfect mojito to the smoothest rum meant to be enjoyed slowly such as Ron del Barilito called the Cognac of the Caribbean.
Top Rated Cocktail Tours in San Juan, Puerto Rico
Bomba & Plena Cultural Experiences
African Roots of Puerto Rico