Cycling in San Juan is a fun activity for the entire family and romantic activity for couples.  Cycling is a great and inexpensive way to get around San Juan to enjoy the city's extraordinary attractions, get some exercise, spent quality time with your loved ones with the added bonus of breathtaking views everywhere you go.
This fantastic city continues to make improvements to roads with cyclists in mind offering great biking paths strategically designed along scenic routes with easy access to the many wonderful attractions and activities that the city has to offer.  
In San Juan, you can ride on designated bike routes on main streets, scenic paved pathways, cement, and wooden boardwalks, and gorgeous sandy trails.  Bike routes lead to gorgeous beaches, extraordinary attractions in Old San Juan such as the San Juan National Historic Site, nature reserves, a mangrove forest, the beautiful Condado Lagoon, the casual Ocean Park beach neighborhood, nature trails, and much more.
In San Juan is possible to ride from the northwestern tip of San Juan (Fort El Morro) approximately 18 miles east to the neighboring beachfront town of Loiza, Carolina if you're up to the task. Paseo Puerta de Tierra gives walkers and cyclers a scenic and safe path from Old San Juan to Condado.
We took the time to put together some bike routes in areas of Old San Juan, Puerta de Tierra, Condado, Ocean Park, and east of San Juan in Isla Verde ending in Piñones with information on attractions you can stop to enjoy along the way.
In addition, we have listed companies offering bicycle rentals and tours in San Juan & Isla Verde.  So rent a bike and begin your journey around this impressive city cooled by the constant trade winds.  Bicycling will help ease the guilt of eating all the delicious food in San Juan while you visit.
Bike Tours & Rentals in San Juan, Puerto Rico
Popular Places to Bicycle in San Juan, Puerto Rico
Old San Juan & Puerta de Tierra, Puerto Rico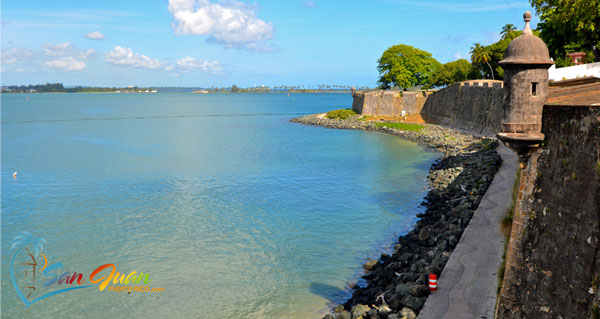 Walking is the favorite way of getting around in Old San Juan, we think bicycling is the second best.  Ride up narrow streets, bicycle along the Atlantic Ocean leading to 500-year-old forts, beautiful churches, interesting museums, charming plazas, exquisite restaurants, unique shops and so much more. Recommended bike routes in Old San Juan, Puerto Rico.
Condado, San Juan, Puerto Rico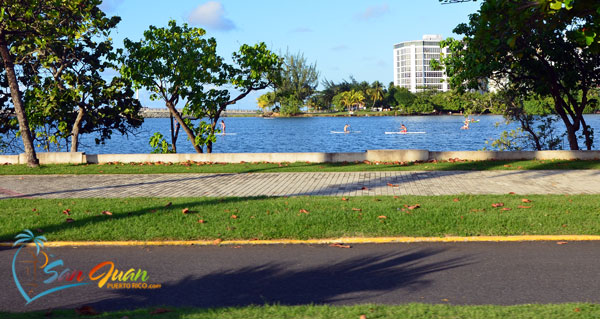 Condado is perhaps the most bicycle-friendly destination in the San Juan Area and a great center point to explore nearby Old San Juan and Ocean Park.  Bicycle around the relaxing Condado Lagoon, ride to Condado & Escambron beaches, great shops, and restaurants.  More about bicycling in Condado, San Juan, Puerto Rico
Ocean Park, San Juan, Puerto Rico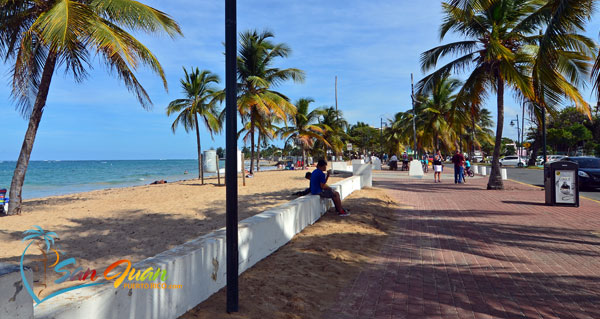 Ocean Park is all about the more casual and relaxed beach city lifestyle and bicycling is a way of life here.  Rent a bicycle and ride around Barbosa Park, along Ocean Park Beach, and more nearby interesting places.  More about bike routes in Ocean Park, San Juan, Puerto Rico.
Isla Verde, Carolina, Puerto Rico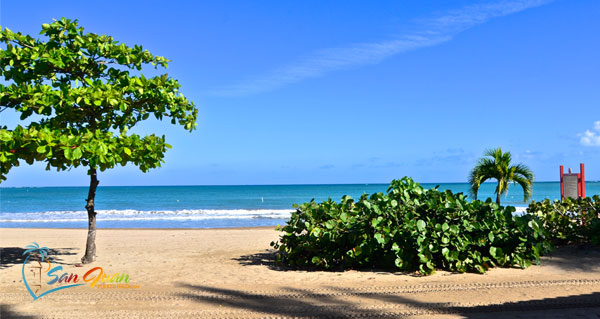 Get on your bike and ride along the main Isla Verde Avenue where riders and drivers share the road. From here you can make stops along the 3-mile long beach of Isla Verde. More about bicycling in Isla Verde, Carolina, Puerto Rico.
Cycling Trails Near San Juan, Puerto Rico
Cycling Routes in Nearby Paseo Piñones, Loiza, Puerto Rico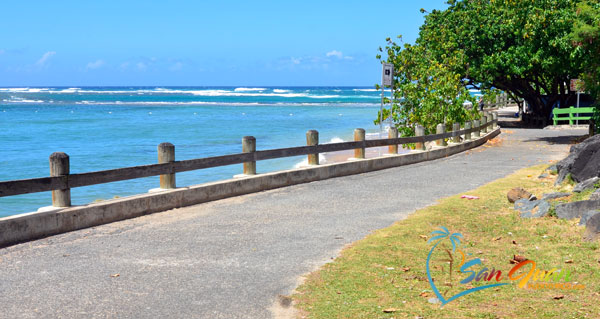 Paseo Piñones is one of the most popular bicycle trails near San Juan, just east of Isla Verde on the nearby town of Loiza.  Go from paved trails passing food shacks with traditional Puerto Rican fried treats, to wooden boardwalks along beautiful beaches inviting you to take a refreshing swim on a sunny warm day, to bike trail leading to a mangrove forest.  
Cycling Safety in San Juan, Puerto Rico
Most drivers in Puerto Rico show the utmost respect for pedestrians and people riding bikes.  Throughout San Juan and Puerto Rico, you'll notice many yellow caution signs for drivers to "COMPARTE LA CARRETERA" or "SHARE THE ROAD" with bicycles when there is not a designated bike safety lane on the street.  Riding the paved pathways and boardwalks is indeed safe, but be rest assured that if you're riding on the street, you'll be respected by drivers.  Nevertheless, ride with caution and don't forget to wear a helmet!
The Laws & Regulations of Cycling in Puerto Rico
Bike Rentals
Rent the Bicycle 
100 Calle Del Muelle, Suite 205, Capitolio Plaza (east side across from

 

Bahia Urbana), Old San Juan
Open 7 days a week: 9 am – 4:30 pm
Offering

 

tours of Old San Juan

 

& San Juan City & Beach tours
787-602-9696  |  787-661-2728
San Juan Bike Rentals
Mobile Mountain Bike Rental Unit
Servicing Old San Juan, San Juan to Isla Verde, Carolina
FREE delivery and pick up to/from your hotel
Open 7 days a week: 7 am – 6 pm
Call 787-554-2453  |  787-554-BIKE
Puerto Rico Pedal Pushers – Bike Rentals & Pedicab Taxi Service
1961 Calle McLeary, Ocean Park, San Juan
Bicycle & beach cruiser rentals: Wednesday – Sunday 9 am – 6 pm
Pedicab service: Wednesday – Sunday 6 pm – 1 am
787-567-2453 (BIKE)
Paseo Piñones Centro de Informacion and Bike Rentals
Take the first right after crossing the bridge on PR-187 east from Carolina into Piñones, Loiza.  Paseo Piñones officially begins here at the

 

Centro de Informacion.
Hours: Open 7 days/ week, 6am – 6pm
Rent A Bike – Road & Mountain Bike Rentals & Tours of Puerto Rico
Servicing all of Puerto Rico including the islands of Vieques & Culebra
Mountain bike & road bike rentals & guided tours of Puerto Rico
Call 787-613-3438  |  email: cs@rentabikepr.com