Cycling in San Juan is a fun activity for the entire family and a popular romantic activity for couples.  Cycling is a great and inexpensive way to get around San Juan, the city continues to make improvements to roads with cyclists in mind offering great biking paths strategically designed on scenic routes with easy access to the many wonderful attractions and activities.
In San Juan, you can ride on designated bike routes on main streets, paved pathways, wooden boardwalks, and breezy oceanside trails.  Bike routes lead to gorgeous beaches, the San Juan National Historic Site, nature reserves, a mangrove forest, the beautiful Condado Lagoon, the casual Ocean Park beach neighborhood, nature trails, and much more.  Paseo Puerta de Tierra gives walkers and cyclers a scenic and safe path from Old San Juan to Condado.  It is possible to ride from Castillo San Felipe del Morro located on the northwestern tip of San Juan, all the way to the Piñones area in Loiza, with a total of about 18 miles.
We put together some bike routes in areas of Old San Juan, Puerta de Tierra, Condado, Ocean Park, and the neighboring tourist district of Isla Verde and ending in Piñones.
Reserve a bicycle, and see the journey that awaits in this vibrant tropical city.  Bicycling will help ease the guilt of eating all the delicious food in San Juan while you visit.
Bicycle Rentals in San Juan
Bicycling in Condado
San Juan, Puerto Rico
It all starts with the bridge connecting Old San Juan to Condado, Puente Dos Hermanos.  Condado. is the a bicycle friendly tourist district with safe designated bike and jogging lanes, you'll pass beaches, shops, restaurants and parks to relax.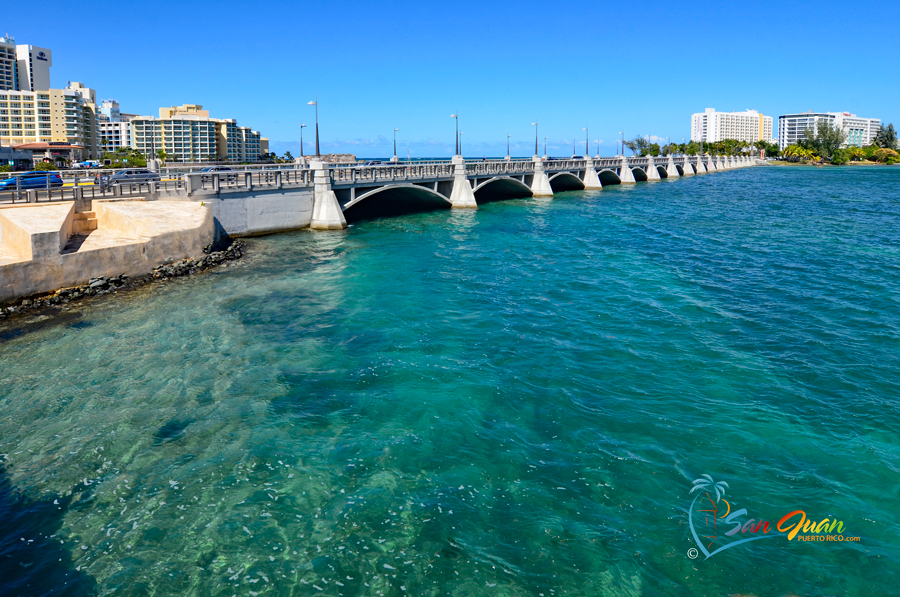 You'll want to ride slowly across the bridge to admire the views of the Condado city line with the Atlantic Ocean as the perfect backdrop and sights of the historic San Geronimo Fort.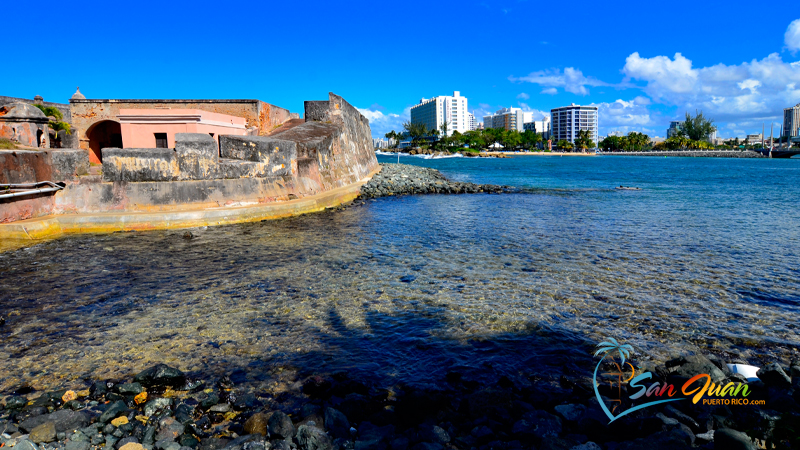 You may want to stop at Playita del Condado (Condado Little Beach), for a workout at the outdoor gymnasium and refresh on the calm waters and even do a little snorkeling.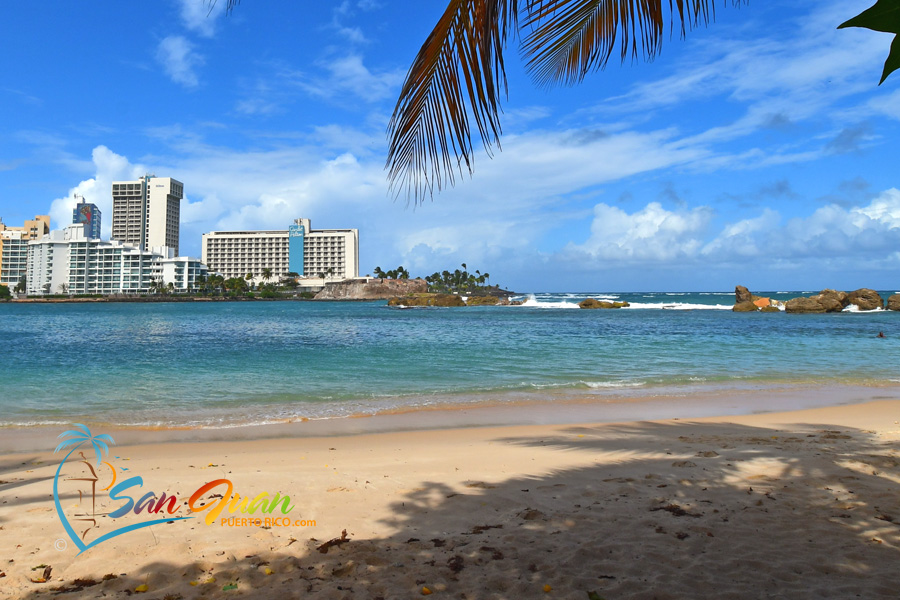 Avenida Ashford, the most popular street for tourists and visitors offer a designated biking zone on the right side heading east.  While here, swing into Ventana al Mar Park on the left, where you can ride down to the waterfront or grab some refreshments.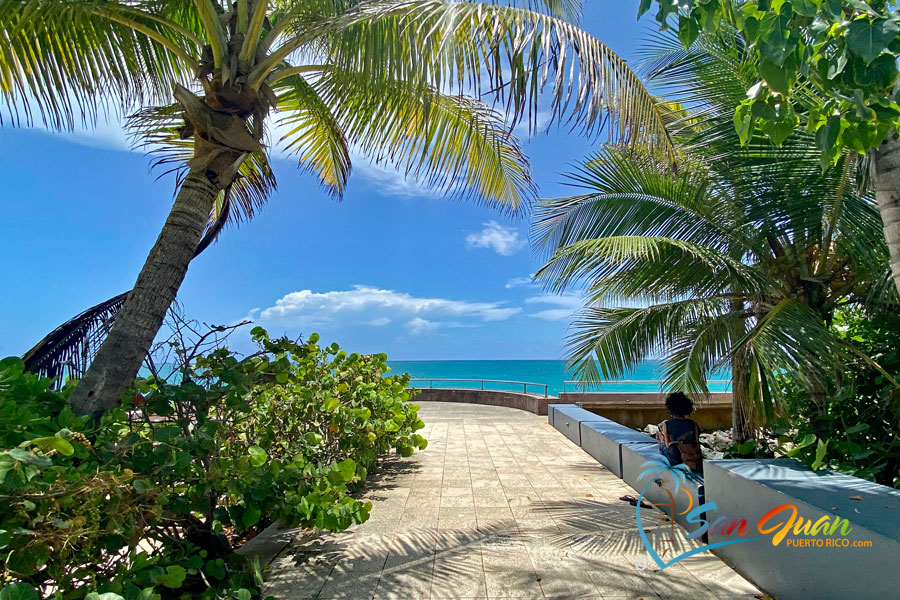 Avenida Ashford splits and becomes Calle Magdalena heading east just after the park.
From Calle Magdalena, turn right onto Calle Luisa, then right onto Calle Vieques, follow it to the end, and you'll arrive at Jaime Benitez Park.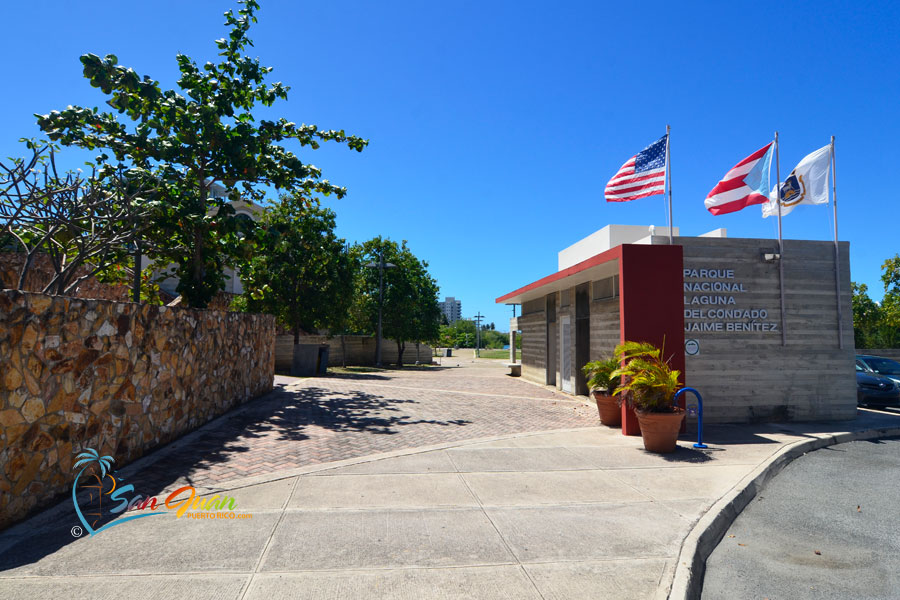 From the park you can ride west along the southside of Condado Lagoon on a nicely paved path, you'll be tempted to come back in order to try out paddle-boarding or kayaking.  Get back to Calle Luisa so you can access the south paved bicycle and walking trail from where you'll enjoy sweeping views of the Condado District city line and the Condado Lagoon.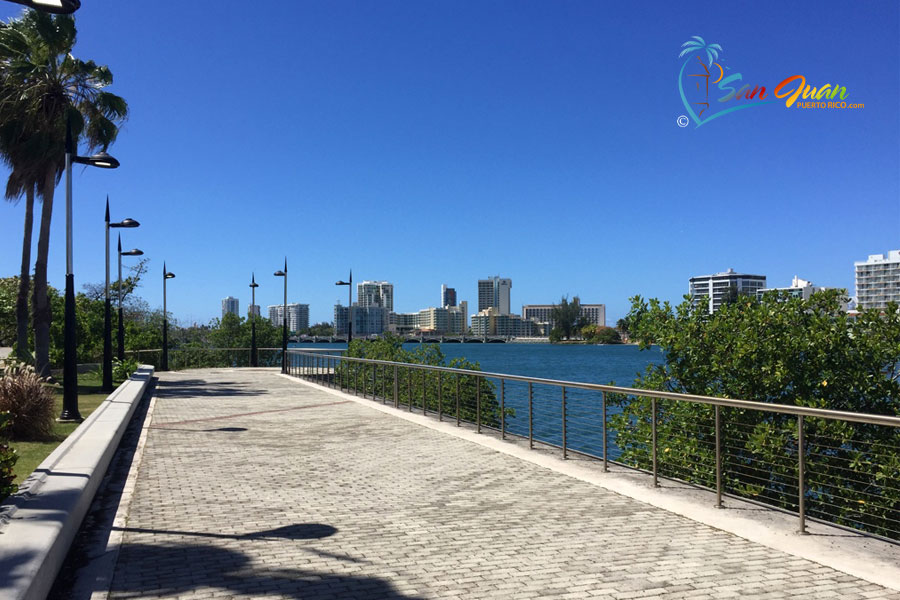 You may wish to wear a swimsuit underneath to enjoy a nice dip on the water at the southwest corner of Laguna del Condado, a nice little beach that's typically very quiet, a perfect spot to relax.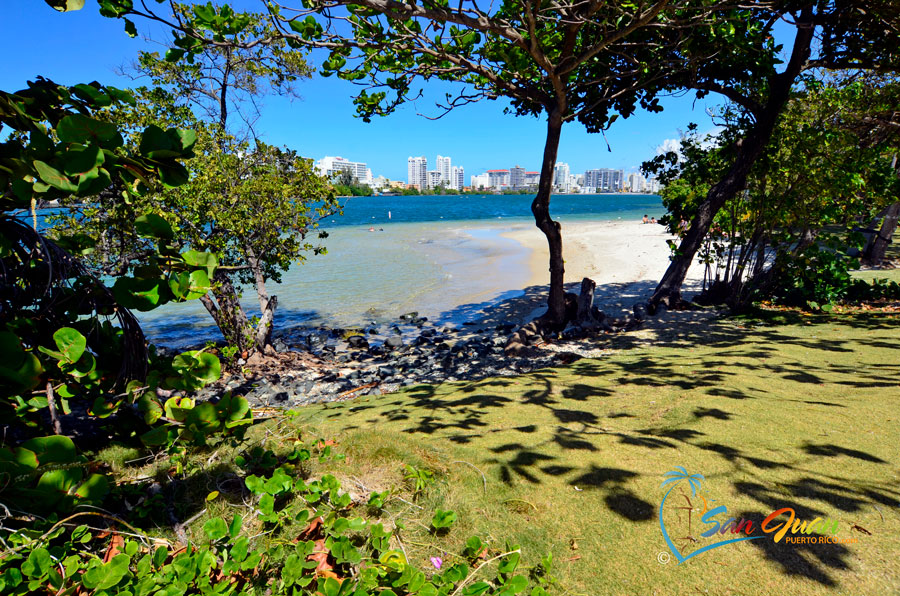 Bicycling in Old San Juan & Puerta de Tierra
San Juan, Puerto Rico
If you love bicycling, get ready for an unforgettable experience in Old San Juan, filled with great stops along the way.  Continuously riding is nearly impossible, be prepared for constant temptations to stop along the way in order to see attractions and scenic spots.
Walking is the favorite way of getting around in Old San Juan, we think bicycling is the second best.  Ride up narrow streets, bicycle next to the city walls along the San Juan Bay leading to 500-year-old forts, beautiful churches, interesting museums, charming plazas, exquisite restaurants, unique shops and so much more.
Ride the Scenic Bahia Urbana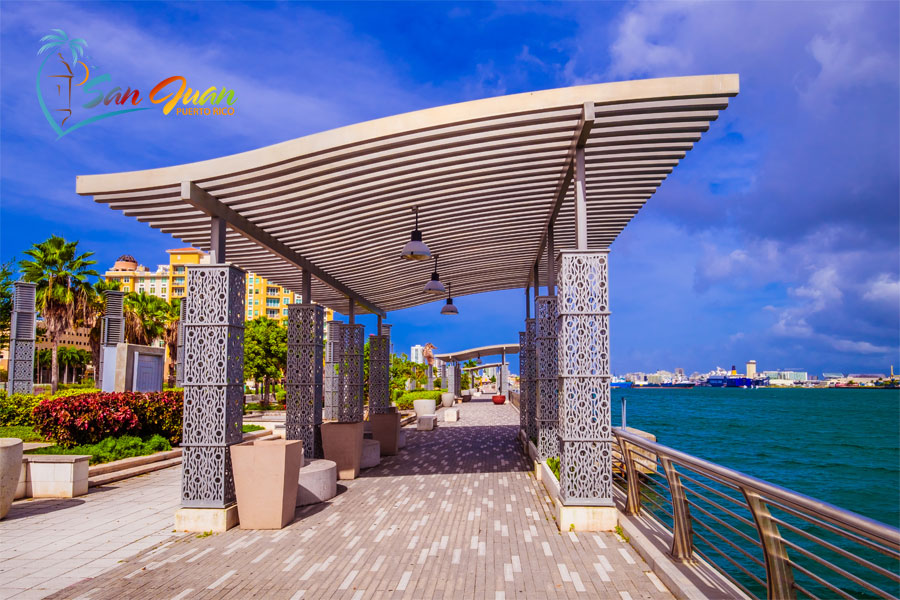 Take a ride on Bahia Urbana, then head west on the paved waterfront boardwalk that will take you by the cruise ship piers and Plaza Darsenas along the scenic San Juan Bay.
Ride along the Historic City Walls & The San Juan Bay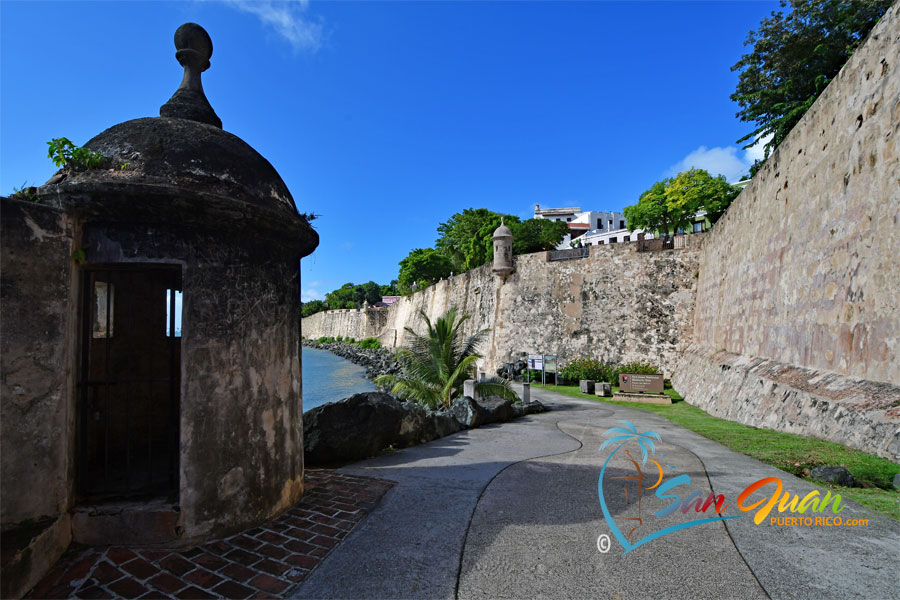 From Bahia Urbana continues west to the entrance of Paseo de la Princesa and onto this historic paved pathway.  Ride past the City Walls and take in the views of the beautiful San Juan Bay as you ride along Paseo de la Princesa which connects to Paseo del Morro (by Fort Castillo San Felipe del Morro) right after you pass the historic San Juan Gate.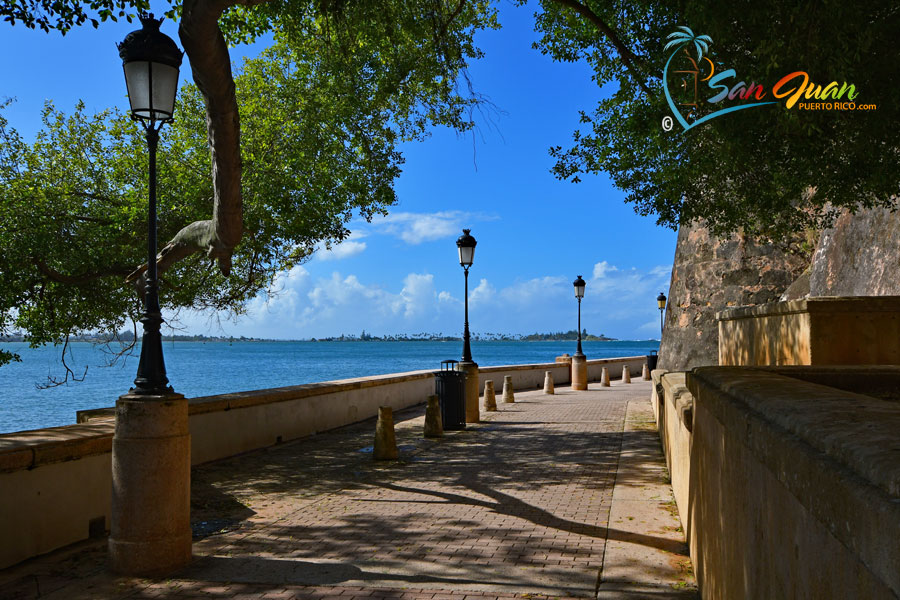 If you're bike riding in the afternoon, be sure to ride this route between 6 pm and 7 pm to catch the sunset.  Although there are plans to connect Paseo del Morro to the north side of Old San Juan, the project is still under construction, so you'll have to turn around.
Enter through The San Juan Gate – "La Puerta de San Juan"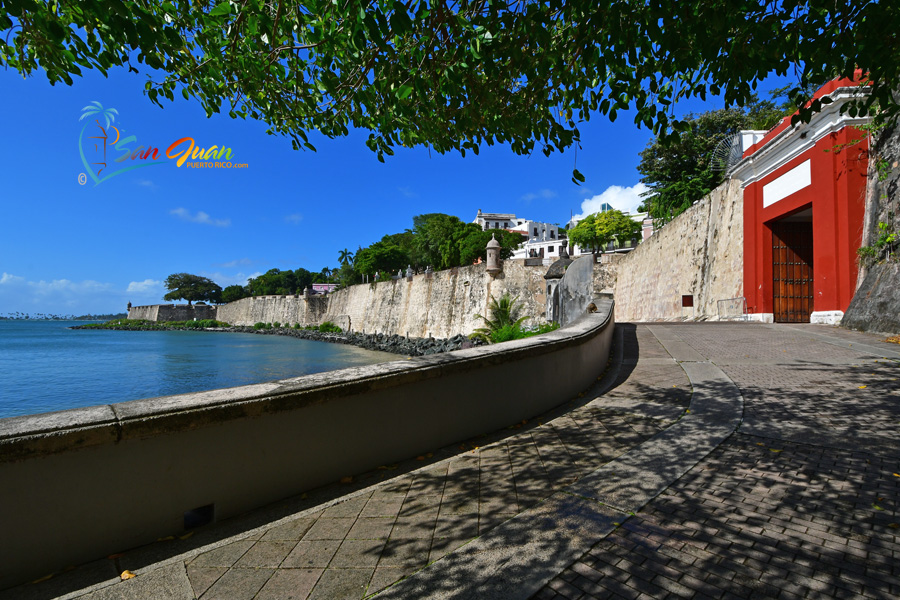 After turning around and heading back, this time, where Paseo del Morro connects to Paseo de la Princesa, turn left and head east through the San Juan Gate and up Caleta de San Juan to Calle del Cristo.  Turn left and ride north on Calle del Cristo past the San Juan Cathedral until you reach Calle Norzagaray on the north side of Old San Juan.
Take a Bike Ride to The Most Beloved Landmark in Puerto Rico
Once on Calle Norzagaray, you'll have great views of the Atlantic Ocean, Fort El Morro, Fort San Cristobal, and the Santa María Magdalena de Pazzis Cemetery.  You'll also be near museums and places to eat.  You can then continue east along Calle Norzagaray which eventually turns right and downhill (south) to Plaza Colón.  From Plaza Colón, you'll have access to popular streets such as Calle San Francisco, Calle Fortaleza & Calle Tetuan where you'll find great shops and restaurants.
From Plaza Colón, take Avenida Luis Munoz Rivera east, by Fort San Cristobal, to see the Capitol Building.  Just across the Capitol Building, be sure to take a scenic rest stop at Plaza San Juan Bautista for views of the roaring Atlantic Ocean and the walls of San Cristobal.
Look down and you'll see Playa Peña, a beach that's not very popular among tourists, but a wonderful spot for a scenic walk on the sand without crowds.   This beach is protected by a coral wall, walk east and you'll get to fort ruins.  These attractions are officially located in the Puerta de Tierra community.
Ride to the Best Beach in San Juan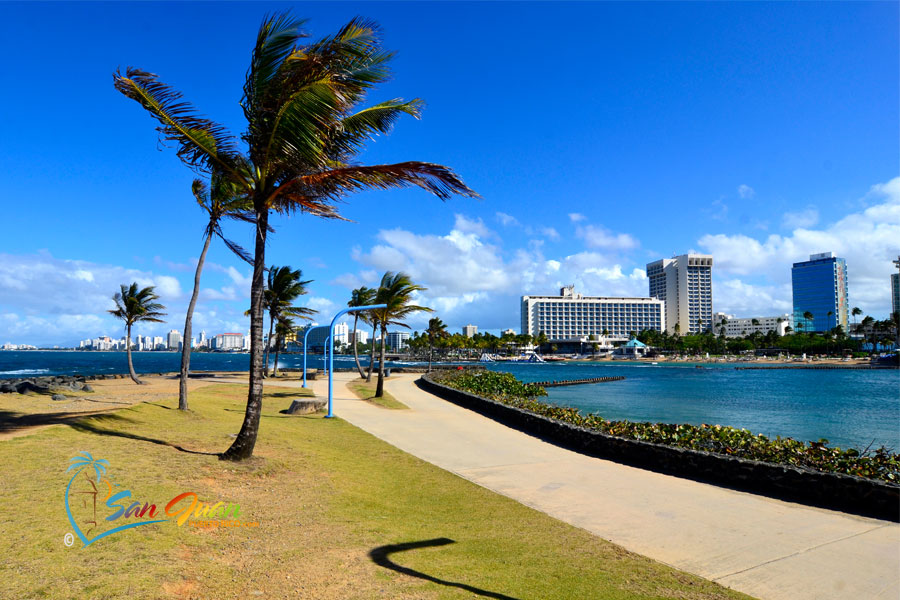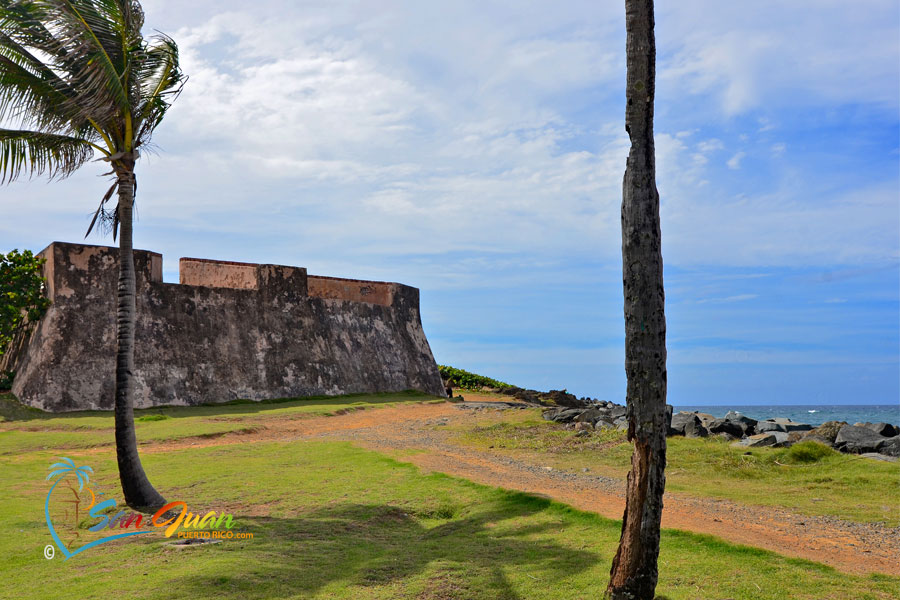 After visiting Escambron Beach, head back on Calle San Agustin south to Luis Munoz Rivera Park and ride east along the southern edge of the park until it ends.  Cross the street and over to Caribe Plaza where you can ride Paseo Caribe for great views of the Condado Lagoon, and Fort San Geronimo.  From this paved path, you can easily access the entrance to the Puente Dos Hermanos bridge to Condado should you wish to continue to explore San Juan.
Bicycling in Isla Verde
Carolina, Puerto Rico
Bicycling in Isla Verde – Carolina, Puerto Rico
Isla Verde does not offer designated bike lanes along the main tourist areas, but there are yellow caution signs for drivers to "share the road" with bicycles.  Bicycling is a popular sport in the metro area, locals are known to share the road well, of course, ride with caution.  If you're staying in the Isla Verde tourist area and riding on a busy avenue is not your ideal bicycling scenario, no worries; just a short distance away you can ride along Pinones, one of the most naturally scenic trails in the metro area.
If you're bicycling with children we recommend you go to the nearby bike trail in the next town of Loiza with designated bike routes without the dangers of automobile traffic.
Coming east from Ocean Park, Calle Loiza turns into Avenida Isla Verde at the San Juan / Carolina border and leads to the beachfront town of Isla Verde, Carolina.  You will pass a large cemetery, condominiums, and eventually beachfront resorts on your left, as shops, and restaurants. You'll have many access points to the beaches of Isla Verde. 
You can turn left onto Calle Tartak and ride north to visit El Alambique – Isla Verde Beach or take a right onto Calle Tartak which will take you past the Verdanza Hotel and Embassy Suites and leads to Jardin de Isla Verde (Isla Verde Garden).  This park under renovation offers a safer ride for families with children right in the city. 
You can also turn left onto Calle Violeta (just before the Ritz-Carlton resort) and ride north to the end of Pine Grove – Isla Verde Beach.
To continue riding east to the Carolina Public Beach and beyond, follow Ave.  Isla Verde east through Isla Verde and past the Ritz-Carlton and Courtyard Marriott resorts where a paved bike path begins along the north side of PR-187.  Along this path are 2 gated entrances for free access to the beautiful beach of Balneario de Carolina (Carolina Public Beach).  The bike path continues east past this beach and towards Piñones, Loiza offering great views of the Atlantic beachfront and coastline.
Bicycling in Ocean Park
San Juan, Puerto Rico
A scenic ride along the Atlantic beachfront…
Ocean Park is a laid-back beachfront community, where there are streets to access the beach, paths along the beach, and a nice park to ride around if you so desire.  You can rent a bike as well as you enter Ocean Park from the west (more details below).
If you are venturing east from Condado, Avenida Ashford will turn into Calle McLeary as you enter the Ocean Park neighborhood.
There is a designated street bike lane and yellow caution signs on the right side of Calle McLeary providing a cycling pathway into Ocean Park.  If you wish, you can turn left onto Calle Santa Ana to access a beautiful section of the long Ocean Park Beach or just continue riding east to where Calle McLeary ends at Barbosa Park.
Once you reach the west side of the park, you'll turn left (you'll see a green/white bike route sign arrow to go left) onto Calle Soldado Serrano and you'll head towards the main Ocean Park Beach area.  Soon you'll make a right onto Calle General Patton to ride along the main beach area.  You can then bear left onto Calle Park Blvd. for a longer beachfront ride.  This street will eventually turn right.
You can turn around and head back to the beach and Barbosa Park or follow it down to Calle Cacique.  If you turn left onto Calle Cacique it will connect to Calle Loiza which leads east into the beach resort town of Isla Verde, Carolina.  If you turn right onto Calle Cacique, it will take you back to the east side of Barbosa Park.
Cycling Trails Near San Juan, Puerto Rico
Routes in Nearby Paseo Piñones, Loiza, Puerto Rico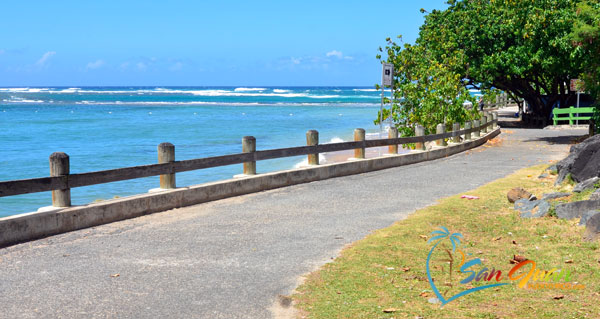 Paseo Piñones is one of the most popular bicycle trails near San Juan, just east of Isla Verde in the nearby town of Loiza.  Go from paved trails passing food shacks with traditional Puerto Rican fried treats to wooden boardwalks along beautiful beaches inviting you to take a refreshing swim on a sunny warm day, to a bike trail leading to a mangrove forest.
Bike Rentals
Rent the Bicycle 
100 Calle Del Muelle, Suite 205, Capitolio Plaza (east side across from Bahia Urbana), Old San Juan
Open 7 days a week: 9 am – 4:30 pm
Offering tours of Old San Juan & San Juan City & Beach tours
787-602-9696  |  787-661-2728
San Juan Bike Rentals
Mobile Mountain Bike Rental Unit
Servicing Old San Juan, San Juan to Isla Verde, Carolina
FREE delivery and pick up to/from your hotel
Open 7 days a week: 7 am – 6 pm
Call 787-554-2453  |  787-554-BIKE
Puerto Rico Pedal Pushers – Bike Rentals & Pedicab Taxi Service
1961 Calle McLeary, Ocean Park, San Juan
Bicycle & beach cruiser rentals: Wednesday – Sunday 9 am – 6 pm
Pedicab service: Wednesday – Sunday 6 pm – 1 am
787-567-2453 (BIKE)
Paseo Piñones Centro de Informacion and Bike Rentals
Take the first right after crossing the bridge on PR-187 east from Carolina into Piñones, Loiza.  Paseo Piñones officially begins here at the Centro de Informacion.
Hours: Open 7 days/ week, 6am – 6pm
Rent A Bike – Road & Mountain Bike Rentals & Tours of Puerto Rico
Servicing all of Puerto Rico including the islands of Vieques & Culebra
Mountain bike & road bike rentals & guided tours of Puerto Rico
Call 787-613-3438  |  email: cs@rentabikepr.com
Cycling Safety in San Juan, Puerto Rico
Most drivers in Puerto Rico show the utmost respect for pedestrians and people riding bikes.  Throughout San Juan and Puerto Rico, you'll notice many yellow caution signs for drivers to "COMPARTE LA CARRETERA" or "SHARE THE ROAD" with bicycles when there is not a designated bike safety lane on the street.  Riding the paved pathways and boardwalks is indeed safe, but be rest assured that if you're riding on the street, you'll be respected by drivers.  Nevertheless, ride with caution, and don't forget to wear a helmet!
The Laws & Regulations of Cycling in Puerto Rico