Save a Spot

- Most Popular Walking Tour
"One of the Most Scenic Walkways in the World" 
Paseo de La Princesa, the most beloved promenade in Puerto Rico, dates back to 1853.  This beautifully restored walk is a favorite place for locals day and night and welcomes millions of visitors from all over the world.  Your walk along Paseo de La Princesa can end at the San Juan Gate, or can start there… either direction will be one of your memorable sightseeing experiences in Old San Juan.  Come with us for a photo walking tour, so you can plan the best experience.  Paseo de La Princesa is part of the San Juan National Historic Site.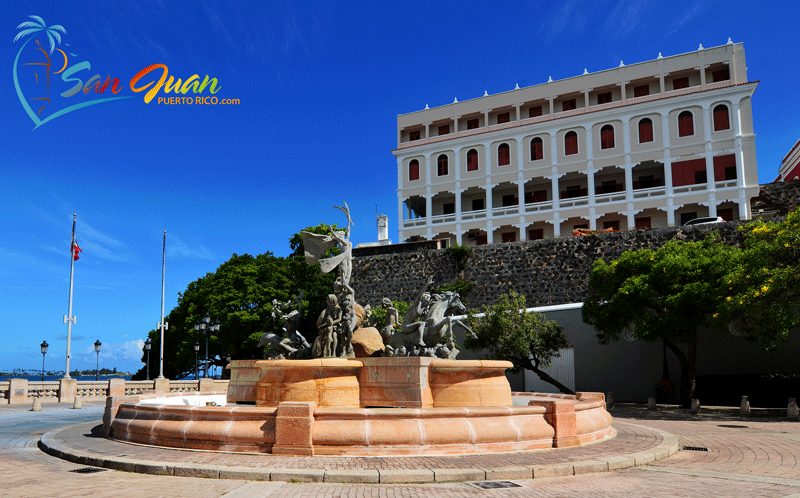 Paseo La Princesa offers sweeping romantic vistas of the San Juan Bay, elegant gardens, the historic city walls, a playground for the little ones, food, culture, history, works of art along the way, and the beautiful Raices Fountain.  At the end of the promenade, you'll enter through the San Juan Gate, and into one of the most beautiful streets of Old San Juan.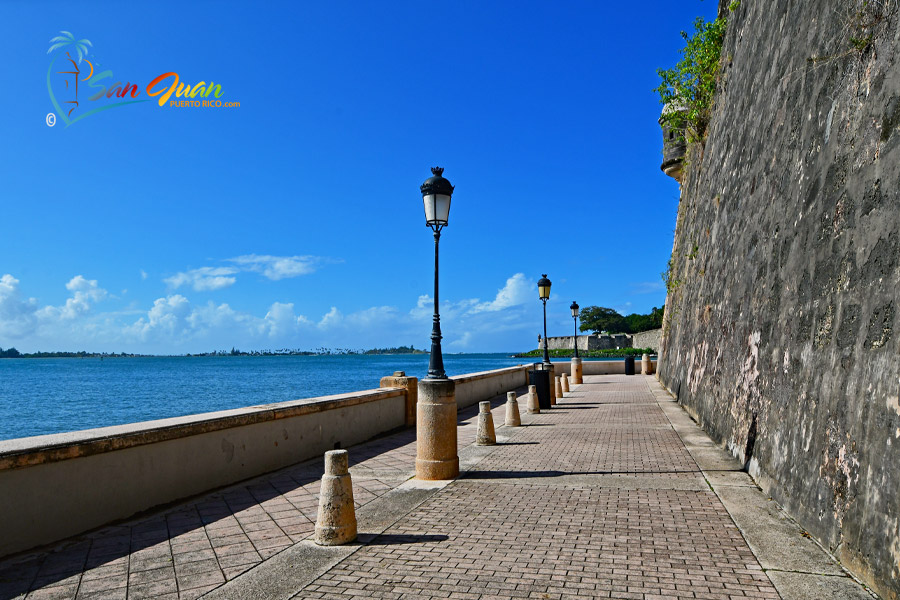 By sunset, Paseo de La Princesa takes on another vibe…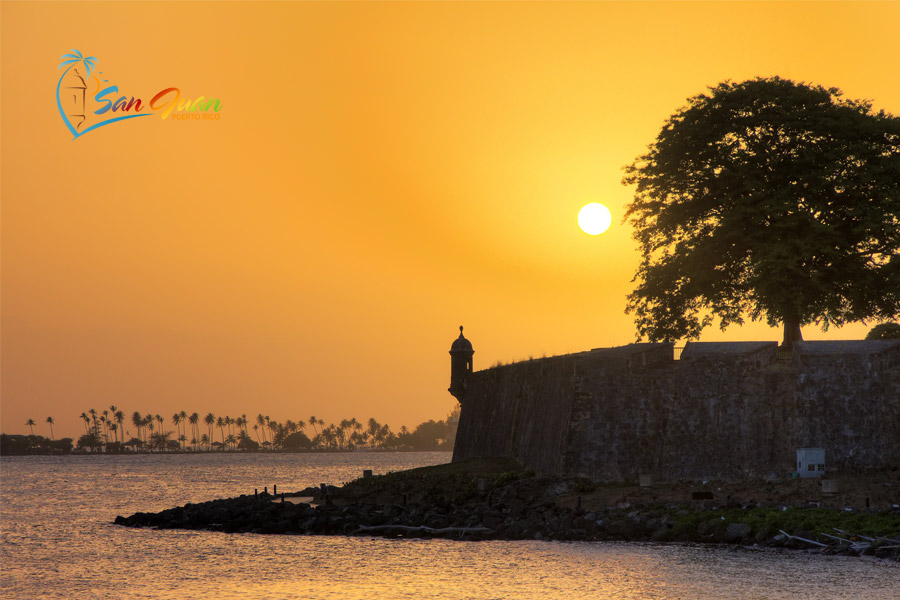 … more relaxed … one of the most romantic places to take a walk with your loved one.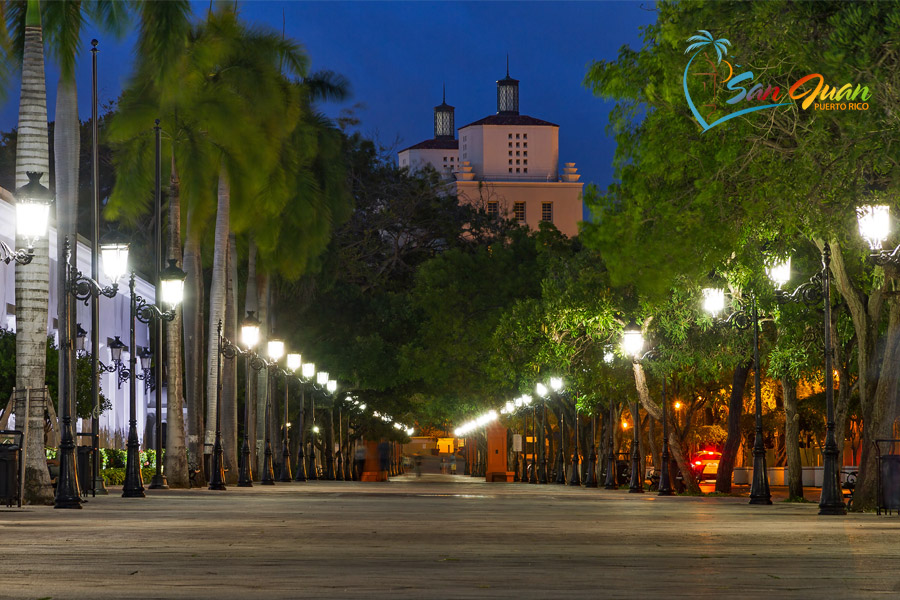 On your way to Paseo de La Princesa, start off with a refreshing piragua, a traditional treat made with shaved ice and delicious syrups available in tropical flavors, you'll see vendors near La Casita near the Old San Juan Piers or at the promenade.  Want something refreshing and different?  Be sure to stop for a cup of Mavi, a drink made with the shavings of the treetrunk of the Mavi tree, it is fermented and Puerto Ricans consider it the island's favorite natural beer substitute.
If you're ready for a meal, stop by Princesa Gastrobar, one of the most popular dining locations in Old San Juan, complete with a special Rums of Puerto Rico bar.  The restaurant serves authentic 1800's century Puerto Rican Gastronomy.  If you're dining on a weekend, around the holidays, or during busy cruise weeks, be sure to make a reservation.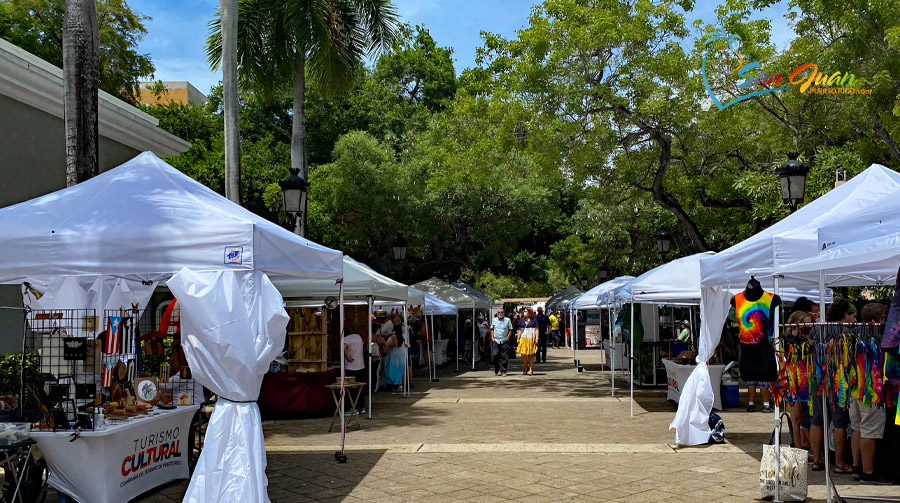 During weekends and busy cruise weeks, you can enjoy live music, there are food vendors selling traditional fritters and treats, and if you love handmade crafts, you'll find some of the best local art vendors at Paseo de La Princesa.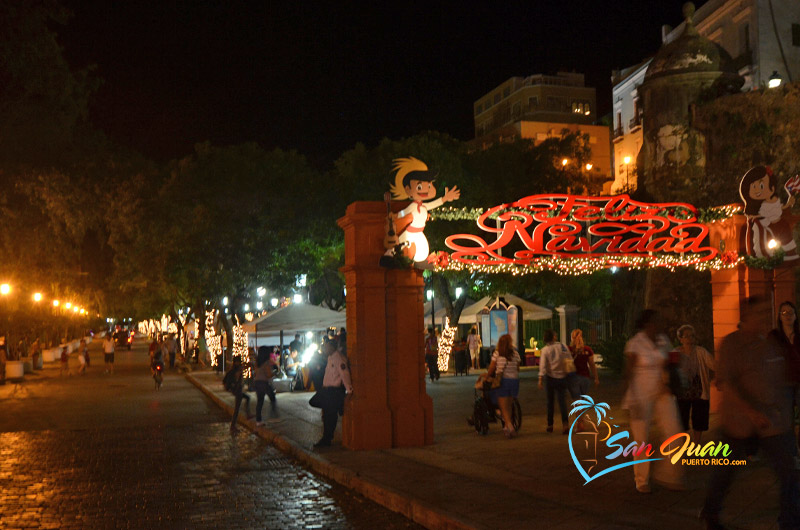 During the Christmas holidays, this place is colorful with lights, joy, singing, and music, attracting families from all over the island.  Artisans work all year to give locals great gifts for families and decorate their homes, the most sought-after items are wooden pieces such as the beloved Tres Reyes Magos (Three Kings) and handmade toys.  It is a wonderfully festive place from mid-November all the way to the second week of January.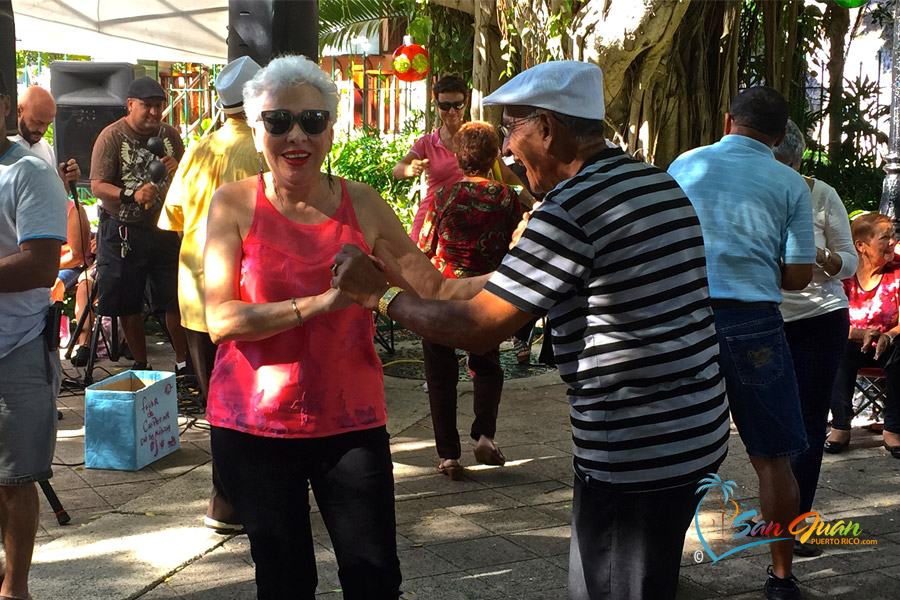 Paseo de la Princesa is a great place to rub shoulders with friendly locals and feel the warmth of our culture.  If you hear live music, particularly the rhythms of Salsa, you're likely to see part of the walkway turn into a dance floor, if you don't know how to dance, don't be shy and ask a local to teach you, Puerto Ricans are so friendly, they love showing off their dance skills and spreading joy to our visitors.  Whether you know how to dance or not, you're in Puerto Rico… let yourself go and dance.
Following is a video where many of our beloved Puerto Rican salsa singers collaborated on a song after Hurricane Maria, mostly filmed at Paseo de La Princesa.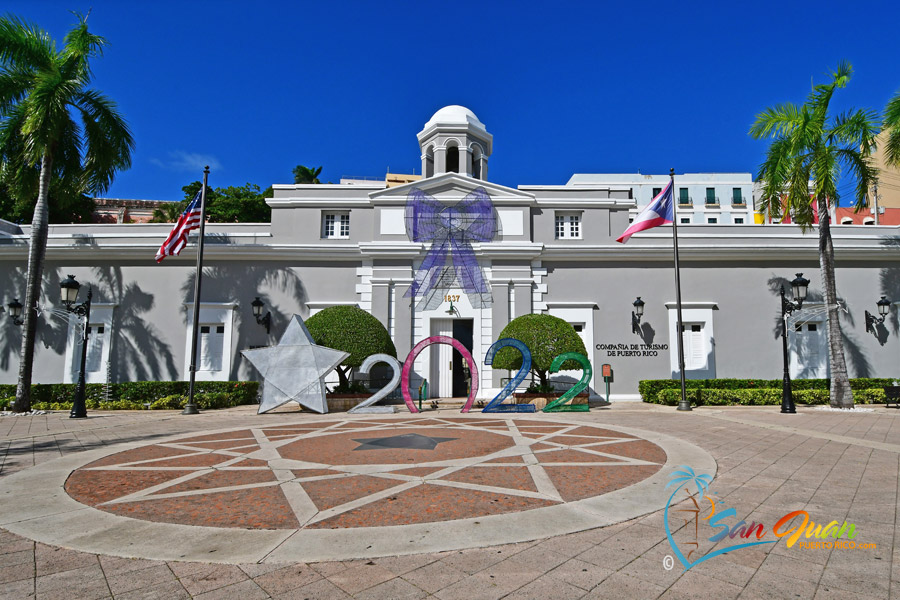 As your walk the palm-lined promenade, you'll pass La Princesa, a historic landmark that once served as a prison.  Today, La Princesa is the Puerto Rico Tourism Company's headquarters.  In addition, La Princesa also houses a Puerto Rico art exhibit worth visiting.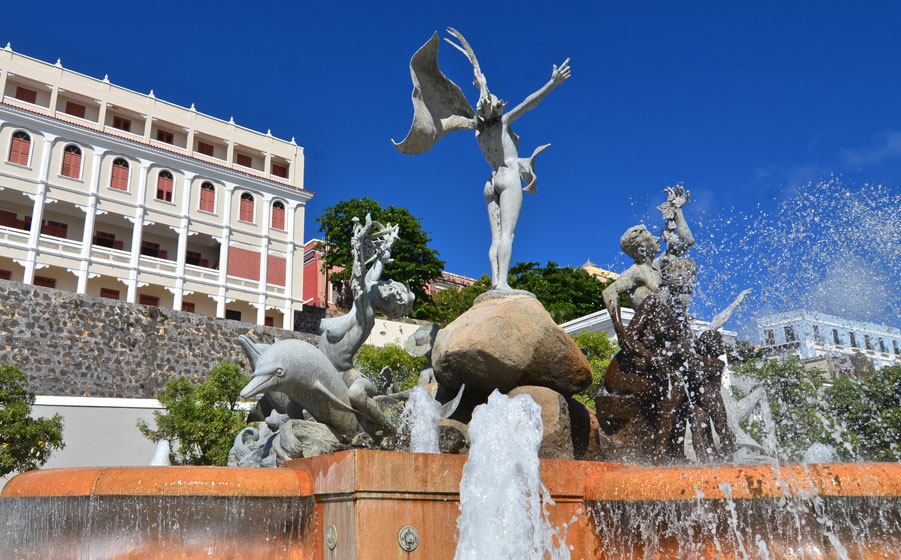 As you walk you'll be pulled forward by the sound and beauty of Fuente Raices (fountain).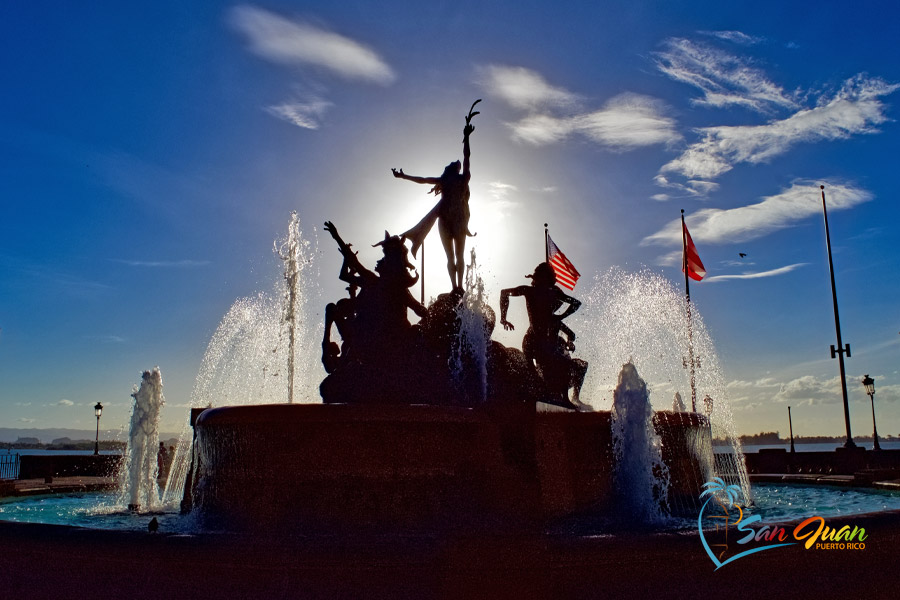 Raices translate to roots, and the fountain represents just that – the roots of Puerto Rican culture which is made up of Tainos (natives), Spaniards, and Africans.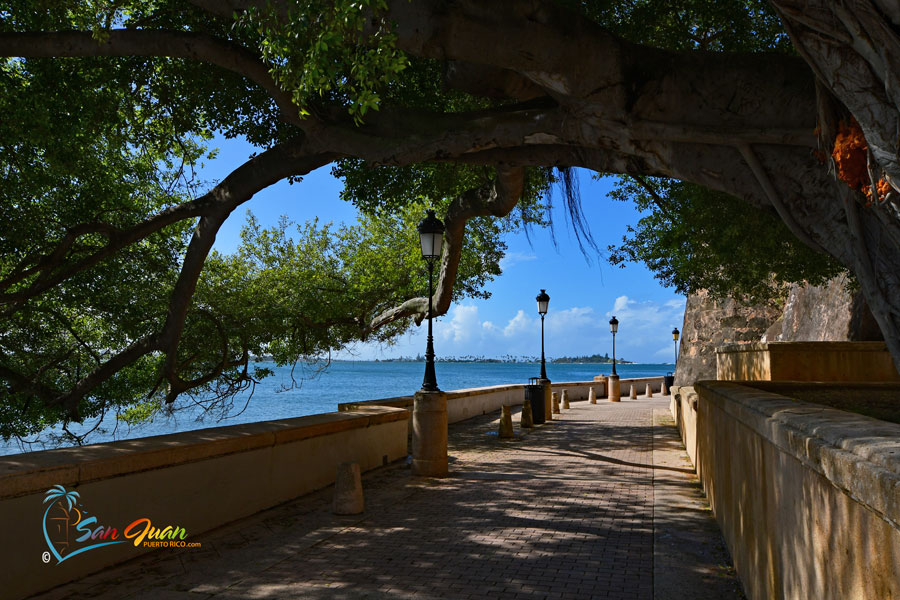 Continue to enjoy sweeping views of San Juan Bay,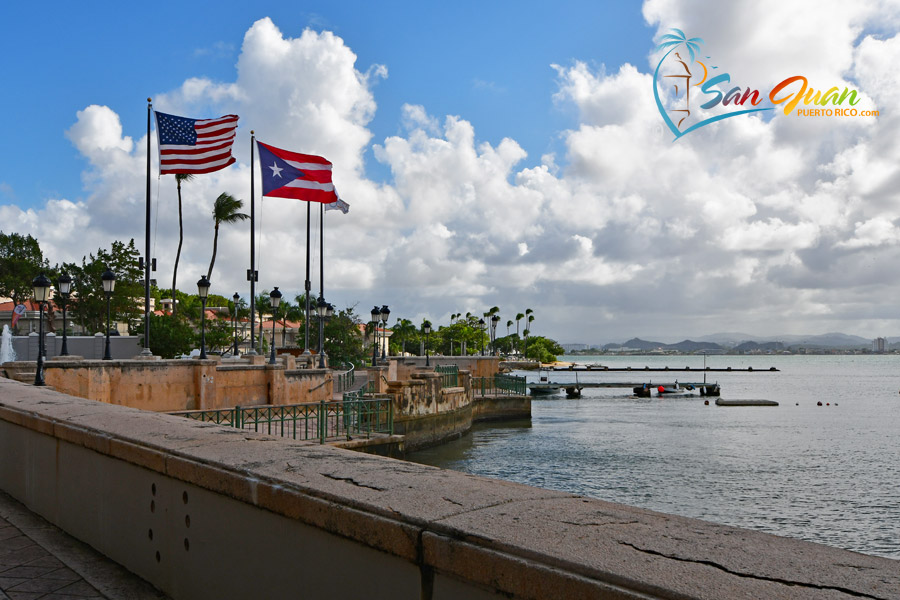 … dotted with a few colorful fishermen's boats along the shore…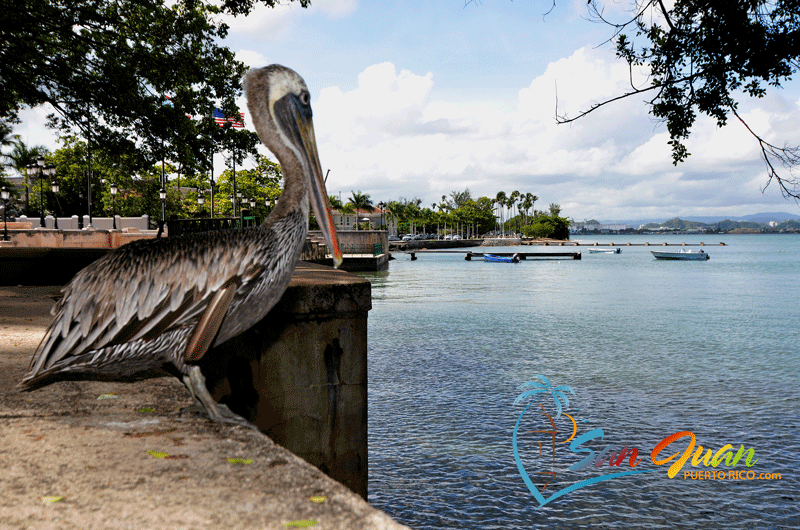 … and friendly pelicans that love to jump in the water to play.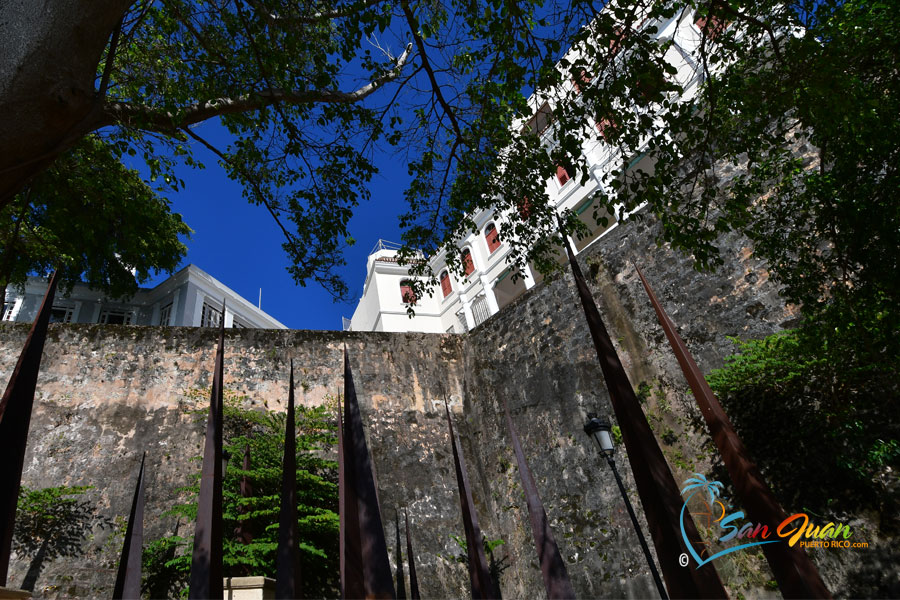 Look up and you'll see part of La Fortaleza, the Governor's Mansion.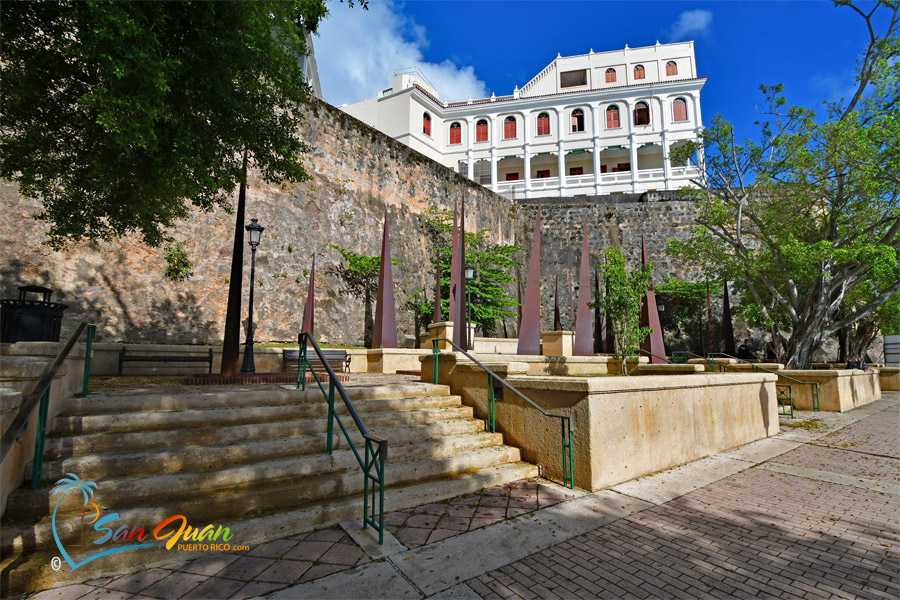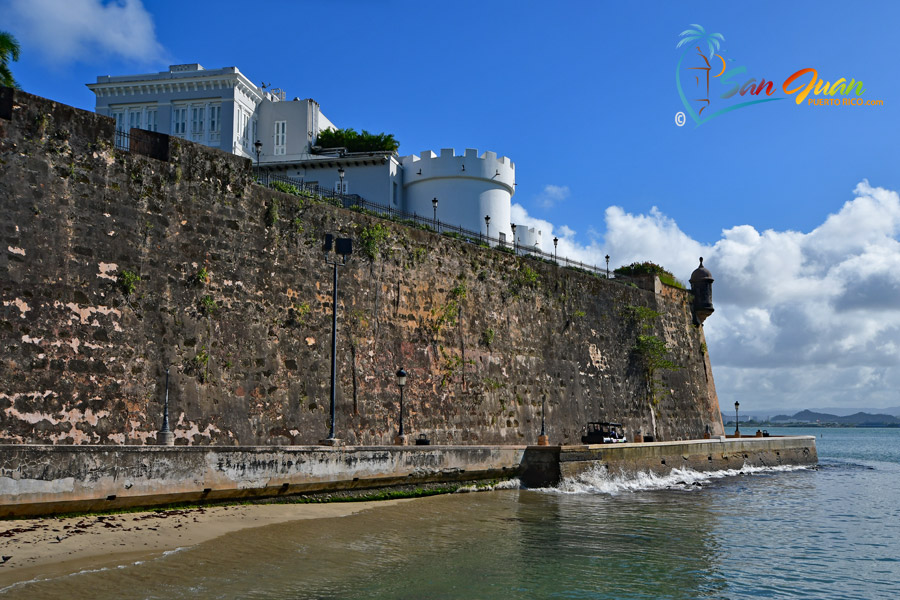 The city walls can be best appreciated from Paseo de La Princesa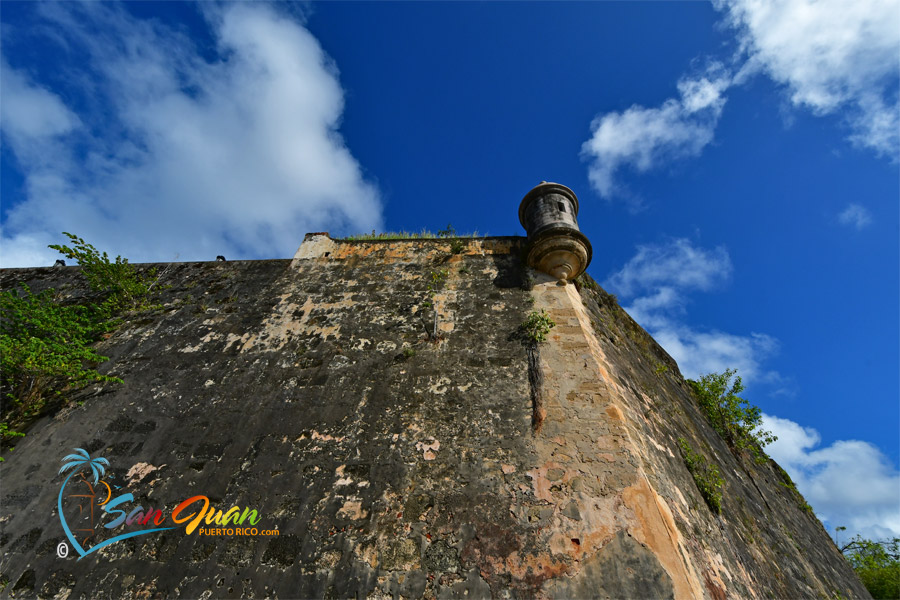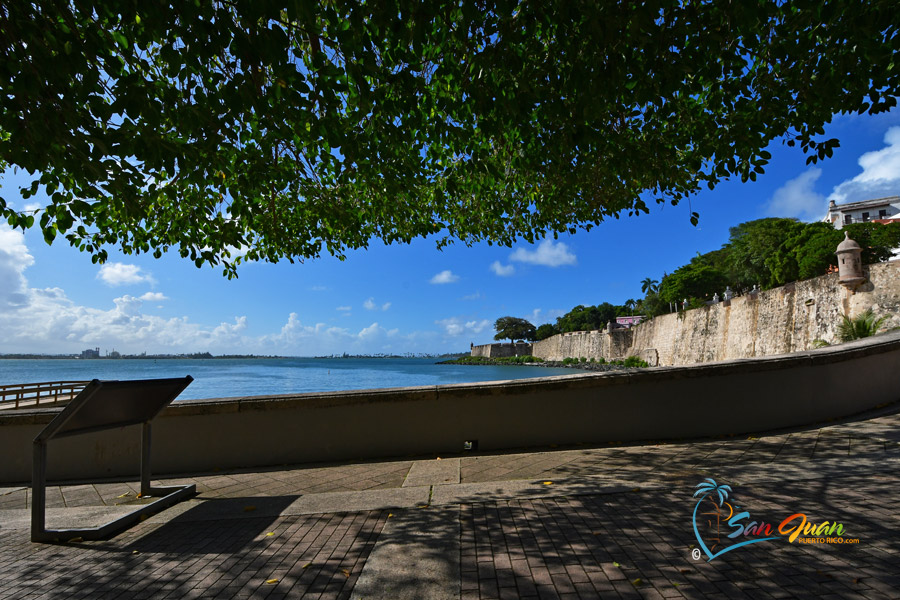 We know you're anxious to go through the red gate and begin exploring Old San Juan… we encourage you to take a few minutes to slow down, sit down on a bench, hold hands with your loved one, and simply take in the scenery.  When you get back home, we are sure, you'll be talking about these special moments… it is our hope you make these special memories during your visit to our beloved city.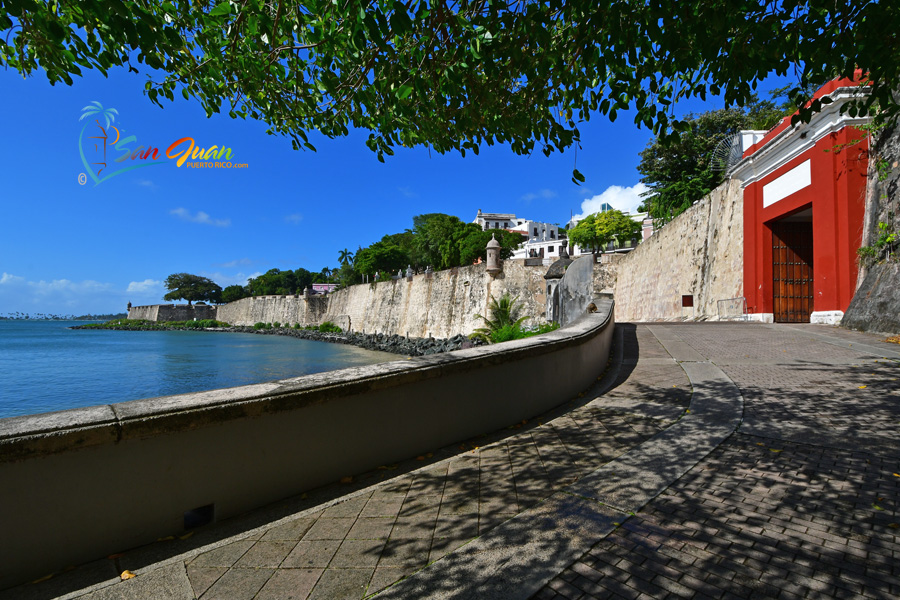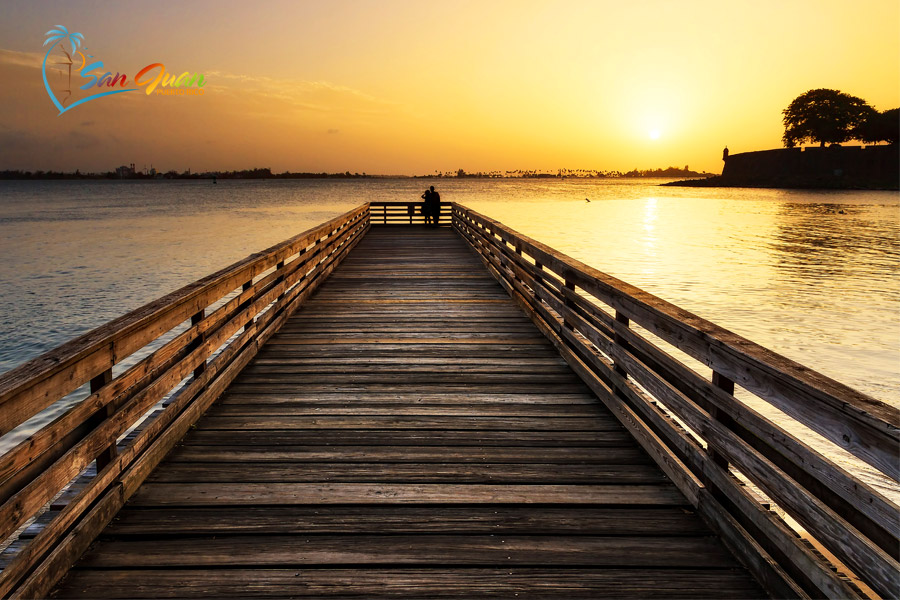 The promenade is a wonderful place to watch the sun as it sets behind Isla de Cabras across San Juan Bay.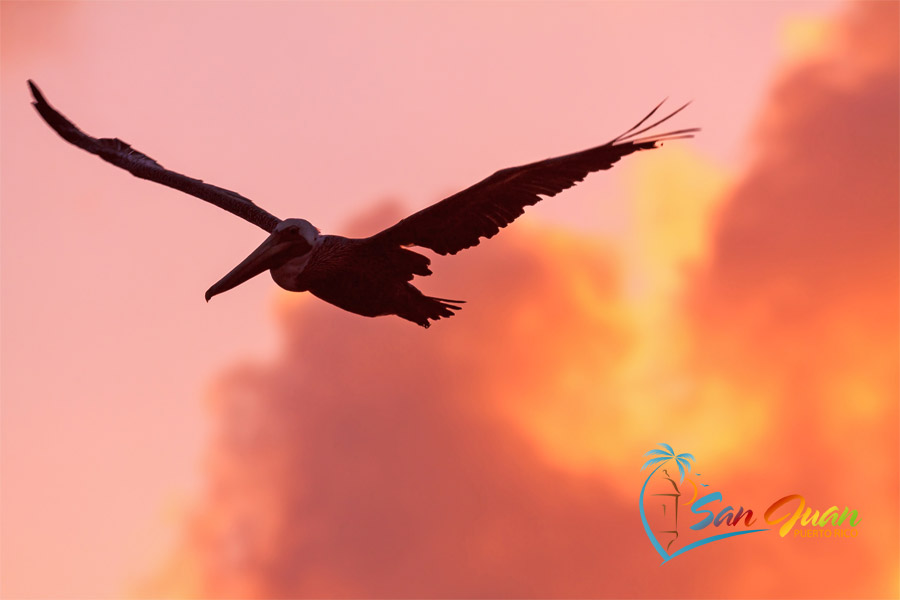 At night the walls are lit in warm golden tones creating a romantic ambiance.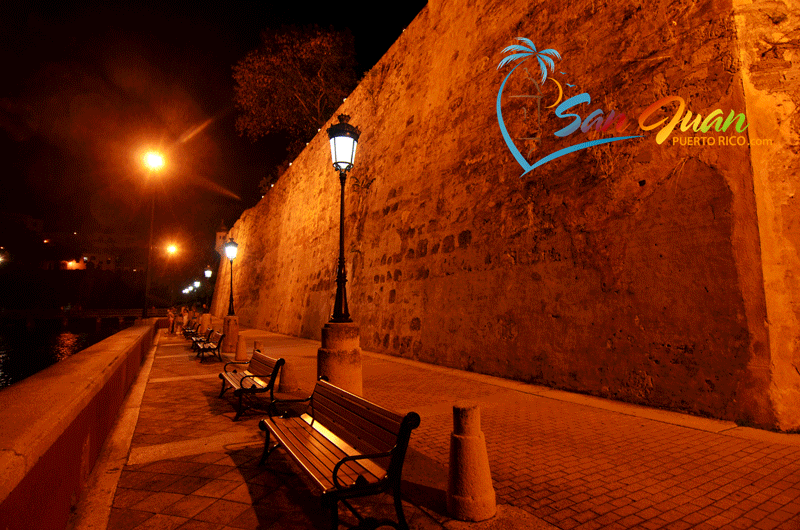 If you have a few days in Old San Juan, you may want to walk Paseo de La Princesa twice, during the day and right before sunset before heading into the city to enjoy a good dinner.  Paseo de La Princesa is beautiful under the sun, the glow of the sunset, and the glow of the lanterns under a dark sky.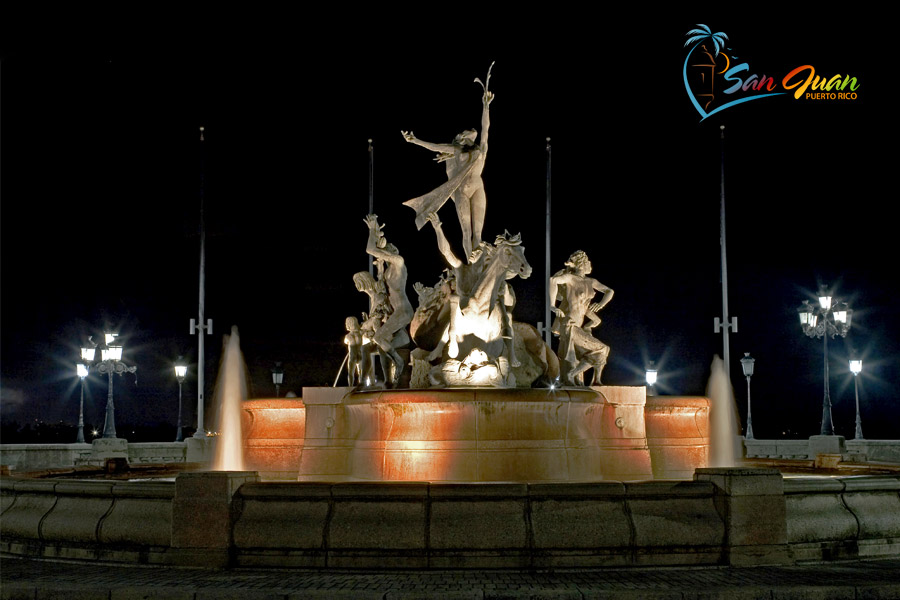 Enjoy your walk at Paseo de la Princesa!
Top Rated Sunset Sailing & Boat Tours - San Juan Bay
Map - Paseo de la Princesa
Old San Juan, Puerto Rico