San Juan Puerto Rico  >  San Juan Puerto Rico Attractions  >  Santa María Magdalena de Pazzis Cemetery

A landmark attraction in Old San Juan…be sure to at least take a look from the Fort El Morro walls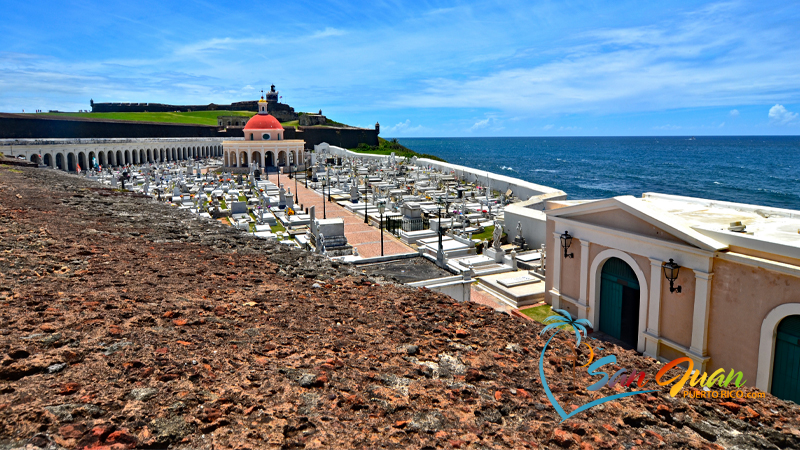 In San Juan, even a cemetery is extraordinary.  Santa Maria Magdalena de Pazzis is one of the most beautiful cemeteries in the world.  Visiting a cemetery is typically not at the top of the list of must-visit
attractions
, but while in
Old San Juan
, it ought to be on your list.
Nestled on a hill in front of the blue Atlantic waters, and framed by the city walls right next to Castillo San Felipe del Morro (El Morro), you'll find the resting place for some of the most prominent Puerto Ricans and individuals lucky enough to get a spot in this elegant and one of a kind cemetery.
The cemetery was named in honor of Saint Maria Magdalena de Pazzi.  The cemetery dates back to early 1863 when construction was begun.  It was then administered by Carmelite nuns.  The oceanfront location of the cemetery is symbolic of the journey over to the afterlife and originates from Spanish superstition and fear of death.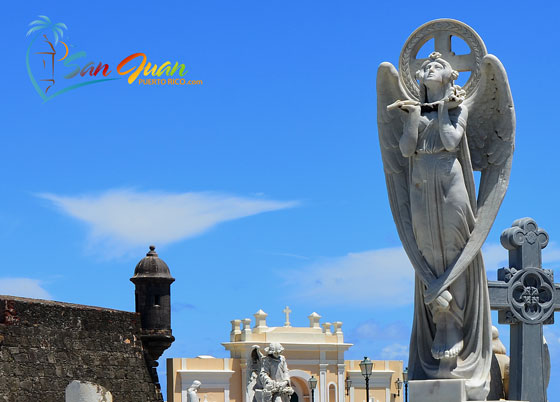 The cemetery is divided into two parts, the old and new cemetery.  Walk across the beautiful gate painted in yellow and white, and there you'll find the oldest burial sites including the ones of notable and important personalities in Puerto Rican history.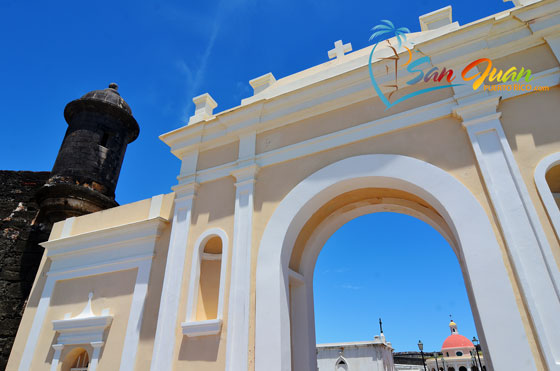 Among them are Jose Ferrer, Jose de Diego (photo below) , Rafael Hernandez, Jose Celso Barbosa, Salvador Brau, and Pedro Albizu Campos.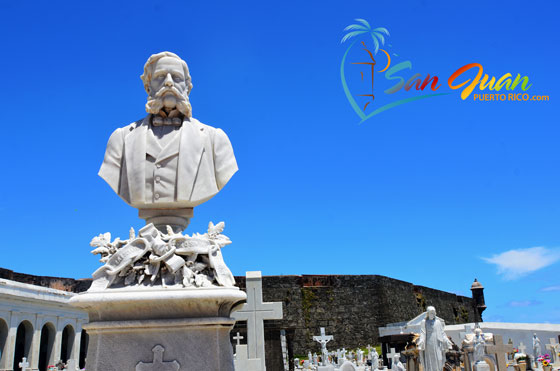 Different shades of blue from the Atlantic, deep brown city walls, colorful flowers, bright white burial sites, and elegant, ornate, marble life-size sculptures are a photographers dream.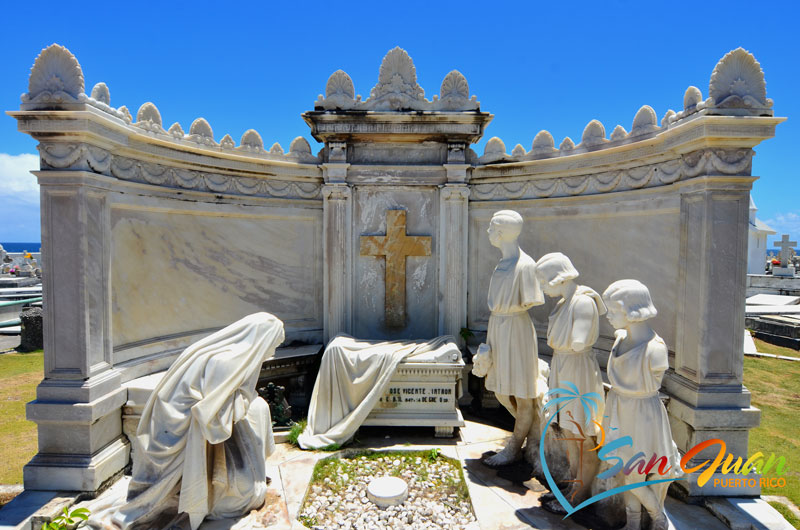 If the dead could hear, then we can't imagine a better place to be with the constant sounds of ocean waves, whistling of the trade winds, and the laughter of children running on the grounds of El Morro flying kites.  It s perfectly understandable why these burial sites are one of the most sought after by Puerto Ricans, many paying top dollars for them.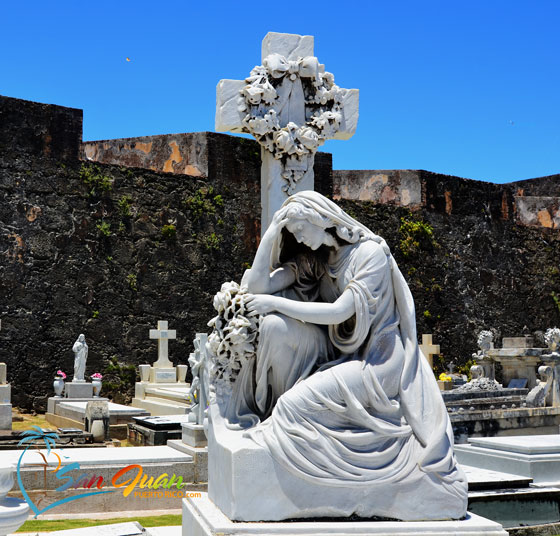 Visiting Santa María Magdalena de Pazzis Cemetery
Looking west is the fort of Castillo San Felipe del Morro (El Morro), and looking east is the infamous La Perla (one of the oldest slums in Puerto Rico and perhaps the last one in existence).  If you're going to visit the cemetery, you'll have to walk or drive through a short tunnel on Calle Tiburcio Reyes, and once at the cemetery, you'll be right next to La Perla.  Old San Juan is perhaps one of the safest areas in San Juan due to the strong police presence and respect of locals towards tourists.  The area bordering La Perla is always patrolled, so feel free to visit, but use safety common sense as you would in any other place.  Avoid visiting the cemetery at night or alone.  There is a cemetery worker at the office during the day.
To see most of the cemetery, you'll need about 40 minutes.  If you don't have time, you can get a glimpse from the city walls right next to El Morro, and binoculars would come in handy.  You can get great photographs from the walls.
Map - Santa María Magdalena de Pazzis Cemetery