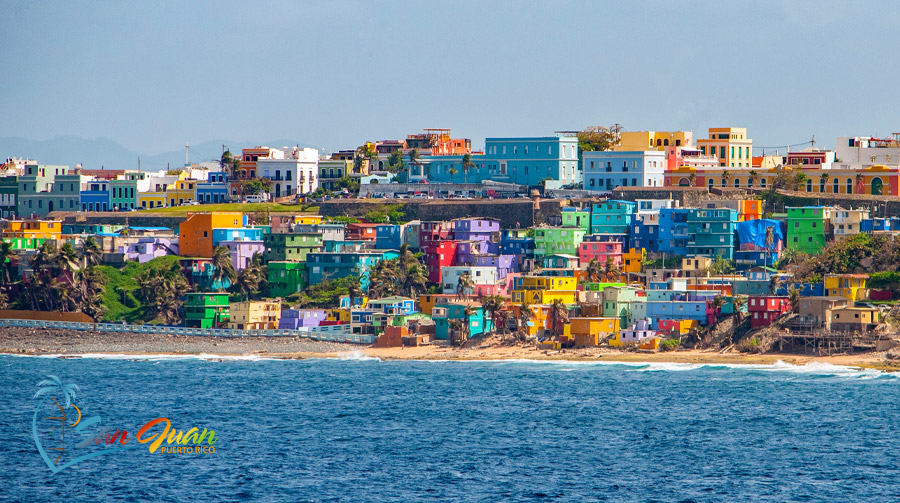 La Perla is not a sight you would expect to see in a major tourist area.  This neighborhood known as La Perla is located right in between the forts of San Cristobal and El Morro, two of the most significant historic landmarks, part of the San Juan National History Site.  Both tourists and residents of Puerto Rico are curious about the neighborhood, for some it causes discomfort.  This community has much history and perhaps is the most unique on the island.   If you're wondering, La Perla does not even come close to representing what communities on the rest of the island look like.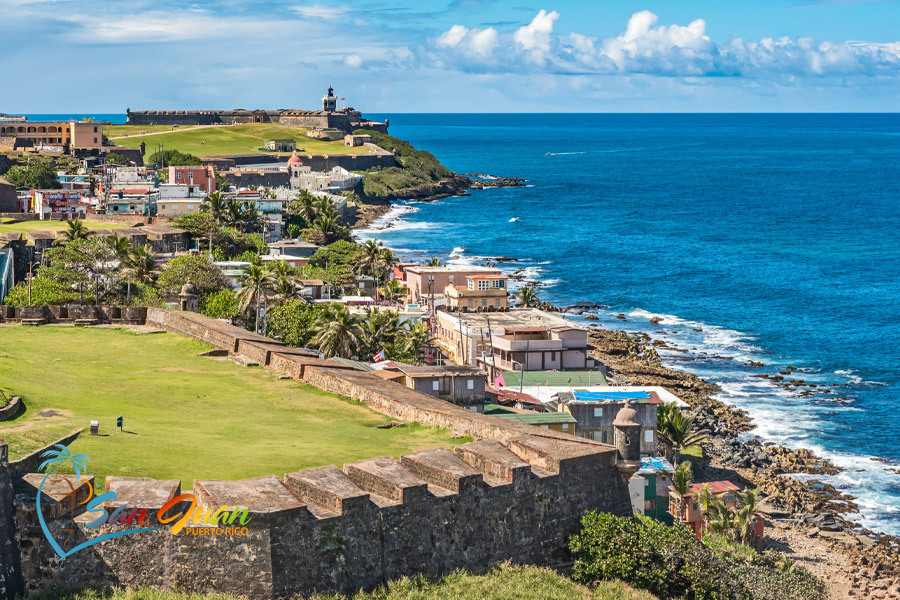 La Perla is east of the beautiful cemetery of Santa Maria Magdalena de Pazzis, nestled between the city walls facing the Atlantic Ocean on Calle Norzagaray.  Today, the spot of La Perla is considered prime real estate with developers and investors keeping a watchful eye on this land.  Many have tried to buy these properties for top dollar, but proud residents refuse to give up their homes.
Back in the 19th century, being outside the city walls was not desirable.  There was a slaughterhouse on the site; slaves, the homeless, and non-white servants were required to live outside the city walls, so that was the beginning of homes being built right on the waterfront on that site.  Back in those days, living right on the water was for the poor and landless, but today it has reversed.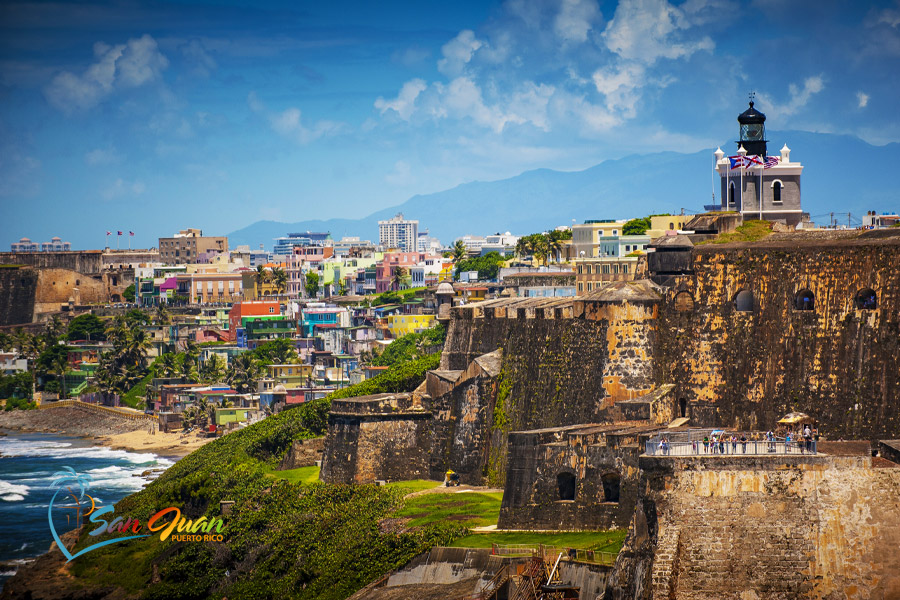 Many families that have lived there for many years defend their right to keep their homes.  The government has tried in many ways to get them to move from the area in order to beautify the area, but it has failed. La Perla is a unique community with a history that goes back for generations.
Many cultural events are held each week right along Calle Norzagaray where locals and visitors are safe and enjoy the festivities.  Residents of La Perla don't bother tourists, however, they don't like tourists wandering around their neighborhood.  Great musical talent has come out of residents in La Perla, and that's the reason why music videos have been recorded there such as the world hit "Despacito" by Luis Fonsi and Daddy Yankee, giving the neighborhood a lot of attention, which is not entirely looked as a positive thing for most Puerto Ricans because it depicts the wrong picture of Puerto Rico.
Can you visit La Perla?
While the official Puerto Rico tourism guide doesn't discourage tourists to enter La Perla, we the editors of SanJuanPuertoRico.com advise and ask tourists… Please DO NOT visit La Perla.  If you insist on wandering around the neighborhood please be respectful of residents by not taking photos or videos of their homes or businesses, which again we have ALWAYS advised against in our guide.  La Perla is NOT a tourist attraction or destination.  No one will block you from entering La Perla, you do so at your own risk. 
On your way to one of the forts, as you pass La Perla, it is ok to take photos from the Calle Norzagaray, such as the colorful and famous basketball court.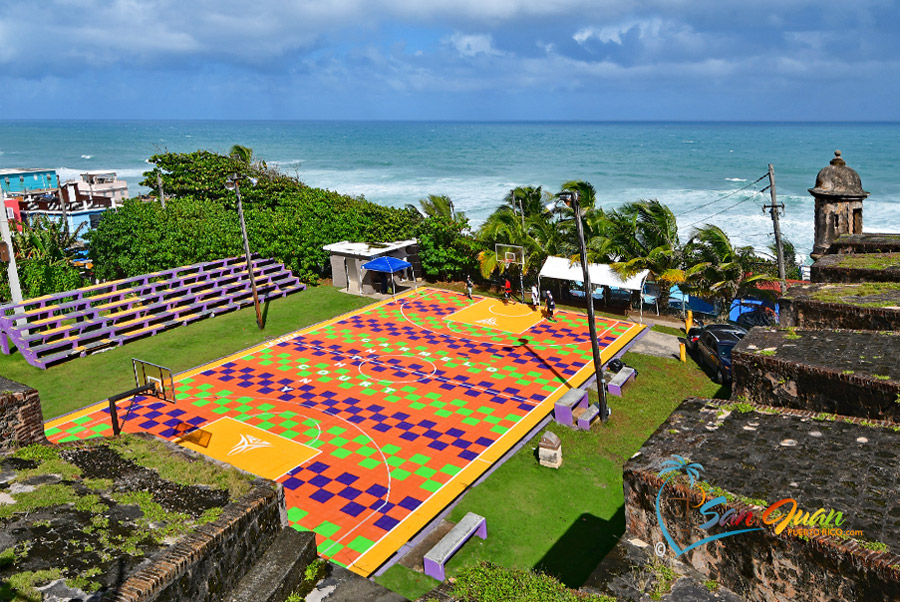 Again, please don't venture into the neighborhood, the only people that go in are residents.  Just about any Puerto Rican living on the island will tell you not to enter their neighborhood.  There are plenty of wonderful attractions to focus on during your visit.  While police presence is heavy in the tourist districts of San Juan, La Perla historically has not.
Top Rated Cocktail Tours in Old San Juan
History of Crime at La Perla
Yes, the history of crime is high and typically related to drugs, but that is also true for a few other neighborhoods in the city.  Visitors can have peace that the history of crime does not spill out into Old San Juan which visitors frequently visit.  Most residents of La Perla are regular people with families and children who are proud and loyal to their community.  Until two years ago, there was no history of tourists being victims of crime by residents of La Perla; with all the attention the media gave to La Perla after the music video Despacito, curious visitors started wandering the streets of this neighborhood that every Puerto Rican will tell you to stay away from.  In 2021, a Delaware tourist went to the neighborhood of La Perla to buy drugs, he was warned not to take photos while buying drugs, sadly he was killed and his friend survived a beating.  Sadly, more recently in 2023, three tourists were stabbed, after being told to not take videos.  Our sincere condolences to the families of the victims of these horrific crimes.
We have been warning readers about this since we published this guide, please take our advice, and enjoy Old San Juan, you're safe to explore it with your entire family, but please do not enter the neighborhood for your own safety.
Map of La Perla
San Juan, Puerto Rico