History of Piña Colada
Officially the Piña Colada was invented in 1954 by Ramon Marreto, best known as "Monchito", bartender at the iconic Caribe Hilton, located in Puerta de Tierra, right next to the tourist district of Condado, a 10-minute taxi ride from Old San Juan.  "After three months of experimentation, Mr. Marrero finally settled on the recipe Piña Colada (see below), which he felt captured the true flavors of Puerto Rico.  He continued to serve the beverage at the Caribe Hilton for the 35 years following its creation and was rewarded for his efforts in 1978 when Puerto Rico named the cocktail its national drink.
The Controversy over the Invention of Piña Colada
While you walk around Old San Juan, you'll pass Restaurant Barrachina, also claiming to have invented the heavenly tropical drink, by Ramon Portas Mingot in 1963, there's a plaque at the entrance of the establishment.  We don't get involved in that argument, but we can tell you that officially in 2004, Sila Calderon, governor of Puerto Rico, presented the Caribe Hilton a proclamation celebrating the drink's 50th anniversary.
If you're a Piña Colada aficionado, we invite you to try both.  Barrachina has the most creamy Piña Colada, it is constantly churning on a machine kept really cold, so there's no added ice when served, keeping the drink decadently creamy.  The Caribe Hilton serves the more traditional Piña Colada made on a blender with ice.  If you want to indulge your Piña Colada cravings, The Caribe Hilton offers Piña Colada french toast on the breakfast menu.
Enjoy the Authentic Piña Colada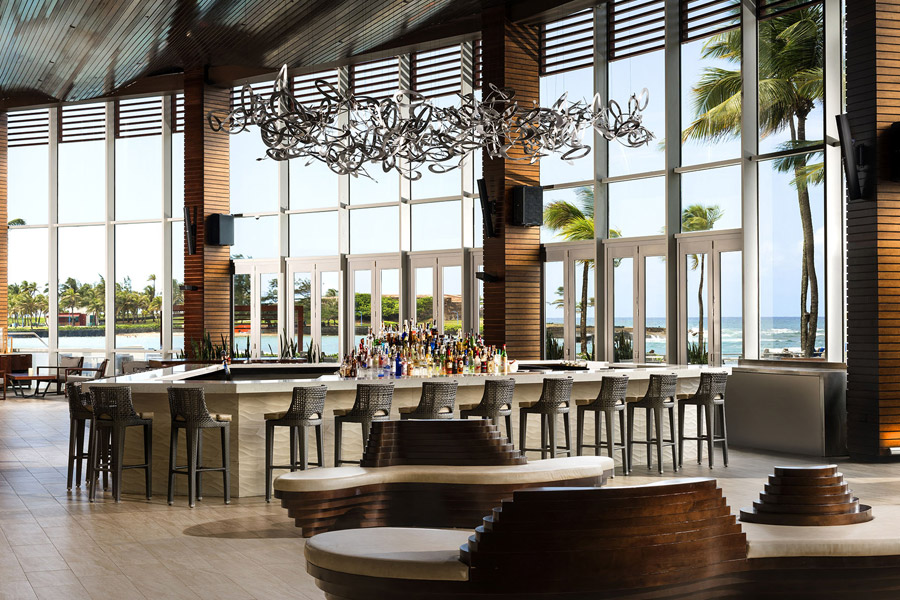 Our exciting destination bar, Caribar, where you can enjoy handcrafted cocktails, and a tapas menu to enjoy with views of the sea.  Only at CARIBAR, you can experience the evolution of the Piña Colada, from the original recipe in 1954, Pain Killer in 1971, Colada Nueva in 1990, and Clear Colada in 2015.
For reservations – 787-721-0303
Address: 1 San Geronimo Street, San Juan, Puerto Rico 00901
Hours:  Sundays 5:00 pm – 1:00 am ⎮ Mondays – Thursdays 5:00 pm – 1:00 am ⎮ Fridays & Saturdays – 5:00 pm – 2:00 am
Dress Code:  No swimwear or bare feet
Caribe Hilton's Original Piña Colada Recipe
San Juan, Puerto Rico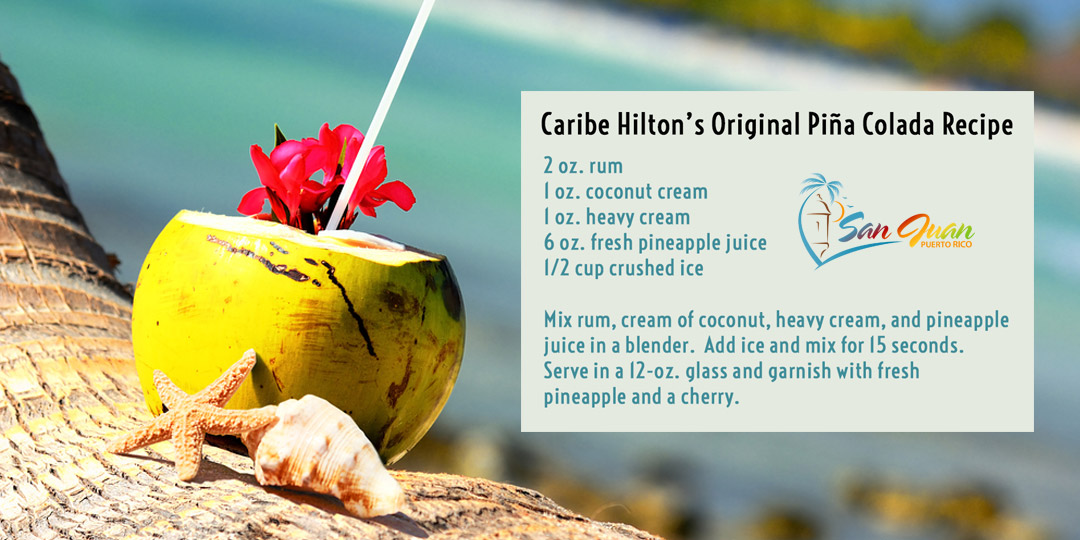 Map - Caribe Hilton - Piña Colada Birthplace
San Juan, Puerto Rico