San Juan offers locals and visitors plenty of open and green spaces great for relaxation, exercise, picnicking, and getting away from the city crowds…most with great views of the bay.  In Old San Juan, take a walk along the San Juan Bay at the modern Bahia Urbana or take a short taxi ride to Isla de Cabras for a nice walk as you enjoy great views of the El Morro and the city walls.
Ventana al Mar Park, Condado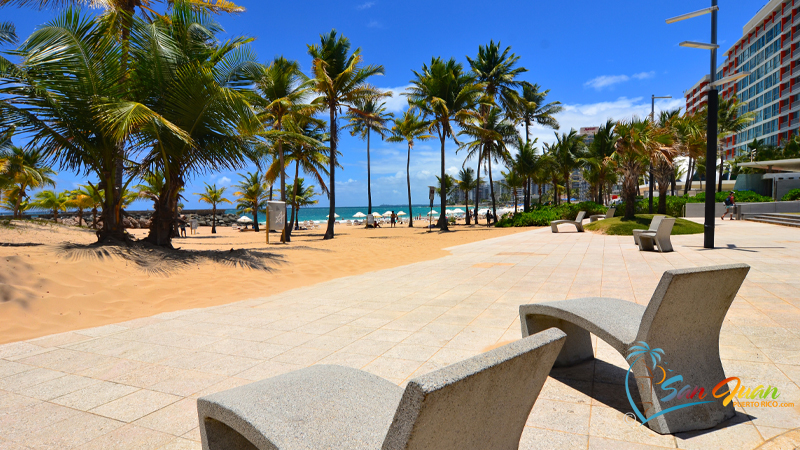 "Window to the Sea" – Ventana al Mar is at the center of all the action in Condado.  This park offers entry to Condado Beach, visitors can dine, picnic on the lawn, take a walk and enjoy the view and more.  Be sure to inquire about events by calling the Tourist Office, music under the stars is held once a month.
Condado Lagoon Park
Condado Lagoon, an estuary between Condado and Miramar is one of the most visited natural areas to residents.  The park welcomes residents daily for their fitness routine, it is a great place to walk/jog and ride a bicycle.  Condado Lagoon is the most popular spot for paddleboarding and a great place to kayak.  Paddleboard and kayak rentals are available at the Lagoon on the east side.  Tucked at the west corner, you'll find a perfect little beach.
Paseo de la Princesa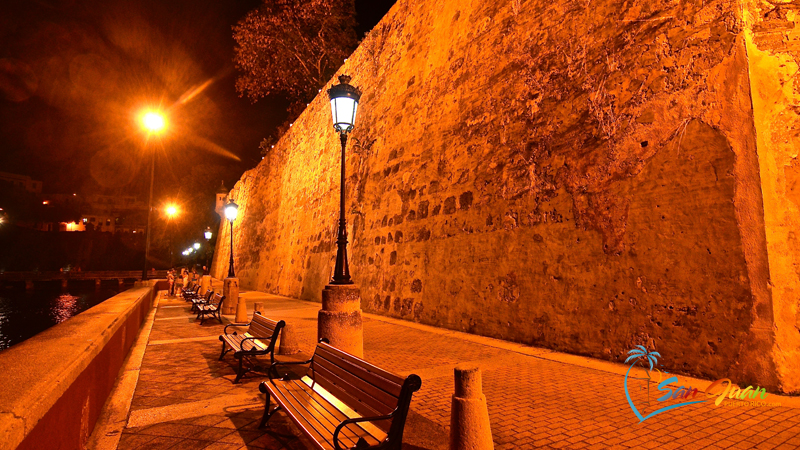 Included on the list of "Most Scenic Walks in the World", this walkway makes it to the top of our list for setting the mood for the start of a wonderful walking tour of Old San Juan. Paseo La Princesa is a must for romantics, a perfect place to hold hands, take in the views of the San Juan bay, watch the sunset, and admire the splendor of the walls of Old San Juan. More about Paseo de la Princesa, San Juan, Puerto Rico.
Paseo del Morro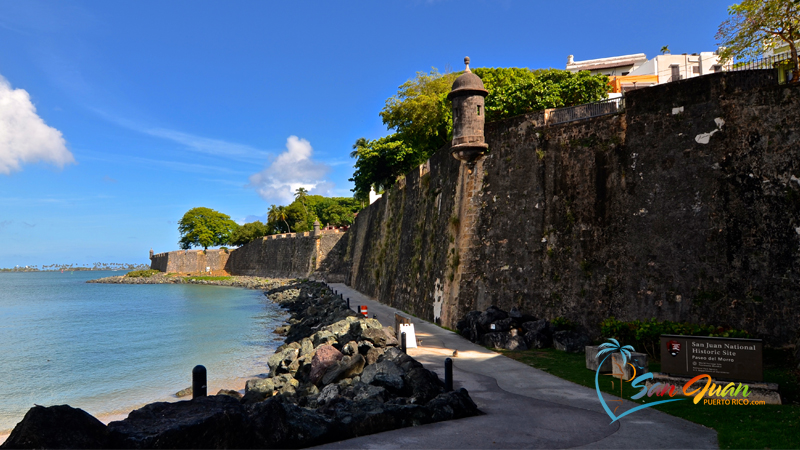 Paseo del Morro is part of the San Juan National Historic Site. Enjoy a nice walk with views towards Isla de Cabras and the San Juan Bay. Be sure to extend your arms to touch the walls that once protected the city and look up to see the Garitas that were once occupied by guards to watch over the San Juan Bay. Currently, you have to walk back towards the San Juan Gate, but construction is underway leading all the way to the fort of El Morro. More about Paseo del Morro, San Juan, Puerto Rico.
Bahia Urbana, Old San Juan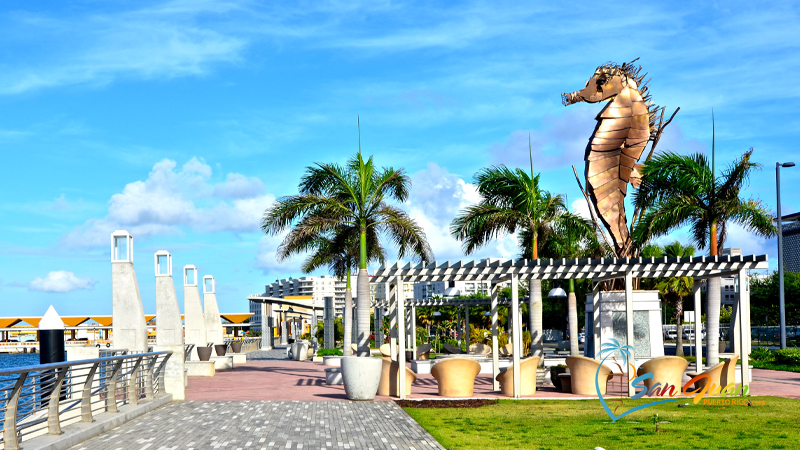 Bahia Urbana is a new modern, urban waterfront project in San Juan's Puerta de Tierra sector covering 87 acres. Bahia Urbana appeals to both visitors and residents offering restaurants, many events, shops, residential buildings, and services to businesses.  Bahia Urbana is the point of entry to cruisers arriving at the Old San Juan Piers.  If you're visiting Old San Juan, this is a nice place to come to take a walk along the water and enjoy the various tours and activities available.  More about Bahia Urbana, Old San Juan, Puerto Rico. 
San Juan Botanical Garden – UPR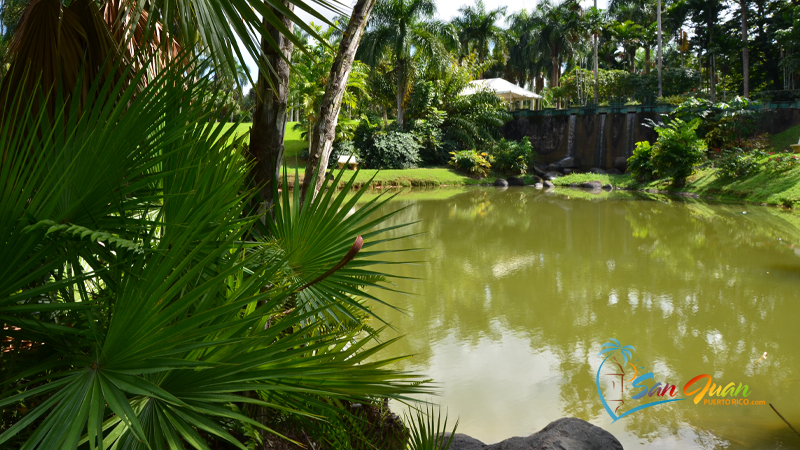 Botanical Garden of the University of Puerto Rico – Not popular with tourists, but a treasured garden to locals seeking a little escape from the bustle of the city.  The Botanical Gardens are part of the University of Puerto Rico (UPR), covering 289 lush green acres with beautiful walking trails.  More about San Juan Botanical Garden, San Juan, PR
Parque de las Palomas
At the end of Calle del Cristo, visitors will find one of the most beloved parks by Puerto Rican families.  Tucked away in corner overlooking the beautiful San Juan Bay, families can take a break from the sun at the shaded park where hundreds of pigeons call it home.  Children will love feeding the birds, corn is for sale onsite for $1.  There is a quiet spot with benches for romantics with sweeping vistas.  
Parque Luis Muñoz Rivera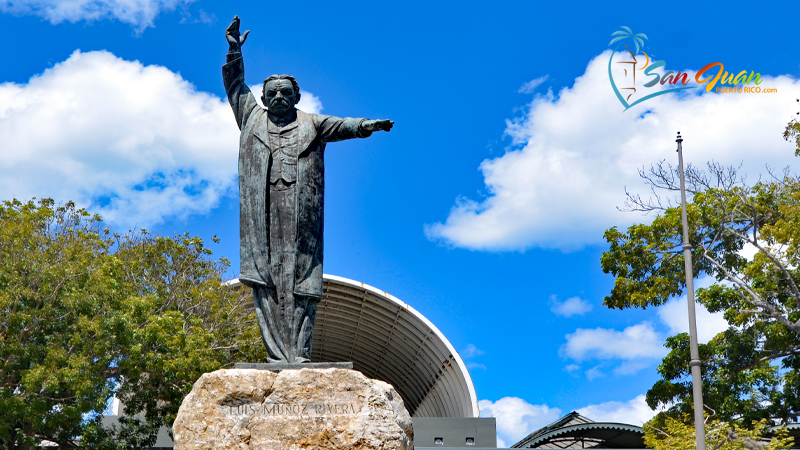 Nestled in the mid-eastern end of the island district of Old San Juan lies an attraction that is often overlooked by tourists.  Its natural beauty, architectural wonders, and artistic touches are very pleasing to the eye.  Whether you're on a romantic vacation, with your children, or want to exercise or relax alone, this park will not disappoint.  More about Parque Luis Muñoz Rivera.
Parque del Indio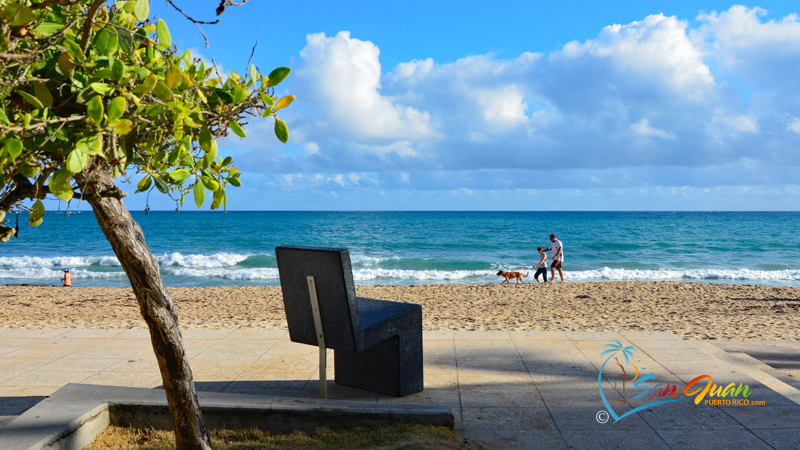 Designed for Play & Relaxation. An artistic design facing the Atlantic Ocean with a children's playground, a relaxing space for adults and access to one of the most relaxed stretches of beach in the city.  More about Parque del Indio – Condado, PR
More Maps & Gardens in San Juan, Puerto Rico
List of Parks & Gardens in the San Juan / Metro Area
Bosque Urbano del Nuevo Milenio
Bosque Urbano San Patricio
Julio Enrique Monagas Park, Bayamon
Luis Munoz Rivera Park
Map - Parks, Scenic Promenades & Gardens
San Juan, Puerto Rico
Map loading, please wait ...