San Juan Puerto Rico  >  San Juan Puerto Rico Attractions  >  Fortifications in San Juan

The fortifications of San Juan are among the top attractions not only in Puerto Rico but of importance to the world, three of them are UNESCO sites. You may have seen El Morro and San Cristobal featured on various travel guides, but there are more fortifications in Old San Juan to see.  If you have the time they're worth the visit, they are often quiet without crowds and they offer fantastic scenery. 
San Cristobal Fortress / Castillo de San Cristobal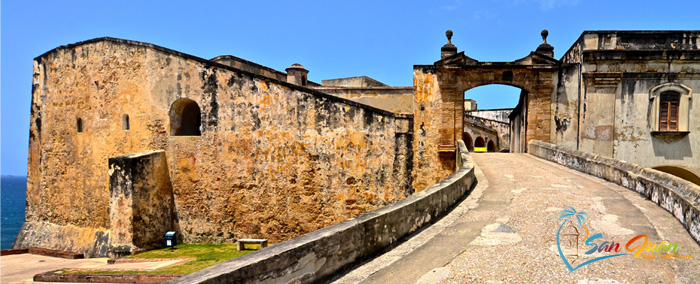 Covering 27 acres, this is the largest Spanish fort in the New World and an architectural masterpiece, allowing you to travel back 500 years, it is a must-see during your visit to Old San Juan.  Whether you're a history buff or not, you'll want to spend a few hours inside.  Make sure to bring your camera for breathtaking photo opportunities.  Group tours with friendly park rangers are available, or you may walk on your own.  Learn more about Castillo San Cristobal.
 San Felipe del Morro Fortress / Castillo San Felipe del Morro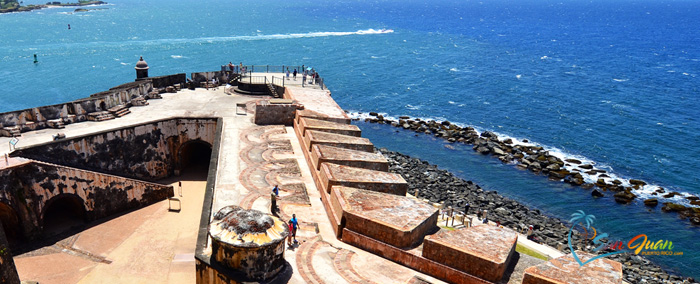 This 6-level fort is magical both inside and out and is the most popular fort in San Juan.  Again, make sure to bring your camera while exploring all levels of the fort.  The "El Morro" exterior grounds are some of the most beautiful and beloved attractions in Puerto Rico and home to many cultural events, excellent kite-flying in the trade winds.  Learn more about Fort El Morro.
 Fortin San Juan de la Cruz (El Cañuelo)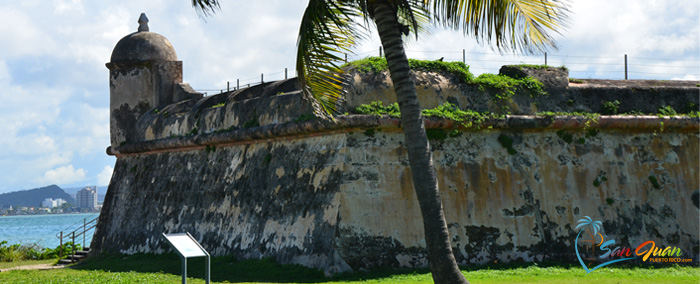 You don't hear much about this fort, but this small fortification located just west of San Juan was served in conjunction with El Morro to protect the San Juan Bay.  In 1973, it was made part of the National Historic Site and a UNESCO historical site.  The little fort is in need of restoration, and it's now part of the town of Toa Baja on the small island of Isla de Cabras.  It offers amazing views of the bay, the walls of Old San Juan, and the majestic El Morro.  More about Fort San Juan de la Cruz (El Cañuelo).
Walls of San Juan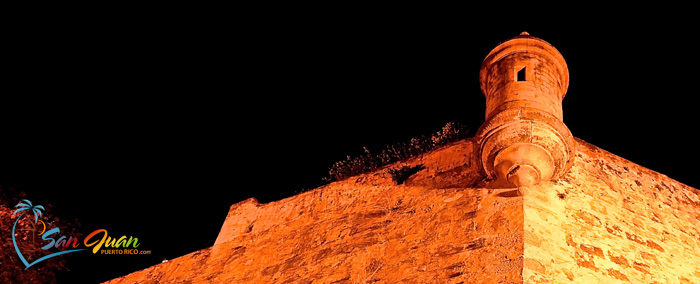 To this day, these preserved, massive walls still surround and protect the beautiful city of Old San Juan.  Two walks, on Paseo de la Princesa and Paseo del Morro, offer good exercise, along with breathtaking, close-up views of the outside walls and San Juan Bay.
Bateria El Escambron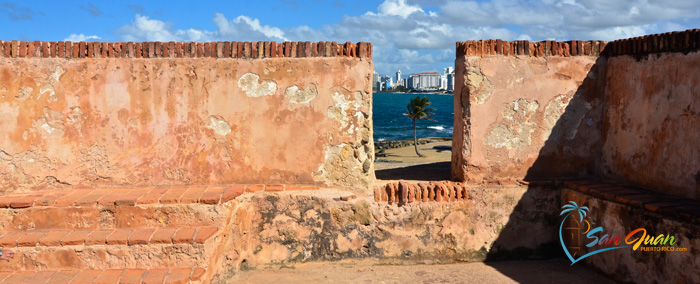 Located on the northeast side of the island of San Juan, Bateria del Escambron was one of the first lines of defense built. The small fortification is located inside Balneario del Escambron (Escambron Beach Park) and worth a visit.  Bateria El Escambron is like a window from the Old City to the New.  Enjoy scenic views of the beach of Condado, and the hotels lining the waterfront in the New City.  More about Bateria El Escambron.
Map - Fortifications
San Juan, Puerto Rico