San Juan, the capital city of Puerto Rico is an exciting city offering excellent hotels and resorts just steps from the beach.  If you're a traveler who loves city life and beaches, you ought to consider San Juan.  With so many flights from major cities in the USA, you could be sitting on a lounger chair under the sun in just a few hours.  Although San Juan is a buzzing city, visitors find themselves re-energized and pampered by the relaxed tropical atmosphere.  
The beaches of San Juan are rarely crowded by US standards, there's plenty of room on the sand, gorgeous jeweled turquoise tones on the water, and friendly staff at the beachfront resorts to fulfill your every need.  Guests can choose from many watersports during their stay and of course, do nothing at all.
Before you book... Learn about Beachfront Tourist Destinations in San Juan, Puerto Rico
Condado Beach – the most popular beachfront tourist community in San Juan.  Condado is famous for its luxury hotels and resorts, upscale shops, excellent dining options from fine to casual.  The best beachfront hotels and resorts are on Ashford Drive.  Ventana al Mar park is at the center of all the action.  Condado is a walkable destination, in just a short cab drive visitors can explore Old San Juan and many other nearby attractions.  Although Condado is a safe area, police presence is high in order to make tourists feel safe and comfortable.  (See Map of Hotels & Resorts on the beach below)
Ocean Park offers a more laid back beach scene with more budget-friendly small inns and guest houses.  There are two right on the beach.  (See map on the Ocean Park accommodations page)  Ocean Park also has many restaurants and offers various water sports.
The beachfront resorts and hotels in Condado are popular wedding and event venues.  San Juan's beachfront hotels are also popular among business travelers for their excellent meeting spaces and services for business travelers.
Unlike other booking sites that show hotels on the beach in other destinations around the island, we ONLY list beachfront hotels, resorts and small inns directly situated on a beach in the capital city of San Juan.   
Enjoy your stay and thanks for using SanJuanPuertoRico.com
Top Rated Airport Transfers to Condado
Map of San Juan Hotels & Resorts on the Beach
Hotels on the Beach Near San Juan, Puerto Rico
Isla Verde Resorts & Hotels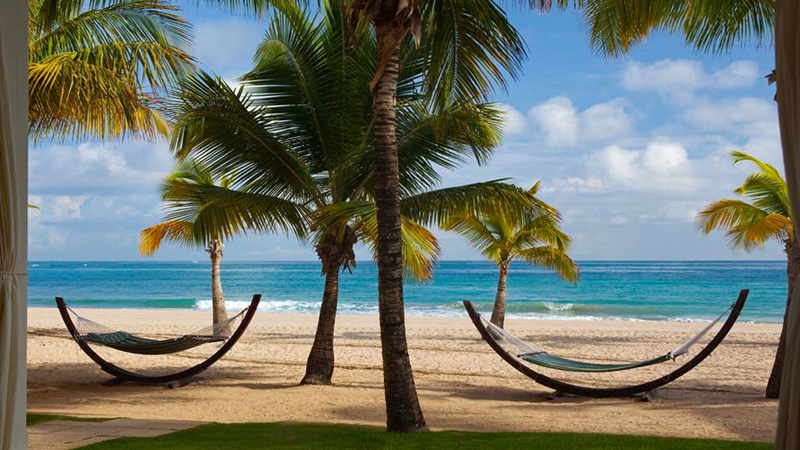 Just 15 minutes east from San Juan is the tourist district of Isla Verde – famous for its beaches, casinos, lounges and great beachfront resorts.  If you can't find the dates or resort in San Juan to meet your specific needs, we recommend you look into the hotels and resorts in Isla Verde.  Just a short taxi ride and you can enjoy all the attractions and things to do in San Juan.  In addition, Isla Verde is closest to the San Juan International Airport.
Hotels & Resorts near the Airport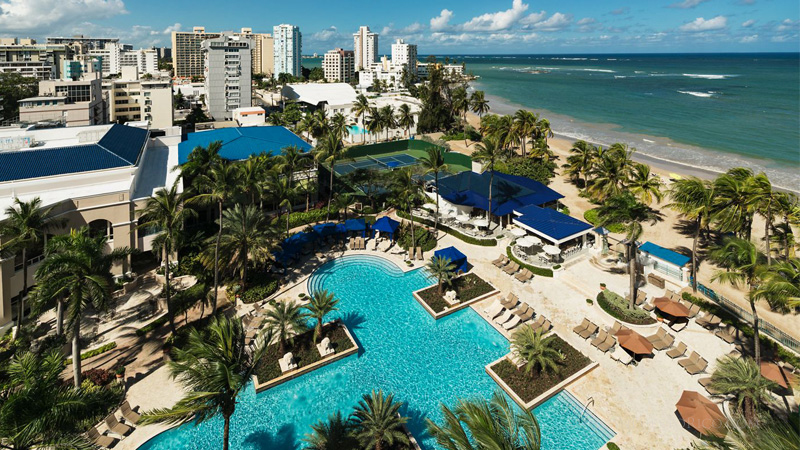 For ultimate convenience and luxury accommodations, you may wish to stay at one of the numerous beachfront resorts or hotels in Isla Verde, which is only about a five-minute drive from the San Juan Puerto Rico International Airport.
See Map of Hotels near the Airport – San Juan, Puerto Rico for locations.