Save a Spot

- Most Popular Walking Tour
Right across from El Morro in Calle Norzagaray, you can continue walking down this street, Calle Beneficencia.  To fully explore the attractions on this street, you'll need about 2.5 hours if you were to visit both museums and have a coffee break.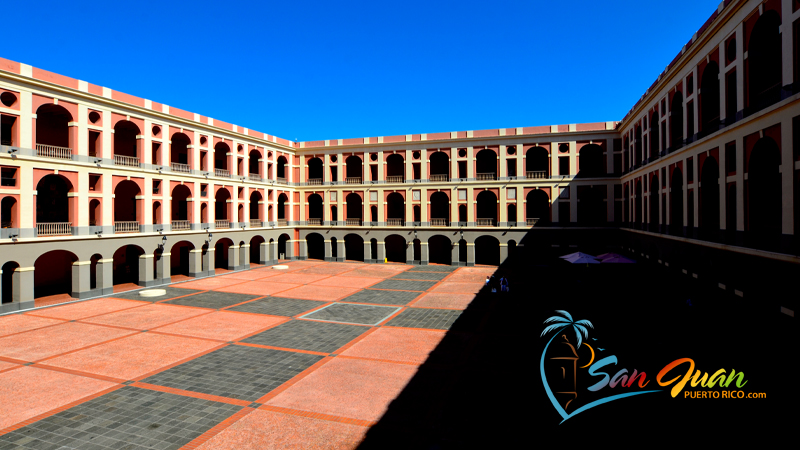 Built between 1854 y 1864 to house Spanish soldiers and their families.  Today Cuartel Ballaja is a cultural center housing Museo de Las Americas, coffee shops, a restaurant, a dance school, and some offices.  Tel:   787-721-3737
Top Rated Places to Stay in Old San Juan, Puerto Rico
Coffee Break & Great Architecture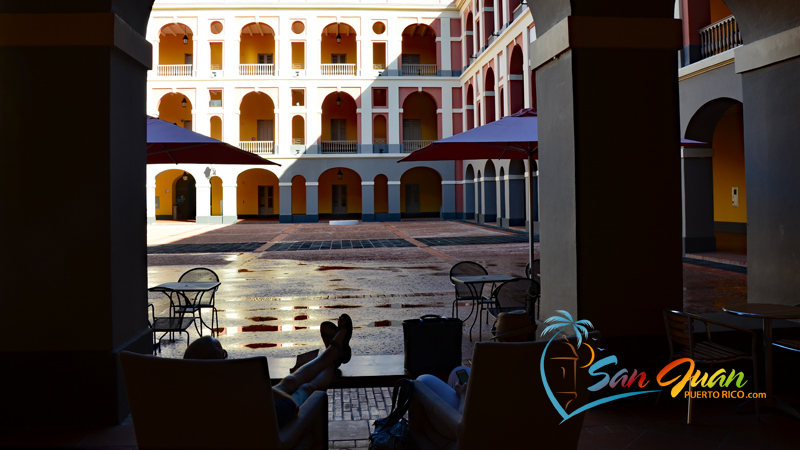 Part of the San Juan Life is learning to slow down during the daily routine to sit down and relax with a cafe con leche.   We know you may be eager to continue touring Old San Juan, but as you pass Cuartel de Ballaja, we encourage you to take 20 minutes to simply relax and have a cup of coffee, a quesito goes great with it.  The elegant courtyard gives you a feeling of being in a European country, it is typically quiet since most tourists are busy trying to make it to El Morro and other places.  Don Ruiz is inside the building on the southeast corner, a great quiet spot to admire the architecture of the courtyard.  Cinema Bar is on the North wing, you may enter from the courtyard or through Norzagaray Street.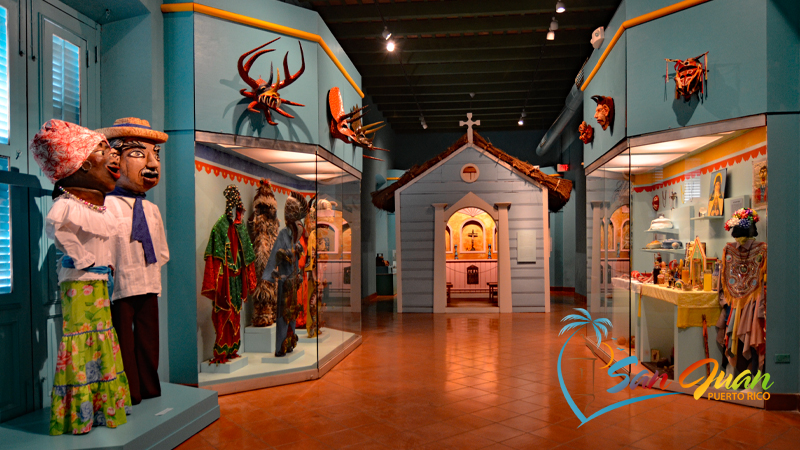 On the second floor of Cuartel de Ballaja, you can visit Museo de las Americas, one of the best museums in Old San Juan.  The entrance to the museum is on the west wing.  Museo de las Americas Museum features permanent exhibitions about the history and culture of Puerto Rico and the Americas the entire family will enjoy.  Other exhibitions include popular art in America, the history of the natives in America (22 ethnicities), the African heritage, the conquest and colonization of Puerto Rico, and more.  Excellent museum for families with children and history buffs. See below for hours.
Institute of Puerto Rican Culture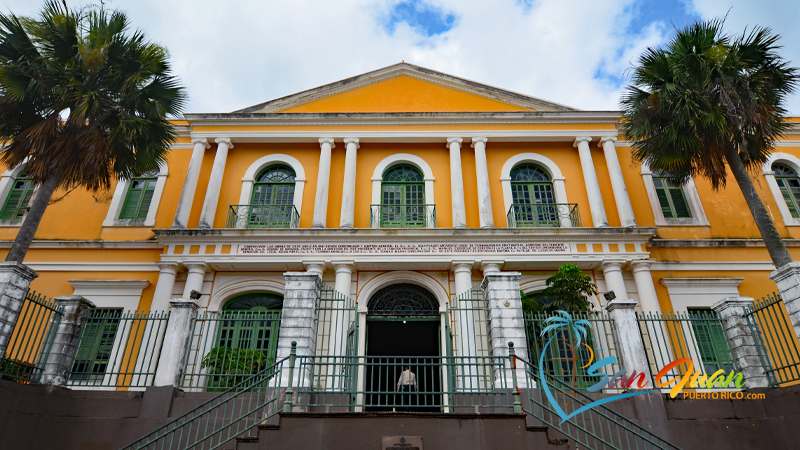 Across from Cuartel de Ballaja, is the Institute of Puerto Rican Culture "Instituto de Cultura Puertorriqueña", founded in 1955, is one of the most important cultural landmarks in Puerto Rico.  The Institute of Puerto Rican Culture has been vital in the preservation and promotion of Puerto Rico's heritage with the greatest collection of history, music, and literary works of Puerto Ricans.  The historic building is a hub for art exhibitions, literary events, performances, cultural activities, and educational programs showcasing Puerto Rico's rich cultural diversity.  At the center of the building is one of the most elegant courtyards in Old San Juan.  This landmark is available for special events.  For more information on exhibits and events, visit the official website.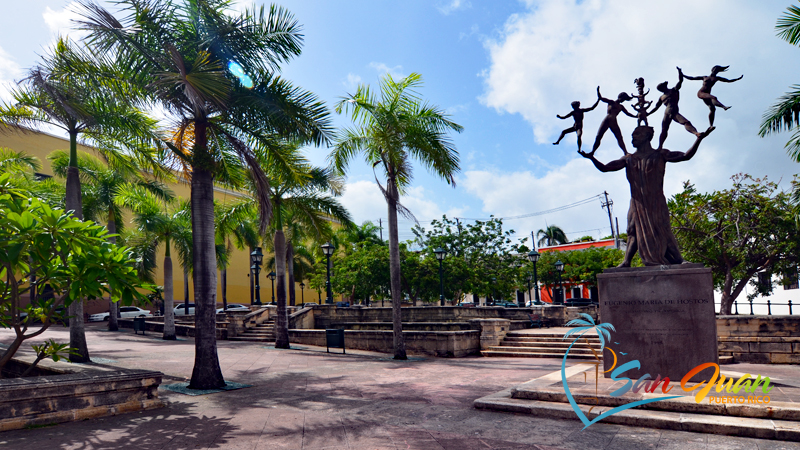 As you walk down Calle Beneficencia, you'll walk past Plaza de la Beneficencia, the focus of the plaza is a statue in honor of Eugenio Maria de Hostos, known as "The Great Citizen of the Americas", he was an advocate for Puerto Rico's independence, an educator, lawyer, philosopher, sociologist, and writer.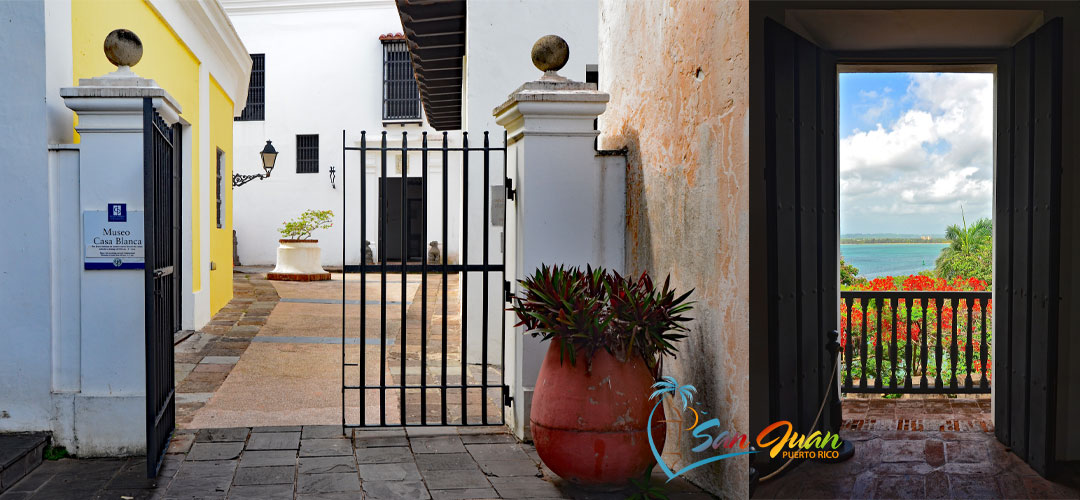 Just a minute walk longer and you'll get to Casa Blanca, one of the top attractions in Old San Juan, the oldest home on the island of Puerto Rico, tucked on the southwest end of Calle Beneficencia.  The mansion was built for Juan Ponce de Leon and his family.  You'll tour through gardens, mansion living spaces, a display of artifacts, and historic information.
Head east down Calle San Sebastian until you get to Calle Cristo, you'll find various restaurants, cafes, bars, a plaza, and the historic church of San Jose.  A walk down Calle Cristo will take you to more restaurants, historic churches, more colorful streets, and many shops.
Top Rated Walking Tours
Old San Juan, Puerto Rico
Map - Top Places to Visit - Calle Beneficiencia
Old San Juan, Puerto Rico