You may be tempted to stay within the city, but if you're staying in San Juan for more than a few days, we encourage you to visit some f the most interesting attractions and places on the island rent.
We provide you with great day trips and excursions from San Juan.  There are reputable tour companies offering great value taking care of all the details so you can focus on having a great time.  We have included top-rated tours that combine top attractions in one trip, some include pick up in San Juan / Metro area, some offer to pick up at a reasonable fee.
Sail to Cayos Icacos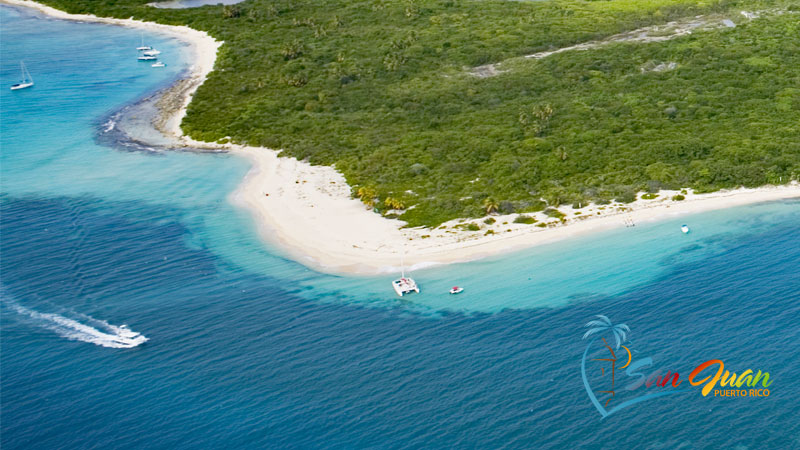 Just an hour from San Juan to Las Croabas and other marinas in Fajardo, you can sail on a catamaran to the secluded island cay of Icacos where you can swim on deserted beaches of white sand, turquoise waters where you can snorkel, be merry, and even swim with dolphins which often show up to greet guests.
Before you book a tour to Icacos, be sure to take a look at some of the private charters, if you're traveling with a family or group of 4 or more, for a little more money you can enjoy the luxury, convenience, and personalization of your own charter.  Private charters also include additional stops at the keys and islands along the nature reserve. (see top-rated tours below)
Puerto Rico as a destination is proud to have one of the tours to Icacos ranked #4 on Top 10 Experiences in the Caribbean by Traveler's Choice Best of the Best 2020 (see the first tour listed below).
Top Rated Tours to Icacos Cay
See the Magic of the Bioluminescent Bays – Top Combo Tours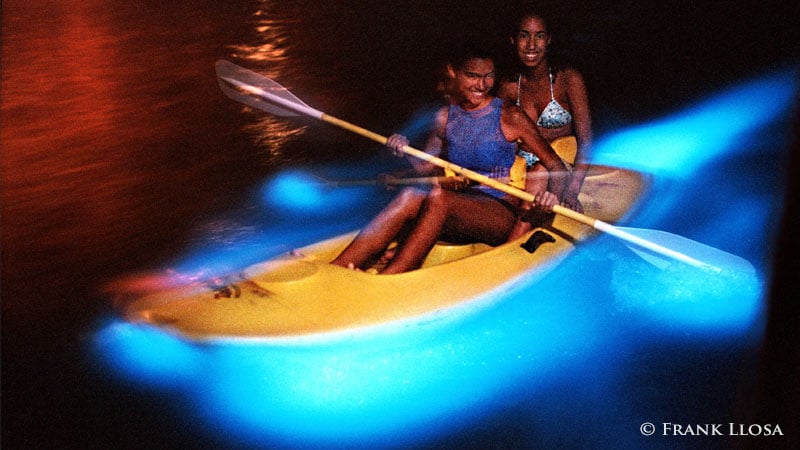 A truly magical experience you can't miss.  Kayak a bioluminescent bay at night under the stars, as your glide, the water lights up like magic.  If you have children, it will be extra magical for them and an experience they will never forget.
The most popular bioluminescent bay is in Fajardo, about a 45-minute drive from San Juan, which sees a higher number of tours, therefore more crowded.
You may also book a tour to the bioluminescent bay of  La Parguera Nature Reserve, located in the town of Lajas, on the southwest coast of Puerto Rico.  Depending on traffic, it could take 2.5 hours to get to the town, however, you may be experiencing the bioluminescent bay with just one more boat/tour, sunsets are spectacular at La Parguera and you get the additional experience of visiting a true fishing village with various restaurants serving fresh fish and traditional Puerto Rican food.  
Top Rated Bio Bay Combo Tours
El Yunque National Rainforest – Top Rated Daytrips to El Yunque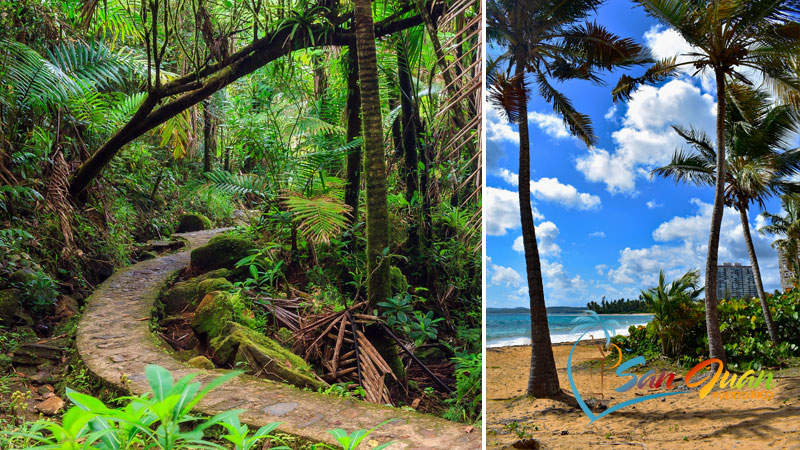 One of the most memorable places you will experience, which feels like a world away, is easily accessible from the capital city of San Juan.  The hike through the rainforest is a real pleasure with mystical waterfalls throughout the park.  El Yunque is one of the most magical places in the Caribbean, an experience the entire family will treasure.  You could spend a few full days exploring El Yunque Rainforest, but one day will be sufficient to hike the most popular trails.
The best way to see El Yunque is to dedicate the day to the rainforest, however, if you're in Puerto Rico for a few days and wish to get the most of your trip, there are some great tours that include other top attractions in the package.
Top Rated Combo Tours to El Yunque National Rainforest 
El Yunque & Bioluminescent Bay – This is one of the top-rated tours, visit the enchanted rainforest and the magical bioluminescent bay at night.  See top-rated tour. (new window)
El Yunque and Luquillo Beach (Balneario Monserrate).  The beach in Luquillo is one of the most popular public beaches in Puerto Rico with great local food.  See top-rated tour. (new window)
El Yunque & Waterfall Slide – This is a fun tour for those with a sense of adventure and wishing for a more thrilling rainforest experience.  Love going down waterslides? Prepare for a fun time on a waterpark created by nature, where you can slide down a natural rock slide with a refreshing waterfall surrounded by lush green canopies.  This tour is more physically challenging along the way, if it rained prior prepare to get a little muddy on the way, you'll have a chance to refresh going down the natural waterfall slide.  See top-rated tour. (new window)
Popular 5 Star Tours to El Yunque National Rainforest
Have a Fun Cave Exploration Day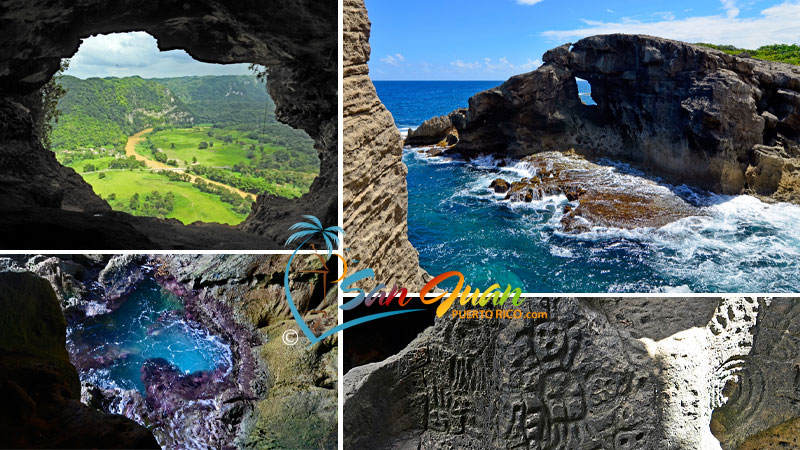 With a scenic drive into the Karst region in the northern mountains, you can enjoy a fun day exploring two of the most popular attractions in the north region.  We recommend the combo tours offering both caves, one of the caves is in the mountains, and the other is along the coastline, offering a full day of adventure and beauty.
Cueva Ventana – Bring your hiking shoes and sense of adventure, you'll walk through lush hiking trails, explore a cave that ends at a breathtaking natural window with views of karst countryside.
Cueva del Indio – Worthy of a filming location for Pirates of the Caribbean… and it was and a few other movie scenes.  Right along the coastline, you can visit a beautiful cave that was home to Taino Natives where you can observe original petroglyphs.  The cave is located in one of the top five most scenic places on the island also known as Seven Arches, where rocks, water, and wind have come together to form seven natural arches.  You'll get tons of Instagram-worthy vacation photos.
There are three tours that offer a combo of both caves offering the best value:
Taino Route Tour – excellent reviews, small group tour to both caves and

Caguana Indigenous Ceremonial Park.  Transportation to and from San Juan Hotels is included.  
Top Rated & Value Cave Tours
Map - Best Things to Do Near San Juan
Capital City of Puerto Rico