San Juan Puerto Rico  >  Things to Do  >  Day Trips & Excursions Near San Juan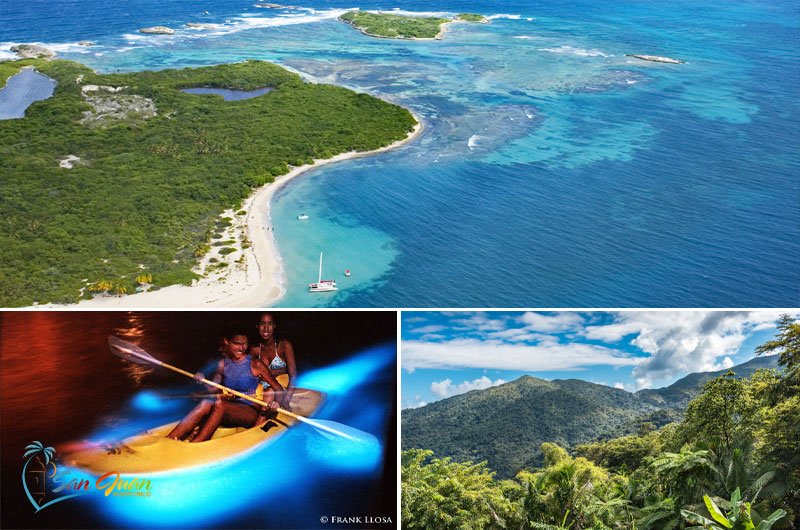 With so much to see and do in San Juan, you may be tempted to stay within the city.  But if you have the time, we encourage you to rent a car or book a tour with a trusted guide, so you can get a taste of what makes Puerto Rico the richest and most diverse destination in the Caribbean.
Following, we provide you with day trips and excursions.  There are reputable tour companies offering these experiences, most offer to pick up and drop off from your hotel.   You can also do these day trips on your own by renting a car and driving within 1.5 hours from San Juan, Puerto Rico, as well as a map of their locations.  All the following places and day trips are family-friendly and don't require a lot of planning.
Perhaps you don't see yourself driving around as part of an enjoyable vacation, but unlike many destinations, Puerto Rico's enchantment can best be experienced by getting on the road.  The journey to the following places is only part of the fun (just avoid rush hour business traffic leaving or driving back to San Juan).  You'll drive through and around the magnificent verdant mountains of the island and through coastal towns tempting you to make a stop.  In just about every town, there's something wonderful to explore in Puerto Rico.  During your drive around the island, you'll understand why so many visitors come back again and again.
Various tour companies do offer transportation to and from your hotel, but again, we highly recommend you rent a car for the most flexibility.
El Yunque National Rainforest & Luquillo Beach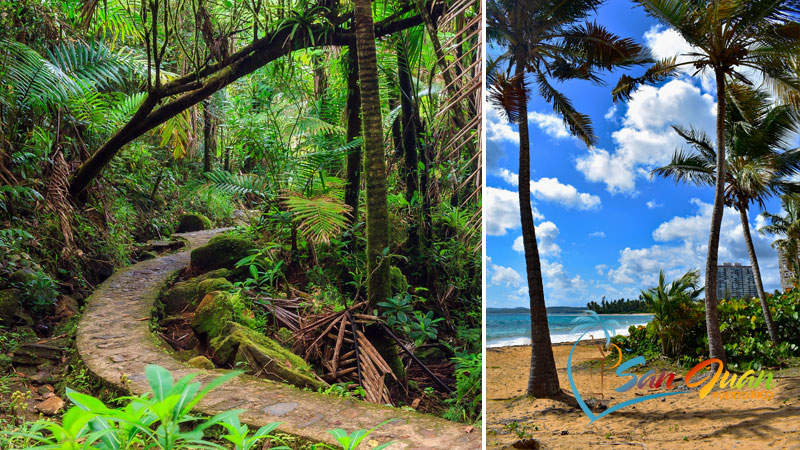 One of the most memorable places you will experience, that feels like a world away, is easily accessible from the capital city of San Juan.  The hike through the rainforest is a real pleasure with mystical waterfalls throughout the park.  El Yunque is one of the most magical places in the Caribbean.  An experience the entire family will treasure.  You could spend a few full days exploring El Yunque Rainforest, but one day will be sufficient to hike the most popular trails.
Driving Time: Approx. 45 minutes southeast from San Juan
The time needed to see the most popular points of interest at rainforest: 4-5 hours
Days / Hours: Open daily from 7:30am to 6:00pm
Cost: Entry to the rainforest is free. Visitor center: $3 per person
Phone: (787) 888-1880
You may book with a trusted tour operator (see below) to drive you and give you a tour of the rainforest.  The park rangers offer tours of the main trails included with the entry fee.
Location: Rio Grande, Puerto Rico
Many tour guides split the day between El Yunque and Luquillo Beach (Balneario Monserrate).  The beach in Luquillo is one of the most popular public beaches in Puerto Rico with great local food nearby.  More about El Yunque National Rainforest, Puerto Rico.
Caja de Muertos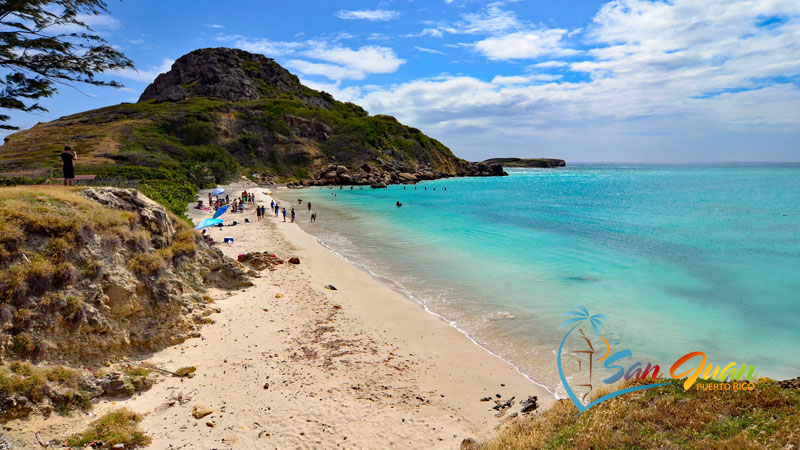 Caja de Muertos Island is certainly worth the drive and ferry ride from La Guancha, Ponce, and it may actually be one of the highlights of your trip to Puerto Rico.  Spend a day relaxing on Pelicano Beach, swim in turquoise and aquamarine gem colored waters, watch pelicans, and hike the dry forest trail up to the lighthouse ruins with gorgeous views.  Take the trail to Playa Larga, where you can enjoy snorkeling in crystal clear waters.  When you back to La Guancha, you can enjoy traditional Puerto Rican food and drinks at the boardwalk and watch the sunset.  You may want to drive into the plaza in Ponce to see Parque de Bombas before you head back to San Juan.
The drive from San Juan to Ponce down route 52 is at times very scenic.  Although you'll be on the highway the entire time, once you leave San Juan you'll be driving through the center of the island where the views of the mountains and the Caribbean Sea in the distance are breathtaking.
Driving Time: 1.5 hours southwest from San Juan.  Some tours offer transportation from your hotel in San Juan.
Visit Two World Wonders in the Scenic Karst Region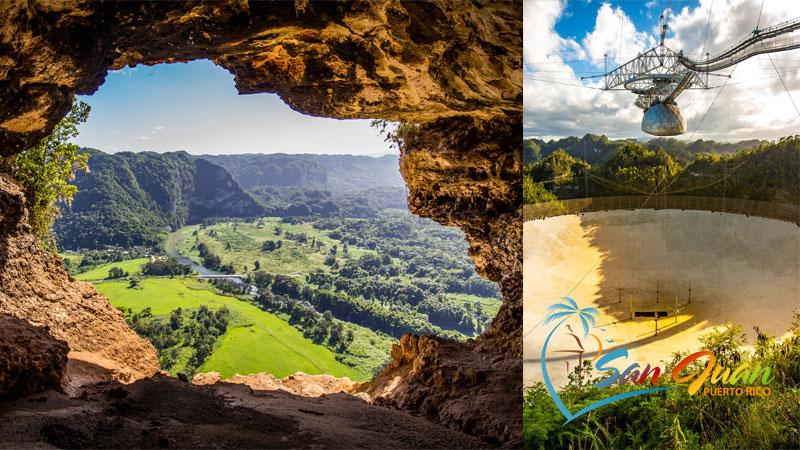 With a scenic drive into the Karst region in the northern mountains, you can enjoy two of the best attractions in Puerto Rico.  
Driving distance from San Juan: 1.5 hours west from San Juan
Cueva Ventana
Bring your hiking shoes and sense of adventure, you'll walk through lush hiking trails, explore a cave that ends at a breathtaking natural window with views of karst countryside. 
Arecibo Observatory

…the largest radio telescope in the world.  Don't be fooled by the pictures.  This radio telescope is massive and worth the drive.  The scenery surrounding the area is very beautiful.  The Arecibo Observatory was part of the blockbuster Hollywood movie Contact. 
Cost: Adults $10 / Children & Seniors $6
Phone:  (787) 878 – 2612
The following two can be combined in one-day day trip. 
Sail to Cayos Icacos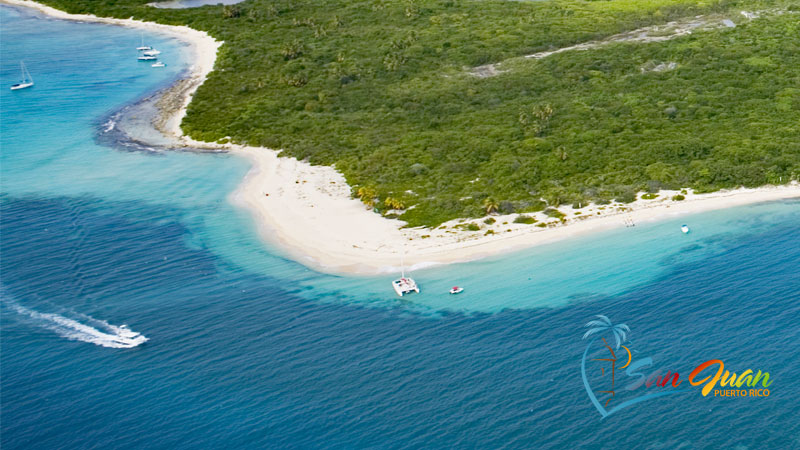 Just an hour from San Juan to Las Croabas and other marinas in Fajardo, you can sail and explore the Icacos or Lobos Cays with deserted beaches of white sand, turquoise waters where you can snorkel, me merry and swim with dolphins when they visit.
Driving Time:

 

1 hour+ southeast from San Juan, but give yourself an extra 30 – 45 minutes just in case to allow for traffic.  Most tour operators offer and/or include transportation from San Juan.
Locations:

 

Most sailing charters to Icacos or Lobos Cay leave from the Villa Marina or Puerto Del Rey Marina located in Fajardo.
Laguna Grande Bioluminescent Bay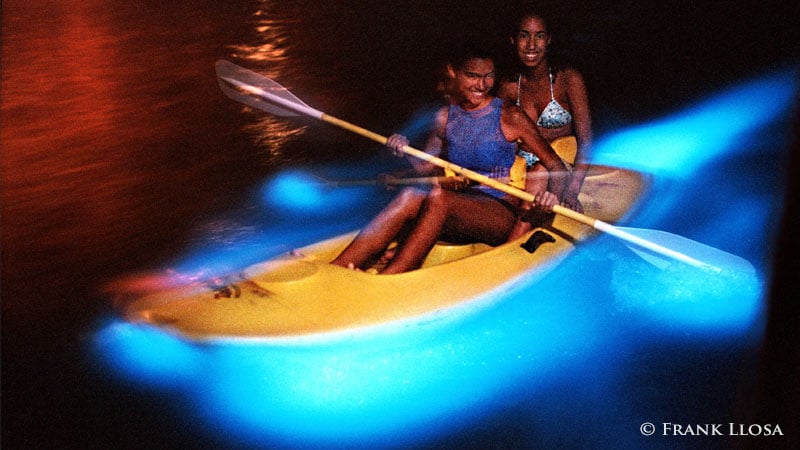 A truly magical experience you can't miss.  Kayak a bioluminescent lagoon at night under the stars, as your glide the water lights up like magic.  If you have children, it will be extra magical for them and an experience they will never forget.
Tour Times: Most kayak tour guides run 2, 2-hour kayaking tours after dark with a pre-trip arrival time 30+ minutes early.  Electric boat tours are typically 1.25 hours with 3 evening starting times.  None of the tour guides we've listed operate on Sundays.
We recommend you book a tour ahead of time.