San Juan, Puerto Rico > San Juan Puerto Rico Attractions > Top Attractions in San Juan Puerto Rico
One of the most frequently asked questions by visitors is "Which are the top tourist attractions in San Juan?" Well, that's a really hard question since everyone has a different opinion of what "top or best" may be.  San Juan has a way of getting you to like what you thought you didn't care for. With so many historic attractions, you may think Old San Juan is for history buffs, but most people end up being wowed and amazed at the sights.  Most likely you'll leave wishing you had more time to explore the city.
As you start your walking tour, you may have a hard time sticking to the "top attractions list" because you will pass many other great attractions. So be prepared to deviate, it's ok. After all, you're here to relax and enjoy, so just walk and let your eyes guide you.
Following is a list of some of the best attractions, all located in Old San Juan, and perfect for those only having one day in this magical city.
We'd love to hear your feedback, so feel free to submit your own top list. Enjoy your visit to San Juan. We're confident that once you're here, you'll never want to leave.
San Juan National Historic Site – The Forts of San Felipe del Morro & Castillo San Cristobal

El Morro is one of the largest fortifications in the Caribbean. An attraction filled with high energy and laughter from children and adults flying kites on the lawn.
Bring your camera and be sure to fly a kite. Castillo San Cristobal is a magnificent fortress covering 27 acres and the largest built by the Spanish in the New World.
The Beaches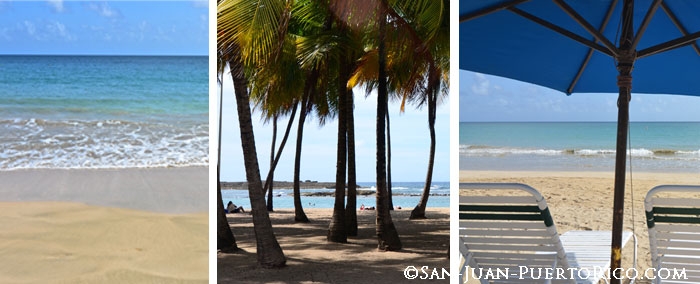 A diversity of attractions and wonderful beaches to swim, play and relax under the sun. San Juan offers great beaches and you can enjoy them just steps away from excellent hotels and resorts. The beaches of San Juan offer great amenities such as beachfront restaurants and a variety of water sports. Enjoy a variety of beaches from Miami style to more tranquil and natural. If beaches is at the top of must have attractions on a vacation, then come to San Juan. More about beaches in San Juan, Puerto Rico.
The Cobblestone Streets of Old San Juan
Where else in the Caribbean have you seen streets listed as an actual attraction?  The free trolley system is wonderful, making stops at the most popular attractions and streets, but Old San Juan begs to be walked and explored.  By walking you can experience the romance, intrigue and vibrancy of this historic city, on foot you'll be able to appreciate all the details that make Old San Juan so unique.  Cobblestones have a unique blue tint leading you through narrow streets with colorful homes, hundreds of restored historic buildings, interesting shops, excellent restaurants, plazas and so much more. At night the streets have a golden glow that echo to the sounds of salsa, so wear comfortable shoes, you may find yourself dancing in plazas and restaurants with live music. Once you set foot on these streets you'll want to keep walking through every block.
Casa Blanca Museum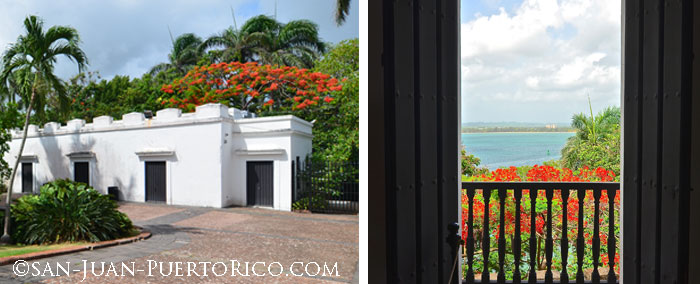 Casa Blanca Museum is the oldest home/ mansion in Puerto Rico and the first fortification built on the San Juan islet in 1521. Tucked at the end of a street, you can tour the home of Juan Ponce de Leon and his family. The house is now a museum and entry is free. More about Casa Blanca Museum, San Juan, Puerto Rico.
Paseo de la Princesa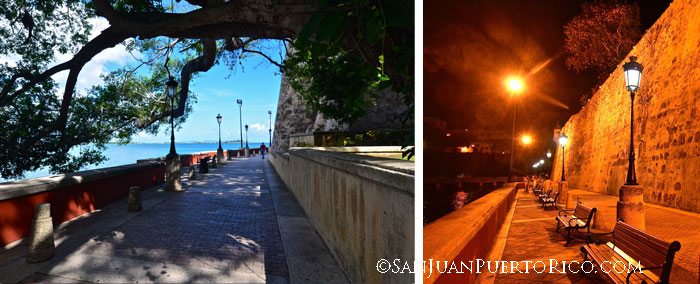 Named as one of the "Most Scenic Walks in the World", Paseo de La Princesa is the perfect start to a walking tour of the historic city of Old San Juan. More about Paseo de la Princesa
More attractions in San Juan, Puerto Rico
San Juan, Puerto Rico > San Juan Puerto Rico Attractions > Top Attractions in San Juan, PR