San Juan Puerto Rico > San Juan Puerto Rico Attractions > Plazas & Squares in San Juan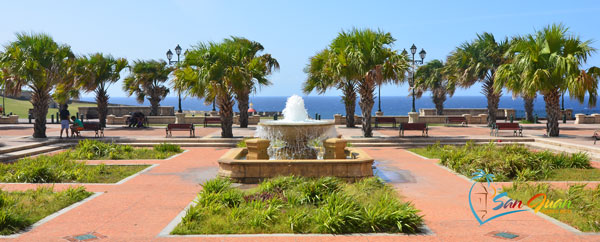 Each town in Puerto Rico has one plaza…San Juan has many. Plazas offer Sanjuaneros and visitors nice shaded places to sit down, relax, and mingle. Be sure to visit our plazas, have a seat, and take in the sights of elegant colonial architecture, have a piragua or a great cup of cafe con leche (coffee with warm milk) and feel the energy of the city. Many cultural and music events take place throughout the year, especially during holidays where you can learn a lot about the vibrant warm culture of Puerto Ricans.
Plaza de Armas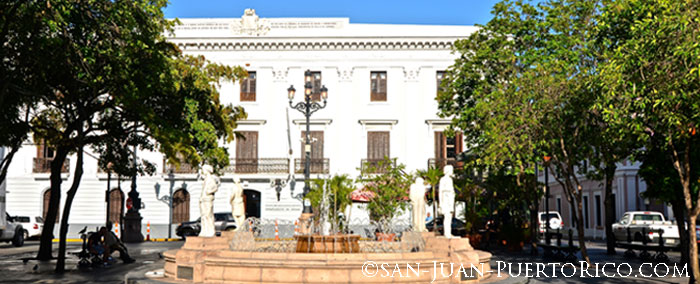 Plaza de Armas is the main plaza in Old San Juan where friends meet to play dominoes, where locals come at lunch time for great cup of coffee and conversation, where friendly pigeons play with children and cultural events take place. Just north of Plaza de Armas is the the elegant City Hall building overlooking the well known fountain with 4 statutes representing each season of the year. As you do your walking tour of Old San Juan be sure to take a coffee break at Plaza de Armas. You'll find friendly locals simply enjoying the fresh air and company of good friends day and night.
Plaza de la Rogativa
One of the most photographed statues is here. You'll also experience some of the most amazing views in Old San Juan, so don't miss it. Learn more, see pictures, and get map location of Plaza La Rogativa.
Plaza Felisa Rincon de Gautier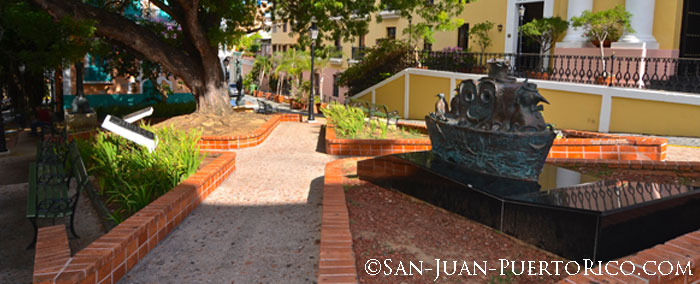 A charming small plaza dedicated to our first female mayor in San Juan, an honorable lady who made many contributions to the city and women's rights. See photos of the plaza, get map location, and learn more about Honorable Felisa Rincon de Gautier.
San Juan Map of Plazas & Squares
More attractions in San Juan, Puerto Rico
San Juan Puerto Rico > San Juan Puerto Rico Attractions > Plazas & Squares in San Juan