San Juan Puerto Rico >  San Juan Puerto Rico Attractions  >  Parks & Gardens in San Juan
San Juan may be a "city", but it offers locals and visitors plenty of open and green spaces great for relaxation, exercise, picnicking, and getting away from the city crowds…most with great views of the bay.  In Old San Juan, take a walk along the San Juan Bay at the modern Bahia Urbana or take a short taxi ride to Isla de Cabras for a nice walk as you enjoy great views of the El Morro and the city walls.
San Juan may be a city, but it's full of green areas perfect for those that love nature and relaxation.  San Juan and the metro area offer great parks with great trails for bicycling and hiking.
Bahia Urbana, District of Old San Juan
An urban modern oasis touching the beautiful San Juan Bay.  A great place to feel the breeze, take in the beautiful views, rest your feet after a long walking tour of Old San Juan, have a great cup of coffee, and have lunch and enjoy the many outdoor events held throughout the year.  Learn more about Bahia Urbana.
Jardin Botanico de la Universidad de Puerto Rico / San Juan Botanical Garden
Not popular with tourists, but a treasured garden to locals seeking a little escape from the bustle of the city.  The Botanical Gardens are part of the University of Puerto Rico (UPR), covering 289 lush green acres with beautiful walking trails.  More about San Juan Botanical Garden, San Juan, PR
Parque de las Palomas (Pigeons Park), Old San Juan, PR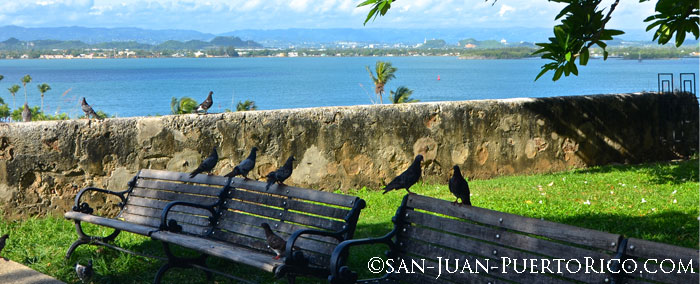 A favorite among kids, and named after all the pigeons that make this park their home.  Situated right next to the Capilla del Cristo, it's a nice stop to sit on a bench and admire the views of the San Juan Bay and architecture of the city.  Small bags of corn are available for purchase so you can feed the pigeons.  Be prepared…they will come to you, so bring your anti-bacterial lotion with you.   Click Here to See Video
Parque Luis Muñoz Rivera, District of Old San Juan
Nestled in the mid-eastern end of the island district of Old San Juan lies an attraction that is often overlooked by tourists.  Its natural beauty, architectural wonders, and artistic touches are very pleasing to the eye.  Whether you're on a romantic vacation, with your children, or want to exercise or relax alone, this park will not disappoint.  More about Parque Luis Muñoz Rivera.
Parque del Indio, Condado
Designed for Play & Relaxation. An artistic design facing the Atlantic Ocean with a children's playground, a relaxing space for adults and access to one of the most relaxed stretches of beach in the city.  More about Parque del Indio – Condado, PR
Ventana al Mar Park, Condado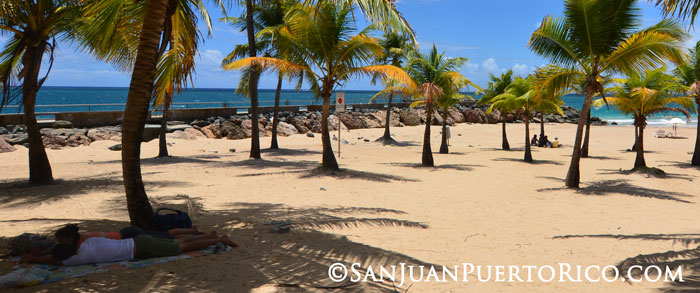 Perfectly named….a window to the sea.  A wide window allowing you to peek and go through to enjoy the beautiful beach of Condado, get safely close to the crashing waves of the Atlantic, and enjoy live music and events under the stars.  More about Ventana del Mar / Window of the Sea Park in Condado.
San Juan Map of Parks & Gardens
More Parks & Gardens in the San Juan / Metro Area
Bosque Urbano del Nuevo Milenio
Bosque Urbano San Patricio
Julio Enrique Monagas Park, Bayamon
Luis Munoz Rivera Park
More attractions in San Juan, Puerto Rico
San Juan Puerto Rico >  San Juan Puerto Rico Attractions  >  Parks & Gardens in San Juan