San Juan Puerto Rico > San Juan Puerto Rico Attractions > Scenic Walkways in San Juan

San Juan is the only destination in the Caribbean that can claim having one of the most scenic walks in the world as an attraction. Take a walk along history, hold hands with your loved one, take in the beauty of the San Juan Bay, touch the walls that protected the city, have a seat and watch the pelicans fly by, and if you love sunsets, bring a camera to capture the memory.
Paseo de la Princesa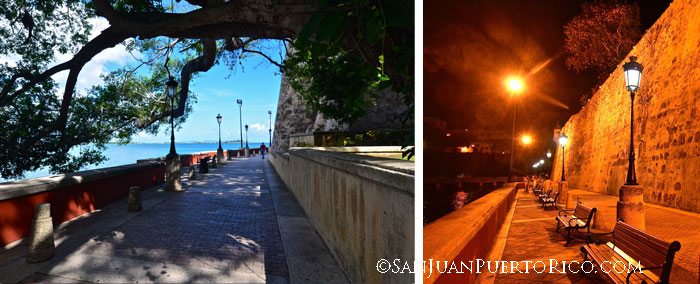 Included on the list of "Most Scenic Walks in the World", this walkway makes it to the top of our list for setting the mood for the start of a wonderful walking tour of Old San Juan. Paseo La Princesa is a must for romantics, a perfect place to hold hands, take in the views of the San Juan bay, watch the sunset, and admire the splendor of the walls of Old San Juan. More about Paseo de la Princesa, San Juan, Puerto Rico.
Paseo del Morro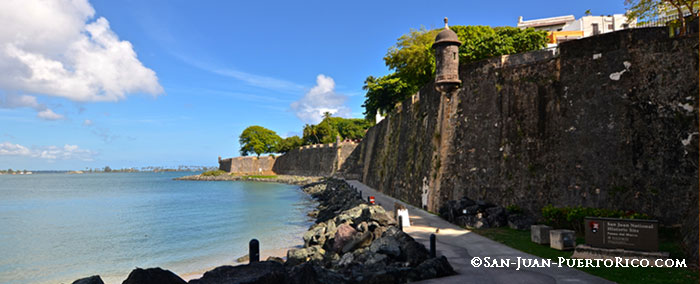 Paseo del Morro is part of the San Juan National Historic Site. Enjoy a nice walk with views towards Isla de Cabras and the San Juan Bay. Be sure to extend your arms to touch the walls that once protected the city and look up to see the Garitas that were once occupied by guards to watch over the San Juan Bay. Currently, you have to walk back towards the San Juan Gate, but construction is underway leading all the way to the fort of El Morro. More about Paseo del Morro, San Juan, Puerto Rico.
San Juan Map of Scenic Walkways
More attractions in San Juan, Puerto Rico
San Juan Puerto Rico > San Juan Puerto Rico Attractions > Scenic Walkways in San Juan