San Juan Puerto Rico > San Juan Puerto Rico Attractions > Landmarks & Monuments in San Juan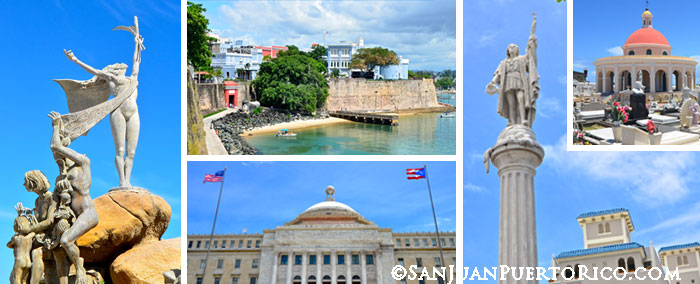 Old San Juan is a living museum with landmarks of great historical importance to Puerto Rico and the Caribbean.   Walk into castles, mansions, pass by elegant statues, visit one of the most beautiful cemeteries you'll ever see and so much more.
Following, we mention the most popular landmarks of San Juan, Puerto Rico.
Palacio Santa Catalina (La Fortaleza) / Governor's Mansion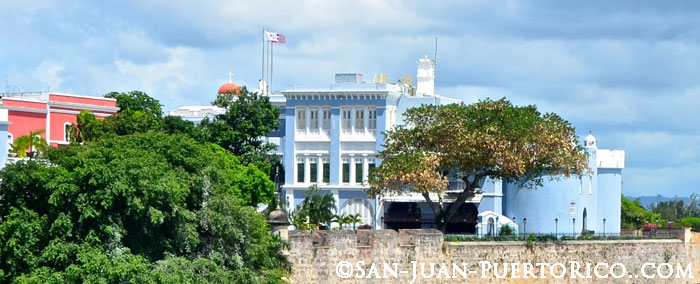 La Fortaleza and Casa Blanca were the first fortifications built in San Juan, Puerto Rico. Today, Palacio Santa Catalina is the official residence of Puerto Rico's governor. Guided tours are available.
San Juan Gate / La Puerta de San Juan
It's not just a gate; for centuries, this doorway served to keep invaders out of the city. Today, you can walk through La Puerta de San Juan to explore and experience the splendor and romance of this elegant and vibrant city. Learn more about La Puerta de San Juan (The San Juan Gate).
Santa María Magdalena de Pazzis Cemetery – San Juan Cemetery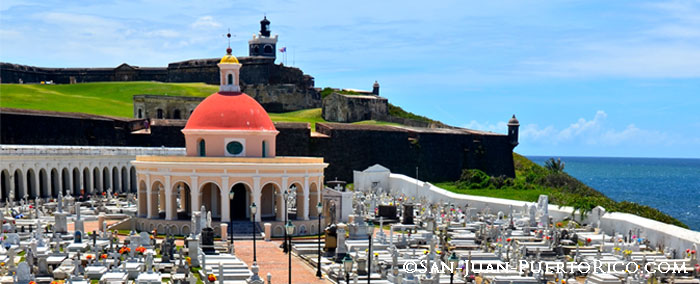 Most people don't connect visiting a cemetery with a Caribbean vacation, but it is definitely worth visiting this Puerto Rican landmark. The cemetery sits outside the 20 foot walls of fort El Morro – overlooking the Atlantic Ocean. Many notable Puerto Ricans are buried here. Once you come in, you may find yourself wishing for your remains to be buried in this place. Many Puerto Ricans are dying to get a burial lot here (no pun intended). More about Santa María Magdalena de Pazzis Cemetery
Raices (Roots) Fountain
On your walk through Paseo La Princesa, you'll walk by the gorgeous Raices Fountain built in 1992. Raices fountain represents Puerto Rican roots; the Taino Natives, the Spanish, and The Africans.
El Capitolio
Listed on the National Register of Historic Places, the building is the meeting place for the Legislative Assembly. El Capitolio (the capitol building) is located just outside the Old City Walls. The constitution of Puerto Rico is exhibited on the first floor.  It is open to visitors Monday through Friday, 8 am to 5 pm.
La Rogativa
One of the most beautiful and meaningful statues in Old San Juan is centered at one of the top 5 most scenic spots of San Juan. Learn more about La Rogativa.
San Juan Map of Landmarks & Monuments
More landmarks in San Juan, Puerto Rico
Cuartel de Ballajá
Fort San Gerónimo
Galería Nacional
José Miguel Agrelot Coliseum
Plaza Colón
Plaza Las Américas
San José Church
San Juan Port
More attractions in San Juan, Puerto Rico
San Juan Puerto Rico > San Juan Puerto Rico Attractions > Landmarks & Monuments in San Juan